Midtown is packed with skyscrapers, restaurants, museums, and just about every other attraction that one could possibly think up, but nothing quite compares to Rockefeller Center. Just a few blocks east of Times Square, this enormous collection of buildings, concourses, and retail stores is one that can easily fill your day and night with adventure. Rounded up below is our advice for what to check out next time you're in the area. It's easy to spend a day at Rockefeller Center…what's difficult is only spending a day at Rockefeller. 
Click on a category below to jump to that section:
Things to Do in Rockefeller Center
Top of the Rock is at the top of our list when it comes to Rockefeller Center activities. This beloved observation deck is one of the best New York City has to offer with both indoor and outdoor views of Manhattan. Visitors can explore the 67th, 69th, and 70th floors during their experience, enjoying the Breezeway, the Radiance Wall, the Sky Shuttle, the Theatre, and the Beam Walk along the way. 
30 Rockefeller Center • 212-698-2000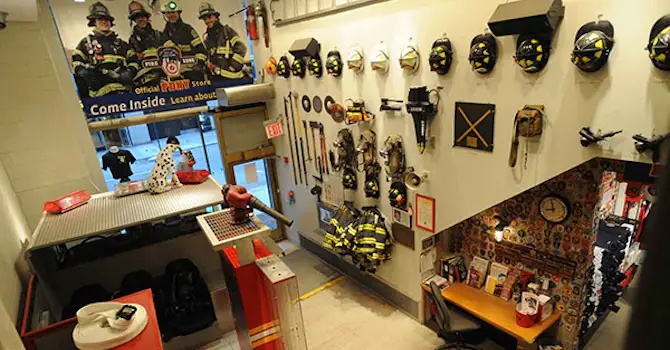 The FDNY Fire Zone is one of New York City's most interactive learning centers. This kid-friendly space turns fire-safety into a fun yet educational experience with hands-on exhibits, multimedia presentations, and a simulated fire scene. You can climb on a fire truck, try on bunker gear, and even meet a real firefighter during your visit. 
61 W. 48th St. • 212-698-4520
NBC Studio Tour
NBC Studios is home to some of the most iconic television shows to ever air, and you can enjoy an in-depth, behind-the-scenes look at the famed studios on The Tour at NBC Studios. Guests are guided through various studios, including The Tonight Show Starring Jimmy Fallon, Saturday Night Live, Late Night with Seth Meyers, and NBC Nightly News with Lester Holt. Note: Tours are currently paused, but check back for updates. P.S. You can also enter lotteries to get tickets to the filming of some of your favorite NBC shows.
30 Rockefeller Plaza • 212-664-3700
TODAY Filming
Love the TODAY show? Want to hang out on the plaza while it's filming in the morning? Head to Rockefeller Plaza Monday-Friday and make sure to arrive between 6:15-6:30am (aim to get there earlier because the TODAY plaza is first-come, first-served until it reaches capacity). You'll need proof of vaccination and a valid ID for each person in your party. 
35 W. 48th St. 
Radio City Music Hall
Home to the Radio City Rockettes and the Christmas Spectacular, you can catch concerts, comedy specials, and more here throughout the rest of the year. Don't forget to snap a pic with the iconic venue for your grid. You'll get the best shot on the southwest corner of 50th Street and Sixth Avenue.
1260 Sixth Ave. • 212-465-6741
Roller Skating in Rockefeller Center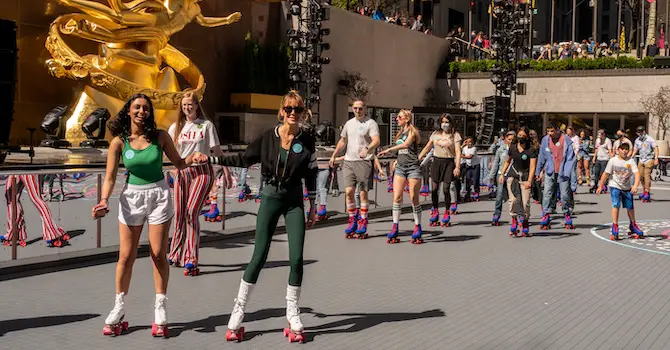 Rblfmr / shutterstock.com
This summer, the Rink at Rock Center opened a roller skating rink in partnership with Flipper's Roller Boogie Palace. Open daily through October, the famous family-owned and -operated roller skating rink brings the magic of the 1970s to present-day New Yorkers and tourists alike. Flipper's, founded in 1979 by Ian "Flipper" Ross, celebrates the connection between roller skating and positive mental health and well-being. So lace up your skates, get your boogie on, and live out your Xanadu dreams.
St. Patrick's Cathedral
The cornerstone of St. Patrick's Cathedral was laid in 1858 and it opened in 1879. The building of the cathedral was paid for by the contributions of thousands of poor immigrants as well as 103 prominent citizens who pledged $1,000 each. The Mother Church of the Archdiocese of New York and the seat of its Archbishop, you can take a self-guided, hour-long audio tour of the cathedral to take in all its splendor. 
Fifth Avenue, between 50th and 51st streets • 212-753-2261
Rockefeller Center Ice-Skating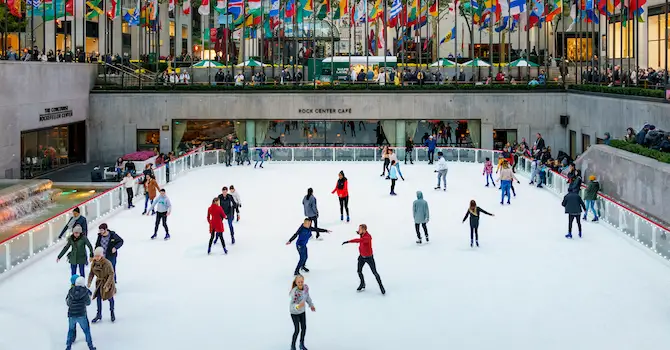 Boris-B / shutterstock.com 
The Rink at Rockefeller Center typically opens for ice-skating in early November each year (and we'll let you know the 2022 opening date as soon as we know the details!). An annual tradition since 1939, legend has it that the Rink was inspired by a Depression-era salesman, who demoed his product by ice-skating on the frozen water of the fountain in Rockefeller Center. The Rink officially opened on Christmas Day in 1936 as a temporary exhibit. It was so popular, it became a permanent winter addition to the sunken plaza.
Rockefeller Center Christmas Tree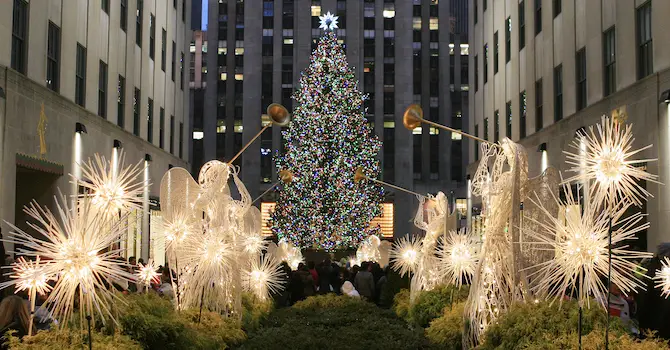 TerraceStudio / shutterstock.com
For more than 80 years, the lighting of the Rockefeller Center Christmas Tree has marked the beginning of the holiday season for New Yorkers and visitors alike. The first tree appeared in Rock Center in 1931, when workers pooled their money together to buy one; they decorated it with garlands made by their families. And in 1933, Rockefeller Center decided to make the tree an annual tradition. The tree is usually erected each year around Thanksgiving, and the annual Rock Center tree lighting ceremony usually happens in early December.
Rockefeller Center Restaurants
Visitors to Rockefeller Center have some great options for restaurants in the area. After grabbing some great photo ops, you won't have to travel far for a spectacular meal, whether you're up for a special occasion experience, or a casual trip for one of the best burgers in the city.
Limani
Experience an upscale Mediterranean dining spectacular at Limani. An onyx reflecting pool and fish on ice set this eatery's aesthetic. We suggest one of their specialties like kolokithi, which is super thinly cut zucchini and eggplant with fried kefalograviera cheese. If that doesn't sound yummy enough, wait until you see the dessert menu. Yiaourti is made with Greek yogurt, thyme, honey, and walnut. 
45 Rockefeller Plaza • 212-858-9200
Beatnic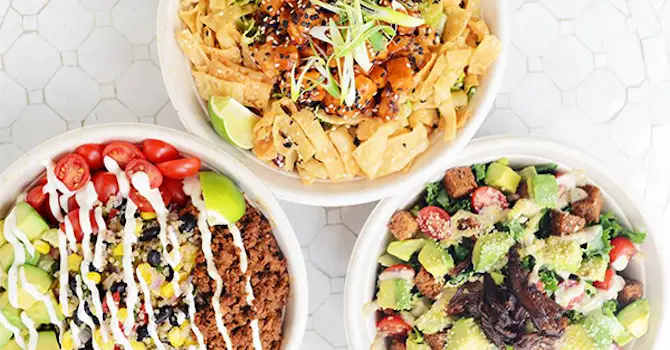 Did someone say vegan? Beatnic (formerly by Chloe) serves up burgers and meals that are 100-percent plant-based, featuring cheeses made from nuts like almonds or cashews, and "meat" created out of staples like mushrooms. Order the Guac Burger and don't forget to get Kitchen Sink Cookie for dessert! 
1 Rockefeller Plaza • 646-453-7181
Potbelly Sandwich Shop
Taste a perfectly crafted sandwich at Potbelly Sandwich Shop. With 20 sandwiches to choose from, six salads, seven soups, mac 'n' cheese, and 14 sides, you can mix and match to create the perfect meal. Just make sure to order an ice cream sandwich to double the sandwich goodness. 
30 Rockefeller Plaza • 646-289-4203
Wu Liang Ye
Chinese restaurant Wu Liang Ye has over 100 menu items to choose from (and that's just the dinner menu). 
36 W. 48th St. • 212-398-2308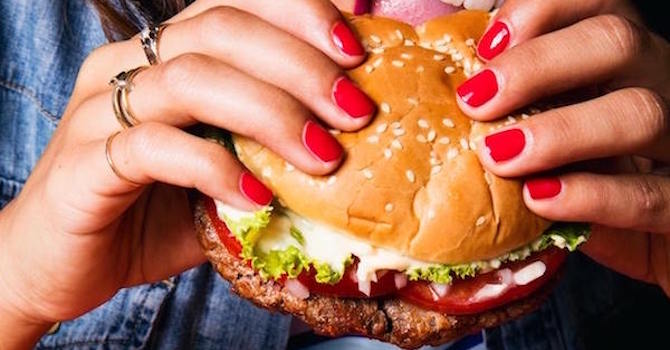 Enjoy a super juicy burger at America's largest standalone burger spot, Bill's Bar & Burger, which boasts 400 seats! All of their burgers, shakes, and fries are made fresh daily and taste impeccable. Don't miss the Big Cat, which consists of caramelized onion, American cheese, pulled pork, BBQ bacon, a fried egg, and their special sauce, all on an English muffin. 
45 Rockefeller Plaza • 212-705-8510
Other restaurants in and near Rockefeller Center include:
Rockefeller Center Stores
Anyone who has ever held a controller (that's nearly everyone, isn't it?) will find the 10,000 square feet of Nintendo NY impressive, to say the least. This enormous store is filled with games, accessories, apparel, and collectibles. You can even try your hand at interactive game demos within the store if you're looking to have some fun and don't mind the audience that's bound to form. 
10 Rockefeller Plaza • 646-459-0800
The Shop at NBC Studios
Want to grab swag to rep your favorite NBC show? You can buy merch—like mugs, hats, T-shirts, hoodies and sweatshirts, and more—for current and old shows. Visit the Shop at NBC Studios, and you can show your fan pride for Parks and Rec, The Office, Brooklyn Nine-Nine, Friends, The Golden Girls, TODAY, Law & Order, Seinfeld, and more.
30 Rockefeller Plaza • 212-664-2754
LEGO Store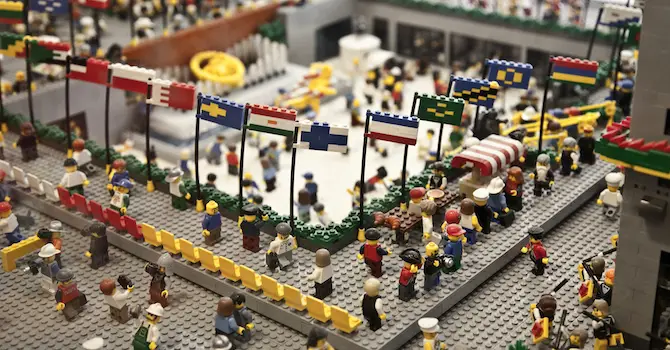 susana valera / shutterstock.com
Got a builder on your hands? Check out the LEGO Store in Rockefeller Center to see all the latest kits, buy LEGO bricks in whatever size and color you like, and see elaborate recreations of Rockefeller Center and other NYC landmarks. Check out the store's Mosaic Maker, which turns your picture into a LEGO mosaic, and the Minifigure Factory to create a customized Minifigure!
636 Fifth Ave. • 212-245-3248
MLB Flagship Store
Stop by the MLB Flagship Store to deck yourself in your team's gear! You'll find jerseys, T-shirts, hats, and more for all the MLB teams, so you don't need to be a Yankees or Mets fan to shop here.
1271 Sixth Ave. • 332-228-1040
FAO Schwarz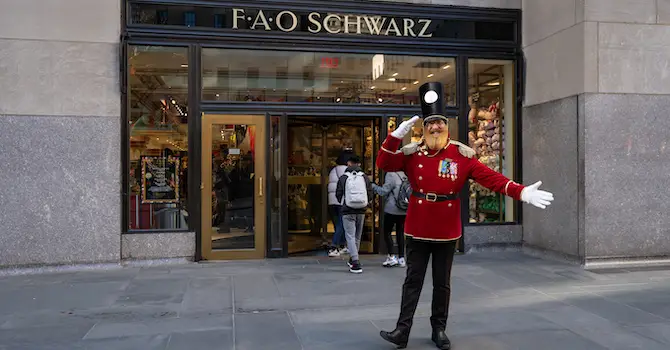 Pio3 / shutterstock.com
This iconic and beloved toy store for kids of all ages reopened in 2020 in Rockefeller Center. Kids and kids at heart can enjoy a ton of in-store experiences: play the giant piano (like Tom Hanks in Big), style your own Barbie, make your own Elmo plushie, build an RC car, and more. Just make sure to set time and spending limits on the kids, otherwise you'll spend the whole day here!
30 Rockefeller Plaza • 800-326-8638
Other stores at Rockefeller Center include:
Kate Spade
Brooks Brothers
Camper
Anthropologie
Cole Haan
Moleskine
J. Crew
Sugarfina
Banana Republic
Free People
Michael Kors
Otherland
Rough Trade
Warby Parker
Hotels Near Rockefeller Center
If you're looking to stay close to the action, you might be thinking of staying in a hotel near Rockefeller Center. The good news is there are a ton of options for you! Check out just a few listed below (these are the ones closest to Rock Center).
—Samantha Aronson and Chelsey Grasso contributed to this article.