Nintendo World. Part store, part fantasyland where gear is bought, players compete, glory is won, and the history of legendary heroes are on display for all to see. It's fitting that it's located in Midtown in New York City, the heart of the greatest city in the world. However, we realize there are plenty of other attractions vying for your time when you're in the Big Apple, so we'll get right to it. Here are seven reasons that will convince you to put Nintendo World at the top of your must-see list.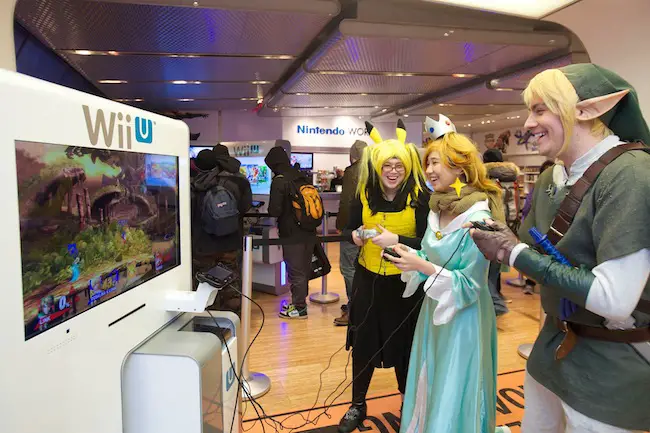 1. Nintendorks

We mean this in the best way possible. The community of players, fanatics, and warriors is rabid and fantastic. They come together to share their love of everything Nintendo; and Nintendo World is their domain. The feeling of community is infectious. When you hear two people discussing which Super Smash Brothers 4 character is the best, you may just join in. (#TeamShulk)


2. Gameboy Glory

The fantastic games we have now had a humble beginning and it's shown off at Nintendo World. A long glass case encloses every Nintendo-made handheld device ever, from the original Game & Watch in 1980 to the New Nintendo 3DS from this year. Nintendo has made history and it's displayed here.
3. A Link to the Past

The true Hyrule Historia is on display for everyone to see. It shows the history of The Legend of Zelda franchise from the original NES game in 1986 to the recent rerelease of The Legend of Zelda: Majora's Mask for the 3DS. This includes original cartridges, systems, statues, and even old issues of Nintendo Power showcasing tips to beat the games.
4. The Top of Your Game
As would be expected, Nintendo World is the one-stop shop for merchandise and gear relating to Nintendo. Unfortunately, there are no sets of armor or shields in this fantasy land, but there are shirts, games, systems, keychains galore; pretty much anything you can think of.
5. The Round Table of Nintendom

Like the actual Round Table of lore, this one is just as important. Seven 3DS systems are set up for a seven-way battle to show off the latest games and see who is the best. Fight, conquer, and be the ruler of Nintendo World.
6. Poke Passion

Catching them all is a difficult task, but Nintendo wants to provide a little help. There is a whole section on the second floor dedicated to Pokemon. Plushies, games, figures, cards, shirts, and much more. Any up-and-coming Pokemon trainer needs to stop by and get everything they need for the harsh battles that await.
7. Wii U Play With Me?

Nintendo World isn't simply a store; it's a battleground. Wii U's are set up for anyone to play Nintendo's best and latest games, either by yourself or against your friends. Currently, the list of games include Splatoon, Smash Bros 4, Hyrule Warriors, and even the original Super Mario 64, among others. Kids are fighting the Elite Four, teenagers are throwing red shells in Mario Kart 8, office workers are taking long lunches to fight in Smash Bros.--and you, the visitor, will be marveling at it all. 
Nintendo World is located at 10 Rockefeller Plaza. Call 646-459-0800 for more information or visit nintendoworldstore.com