CBD, aka cannabidiol, is a chemical that doesn't make you high. Found in marijuana and hemp plants, it is the current darling of the wellness bunch. Some claim it helps with sleep, anxiety, mood management. and possibly enables users to hold warrior pose for days. New York and anxiety are twinned; for those seeking a little inner peace, read on.
To deal with aches and pains, Hemped NYC, 199 Orchard St., sells CBD-infused deep tissue massage oil, 6.75 fluid ounces for $39.95. If Fido needs a little help with her arthritic hips, pick up beef wraps or steak bits with full-spectrum hemp extract CBD, $29.95. Hemped started up in Colorado where they began formulating liquid, edibles, smokeables, and topical products at high-grade, isolated, full spectrum or %100-THC free, broad spectrum CBD, all sourced from eco-friendly natural grows. hempednyc.com


MedMen, 433 Fifth Ave. at Bryant Park, is a full-service dispensary selling everything from wellness gels and drops to metered ground flower for vaporization—and yoga mats. The company digital platform, Ember, offers a POV on style, wellness, food. and travel through a cannabis lens. To shop here you need a physician recommendation and a NYSDOH registry ID Card. Delivery is available. medmen.com/stores/nyc-fifth-avenue-bryant-park
Connecting with the power of plants is at the "root" of The Alchemist's Kitchen, part of Evolver, a hub for the global transformational community at 21 E. 1st St. The NYC flagship includes an herbal counter and a botanical dispensary and it sells seasonal elixirs. Drop in to talk to an expert herbalist or attend one of many events and social gatherings. More information: wisdom.thealchemistskitchen.com/event-directory/.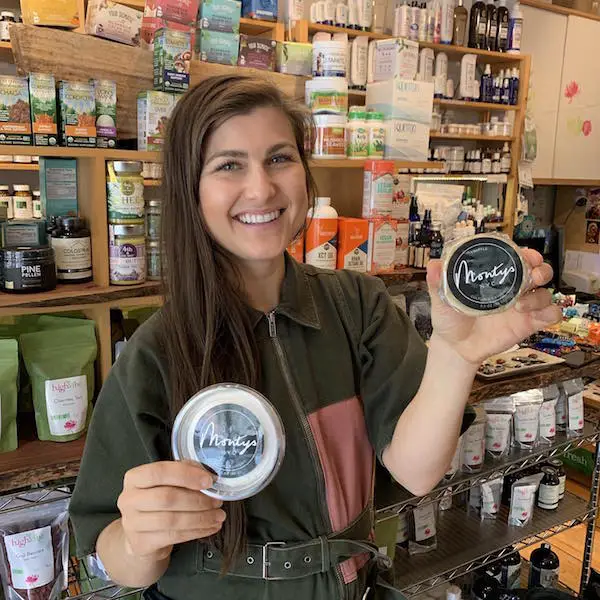 A tiny space packed with offerings, High Vibe, 138 E. 3rd St., has been providing raw, vegan, and gluten-free foods, plus whole food supplements, vitamins, and natural beauty items since 1993. Owner Robert Dagger knows the drill on detoxing, cleansing, and dealing with drops of various concentrations, explaining that his company aims to educate people on the best, safest way to use their products. highvibe.com
If you're looking for herbs as well as CBD-infused products, Natural Releaf has two locations, 470 Third Ave. in Murray Hill and 247 E. 77th St. on the Upper East Side. Among the CBD-stoked goods are night and day creams, oil tinctures, and sprays. Kraton, an herbal offering, is said to help some people dealing with opioid addiction. thenaturalreleaf.com
Luxe is the premise at The 420, A CBD Store at 145 Greene St. in the heart of SoHo. 420 features premium, hand-selected products from top CBD and emerging brands set amidst mid-century modern furniture, antiques, custom- designed fixtures, and other beautiful things. A wide range of goods includes medicinal tinctures, topical pain relief, and beauty, sex, and pet products. Dogs are welcome as are credit cards. the420cbd.com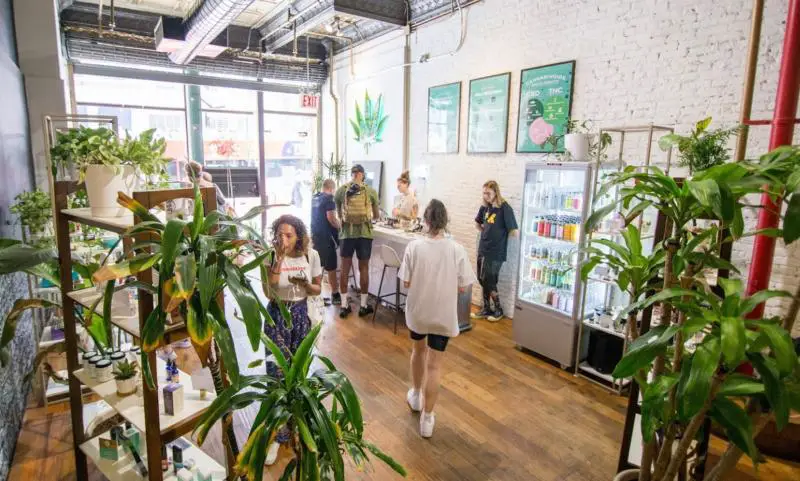 Respected shop Come Back Daily is reopening its Chinatown location, 301 Canal St., among other NYC locations. As part of the retail operation, the shop has a "discovery bar" where shoppers can sample products. CBD also hosts yoga, massage, cryotherapy, and guided meditation classes, as well as educational workshops and lectures by local and out-of-state doctors and experts. Products are available to help you chill, focus, manage pain including PMS, and promote wellness through self care. comebackdaily.com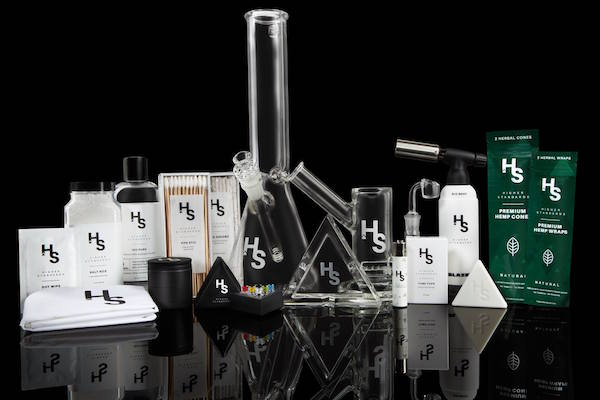 Appealing to those who view cannabis as part of the good life, Higher Standards in Chelsea Market, 75 Ninth Ave., is a "concept store." Here you can pick up hoodies, T-shirts, baseball caps and other logoed merch; premium glass filter tips; a silicone ice mold; Jonathan Adler trays, and, of course, tools of the CBD trade like hemp wraps. The Santa Cruz shredder is $80 and is scientifically optimized to get your herb to just the right texture; everything has a high gloss. It's not drugs folks, it's lifestyle. higherstandards.com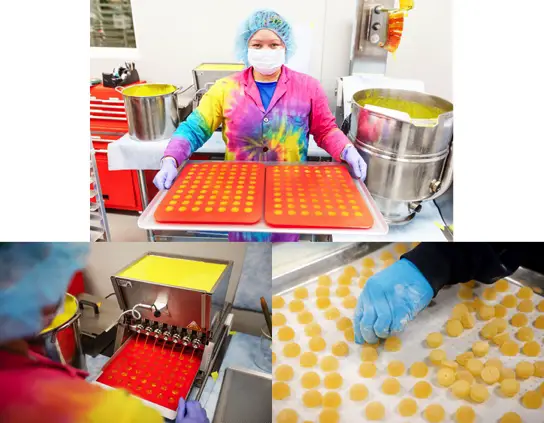 The city's first legal cannabis gummy dropped on February 21st. The launch of Curaleaf's CuraChews gives medical marijuana patients in NYC access to a new route of administration for their medicine. This is significant for patients who cannot swallow pills or vape and who may need a slower onset and longer lasting effects. Forest Hills, Queens is where you'll find them, at Curaleaf Queens (10718 70th Rd.). curaleaf.com