No matter your age or shape, indoor cycling makes for "great exercise—it's easy on the knees, you can work out at your own pace and it keeps you in excellent aerobic and physical condition," says Susan Eisenberg-Kushner, an indoor cycling instructor at New York Sports Club with a dedicated clientele and more than 20 years' experience. If, like Susan and her posse, you live to cycle, here are a few of the best spots in the city to put yourself through the spin cycle.
Indoor Cycling NYC: Swerve
Swerve classes in Chelsea are run as "teams," with bikes grouped into pods of three, so that from the moment you hop on, you've already got a teammate—a nice plus if you're cycling solo. A single ride costs $36 or you can purchase two at a time for $40, with the bonus of cycling shoes thrown in. Swerve also locker rooms, with all the bells and whistles, including towels, and smoothie bars that also serve coffee and kombucha. Classes begin before most work hours and the last class starts at 7:30pm. 30 W. 18th St., swervefitness.com
Indoor Cycling NYC: Ryde
While a single class will set you back $30, a mere $50 gets you unlimited rides for a week in the saddle at Ryde.  They take it seriously, though. Cycle shoes are required, and rentals are $2.  An instructor is present to guide you along the way through a 45-minute, high intensity, rhythm-based interval routine. Ryde also provides free ear plugs, hair ties, mints, and towels, as well as the option to buy water or coffee. Showers are available, too. 52 E. 13th St., rydecycling.com
Indoor Cycling NYC: Aqua Studios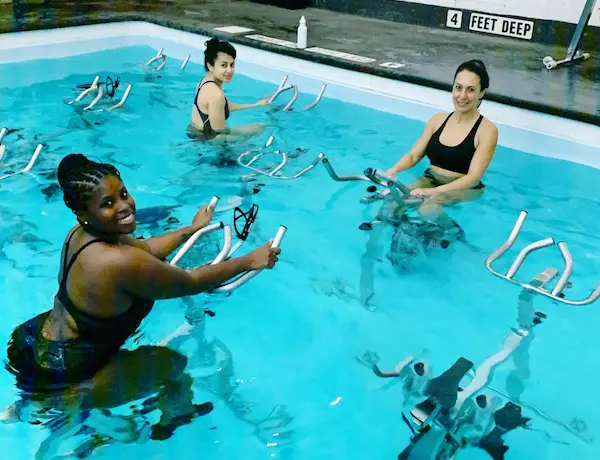 Get your wheels wet by diving into aquacycling at Aqua Studios in Tribeca. Clients say it's where cycling meets a spa experience. Forty-five minute classes are held there in a salt water pool. You'll want to wear a bathing suit and bring water shoes (you can also rent them for $2). One class is $30. You'll find all the amenities: Showers, towels, hair dryers, all on hand to complete your experience: healthy snacks and waters are for sale. Can't swim? No problem—the pool is a modest four-feet deep and the workout is cycling, not swimming. 18 Franklin St., aquastudiony.com
Indoor Cycling NYC: Harlem Cycle 
A different kind of immersion awaits you at Harlem Cycle, where you'll get the flavor of this storied neighborhood in everything rom the music to the studio décor. You'll also find places to change and cubbies to stow gear, but no showers. Here, the classes include Bikes and Bands with resistance band work to strengthen arms; 45-minute Hip Hop rides to music of the '80s, '90s and today; and a program called Harlem Cycle Express that merges intervals, rolling hills, sprints, climbs, runs, surges, and jumps. If you have bike shoes, bring them or wear sneakers. A first class is a modest $12.50. 2350 Adam Clayton Powell Jr. Blvd., harlem-cycle.com
Indoor Cycling NYC: SoulCycle
SoulCycle is a well-known institution in NYC. They've been around since 2006 (when their first location opened on 72nd Street), and now have spots spread across Manhattan.  A one-time first class is $25; bike shoe rental is $3. Here, upper body exercises are incorporated to a guided ride with music Soul Cycle provides changing rooms and lockers, and many locations include showers. You can bring water or buy it at the studio. Take advantage of a post-ride recap showing how you connected with the music, stats like power and distance, and your "rode home to" song. And you can book a class online for the coming week starting Monday noon NYC time. soul-cycle.com
Indoor Cycling NYC: Crunch
Crunch also has studios across Manhattan, with their "signature studios" considered a bit more upscale, in part because they boast a diverse roster of group fitness classes and luxe amenities. Visitors can obtain a free day trial class pass here: info.crunch.com. What's more, their bikes are fully loaded with both clips and cages, so wearing cycling shoes or sneakers is a choice that's up to you. No judgments—just work out and have fun.