Indoor cycling  is "great exercise—it's easy on the knees, you can work out at your own pace and it keeps you in excellent aerobic and physical condition," says Susan Eisenberg-Kushner, a New York Sports Club indoor cycling instructor for over 20 years with a devoted following. If, like Susan and her tribe, you're visiting NYC and want to cycle, there are plenty of great places to make those wheels go around.
Indoor Cycling NYC: Swerve
Swerve has three handy locations: midtown, the Flatiron area, and the Upper East Side. Classes are run as "teams," with bikes arranged into groups of three so when you get on your bike, you'll meet your teammates, a nice plus if you're solo. Buy one ride for $36 or two rides for $40 with the bonus of cycling shoes thrown in. Swerve has fully appointed locker rooms, towels, and smoothie bars that also serve coffee and kombucha. Classes kick off early in the morning; last class starts 7:30pm. swervefitness.com


Indoor Cycling NYC: Ryde
Visitors who want to ride several times will like Ryde, 52 E. 13th St., where a $50 unlimited pass is good for a week; a single class is $30. Cycle shoes are required; rental is $2.  An instructor will help you with anything you need and guide you through a 45-minute, high intensity, interval rhythm-based class. Ryde offers complimentary ear plugs, hair ties, mints, and towels, as well as the option of buying water or coffee. Showers are available. rydecycling.com
Indoor Cycling NYC: Flywheel
Using your cell phone, create a free account at Flywheel with studios all over NYC; your first class is free. A three-class pass is $50. Cycling shoes are complimentary; if you have your own footwear, bikes here are compatible with SPD and LOOK Delta. Facilities have towels, showers, and hair dryers. For newbie cyclists the Method class is perfect; Power and Tempo are more advanced, but open to everyone. Studio hours are 8am to 8pm Monday-Saturday. flywheelsports.com
Indoor Cycling NYC: Aqua Studios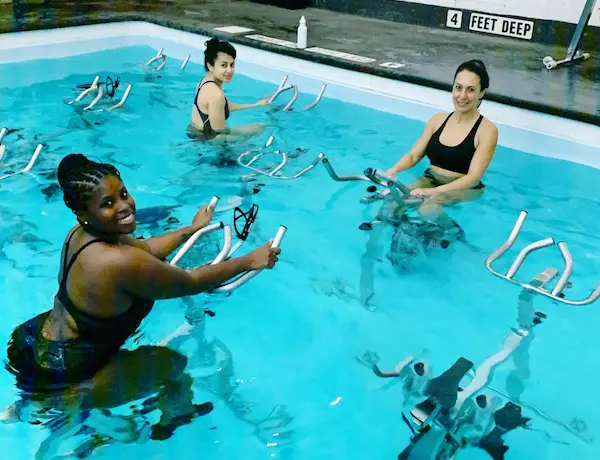 For a different angle, try Aquacycling at Aqua Studios, 18 Franklin St. in Tribeca, where people swear it's practically a spa experience. A 45-minute class is held in the salt water pool; wear a bathing suit and bring water shoes or rent them for $2. A single class is $30. Showers, hair dryers, and towels are on hand to complete the experience: healthy snacks and waters are for sale. Can't swim? No problem—the pool is a modest four-feet deep and the workout is cycling, not swimming. aquastudiony.com
Indoor Cycling NYC: Harlem Cycle 
Harlem Cycle, 2350 Adam Clayton Powell Jr. Blvd., focuses on the Harlem experience from the music to the studio décor. There are cubbies to stow gear and a place to change, but no showers. Classes include Bikes and Bands with resistance band work to strengthen arms; 45-minute Hip Hop grooves to music of the '80s, '90s and today; and Harlem Cycle Express merges intervals, rolling hills, sprints, climbs, runs, surges, and jumps. If you have bike shoes, bring them or wear sneakers. A first class is a modest $12.50. harlem-cycle.com
Indoor Cycling NYC: SoulCycle
With studios all over the city, SoulCycle has been around since 2006, when it opened its first studio on West 72nd Street. A one-time first class is $25; bike shoe rental is $3. At Soul Cycle you ride to the beat with upper body exercises incorporated into the workout. There are lockers, changing rooms, and, at many locations, showers. Bring water or buy it at the studio. Take advantage of a post-ride recap showing how you connected with the music, stats like power and distance,and your "rode home to" song. Book a class online for the coming week starting Monday noon NYC time. soul-cycle.com
Indoor Cycling NYC: Crunch
Crunch has studios all over, with their Signature studios a bit more luxe including a super-sized menu of group fitness classes and upgraded amenities. Visitors can get a free day trial class pass here: info.crunch.com. Bikes are fully loaded with both clips and cages so either sneakers or bike shoes work. No judgments—just work out and have fun.
Indoor Cycling NYC: Cyc
For killer playlists, heart-pumping energy, and expert Cycologists, Cyc offers a single class for $22 with no extra charge for bike shoes. Studios are at Astor Place, Chelsea, Hell's Kitchen, and the UES. Disposable earplugs and hair ties are available, as is access to NYSC LAB locker rooms and showers. Classes are held many times during the day; check the studio for details. cycfitness.com