One New York experience that doesn't cost a penny is running—just toss those kicks and basic gear in your bag and you're set. There are parks, loops, and trails fit for everything from a gentle jog to a long distance workout, many with wonderful views of iconic NYC sites.  
From this year's NYRR New York Mini 10K. 
The organization New York Road Runners (NYRR) is far more than the force behind the city's famous fall Marathon. "We provide programs, events and classes that the entire global running community can take advantage of any time throughout the year," says Michael Capiraso, President and CEO, NYRR.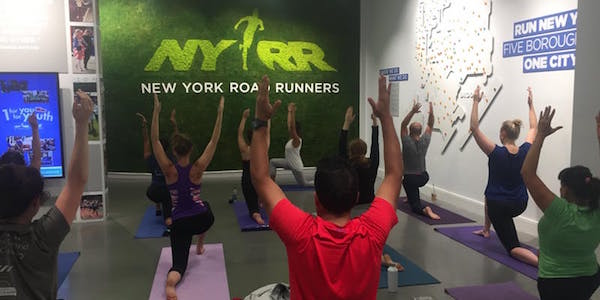 Yoga classes are offered on Saturdays at the NYRR RUNCENTER.
The organization serves runners of all ages from beginners to pro athletes; check out what's available at the NYRR RUNCENTER, 320 W. 57th St between Eighth and Ninth Avenues. On Saturday mornings, you can  participate in NYRR Running History Tours.
Wherever you're based, there are good running paths in the city.  Start at Manhattan's City Hall, run over the Brooklyn Bridge, and head back via the Manhattan Bridge for skyline views. Run along the Hudson River from Battery Park to 181st Street for 11 miles of great sights including the George Washington Bridge and Statue of Liberty. Dash or jog through Central Park choosing a seven-, four-, or one-plus mile loop like the one encircling the famous Jackie Kennedy Onassis reservoir (below). Check out a Central Park runners map here. 
Van Cortland Park in the Bronx offers the Old Croton Aqueduct through the center of the Croton Woods and the steep John Muir Trail. The Upper East Side's Carl Schurz Park provides a wide, mostly flat path with views of Gracie Mansion and the East River, while Prospect Park in Brooklyn has a three mile loop beginning at the Soldiers' and Sailors' Arch at Grand Army Plaza. Run alongside water in pretty Riverside Park on Manhattan's West Side where sprinters can practice on two running tracks.
Catch the sunset behind the Statue of Liberty on an evening run along Lower Manhattan's waterfront, passing sights including the National Museum of the American Indian/Alexander Hamilton U.S. Custom House, the "Charging Bull" statue, and One World Trade Center.
For a unique running experience, try the High Line, built above the city on a historic freight rail line. It's a 1.5 mile wow, filled with plantings, art installations, overlooks, and plentiful Hudson River views. To avoid throngs, run at 7am when it opens.
Roosevelt Island between Manhattan and Queens is good for a short, flat, scenic run. The East River Path is glorious with some elevation; continue onto Randall's Island and back for a 10 mile total.
The least crowded times to run are early mornings or evenings, preferably when there is some light in the sky. To stay safe, carry ID and don't wear headphones—listening is distracting. Pay attention to cars and cyclists that may not always stop as they should. Approach intersections with caution. Get out and have a great run! 
Some Rising NYRR youngsters. Photo Facebook.
For more information on the New York Road Runners Club, visit nyrr.org.