Your favorite characters are all in one place: The Disney Store in Times Square NYC! Disney princesses, Star Wars characters, Marvel superheroes, Mickey and Minnie all welcome you at this essential—and rather magical—shopping destination.
All ages are invited to experience the multilevel Disney Store at Times Square. Inside you'll find DVDs, toys, clothes, costumes, housewares, and much more. Some products are even exclusive to this NYC location!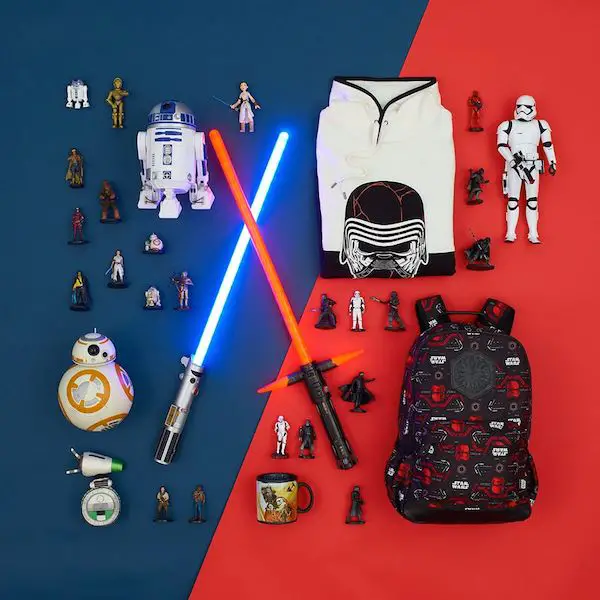 Star Wars accessories.
Themed sections make the store fun and easy to navigate. Kids can explore a large, beautiful castle and climb inside Cinderella's pumpkin carriage in the princess section. They can also become Elsa or Anna from the Frozen films or buy a Belle doll. In the Star Wars section, interact with life-sized Storm Troopers and action figures of BB-8 and Rey. Spider-Man slippers are on hand in the large Marvel section, where you can greet all the Avengers and find superhero gifts for friends, family, and yourself. Mickey and Minnie make plenty of appearances throughout the store, including a Minnie Statue of Liberty figure. You can also take home an "I Heart NY" t-shirt featuring Mickey Mouse (who recently turned 90 years old!).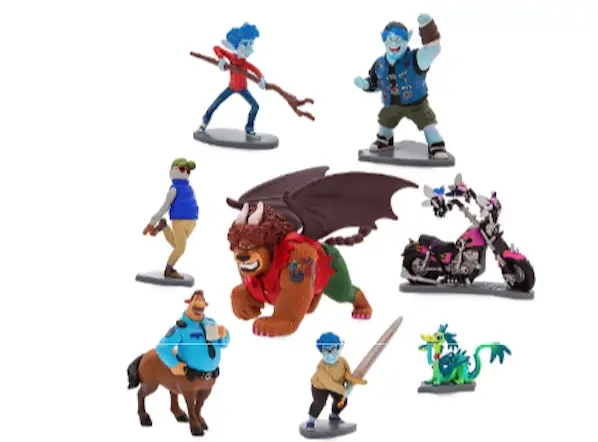 Some action figures from the new Disney film Onward.
In addition to classic characters, The Disney Store always features brand-new products and events for upcoming Disney films. Disney and Pixar's newest release, Onward, is coming to the NYC Disney Store soon. Engage with this magical movie with in-store games and free activity sets for guests. Reserve tickets for one of these five events, happening Saturdays between February 22 and March 14. 
Every day, a special visitor gets to open the Disney Store! Arrive early, and you might be selected to turn the huge, magical key and invite everyone inside for the day. Once you're inside, wandering the store might make you wistful for DisneyLand or DisneyWorld. You're in luck, as parades at Disney Parks are live-streamed on screens throughout the store. 
Outside the Disney Store is the wealth of shopping, dining, and entertainment that is Times Square. Once you've bought your action figures, t-shirts, and movies, there is plenty of fun to be had in this bustling area of New York City. There are even Disney-themed Broadway shows like The Lion King and Aladdin right around the corner. 
The Disney Store is open Monday through Friday, 9am-1am, and Saturday from 8am to 2am, and Sunday, 8am-1am.  

The Disney Store is located at 1540 Broadway. For more information, call 212-626-2910 or visit stores.shopdisney.com. Read Next | 11 Places for Chocolate Lovers in NYC