New York is a great city for chocolate fans, with a wide variety of options. When chocolate melts in your mouth it tastes great. It also makes us feels good. Chocolate stimulates the brain to release endorphins including dopamine, which turns us on, similar to the pleasures of sex, laughing, smiling at a baby, or whatever you enjoy.
Sample good old-fashioned Hershey's right in midtown at Hershey's Chocolate World, at Seventh Avenue and 48th Street. Mix and match your fave Hershey's goodies, personalize a chocolate bar wrapper, or sample s'mores served from an actual camper.
Jacques Torres, at locations all over NYC including Grand Central (in the Lexington Passage) and Rockefeller Center, sells mini-bars, regular bars, boxed chocolates, TDF hot chocolate, cookies, and ice cream—although not every product is at every locale. Starting as a pastry chef, Torres pioneered the bean-to-bar movement and produces handcrafted chocolates with the motto "Real is my promise to you."


Or make it a chocolate half-day. For a fee, A Slice of Brooklyn's Brooklyn Chocolate Tour includes sampling at four artisanal chocolate makers, learning chocolate history, shopping, enjoying a slice of pizza, and an amazing view of the Statue of Liberty. Tours ride on excellent buses with bathrooms every Tuesday and Thursday starting at 11am, departing from the northeast corner of Union Square.
Looking for something new? Try ruby chocolate from Barry Callebaut. It's pink, fruity, and a hit with anyone who insists on the cutting edge. According to the company, the "ruby cocoa bean" is not a new type of cacao nor is it genetically modified; instead, ruby comes from cocoa beans grown in special climate conditions in Ecuador, Brazil, and the Ivory Coast. Currently in the U.S. the only way to try ruby are by ordering ruby KitKats from Japan or buying Trader Joe's Ruby Cacao Wafers. Soon, luxury company Vosges Haut-Chocolat will offer two different truffles, Ruby Cerise and Sour Mango Ruby, both in pricey collections.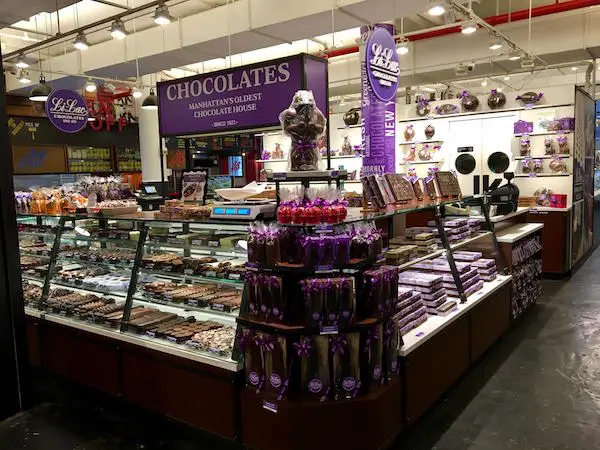 Drop into the Grand Central Market right in the station east of the Main Concourse near Track 19 for a total food wow including Li-Lac Chocolates. A New York City institution since 1923, this is Manhattan's oldest chocolate house, making old-world sweets in small batches.
Rhonda Kave owns Roni-Sue's Chocolates and partners with a company in Belize where her dark chocolate is made by local artisans using organic Mayan cacao, all direct trade and socially responsible. The shop, at 148 Forsythe Street on the Lower East Side, has a delightful garden and cute backyard with chairs and tables. And they have classes in making and tasting. These sell out fast so reserve ahead. roni-sue.com/calendar-1
Try Japanese chocolate at Royce Chocolate. This brand began in Hokkaido, an island in the northernmost part of Japan with a cool climate. Nama is white chocolate infused with green tea so it's lightly sweet. The Pure Chocolate Gift Sleeves, a complimentary add-on for shoppers in NYC, are individually wrapped chocolate discs. Royce's flagship store is at 509 Madison Ave. near 53rd Street.
In 2010, The Meadow, the well known Portland chocolate shop, opened a New York location in the West Village at 523 Hudson Street, and has been a favorite of Greenwich Village locals ever since. The staff is extremely knowledgeable about chocolate and scours the globe to find the best chocolate makers, and they feature new bars monthly.
Babka is a cross between bread and cake with chocolate (or cinnamon) between the layers. It's a staple of old world Jewish bakeries and could make a unique New York food souvenir. Fabulous chocolate babka is available at Breads Bakery, 18 W. 16 St. (Union Square), where coffees, salads, and sandwiches are also available.
Le Chocolat Sensation at L'Atelier de Joël Robuchon, 85 Tenth Ave. at the edge of Chelsea and the Meatpacking District, features Guanaja chocolate crémeux, white chocolate ice cream, and Oreo cookie crumble. Crafted by Executive Pastry Chef Salvatore Martone, this sweet is a thing of beauty and a taste thrill—a good thing, as it comes with a $22 price tag. The restaurant is among the most expensive around but wins raves for food and service.
---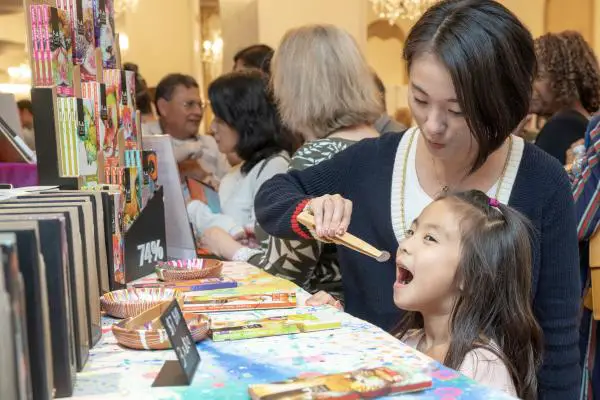 For an entire weekend of chocolate immersion save a date between Friday, September 20th and Sunday, September 22nd. The Big Chocolate Show is returning to the New York City area for the fourth consecutive year. Featuring both family-friendly activities and a special 21+ area, the event is moving to Resorts World Casino NYC in Queens, the "World's Borough." There are three full days of samples, chocolate tastings, live demonstrations, and classes. The Big Chocolate Show benefits Cookies for Kids' Cancer, a national nonprofit. Tickets are on sale now at thebigchocolateshow.com. Use City Guide's discount code (CITY20) for 20% off!
Read Next | The 10 Best Milkshakes in New York City