A milkshake can take any day to the next level, especially if it comes from one of these NYC restaurants serving up the best frosty treats in the city. The milkshakes on these menus are the creme-de-la-creme, bursting with flavor, and perfectly blended for your palate's craving for something cold, creamy, and sweet. Whether you're a fan of strawberry, chocolate, vanilla, or something a little bit more exotic (like a milkshake with a slice of cake on top), you'll find them all at these amazing burger joints and dessert hotspots.
The 10 Best Milkshakes in NYC
1. Black Tap (Midtown & SoHo)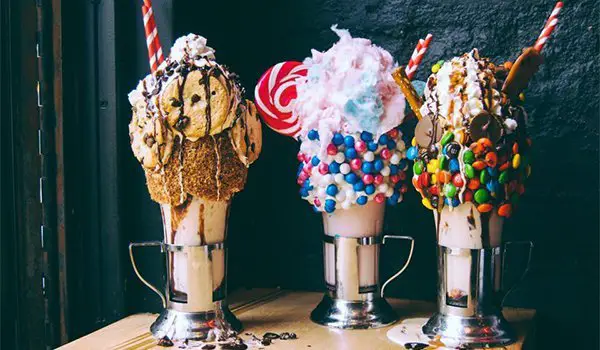 Black Tap has a peerless menu of classic shakes, including Black Cherry, Nutella, and Caramel…but it's the CrazyShakes that gets foodies buzzing. Going for $15-$20 a pop, these sumptuous treats are decadently drizzled in candies, cookies, and baked goods galore. The Cotton Candy Strawberry Shake is a favorite, due to its vanilla-frosted rim, pearl chocolates, lollipop, rock candy, whipped cream and cotton candy toppings. Craving something more on the savory side? Their Sweet 'N' Salty should do the trick. 
529 Broome St., SoHo; 917-639-3089 • 136 W. 55th St., Midtown; 212-315-4356 • Singles & Doubles, 45 W. 35th St., Midtown; 646-943-5135
2. Brooklyn Farmacy & Soda Fountain (Carroll Gardens, Brooklyn)
Brooklyn Farmacy & Soda Fountain, an homage to the soda parlors of yesteryear, is everything you could want. It stocks a quaint, vintage setting with a menu chock-full of sundaes with names like Mr. Potato Head, a long list of ice cream floats, and serious shakes. You can get creative with your milkshake order (think of this as a bar for non-alcoholic beverages), but if you order off the menu, sample their classic black and white with vanilla ice cream and hot fudge. Or go out of this world the Rocket—vanilla and a shot of espresso for a tasty energy booster. 
513 Henry St., Carroll Gardens; 718-522-6260
3. Bill's Bar & Burger (Midtown West & FiDi)
Rockefeller Center is one of two homes to Bill's Bar & Burger and its unbeatable retro combination of  burger-and-shakes. Bill's offers an ascending trio of milkshakes: Classics, Signatures, and Monsters. Of course you'll find flavors like chocolate, vanilla, and strawberry, but the Signatures include Cookies & Dream and s'mores-y Campfire. But wait: the standout option is the Chocolate Peanut Butter Bomb. It's blended with Reese's Pieces, salted peanuts, chocolate sauce, and peanut butter cups.
16 W. 51st St., Rockefeller Center; 212-705-8510 • 85 West St., Financial District; 212-894-3800
4. Oddfellows Ice Cream Co. (Williamsburg & Dumbo, Brooklyn)
How about a walk on the wild side? Step into Oddfellows for an off-the-beaten-path milkshake. There you'll find exotic delights like their White Russian shake with milk-flavored sherbet topped with Kahlua syrup and whipped cream with coffee soil top, for example (yes, please). You can also sample such small-batch flavors as buttermilk honey blueberry or extra virgin olive oil as your base. Whatever your pleasure, go flexible, as their flavor options can (and do) change daily and sometimes on an hourly basis.
40 River St., Williamsburg, Brooklyn; 718-387-4676 • 44 Water St., Dumbo, Brooklyn; 718-683-5755
5. Lexington Candy Shop (Upper East Side)
Malted milkshakes evoke Ike, Elvis, Marilyn, and a simpler era of soda shops and sock hops. Come get a taste of yesteryear at Lexington Candy Shop, where they serve malted milkshakes sure to satisfy the cravings of your youth—or your great-grandparents'. These milkshakes are made with malted milk powder, a slightly savory mixture of powdered milk, barley and wheat. Check out their chocolate, vanilla, or strawberry—and/or Lexington Candy Shop's ever-changing flavor of the month! 
1226 Lexington Ave., Upper East Side; 212-288-0057
6. Milk Bar (NoMad and 7 other locations)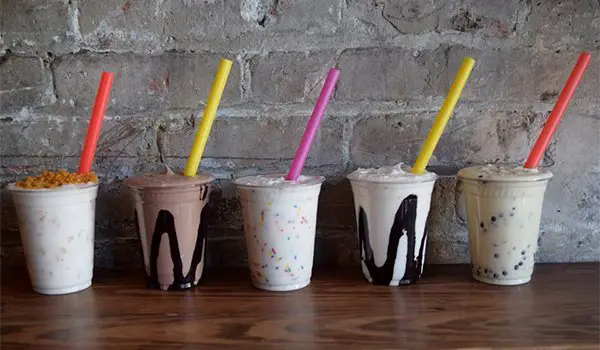 Renowned for both sweet treats and unique recipes, Christina Tosi's Milk Bar definitely ranks among the best milkshakes in NYC. Specifically, the Crunch Cereal Shake is richly deserving. This specialty of the house is blended with cornflakes to create a smooth yet crunchy texture that tastes like you're privately slurping down the leftover milk from your morning breakfast bowl (remember those Saturday morning cartoons?). The Birthday Cake Shake hits a similar sweet spot, consisting of Cereal Milk Shake with blended birthday truffles. 
Flagship: 1196 Broadway, NoMad; 347-974-4975. Visit the website for 6 more locations.
7. Taiyaki NYC (Chinatown)
How do you improve on a great milkshake? You add a souvenir pool float inspired drink holder! Every one of the ice creams at Taiyaki NYC is made in small-churned batches to preserve taste and the flavors are definitely delicious. Shakes can be made from any of the ice cream flavors served, but we love the matcha! 
119 Baxter St., Chinatown; 212-966-2882 • 294 Bedford Ave., Williamsburg, Brooklyn; 917-909-1856 • 136-17 39th Ave., Flushing, Queens; 917-826-7821
8. Harlem Shake (Harlem & Park Slope, Brooklyn)
Open for delivery, indoor dining, and takeout.
There's a huge assortment of milkshakes to wade through at Harlem Shake (including Black and White, Salted Caramel, Strawberry, Peanut Butter, Chocolate, Vanilla and Cookies and Cream…just to name a few), but it's the namesake option that tops our list. The Harlem Shake is a red velvet flavored confection, and it's every bit as mouthwatering as you might imagine. Both locations have a that charming vintage feel and will transporting you back in time to when Batman and Superman were TV characters.
100 W. 124th St., Harlem; 212-222-8300 • 119 Fifth Ave., Park Slope, Brooklyn; 877-717-4253
9. Bareburger (Midtown East and 15 other locations across NYC)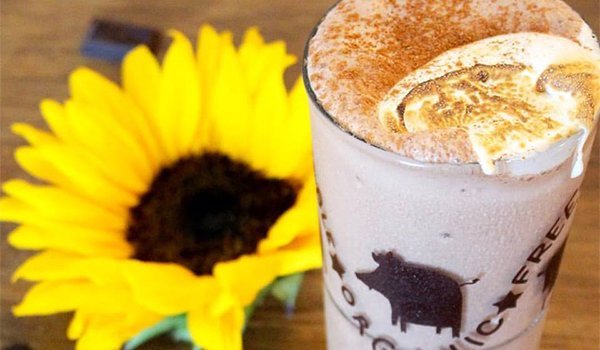 Bareburger receives all of its ice cream flavors from Blue Marble, the only certified-organic creamery local to NYC—and trust us that you can surely taste the quality in every scoop. The Banana Foster (made with vanilla ice cream, banana, and caramel sauce) is a sure winner. Many locals love the Mexican Chocolate, which is assembled from chocolate ice cream, cayenne, cinnamon, and torched marshmallow. There are vegan options available too, all made from hemp milk and coconut ice cream. 
514 Third Ave., Midtown East; 212-679-2273. Visit the website for more locations.
10. Van Leeuwen (East Village)
For our money, Van Leeuwen serves the best ice cream in the city (and many agree). Their milkshakes pass with flying colors as well, since they're made from small-batch artisanal ice creams. You can sample flavors like Earl Grey Tea, Sicilian Pistachio, or Salted Caramel. Van Leeuwen's vegan, coconut-based ice cream is spectacular as well—ask for one scoop of vegan dark chocolate and one scoop of vegan peanut butter chocolate chip in your shake, then thank us later. Or wake up with an affogato: that's vanilla ice cream blended with plenty of chilled espresso. Mmmmmm.
48½ E. 7th St., East Village; 646-476-3865. Visit the website for more locations.
—Additional reporting by Merrill Lee Girardeau, Samantha Aronson, and Patrick Gunn.
Read Next | NYC's Best Hot Dogs