Whether you're a die-hard Yankees fan or you just want to see the iconic ball park, visiting Yankee Stadium when you're in NYC has to be one of the things to do in NYC on your bucket list. And the good news is we've pulled together everything you need to know about visiting Yankee Stadium. Planning to attend a game of America's Pastime? Find information here about the 2022 season schedule and tickets, info about the food at Yankee Stadium, and more. And if you want an exclusive tour of Yankee Stadium, you'll find details about those too. 
littlenySTOCK / shutterstock.com
Click on a category below to jump to that section of the article:
NY Yankees Schedule 2022
The Yankees are playing regular season games through early October. Check out the 2022 season schedule to see if the Yankees are playing when you'll be in town.
Yankees Tickets 2022
There are three ticket levels for Yankees games: General Seating, Pinstripe Pass, and Premium Seating. 
General Seating: These tickets are $15 and up, depending on which game you attend and where you want to sit.
Pinstripe Pass: Starting at $15, these passes include a general admission, standing room-only ticket to the stadium, plus a drink. That includes a 12 oz. domestic beer for those ages 21 or older (with a valid ID), Pepsi product, or a bottle of water.
Premium Seating: These tickets are for seats in suites, and start at $345.


Find more information and purchase tickets to Yankees games on mlb.com.
Yankee Stadium Food
For the 2022 MLB season, Yankee Stadium announced a slew of new dining options, including choices for gluten-free, vegetarian, and vegan baseball fans! The expanded food options means Yankee Stadium offers some of the most unique dining choices throughout the MLB.
Yankee Stadium food options include:
Streetbird: Featuring James Beard Award-winning Chef Marcus Samuelsson's comfort food classics like chicken fingers, hot chicken sandwich, and chicken and waffles
The Halal Guys: Taste the gyros, falafel, and chicken sandwiches from every New Yorkers favorite food cart.
Benihana: Enjoy some sushi while rooting for the home team. And new this year, try out the spicy tuna burrito or the spicy salmon burrito.
City Winery: Looking for a glass of wine? Check out City Winery, which also has delicious eats, like the GOAT Burger, which is a steakhouse burger, topped with drunken goat cheese, balsamic fig spread, and arugula.
King's Hawaiian: Grab a burger, slider, or sandwich on a King's Hawaiian bun.
Yankee Stadium Grand Slam Shakes: Get incredible milkshakes in souvenir cups, like the Bronx Bomber, which is a vanilla or chocolate milkshake with caramel drizzle, fun size Baby Ruth, peanut butter cup, Cracker Jack, and Yankee sprinkles.
Oatly Soft Serve: dairy-free ice cream
Bobby's Burgers: Co-founded by Bobby Flay, each item on the menu was handcrafted by the chef, including beef and veggie burger options.
Mighty Quinn's: The NYC fan-favorite barbecue spot offers slow-smoked meats, like a brisket sandwich, a burnt ends sandwich, and pulled pork.
Sumo Dog: Redefining the American classic hot dog, the menu here uses Asian-inspired flavors and ingredients to create unique and colorful combinations like The Godzilla, which is topped with beef chili, togarashi cheese sauce, wasabi relish, pickled peppers, spicy mayo, teriyaki sauce, wasabi furikake, minced onion, jalapeño, kizami nori.
Wings of New York: Features boneless and traditional chicken wings, plus you can even gobble up chicken and waffles
Jersey Mike's: Want an authentic cheesesteak without going to Philly? Grab one here!
Gluten-Free NY Grill: Selections here include Nathan's Hot Dogs, Premio Hot of Sweet Italian Sausage, and Impossible Burgers.
Want to grab a bite before or after the game? Check out our roundup for restaurants and bars near Yankee Stadium.
Yankee Stadium Tours
If you live and breathe all things baseball (it is America's National Pastime, after all), you'll want to check out the Yankee Stadium Tours. Head up to the Bronx, where Yankee roots date back to 1923, to experience the architecture, the history, and the grandeur of Yankee Stadium. To learn more about the lore of the 27-time World Champion Yankees and to experience Yankee Stadium as an insider, go on a baseball adventure with Yankee Stadium Tours. There are two options: the Classic Tour, which are offered most of the year, and the Pregame Tour, which happens on game days.
Classic Tours
The current Yankee Stadium is actually the third home of the Yankees, completed to state-of-the-art specs in 2009. Your tour begins in the Great Hall, a space worthy of its name, with arched windows like a cathedral letting light shine down on banners of Yankee greats. An expert guide will give you the backstory as your tour begins, with a first stop at the New York Yankees Museum Presented by Bank of America.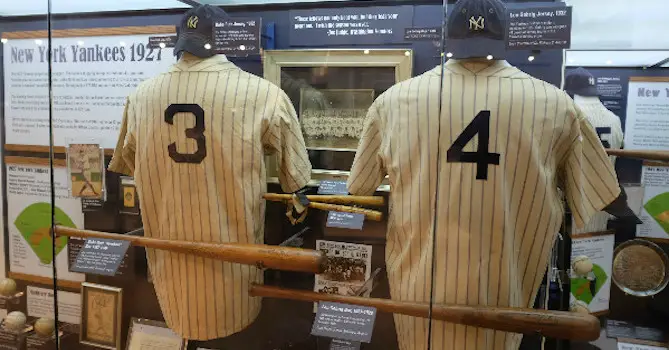 The exhibitions here illuminate Yankee stories of triumph and tragedy. Five great teams (the world champs of 1927, 1939, 1961, 1977, and 1998) are called out, with priceless memorabilia on display. Teammates Lou Gehrig and Babe Ruth are reunited in bats (Ruth's has 11 notches, signifying the home runs he hit with it) and uniforms and autographs. Replicas of every Yankee championship ring can be seen, 26 of them to be precise. (For their first World Series win the team was awarded a pocket watch. It's here too.) Don't miss the Yankees most recent ring, from 2009, glittering with 119 diamonds, one for each win.
You'll have the chance to examine up close a wall of 870 signed baseballs, World Series trophies, and two life-sized statues of the battery for Don Larsen's unlikely perfect game, pitched against the Brooklyn Dodgers in game 5 of the 1956 World Series. It was only the fourth perfect game of the modern era—there have been less than two dozen in the history of the sport. Before you leave, spend a moment at Thurman Munson's locker, left as it was when the Yankee captain was killed in a plane crash in 1979. In a telling contrast, a contemporary locker has been stationed next to it, showing just how far taste and technology have evolved.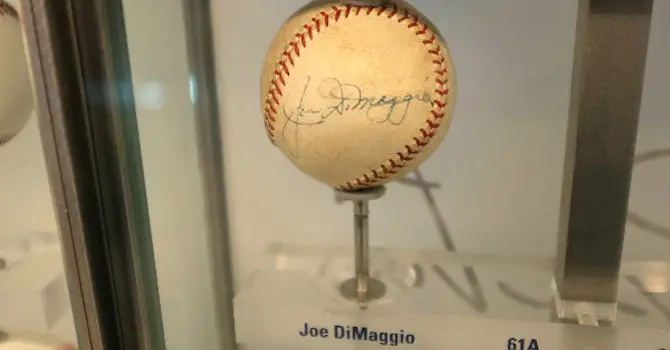 When the tour moves back to the stadium proper you'll get sweeping views of the seats and field. Take a minute to soak it in, an experience like the hush before the raising of the curtain at a Broadway show. Your next stop will be one of the city's most famous landmarks, Monument Park. Home run balls are launched from time to time into this open-air Hall of Fame, where retired numbers and plaques tell the stories of Yankee immortals. Greats across the generations are here, from Babe Ruth to Mickey Mantle to Derek Jeter and his #2—the last Yankee to wear a single-digit number.
In both the museum and Monument Park you'll get a sense of American history, of the larger story of the nation as it intersects with the National Pastime. The #32 of Elston Howard, the first African American to play for the Yankees, is here, as are memorials to Nelson Mandela (he donned a Yankee cap when he spoke at the stadium in 1990) and the terrorist attacks of September 11th. It's all a reminder that no team in sports has a legacy like the Yankees.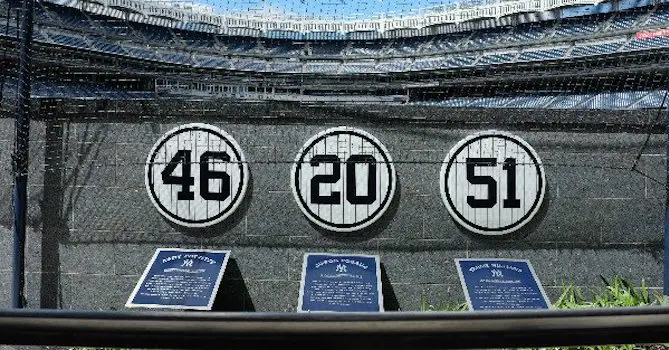 After Monument Park, you'll have a chance to pose with a replica of a World Series trophy, with the green grass of the ball field for backdrop. From there, the tour guide will lead you down to the field. This is exactly the perspective the players have and after experiencing the dirt and the angle up to the stands, you'll never look at a baseball game the same way again. The stadium architecture looks especially grand from here, particularly the arcing white friezes, which reference back to the design of the original 1923 ballpark. If for some reason the field isn't accessible, there's a pretty good consolation prize—tours go to the press box.
Either way you'll be treated to an insider look at something usually off limits. And you don't have to be a diehard Yankee fan to appreciate that.
Pregame Tours
Get to the stadium early on game days for a chance to tour the home of the Bronx Bombers and make your day at the ball park extra-special. Led by knowledgeable guides, the Pregame Tour visits the New York Yankees Museum Presented by Bank of America, Monument Park, and Section 105 to view batting practice (batting practice and/or warm-ups occur at the team's discretion). 
Yankee Stadium Tour Times
Classic Tours: These run most of the year; check in advance for winter availability. Though dates and times may vary, these tours are typically offered at 11:00am, 11:20am, 11:40am, 12:00pm, 12:20pm, 12:40pm, 1:00pm, 1:20pm, and 1:40pm.
Pregame Tours: For games starting at 1:05pm, tours are slated for 10am, 10:15am, and 10:30am. For games starting at 7:05pm, tours are slated for 4pm, 4:15pm, and 4:30pm.
Yankee Stadium Tour Tickets
Classic Tour: $25; $20 seniors ages 60 and older, children ages 4-14, and military; free for children ages 3 and younger 
Pregame Tour: $50 per person
To purchase tickets for a tour of Yankee Stadium, please visit yankees.com/tours or call 646-977-8687 for more information.
Where is Yankee Stadium?
Yankee Stadium is located at 1 E. 161st St., Bronx.
How do I get to the stadium?
You can drive or hail a cab to Yankee Stadium, but your best bet is to hop on the subway. Take the 4, B, or D trains to 1611 St-Yankee Stadium.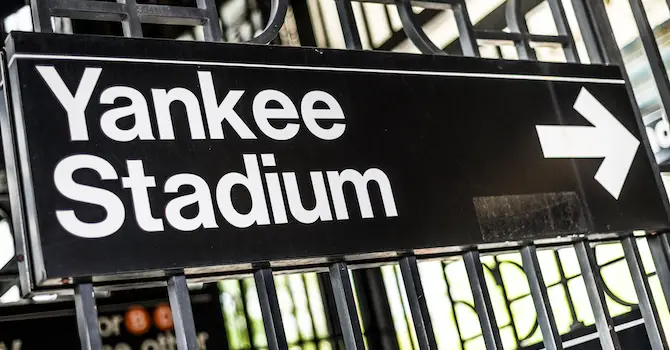 stockelements / shutterstock.com
You can also take the Metro-North Railroad from Grand Central Terminal to Yankees-E. 153 St station.
Yankee Stadium Parking
If you choose to drive to the stadium, you'll find independent parking garages and lots (for about $40-$50) in the area, including:
—Ethan Wolff wrote the Yankee Stadium tour overview in this article.
Thinking of visiting Citi Field, too? Here's everything you need to know.