Managing Museums: How to Explore Museums with Kids in NYC
Kids growing up in—or visiting—New York have a wealth of fabulous cultural options to explore, chief among them the incredible selection of museums.
New York has so many museums! Museums exploring art and culture, history and science, nature and space and design and…
New York has So. Many. Museums.
How do you explore museums with kids? Where do you start? What's worth it...and what's not?
Below, a handy guide for families visiting museums with kids.
How old should kids be to visit a museum?
Enterprise photo by Svetlana Jovanovic, Intrepid Museum.
There's honestly no minimum, and many ways to engage young kids in a museum setting exist. There's no reason that you can't take a child in a stroller to an art or natural history museum—there's a lot to see and kids are often fascinated by bright colors in paintings or monumental sculpture.  They're also likely to recognize forms in nature from their own experience. Ask questions, point out colors and shapes. The goal is to make it an active rather than a passive experience.
Several museums also offer family programs for kids as young as preschoolers or even toddlers. The American Museum of Natural History (AMNH), for example, offers The Early Adventures Program for preschoolers; it allows them to work with educators and scientists to engage in activities focused on the museum's collections. Over at The Museum of Modern Art (MoMA), the Samuel and Ronnie Heyman Family Art Lab hands-on space lets kids (and adults) work with wire and other materials and play with light boxes; it's free with museum admission.
New York is also lucky to have so many museums just for families, from the Children's Museum of Manhattan to the DiMenna Children's History Museum at the New-York Historical Society, the Staten Island Children's Museum, the Bronx Children's Museum, and the Brooklyn Children's Museum. Those offer great first experiences for bringing kids to a museum; many of the programs offer a mix of hands-on activities as well as exhibits tailored just for kids, often with an emphasis on science and nature.
Should we take our kids to an art museum?
Family day creativity at the New Museum.
Yes. Like anything else, repetition breeds success. In other words, it's great to get children used to museums as places to wander and explore and enjoy looking at the works of art.
Many museums offer specific ways for kids to immerse themselves in a museum, from written materials like scavenger hunts to kid-friendly museum maps. A number of museums also offer family tours and written guides.
The Metropolitan Museum of Art, for instance, has family guides that focus on the Armor and Armor galleries, Asian Art, and The British galleries, to name a few, as well as a kid-friendly map heavy on fun illustrations. Drop-in family programs at the Queens Museum offer ways to interact with art materials from collage to sculpture and printmaking; while The Bronx Museum even takes kids outside with programs like their Double Dutch workshop (grab your jump rope!). Other museums offer weekly storytelling, family art days, and celebrations of holidays like Chinese New Year that combine performance, art making, demonstrations, and tours. In other words, museums are already doing a lot of the heavy lifting by offering engaging, age-appropriate programs.
If we don't want to do a class, how should we structure the visit?
Do some planning ahead of time and include time for exhibits you know you want to see as well as unstructured wandering—part of the fun is discovering new spots and seeing what catches kids' attention. Visit the museum's website ahead of time, or else call or ask about specific galleries when you get there—if your entire trip is centered around a certain exhibit and it's closed, tears are likely to fall—and not just from the kids. Always have a backup.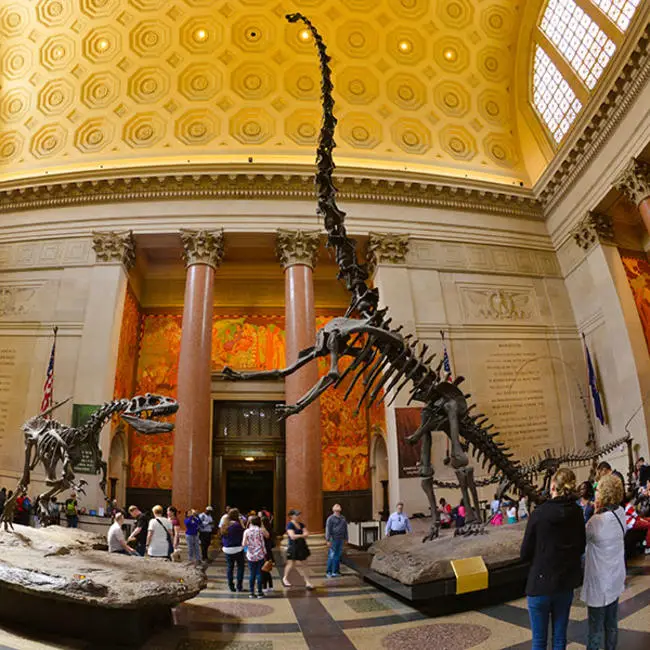 Hall of Saurischian Dinosaurs/American Museum of Natural History.
What else? Tailor the galleries you're planning on visiting to kids' interests. At the AMNH, for instance, visiting the Hall of Saurischian Dinosaurs is a no-brainer, as informal polls show that every child on the face of the earth loves dinosaurs. But also dig a little deeper—What about that cool exhibit on bugs? Or the Halls of Gems and Minerals? You can let kids choose a gallery you've never been to, or else pick a path and see where it takes you.
It also never hurts to have some activities planned; engage kids in looking and finding activities (I Spy is always popular). Make sure it goes both ways—have kids design activities for the grownups, too. One suggestion: choose a work of art and take turns asking questions about it. What's the main color in this painting? Where do you see it? How many triangles can you find? What do you think that person in the corner is thinking about?
Any other tips?
Always explain the museum rules—but also explain why those rules exist. For example, tell kids not to touch, but also explain that by doing so they could leave marks from their fingers, which would damage the work of art.
If you're with older kids who have been to the museum before, ask them to show you a work they like, and to explain why. Bring sketch books and pencils, and let your kids draw and just sit in a gallery for a while. Is your child a storyteller? Give them a prompt, such as having them make up a story that includes two works of art.
Extend the visit. Sure, every child will want to visit the gift shop, but if you find a souvenir that somehow ties into what you've seen, it can extend the experience after you leave. Getting colored pencils at an art museum, or dinosaur figures at a natural history museum, allow young visitors to take home their newfound knowledge and incorporate it into their play.
Museums generally get more crowded as the day goes on. Try to plan a visit for about half an hour after the museum opens; you'll most likely avoid standing on the line that forms right before opening to get in, but it will still be early enough that many galleries will not be overly crowded. Weekday mornings tend to be less crowded as well. And if you've had the great idea to go on a school holiday like Presidents' Day, just remember that many other people will have had that great idea as well. The week between Christmas and New Year's as well Easter Week also tend to be quite crowded.
Help kids build an art vocabulary. If you're looking at one of Monet's Water Lilies paintings, for example, introduce words like "Impressionism." Then ask kids to look around the gallery to see if they can find any other works that might also be Impressionist in nature. (You can find Water Lilies at the Museum of Modern Art.)
Quit while you're ahead. Don't wait to end your visit until everyone is tired and cranky. Schedule in breaks for sitting and snacks.
Always leave them wanting more. The goal is to have kids say, "When can we come back?" Not, "When can we leave?"
Do a debrief later that day. Talk about your experience—and start planning for next time!
For more in-depth coverage of the New York City museum scene, check out our main museum page.
Top Museum Picks for Kids in NYC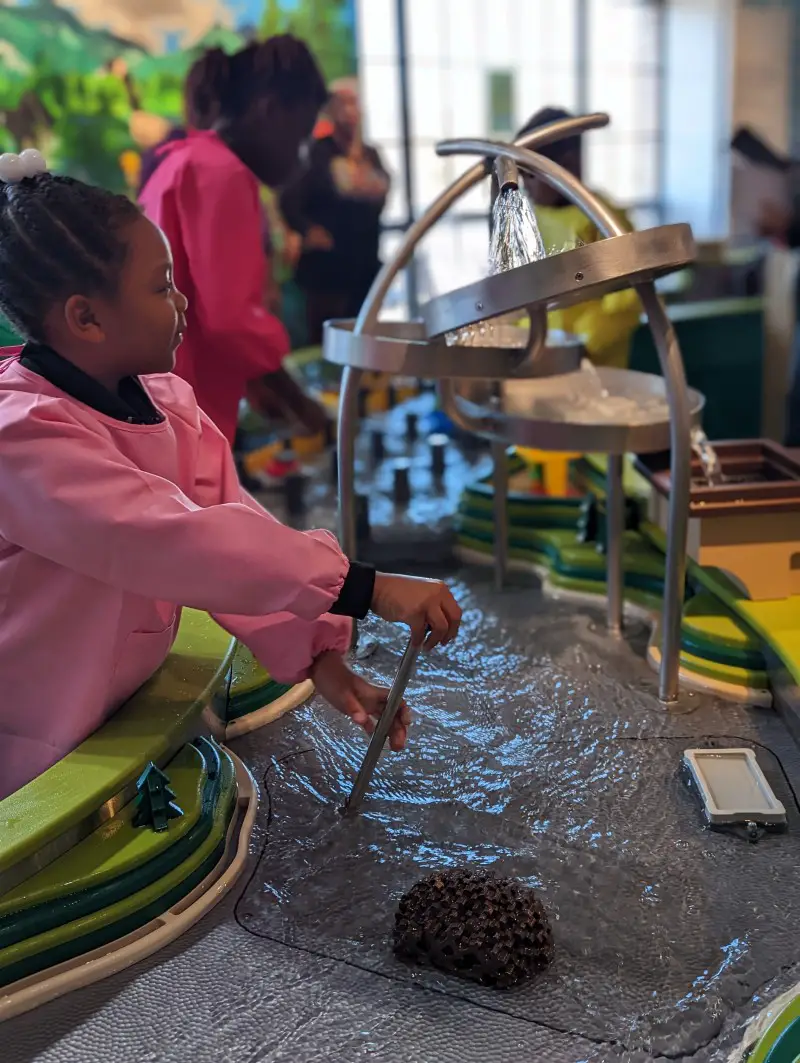 Bronx Children's Museum Waterways. Photo courtesy Bronx Children's Museum.
AKC Museum of the Dog
American Folk Art Museum
American Museum of Natural History (AMNH)
Bronx Children's Museum
The Bronx Museum
Brooklyn Children's Museum
Children's Museum of Manhattan
DiMenna Children's History Museum
Intrepid Museum
Metropolitan Museum of Art
The Museum of Modern Art (MoMA)
National Museum of the American Indian
New Museum
New York City Fire Museum
New York Transit Museum
Queens Museum
Spyscape
Staten Island Children's Museum