Whether you're a die-hard Yankees fan or hopping on the bandwagon during a winning streak (no judgment!), any day at Yankee Stadium is a good day. The new and improved stadium is located in the Bronx, just a short ride north from midtown. While you're around, why not check out some of the area's best restaurants, bars, and activities? If you're so inclined, you can even get some food to go from a neighborhood restaurant and eat it during the game. Below, we've got a few suggestions for what to do before or after the big game. Play ball!
What to Do & Where to Eat Around Yankee Stadium: Yankee Stadium Pregame Tours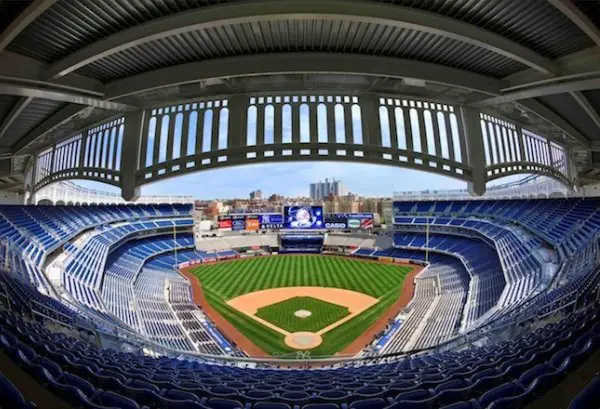 Want to see the Yankees at batting practice before the game? You'll have just that and more during a pregame tour of the stadium, presented by the New York Yankees Museum and Bank of America. With your Yankee Stadium Tours ticket, you'll get early access to the stadium, plus history and trivia about the stadium from a tour guide who will lead you around the facilities and through Monument Park, the open-air museum full of artful tributes to notable Yankees. ou can also tour the stadium on non-game days, as they're held every day of the week. Tickets to the tours are $40 per person. 646-977-TOUR, tours@yankees.com


What to Do & Where to Eat Around Yankee Stadium: Stadium Fare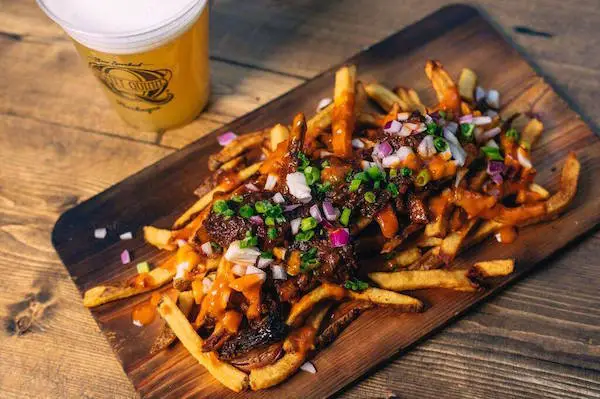 Mighty Quinn's 
Luckily, there's no shortage of great food inside Yankee Stadium itself! Have a spicy organic bison burger or sub in a vegan black bean patty at Bareburger (section 132). Try a Chinese bun with rotisserie prime rib, queso sauce, and flaming Cheetos at Fresh Hot Baos on the Toyota Terrace. Get a taste of Philly at Jersey Mike's, serving cheesesteaks all game long (sections 107, 223, & 314). Have a Hawaiian pork-and-pineapple sandwich at King's Hawaiian Offerings (sections 115 & 334), or the king of Southern barbecue, Mighty Quinn's (section 132). Vegans, vegetarians, and gluten-free eaters can find a Southwestern treat at Taquitos (section 125). You'll get a souvenir cup and a delicious milkshake at Yankee Stadium Grand Slam Shakes, featuring mix-ins like churros, Funfetti, S'more, and brownies (section 125). For a full list of options, maps, and options for special diets, see the dining guide at mlb.com/yankees/ballpark/food.
What to Do & Where to Eat Around Yankee Stadium: Hard Rock Cafe
Located on-site at Yankee Stadium, you can eat at Hard Rock Cafe on game days and non-game days alike. Hear live music and eat a Legendary Burger with fries topped with Guinness and cheese sauce. You can also enjoy a Cobb salad, fajitas, or the signature Twisted Mac, Chicken & Cheese. Don't forget to stop by the gift shop for a little Hard Rock swag. 1 E. 161st St., 646-977-8888, hardrock.com
What to Do & Where to Eat Around Yankee Stadium: NYY Steak
Looking for a ribeye and a shrimp cocktail? NYY Steak is for steakhouse lovers. With raw seafood, USDA Prime steaks, seafood entrees, and wine, you can count on comfort and class before or after the game. NYY Steak is also located at the stadium for your convenience. Sip on a blue Yankee-tini or a Bronx Bomber while you wait for your bone-in ribeye, which—no spoilers—comes with a little surprise. We'd also point you to the raspberry sorbet for dessert, perfect for baseball weather. 1 E. 161st St., 646-977-8325, nyysteak.com
What to Do & Where to Eat Around Yankee Stadium: Feeding Tree
Made popular after a visit from Anthony Bourdain on No Reservations, The Feeding Tree is a neighborhood favorite, beloved for its note-perfect Jamaican cuisine. That means a little curry, a little oxtail, a pile of plantains, and a lot of jerk. It's all hot (in both senses of the word), and the takeout counter will be abuzz on gameday. Plan accordingly! Feeding Tree is worth it. 892 Gerard Ave., 718-293-5025
What to Do & Where to Eat Around Yankee Stadium: Bate Nabaya African & American Restaurant
Don't make the mistake of leaving the Bronx before you've tried some West African cooking. Bate Nabaya offers dishes from the owner's native Guinea, like baked fish with plantains, lamb shank with couscous, and guinea fowl with tomato sauce. Eating here is like sitting in a hospitable West African kitchen (i.e. smells like heaven). Don't forget to try the homemade ginger beer too! 860 Melrose Ave., 718-401-2283 
What to Do & Where to Eat Around Yankee Stadium: Bronx Drafthouse
Among the many places to grab beer and burgers in the area (including inside the stadium), Bronx Drafthouse ranks among the best. Why? Because not only do they stock a stout selection of draft beers, but they serve a beef burger topped with pulled pork, gandules paste, and plantains. That's reason enough for us. The cocktails are on point too; try the coconut mojito! 884 Gerard Ave., 929-265-9759, bronxdrafthouse.com
What to Do & Where to Eat Around Yankee Stadium: Bronx Museum of the Arts
If you're a fan of baseball and fine art, you're in luck! The Bronx Museum of the Arts lies just blocks away from Yankee Stadium. Right now, check out photojournalist Randy H. Goodman's depiction of Iranian women in that country's present moment; pieces by a former South Bronx school teacher, Tim Rollins; handmade Judaica from Oded Halahmy; and the sculpture series Landing / Aterrizaje by Moses Ros. 1040 Grand Concourse, 718-681-6000, bronxmuseum.org
Yankee Stadium is located at 1 East 161st St. in the Bronx. Visit mlb.com/yankees for directions and more.