For bridal parties coming to New York, the city's your oyster. No matter your budget or the number of bridesmaids you have, there will be fun for all with Broadway shows, boozy brunches, culture, shopping, and karaoke. As for the matching t-shirts, those are up to you.
Bachelorette Party Guide: Transportation
Start your bachelorette party in style with a luxurious ride from the airport! Bridges Limousine provides a range of vehicles for small and large groups—including limousines, of course. Bridges operates 24 hours a day, 7 days a week, and provides not only airport transportation but will also show you around town.
Bachelorette Party Guide: Trolley Time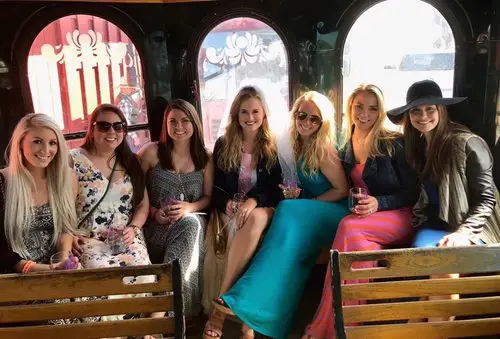 For an original way of getting around with your bachelorette crew, look into The New York Trolley Company. Safe, clean means of transportation, these trolleys can fit your entire bridal party and get you around the city in style. Food and drink, dancing, and decorations are all encouraged, with professional drivers providing hop on-hop off convenience. You can class up your Instagram feed as well! 
Bachelorette Party Guide: Brunch
Start your New York Saturday with a brunch to fuel the rest of your day (and maybe recover from Friday night). If you're in Midtown, The Ribbon is a fantastic option. This old New York-inspired brasserie is spacious, convenient to Broadway theaters, and there's something tasty on the menu for every kind of eater. 
If you're looking for a hearty Mediterranean brunch, hit up Jack's Wife Freda, with locations in the West Village, Chelsea, and Nolita. Instagrammable green shakshukas and Cantaloupe Mimosas await.  
For classic New York bachelorette fare, take a look at Bagatelle. The party starts early at this Meatpacking District mainstay, which specializes in boozy brunches and posh environs. 
For brunch with a view, take an elevator up to Robert, overlooking Columbus Circle and Central Park. This New American restaurant is located atop the Museum of Arts and Design (or MAD), a smaller New York museum that would be well worth a tour after your tasty brunch in this very artsy aerie.
Bachelorette Party Guide: Shopping
Whether you're window-shopping or still looking for a rehearsal dinner dress, there's no shortage of options in this world capital of fashion. SoHo remains one of the city's most popular shopping areas, with enormous stores like Zara, Madewell, REI, and even a Bloomingdale's outpost. SoHo also contains two of the city's most popular immersive experiences: Color Factory and The Museum of Ice Cream. 
Dishes at ABC Carpet & Home. Instagram.
In the Flatiron, you can snap a few pics of the iconic wedge-shaped building and do some damage at the shops lining Fifth Avenue. Anthropologie, Club Monaco, H&M, and the home goods wonderland ABC Carpet & Home are located in this area.
Luxury brands like Chanel and Prada line the Upper East Side's elite Madison Avenue. If you're headed there, don't forget that the Guggenheim Museum and Central Park are just steps away.
Bachelorette Party Guide: Exploring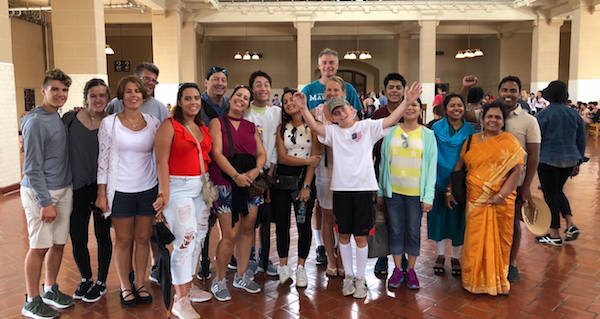 ExperienceFirst New York Tours.
When you're in New York City, walking around is half the fun. A self-guided jaunt around the West Village, the High Line, or the Dumbo waterfront in Brooklyn won't disappoint (especially if you're wearing good walking shoes). Make the most of your journey on foot with a guided tour, and learn the history of this fascinating city. ExperienceFirst New York (or EXP1) will take you and your best buddies through neighborhoods like Chinatown and Soho; Greenwich Village; or the Broadway area. They also offer guided tours of the Statue of Liberty. 
Most people have never heard of a chocolate tasting, which makes it a nice surprise for a bachelorette party. It's like a wine or cheese tasting except with chocolate. Your host is Megan Giller, author of Bean-to-Bar Chocolate: America's Craft Chocolate Revolution, and an instructor at the Institute of Culinary Education in NYC. She'll lead you through a guided tasting of chocolates and pair them up with wine, beer, tea, and cheese for more fun. For bridal showers, Giller likes to feature chocolate made by women, and to send guests home with cute tote bags full of more sweets for later. The tastings can take place at an apartment, a restaurant, or one of several private spaces. chocolatenoise.com
Bachelorette Party Guide: Afternoon Tea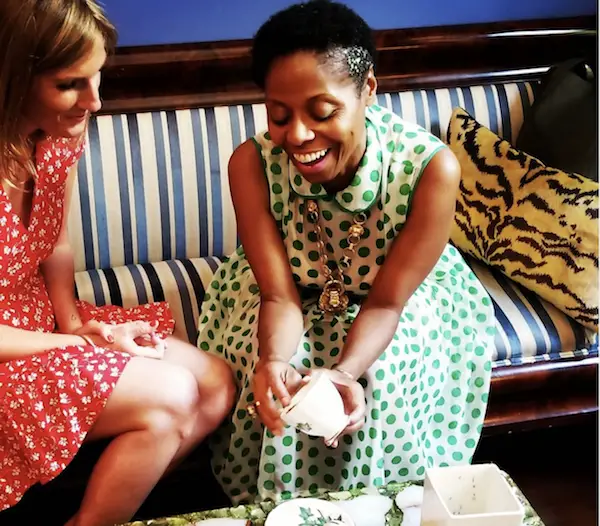 Lady Mendl's Tea Salon. Instagram.
Break up your shopping and sightseeing with some teatime. Not far from Flatiron shopping is Lady Mendl's Tea Salon, hosted in an elegantly appointed brownstone. If you're hitting the Plaza and luxury shops on Fifth Avenue, take your tea in Bergdorf Goodman's tea parlor in the penthouse, overlooking Central Park. Find several other great tea options in NYC here.
Bachelorette Party Guide: Theatre
Not only do the actors enjoy a cocktail, you do, too, when seeing The Imbible. 
If your bride's a Broadway baby, check out shows like musicals like Mean Girls, Aladdin, or Wicked (here are tips on scoring cheap tickets). For a bit more mischief, explore NYC's immersive shows that pull you into the action. The eerie Macbeth riff Sleep No More started it all at the McKittrick Hotel (which has a great rooftop bar, by the way). You might also like to drink along with the actors at the Off-Broadway comedy The Imbible or its weekend spinoff, Day Drinking: The Brunch Musical.
Bachelorette Party Guide: Nightlife 
Beauty Bar. Instagram.
Once the sun goes down, kick your party into high gear. In Manhattan's Koreatown, the neighborhood is full of karaoke parlors with private rooms, so you and your friends can scream your hearts out to "Spice Up Your Life" in peace. Popular options include The Spot and Gagopa, while these 5 bars have live musical accompaniment if the bride prefers a piano or live band. 
As for dancing, check out the East Village dive where you can also get your nails done at Beauty Bar. The Lower East Side has a high concentration of clubs, including Home Sweet Home, Beauty & Essex, or No Fun (but don't be surprised if you have to wait in line). For more, here are 10 bars with dancing in NYC.
Having a laid-back evening? No worries. Try the upscale tiki bar and supersized Exotica Bowl at The Polynesian in midtown. We've also got you covered with theme bars and speakeasies.