Savoring your final days as a bachelorette? Rather than a one-night-only event that comes and goes in a New York minute, celebrate your once-in-a-lifetime occasion for an entire weekend. But where should you begin? Since you have too many social options to count in NYC, and the city's perennial space squeeze can make things tricky for group outings, here's our guide to help you plan your New York City bachelorette party.
Bachelorette Party Guide: Brunch
Essex on the LES/Facebook
Tasty food accompanies every great occasion, and a bachelorette soiree is no different. Bid adieu to singlehood as you brunch at Bagatelle in the Meatpacking District. A modest meal becomes an all-out party scene at this trendy restaurant where table dancing doesn't wait until dark. If you and your bridal party are in the mood for something more low-key, instead, try Cookshop where hearty dishes, delectable breakfast pastries, and friendly service take center stage. Also a culinary delight and located on the hip Lower East Side, Essex is one of the city's fave brunch restaurants and caters to large parties.
Bachelorette Party Guide: Shopping
Every bride needs a few last-minute items to complete her trousseau. For upscale shopping and window browsing, head to Madison Avenue where you'll find designers like Ralph Lauren, Dolce & Gabbana, Bottega Veneta, and Christian Louboutin. A hop, skip, and jump from Central Park, the shops on Madison can easily be combined with a picnic in the park if Mother Nature cooperates. If a one-stop department store is more your style, an afternoon in Bloomingdale's SoHo is a must. You'll find anything and everything a bride could want including stylish frocks for a honeymoon and a gift for the hubby-to-be. While in the neighborhood, take advantage of the myriad shops that line Broadway including Hollister Co. and Madewell, not to mention street vendors for budget-friendly accessories and trinkets.
Bachelorette Party Guide: Afternoon Tea
Want a more civilized approach to your bachelorette party? Then, afternoon tea with your ladies might be the ticket. Manhattan boasts a varied selection of spots where you can sip and socialize simultaneously. Grab a slice of old New York when you lounge gracefully at the Russian Tea Room and nosh on blinis, caviar, and tea sandwiches. Scones, petit fours and optional champagne (why not?) will complete your tea experience. Voted the most romantic tea salon in town, Lady Mendl's promises an intimate experience and will pave the way for your upcoming nuptials. Often a choice for bridesmaids' gatherings, the Victorian parlor is a place where you can channel your inner Elizabeth Wharton as you indulge in a five-course tea tasting complete with fresh pastries and clotted cream.
Bachelorette Party Guide: Broadway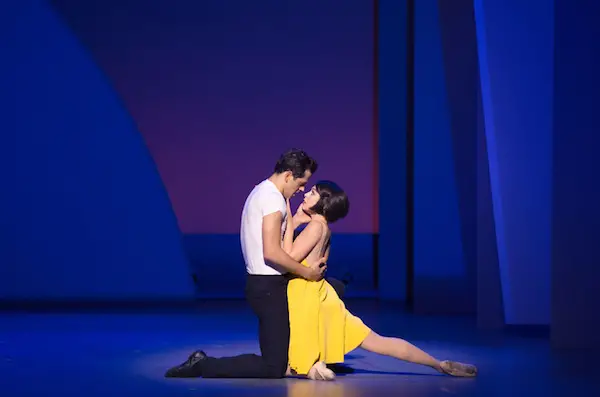 An American in Paris (Photo by Angela Sterling)
No trip to NYC is complete without tickets to a Broadway show. From the zany Kinky Boots to classics like Wicked and An American in Paris, you can't go wrong with a good old-fashioned musical. If you've got a big enough party (usually 10 or more), you can order group tickets through Ticketmaster. A word of warning: No matter the production you choose, your bridesmaids could be crooning show tunes hours after the curtain closes.
Bachelorette Party Guide: Cocktails
Cocktails at the Stanton Social/Facebook
What's a bachelorette party without libations? Luckily for the bride-to-be, NYC cocktail bars populate most every neighborhood so that you won't run short on spirits. The Dead Rabbit, for instance, offers a lineup of cocktails that makes the trip to Lower Manhattan well worth it. Or, take your pre-wedding festivities to a whole new level at the ever-chic Stanton Social. With its dim lighting and high-end concoctions such as the Swashbuckler and the Social Tea, this LES lounge encourages reveling in style. You'll swoon over the decadent, shared- plate menu and luxurious three-floor space, which could be the ideal finale to your bachelorette weekend in Gotham.