Tea has been stimulating humans at least 4,000 years longer than that usurper bean and it holds down its own scenes in NYC. No surprise: tea is the most popular beverage in the world—three cups are poured for every one of coffee. Many New York visitors crave a sip of their favorite beverage, and a Lipton tea bag dunked in a cup of warm water just won't cut it. Fear not, tea lovers. Though not on every corner, New York has plenty of teahouses worth a detour. Both Asia and European traditions are represented, and there's even a place billing itself as an American tearoom. As a general rule, the more formal tea services can be found near Central Park, while the casual places are found in the East and West Village. Read on for the best spots for tea in NYC.
Asian Tea in NYC

Some local tea destinations are heavily focused on education, including Urasenke Chanoyu Center of New York, which teaches the art of the Japanese tea ceremony, and Tea Drunk, which offers guided tastings of Chinese teas.
Most, however, are as much about nibbling as sipping. Franchia Vegan Cafe (above) provides a window into the Korean tea tradition. The food is satisfying even to meat eaters (we like the dumplings). Try the inexpensive prix fixe, which allows you to pick a tea to accompany your dessert. Or order a la carte with a blend of freshly squeezed fruit juice and the tea of your choice. A pot of a Korean herbal tisane is another excellent option, made from ingredients such as date paste, persimmon leaf, or dandelion.
Cha An Teahouse combines Japanese and French influences in its light menu (red bean butter toast anyone?). Desserts are especially inventive. Where else will you find a classical raspberry soufflé and homemade mocha on the same menu? The tea list covers a wide swath of Asia, from China to India to Japan. 
Casual Tea in NYC

No NYC teahouse has a larger selection of fine loose leaf teas and tisanes than does Bosie Tea Parlor (above; named after Oscar Wilde's lover). There you get a bespoke tea experience—pick the sandwiches and sweets that most appeal at the moment. Though the concept is English, the pastry chef is French, resulting in butter-laden yet still light pastries and cakes. Bosie is best visited during the week, otherwise you will have an hour to prowl nearby Bleecker Street before your table becomes available.
City Guide Insider Tip: Bosie's production facility, where their ethereal pastries are baked, is located in East Harlem and open to the public. There are even a few stools where you can enjoy a cup of tea (or even coffee) with your croissant or torte. Try the kouign amann (a crusty, layered cake)—it may be the best in the city.
Wouldn't it be nice to have a personal chef to prepare afternoon tea for you? You could enjoy it on the couch or even in bed. Enter Kings' Carriage House on the Upper East Side, which offers a Tea Party To Go. All you have to do is boil some water. Of course, Kings' Carriage House also serves afternoon tea in their elegant two-story dining room. The choice is yours.
Continental Tea in NYC

Tea in the English tradition is a multi-course afternoon repast: an ideal bridge between a day of sightseeing and a night at the theater. In New York, you will find the flavors of France included, especially in the dessert selection. The most elegant afternoon tea services can be found in New York's upscale hotels, and you will be welcome there, even if not a guest.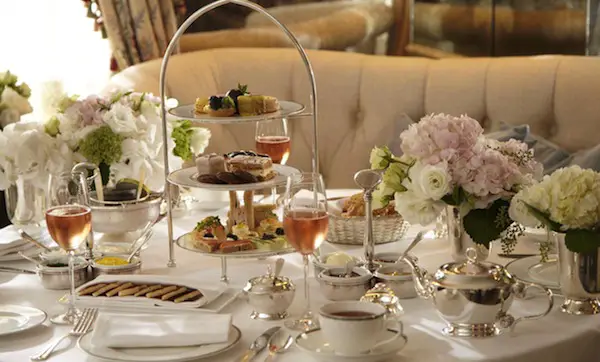 New York's most serene haven for afternoon tea in the grand English style is the Pembroke Room, pictured here. Heavy drapes, brilliant napery, and gleaming silver set the scene for a selection of dainty sandwiches, miniature tartlets, and warm scones. A dedicated tea waiter guides you through the loose-leaf teas, and will even bring seconds of your favorite sandwiches (lobster and mango recommended).
The Carlyle is one place where you will be tempted to drink a cocktail instead of Champagne along with your tea. The famous Bemelmans Bar turns out exquisite drinks and is adjacent to the Gallery where afternoon tea is served. Whether you succumb to alcoholic temptation or not, tea at The Carlyle is a worthy endeavor. The hotel offers a curated selection of black and green teas as well as tisanes. Sandwiches, scones, and sweets are served on beautiful china on low Turkish palace-inspired banquettes. You will be tempted to linger all afternoon waiting to see if Mr. and Mrs. Clooney show up (they are Carlyle regulars).
A divine dozen pastries are served with the tea at The Pierre. Photo: Irene Silber.
Even if you are not a jet setter, you will feel like one in The Pierre's 2E Bar/Lounge. In the late afternoon, the large room is abuzz with many languages. Here it's more about the nibbles, which have an international orientation, from blini with caviar to babaganoush rolled in crepe. The finale of tea at The Pierre is a selection of nearly a dozen bite-sized French pastries.
Francophiles will love tea at Plaza Athenee. It's very French, including leaves from Le Palais de Thés, French confitures, and tiny tartlets. Only the hearty sandwiches betray the French vibe with combinations that include mozzerella and pesto (how did they get on the menu?).
An exception to the uptown elegant/downtown casual rule is Lady Mendl's in Gramercy Park. It's hidden in the Inn at Irving Place, two townhouses that lack signage but make up for it in cachet. There's a whimsical element to the salon, with vintage Wedgwood china and furry throw pillows.
---
Like what you see here? Share it with your friends on Facebook!