Who doesn't like to be in on a secret? Even though the days of Prohibition are long gone, some still seek the mystery that age old speakeasies have to offer. These secret saloons don't just offer an alternative to a traditional bar or club; with one-of-a-kind atmospheres, fabulous drink menus, and tasty treats, these watering holes are some of the best in the city. And while NYC has more than its fair share of these hidden bars, finding them is only half the battle. Let City Guide give you a helping hand with this carefully curated list of the best speakeasies in Manhattan to help you live out your most wild Prohibition fantasies.
Le Boudoir
Inspired by Marie Antoinette's private chambers, this lavish Brooklyn Heights throwback to the French aristocracy is sure to give you a taste of Versailles. Le Boudoir's cocktails match the elegant ambience; walls adorned in gilded mirrors and velvet seating with a red and white color scheme send you back centuries. How do you reach this perfect date spot? Look for the gate opening below the Chez Moi and take the set of stairs to get to the entrance.
Attaboy
Head to 134 Eldridge St. on the Lower East Side and keep a keen eye out for a window marked with "M&H Tailors and Alterations"; ring the buzzer to enter this spinoff of fabled bar Milk & Honey. Inside you'll find an assortment of delicious cocktails carefully curated by the owners. Keep in mind, Attaboy doesn't provide menus, leaving you to the mercy of the bartender to help you pick a drink. But have no fear, this place is known for its modern classics and whatever you choose is sure to please your taste buds.
The Back Room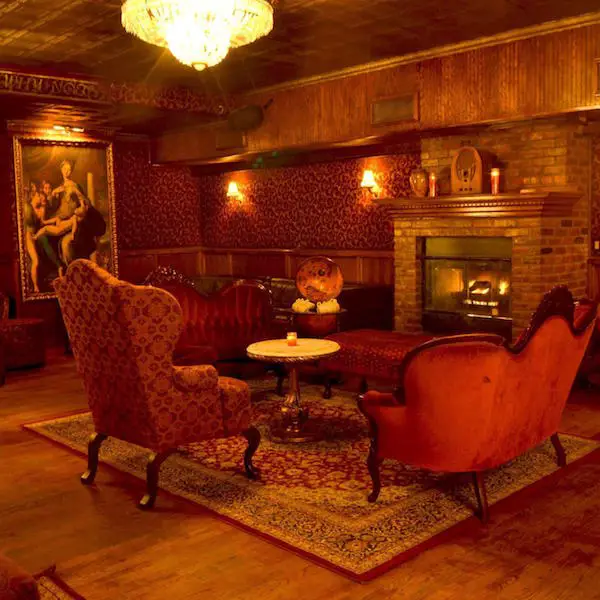 A genuine Prohibition-era speakeasy, The Back Room gives its patrons a true taste of what it was like to drink in the 1920s. To enter this Lower East Side bar, head down the stairs of the "Lower East Side Toy Company," go through the back alley, and then head up another set of stairs to try and make it past the doorman. Once you're in, immerse yourself in the atmosphere by sipping from slyly concealed cocktails served in teacups or bottled beers wrapped in paper bags.
Sunshine Laundromat
Walk past piles of laundry and old, clunky dryers to the back of Brooklyn's Sunshine Laundromat. Here, you'll discover a lone dryer which is your entrance to a hidden drinking joint. Bring some quarters with you to play one of the vintage pinball machines while you sip from a glass of wine or bottle of beer -- no cocktails are served here.
Angel's Share
Climb up the stairs to East Village restaurant Village Yokocho and go through the unmarked door in the back. Patience and a sharp eye are required to find Angel's Share, but the inventive concoctions available here will make it worth your while. One of the bars that started the speakeasy fad nearly 25 years ago, this bar takes classic cocktails and puts a unique spin on them.
PDT (Please Don't Tell)
Photo: Lara Farhadi/Flickr
Last, but certainly not least is Please Don't Tell, or more lovingly referred to by those in-the-know as "PDT." This infamous drinking spot offers a range of creative cocktails and a menu that even the pickiest of drinkers will be satisfied with. Complement your drink selection with some good eats from the masterfully curated food menu. How do you get inside, you may ask? Head to Crif Dogs in the East Village; step inside the wooden phone booth and dial "1." A host will offer you an estimated wait time -- and be prepared to be patient, this place is a major hotspot for New Yorkers and tourists alike.