Curious about immersive theater? New York City knows how it's done. After the smash-hit interactive show Sleep No More debuted in 2011, many other Off- and Off-Off Broadway productions have taken to "choose your own adventure" storytelling. At these 13 experimental shows, you'll wander settings like a Wonderland-inspired mental ward, an alternate dimension, or your own bathtub (seriously!). If you're bold, you may even interact with the cast of characters or help solve a mystery. Read on to learn about immersive theater happening now in New York, where audience participation reaches a whole new level.
Immersive Theatre Experiences in NYC: Sleep No More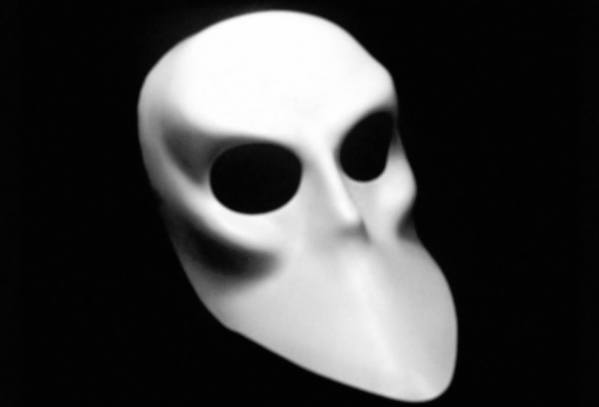 Engage with the show that started it all: Sleep No More. Staged throughout a vintage Chelsea Hotel, Sleep No More reimagines Shakespeare's Macbeth through a noir lens. The first big hit in interactive theater, Sleep No More has been running since 2011. Each audience member to move at her own pace and view selected scenes for as long as desired. Roam from room to room, and see actors perform surreal and suspenseful scenes as a masked crowd looks on (that's right, you'll be wearing a mask too). Shake off your spooks at the on-site Manderley Bar after you're finished with your experience. Sleep No More was created by Punchdrunk and EMURSIVE at The McKittrick Hotel. Open run. 530 W 27th St., 212-352-3101, mckittrickhotel.com/sleep-no-more/
Immersive Theatre Experiences in NYC: Drunk Shakespeare
Fans of Drunk History and the Bard of course-will have a jolly time at Drunk Shakespeare, staged Off-Broadway in the Theater District. One actor starts the show off with five shots of whiskey as audience members drink cocktails and look on from their seats in a large library set. The show proceeds with one very drunk actor and his or her scene partners, all of whom perform a Shakespearean play that careens from profundity to absurdity and back (i.e. not all content will be strictly "Shakespearean"). Two VIP audience members sit in thrones and command actors to drink as they see fit. The privileged King or Queen also eats caviar, drinks champagne, and wears a crown. Ages 21+. The show's kid-friendly spinoff is Junk Shakespeare, featuring the consumption of candy, chips, and other junk food as kids 8 years and up learn a little about Shakespeare. Open run. 777 Eighth Ave., drunkshakespeare.com
Immersive Theatre Experiences in NYC: Accomplice
What better stage than the streets of New York? Accomplice explores the wonderful theatricality of the city with walking tours that turn into full-blown showpieces, as actors perform scenes throughout this hilarious piece of what they call "adventure theater." The original show is about 3 hours long and runs April through October (it is staged in the elements, after all). Its other shows—such as Accomplice The Village, Accomplice Chelsea, and The Golden Spork—run year-round. Upon request, Accomplice also stages an immersive cocktail party called Cabinet of Curiosities. Open run. Secret location, 347-559-6223, accomplicetheshow.com
Immersive Theatre Experiences in NYC: Then She Fell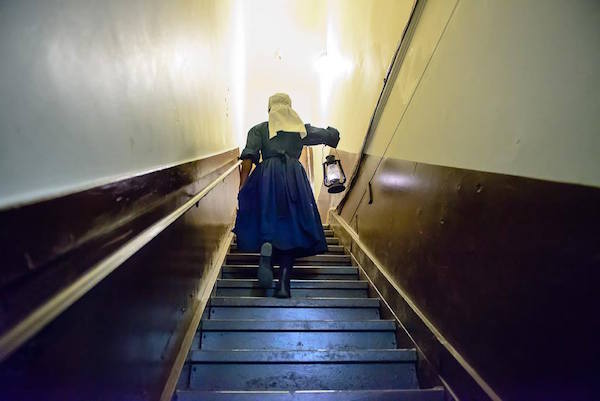 In the spirit of Sleep No More, this mind-bending show invites 15 audience members at a time to explore a Williamsburg mental ward. Lewis Carroll's Alice in Wonderland lends its imagery to this topsy-turvy world, created by Third Rail Projects. The choose-your-own-adventure format leads you through the looking glass, where you'll encounter actors one-on-one, use skeleton keys, and drink strange potions (don't worry, they're just craft cocktails). Most performances ages 21+, select performances 18+. Through May 31, 2020. 195 Maujer St., thenshefell.com
Immersive Theatre Experiences in NYC: Madame Tussauds New York Presents Broadway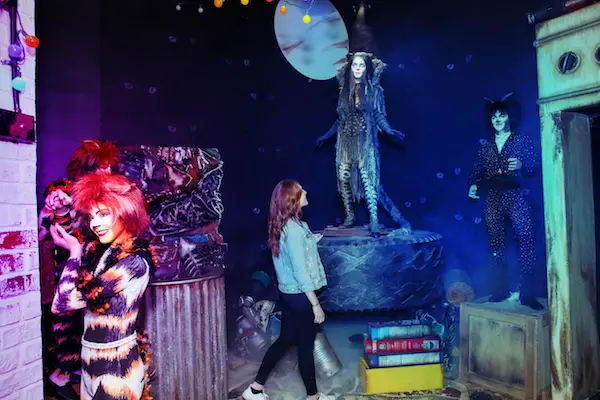 The show's in your hands at Broadway, a new feature at Madame Tussauds Times Square. Inspired by the musicals of Andrew Lloyd Webber, this experience takes guests backstage for hair and makeup, to the giant floor piano for composing a custom musical score, and to the stage for a showstopping number. Live actors are on hand to help bring Broadway to life; you'll encounter characters like Grizabella from Cats and the Phantom of the Opera himself. There's also a Broadway Bar on site where you can enjoy a drink before curtain. 234 W. 42nd St., 212-512-9600, madametussauds.com
Immersive Theatre Experiences in NYC: ZeroSpace
Combining art installation and theatrical piece, ZeroSpace invites you to an incredible new world. Government agents will lead you and your fellow audience members on a mission into another dimension. You might wander through a geodesic dome, walk on an interactive floor, or lie beneath a dazzling ceiling full of laser beams. The site is conveniently located near Penn Station. For a more family-friendly take on the ZeroSpace experience, bring kids to view the art installations during the day at ZeroSpace: The Museum. Open run. 136 W 33rd St., zerospace.co
Immersive Theatre Experiences in NYC: Say Something Bunny!
There's nothing quite like Say Something Bunny! This critically lauded show in Chelsea allows you to interact with its creator, Alison S. M. Kobayashi, who leads you through her obsession with a mysterious audio recording. Along the way, this funny and fascinating documentary experience reveals the lives of a real Jewish family in New York, whose voices are captured on the recording, and the rich imagination of Kobayashi herself. Extended through July 2020. 511 W 20th St., saysomethingbunny.com
Immersive Theatre Experiences in NYC: Holiday x House of Showfields
Showfields bills itself as "the most interesting store in the world." Its unique integrated retail model, prioritizing hands-on interaction with a variety of products, provides the setting for a new immersive theater experience—now with a holiday spin. Like any walk through Showfields, you will be invited to engage with products from across the retail spectrum, from MrMiSocki socks to (re)zip storage to Eight Sleep high-tech mattresses against a tableau of highly Instagrammable backdrops. Holiday x House of Showfields invites you to a new story inside the store—don't be surprised if you pick up a few holiday gifts along the way. Open run. 11 Bond St., showfields.com/house
Immersive Theatre Experiences in NYC: Truffles Murder Mystery Dinner
Located near Times Square, this family-friendly take on dinner theater puts you in the center of a murder mystery. At Truffles, you'll dine on a three-course Italian meal as the Donati family try to solve a murder and find their two-pound stolen truffle. Musical numbers and comedy will ensue as you help the characters solve the crime. Meanwhile, you'll dine on a truffle sampler platter, mains like wild mushroom risotto, and ice cream. Truffles: Music! Mushrooms! Murder!!! is staged at The Secret Room and was written by Gregg Ostrin. Open run. 707 8th Ave., 212-279-4200, trufflesmystery.com
Immersive Theatre Experiences in NYC: The End of the World Bar and Bathtub
We'll cut to the chase here: this play occurs in your bathtub. That's right, the one-person cast of The End of the World Bar and Bathtub will come to your apartment for this intimate show about the apocalypse. Performances can be booked at your convenience and run for audiences of two. WalkUpArts produces this show; writer and actor Philip Santos Schaffer is the guy in the tub. Open run. Various locations, walkuparts.com/barandbathtub
Immersive Theatre Experiences in NYC: Live in Theater
Into true crime? Live in Theater is a must. This immersive theater company stages interactive murder mysteries that draw on New York's past. You might participate in Lombardi Case 1975, a seedy murder case on the Lower East Side, or The Ryan Case 1873, a mystery set at a tenement house. Live In Theater also stages a show for the end of the world called This Is When We Rest. You'll book this show at the location of your choice with your group of friends as interactive audience members who help build the story as you go. Live In Theater also performs at corporate events and for school groups. Open run. Various locations, 347-422-7562, liveintheater.com
Tammany Hall (Previews start October 15th; official opening night is November 2nd at SoHo Playhouse). Site specific takes on new meaning in this immersive production unfolding in a building that may well have been a backdrop for the sort of intrigue, scandal, romance, and corruption surrounding NYC during the Prohibition Era. It's November 2nd, 1929, and prominent figures of the day are ready to mingle as Follies rehearsals take place onstage and drinks are served at the underground speakeasy. sohoplayhouse.com
Additional reporting by Griffin Miller.