Curious about immersive theatre? New York City knows how it's done. After the smash-hit interactive show Sleep No More debuted, many other Off- and Off-Off Broadway productions have adopted similar "choose your own adventure" storytelling. 
At these 15 experimental shows, you'll wander settings like speakeasies and a gazillion poppable bubbles. Adventurous audience members—whether kids or adults—can even interact with the cast or help solve a mystery. Read on to learn about immersive theatre happening now in New York, where audience participation reaches the next level.
Immersive Theatre Experiences in NYC: Sleep No More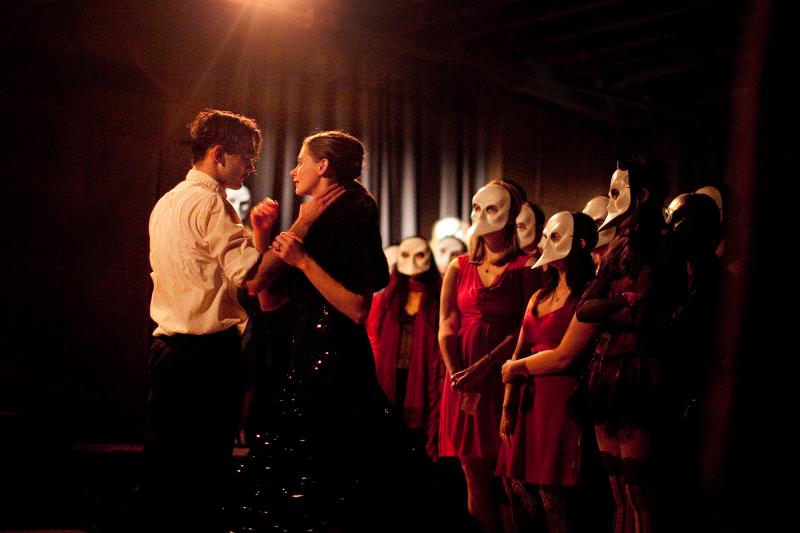 Photo by Robin Roemer.
It's the show that started it all: Sleep No More. Staged throughout a vintage Chelsea hotel, Sleep No More reimagines Shakespeare's Macbeth as a noir tale. The first big hit in interactive theatre, Sleep No More has been running in NYC since 2011. Audience members move at their own pace and view chosen scenes for as long as desired. Roam from room to room, and see actors perform surreal and suspenseful scenes (you may even catch a glimpse of celebs like Evan Rachel Wood performing and other famous faces in the audience!). Shake off your spooks with drinks at the on-site Manderley Bar after you're finished your experience. Sleep No More was created by Punchdrunk and EMURSIVE at The McKittrick Hotel, among the best NYC venues for immersive experiences. Ages 13+. Open run. Masks (provided) and proof of vaccination required. Open run. 530 W. 27th St., 212-352-3101, mckittrickhotel.com/sleep-no-more
Read on for other shows like Sleep No More!
Immersive Theatre Experiences in NYC: Blue Man Group

Expect the unexpected with the family-friendly Blue Man Group. These iconic blue guys have traveled around the world, but did you know they have a home in NYC's East Village? Bring your kids for music, comedy, audience interaction, and plenty of immersive elements for the whole audience. Discover the wonder and silliness in store at the Astor Place Theatre. Ages 3+. Masks and proof of vaccination required. Open run. 434 Lafayette St., 800-258-3626, blueman.com
Immersive Theatre Experiences in NYC: Speakeasy Magick at The McKittrick Hotel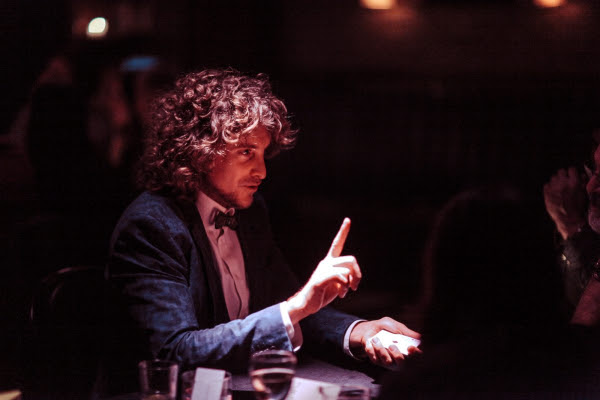 Located in the same Chelsea hotel as Sleep No More, this magic show invites guests to an intimate evening of close-up illusions. "Master deceptionist" Todd Robbins hosts, though various magicians appear and disappear from these performances. Drink in the magick (and maybe a cocktail or two) at The McKittrick Hotel Thursdays, Fridays, and Saturdays. Open run. 530 W. 27th St., 212-352-3101, mckittrickhotel.com
Immersive Theatre Experiences in NYC: The Heist
Live out your Bond Girl fantasies at The Heist, "an immersive experience of theft and crime." The lounge Jewel Thief, hidden beneath Spritz Nomad, is the setting for a glamorous night of secrets, missing jewels, and amazing performances. Feel like you're on the lam for a night. Tickets available through February 14th in NoMad. 30 W. 30th St., 
646-547-1408, jewelthiefnomad.com
Immersive Theatre Experiences in NYC: Accomplice The Show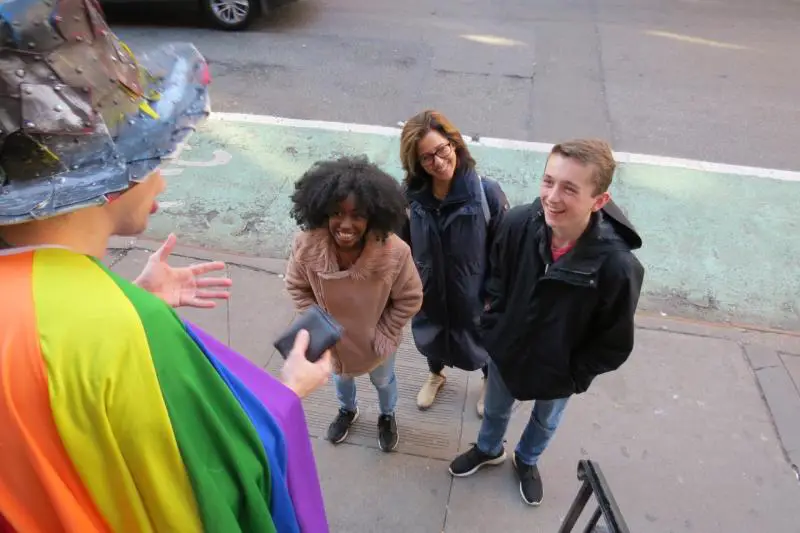 Accomplice takes immersive theatre outside to the streets of New York. These comedic experiences occur on a walking tour, creating what Accomplice calls "adventure theater." Accomplice The Village returns to Greenwich Village on Saturday afternoons (spoiler: you'll help solve a missing persons case!). Upon request, Accomplice also stages a private event called The Golden Spork that incorporates dinner and a few escape room elements. Open run. accomplicetheshow.com
Immersive Theatre Experiences in NYC: Othello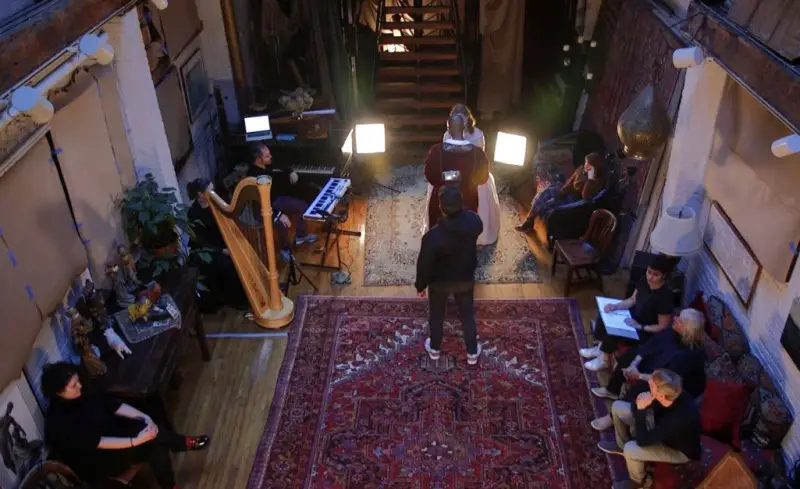 After a long pandemic hiatus, New Place Players returns to New York City with their signature interplay of music, movement, swordplay, and language. Their new production of Othello is a searing look at shame and manipulation, reflecting a collaboration of musicians, actors, and designers. Audiences will be limited to 50 people, in the round, within a former foundry space with skylights, balconies, and a rich collection of statuary. February 4th-25th. Casa Clara, 218 E. 25th St., newplaceplayers.org
Immersive Theatre Experiences in NYC: BATSU! New York
Combining game show, dinner theatre, and comedy, BATSU! New York will infuse your evening with fun and frenzy. The journey begins in the East Village with a speakeasy vibe as you travel through a mural. Then, tuck into a Japanese dinner provided by the restaurant Kogame by Kamehachi. After dinner, watch improvisers compete against each other in a live game show—or join them yourself! If you prefer to spectate, the Sake Ninja can pour you a drink. Must be 16+ to attend and 21+ to drink and participate. Proof of vaccination required. Wednesday through Saturday; open run. 67 First Ave., batsulive.com/new-york
Immersive Theatre Experiences in NYC: The Rose Room
Hidden in the Theatre District is a speakeasy with a twist: The Rose Room at the Producer's Club. Acts range from magic shows to circus performers, all in a throwback atmosphere with good drinks and even better vibes. Ages 21+. Proof of vaccination required. Thursday through Sunday; open run. 358 W. 44th St., theroseroomnyc.com
Immersive Theatre Experiences in NYC: Murdered by the Mob
A little merriment, marinara, and murder is on the menu at this dinner theatre show. Murdered by the Mob has been running for 26 years in NYC. Solve the murder of Big Pauly Costello, eat a pasta dinner, and dance the night away at this funny mystery show with your family and friends. Ages 8+. Open run. 932 Second Ave., 212-662-7469, murderedbythemob.com
Immersive Theatre Experiences in NYC: The Strange Undoing of Prudencia Hart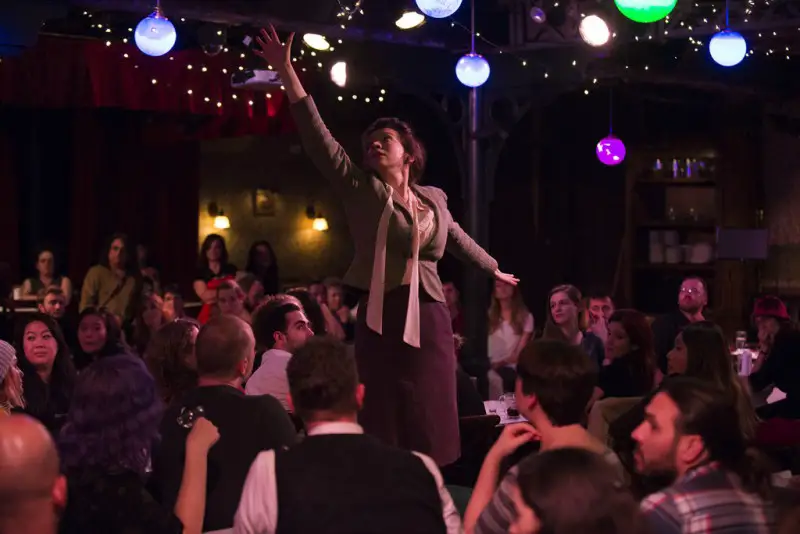 A transporting and music-filled Scottish folk theater fable unfolds among and around its audience, weaving an ingenious, lyrical, and enchanting story. The Strange Undoing of Prudencia Hart is told with live music throughout its intimate and supernatural setting and the McKittrick Hotel's Club Car is transformed into a high-spirited Scottish pub for the occasion. March 8th through April 30th, 2023. 530 W. 27th St., mckittrickhotel.com/prudencia-hart
Immersive Theatre Experiences in NYC: The Grid Hack
With just a phone and walking shoes, New Yorkers can enjoy a new interactive theatrical experience in Downtown Brooklyn. Starting at Cadman Park Plaza, players are led through a series of puzzles and challenges as they try to track down the city's most notorious hacker. You can experience this one-of-a-kind audio play meets outdoor puzzle adventure all through the year. brandofexperience.com/product-page/The-Grid-Hack
Immersive Theatre Experiences in NYC: MoonRise
Cirque du Soleil meets astrology in the immersive new show MoonRise. Explore these interactive installations, complete with aerial stunts, themed around 13 moon goddesses. The show gets personal with a goddess tied to your birthday; plus it uses sensory elements like scents to ensconce you in the environment even further. This circus-like show is staged in Bushwick, Brooklyn. Ages 21+. Masks recommended. Saturdays only; open run. 1329 Willoughby Ave., moonrisecircus.com
Immersive Theatre Experiences in NYC: Madame Tussauds New York Presents Broadway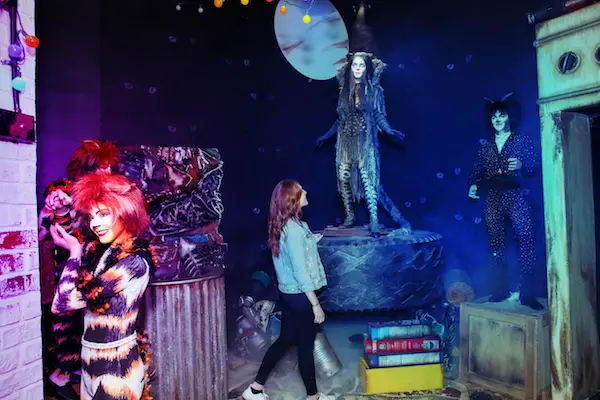 The show must go on at Broadway, courtesy of Madame Tussauds Times Square. Inspired by The Phantom of the Opera and other Andrew Lloyd Webber hits, this experience takes guests from backstage to the spotlight. Get glamorous with hair and makeup, compose a custom musical score on the giant floor piano, and hit the stage for a showstopping number. You just might get a glimpse of yourself in Joseph's technicolor dreamcoat! 234 W. 42nd St., 212-512-9600, madametussauds.com
Immersive Theatre Experiences in NYC: Drunk Shakespeare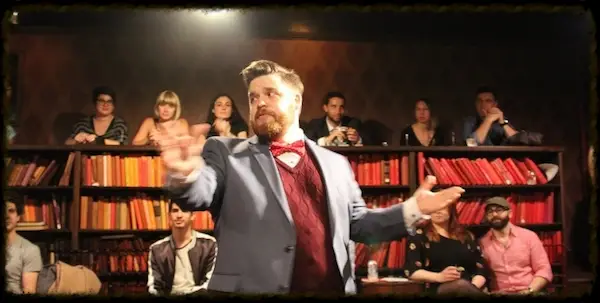 Fans of Drunk History—and the Bard of course—will have a jolly time at Drunk Shakespeare, staged Off-Broadway in the Theatre District. One actor starts the show off with five shots of whiskey as audience members drink cocktails and look on from their seats, cocktails in hand. The show proceeds with one inebriated actor and their scene partners, all of whom perform a Shakespearean play that careens from profundity to absurdity and back (i.e. not all content will be strictly "Shakespearean"). Two VIP audience members sit in thrones and command actors to drink as they see fit. The privileged King or Queen also eats caviar, drinks champagne, and wears a crown. Ages 21+. Masks and proof of vaccination required. Open run. 777 Eighth Ave., drunkshakespeare.com
Immersive Theatre Experiences in NYC: Gazillion Bubble Show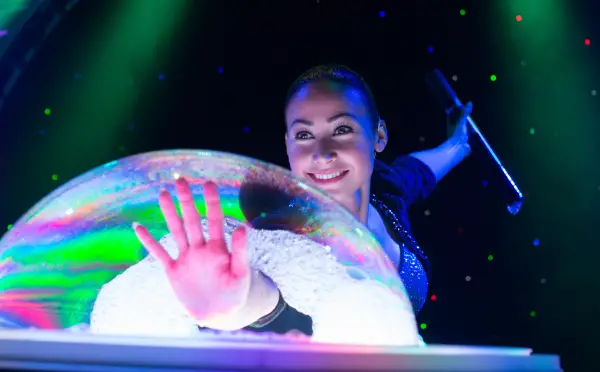 Family-friendly and immersive, Gazillion Bubble Show has run Off-Broadway for 15 years. Kids and adults will be thrilled as the Yang family transforms bubbles beyond imagination. This popular show even gave Ryan Seacrest and Kelly Ripa super-sized bubble wands when Gazillion Bubble Show visited LIVE with Kelly and Ryan! A spectacle for kids and adults, it's conveniently located in the Theatre District, a short walk from Times Square. Masks and proof of vaccination or negative COVID test required. Open run. 340 W. 50th St., 212-239-6200, gazillionbubbleshow.com
Additional reporting by Griffin Miller.
Read about new and upcoming NYC theatre in 2023 and explore more shows in our Theatre section.