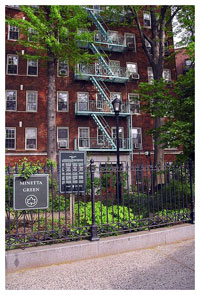 It's often said that New York's Greenwich Village resembles Paris, with its cobblestone streets, row houses, bistros, restaurants, and bars. The splendid Washington Square Park is crowned by an arch recalling the Arc de Triomphe. And, like Paris, Greenwich Village has produced a robust list of artistic talents, including Bob Dylan. New York University, whose campus is located in the Village, names Mark Twain, Edgar Allan Poe, Willem de Kooning, Lady Gaga, and Spike Lee among its impressive alumni. Even Jimi Hendrix started out in this beloved neighborhood. And who can forget the famed Bleecker Street, Cafe Wha, or the assortment of comedy clubs regularly frequented by the greats? In the entire United States, there's nowhere quite like Greenwich Village.
The novelist Henry James named one of his books for Washington Square, the meeting place of many downtown subcultures and the ultimate people-watching destination. Washington Square Park once served as a cemetery for yellow-fever victims and contains between 10,000 and 22,000 bodies beneath the pretty greenery growing there today (bet you wish you didn't know that). Parades and public executions were the preferred entertainment here in the early 1800s, but civil affairs have been replaced by spontaneous street performers, who are never in short supply, as dozens of bands and solo performers can be found in the park any time of day. Competitive chess matches run perennially in the southwest corner of Washington Square Park for aspiring Bobby Fischers.
Across from Fifth Avenue at the north side of the park is Washington Arch, originally a wooden structure to mark the centennial of George Washington's inauguration. The arch was reproduced with stone in 1892. Washington Square North between University Place and MacDougal Street is called The Row, two blocks of preserved Greek revival and Federal-style townhouses.


Scattered throughout the Village are the vestiges of literary history, starting with James, who was born and lived near the park, and spreading to 14 West 10th, where it's said the ghost of Mark Twain haunts his former residence. To the south, on MacDougal Street, Louisa May Alcott's red-brick home remains at 130-132 MacDougal St., the site where she wrote Little Women.
Later, jazz clubs like the Village Vanguard and coffeehouses like Caffe Reggio (both still in business) inspired the beatniks: the poets, artists, and musicians that made up the counterculture of midcentury New York. Off West Tenth Street is tiny Patchin Place, where the poet e.e. cummings and the playwright Eugene O'Neill once resided.
New Yorkers like to separate Greenwich Village into two parts: the NYU area and the West Village. Think of Sixth Avenue between West Houston and 14th Street as the boundary between Greenwich Village and the West Village. The latter area is an adorable residential area full of historical row houses, crooked streets, and tiny restaurants with hours-long wait lists. Brands like Marc Jacobs and Rag & Bone have also established boutiques on these picturesque streets.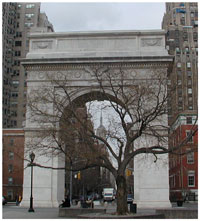 The West Village has literary history of its own. Squeezed into a nine-and-a-half-foot space at 75 1/2 Bedford Street is the narrowest house in NYC, home to luminaries as diverse as Edna St. Vincent Millay and John Barrymore. At the White Horse Tavern on Hudson Street, Dylan Thomas drank night in and night out, though the poet's alcoholism led to an early death.
Seventh Avenue meets Christopher Street at Sheridan Square. In 1863, during the Civil War-era Draft Riots, an angry mob dragged freed slaves here from nearby Gay Street to be lynched.
In 1969, gay men from the nearby Stonewall Inn clashed with police in Sheridan Square during another riot. The Stonewall Riots are considered as the beginning of the modern gay-rights movement. Stonewall Inn still occupies its honored place, now a historic landmark, on Christopher Street off 7th Avenue. Stonewall serves the LGBT community with Drag Bingo nights, karaoke, and Big Gay Happy Hour every week, and it's a fixture of Pride month each year. Starting at Stonewall and continuing down Christopher Street toward the Hudson River, there is a vibrant LGBT scene, with even more bars and clubs lining this busy area. 
The LGBT Center (also known as "The Center") has its home on West 13th Street in the Village. This essential community organization hosts arts events and provides services like counseling and HIV resources. The annual Pride March will parade past the AIDS Memorial on Seventh Avenue and Greenwich and turn at Sheridan Square in the West Village.
The popular—and appropriately terrifying—Halloween Parade is also centered in the Village.
For tableside guacamole and tapas in the Village, try Tio Pepe, which has been holding down West 4th Street since 1970. There are too many Italian restaurants to count in this area, so skip the headache and go to the best: Monte's Trattoria, on MacDougal Street since 1918, and Villa Mosconi, also on MacDougal. Get a taste of creative new cuisine in a tiny dining room at the appropriately named little owl. 
Adjacent areas include the laid-back arts scene in the East Village and shopping destinations in Soho. North of Greenwich Village is Chelsea, home of galleries, high fashion, and elevated park The High Line.
DINING IN GREENWICH VILLAGE
: For more of our favorite restaurants in the Village,
click here
. 
Contributors: Brian Griffin, Colin Carlson, Irene Ross, and Merrill Lee Girardeau