Where to Eat in Greenwich Village
November 12, 2018 - by City Guide
Greenwich Village. The iconic New York neighborhood that has been a breeding ground for artistic movements, given birth to musical genres and has seemingly forever been synonomous with the sort of libertine, bohemian lifetsyle that flourished in the '50s and '60s. Though stratospheric real estate prices have forced most of the starving artists out, the neighborhood remains a destination for eating and drinking at its (literally hundreds of) restaurants, bars, nightclubs and cafés. With such culinary density, it can be hard to choose the best places to eat in Greenwich Village. Fortunately you don't have to. We've selected our favorite spots below.
Cafe Espanol
A classic, colorful Spanish spot that's been mainstay on Bleecker St. since 1976. Sample over 50 dishes and tapas—including delicious paellas—as well as the wide selection of sangria and Spanish beers and wines.
172 Bleecker St., 212-505-0657, cafeespanol.com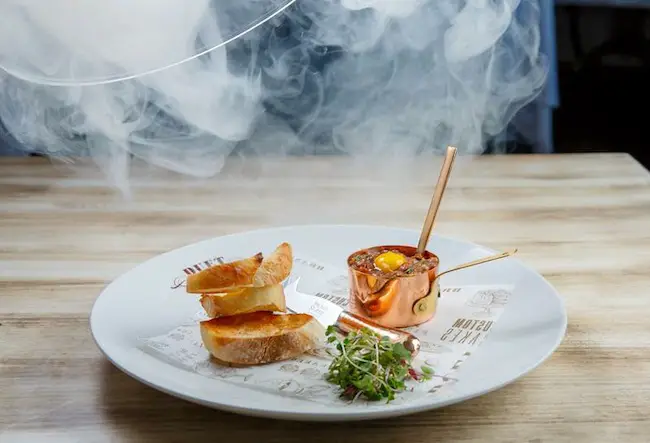 Duet Restaurant
A European-inspired American brasserie with global influences, Duet hits just the right notes with delectable, whimsically-plated food and a cool bi-level space. The street level features floor-to-ceiling windows that offer a ringside seat to the vibrant Village scene and the more intimate Barrow Room upstairs is a great option for an elegant evening out.
37 Barrow St., 212-255-5416, duetny.com
Monte's
This classic restaurant has been serving incredible, authentic Italian cuisine for almost 100 years. There are several more reasons besides the food for its continued success: stellar service, an atmospheric room and a relatively painless price points.
97 Macdougal St., 212-228-9194, montestrattoriany.com
Tio Pepe
Tio Pepe combines two surprisingly dissimilar cuisines-Spanish and Mexican-and offers a lively bar scene, a sidewalk cafe, Latino music, and a main dining room with a skylight garden patio room, chandeliers, and stone and brick walls.
168 W. 4th St., 212-242-9338, tiopepenyc.com
Villa Mosconi
This family-run Northern Italian spot offers great homemade pastas and fresh seafood in the heart of the Village. There are three dining rooms (including a year-round garden room) and each is more charming than the next.
69 Macdougal St., 212-674-0320, villamosconi.com
Alta
A romantic, candlelit dinner spot for contemporary takes on tapas like sea bass tartare and smoked mozzarella skewers. It's the place to be in the neighborhood during fireplace whether.
64 W. 10th St., 212-505-7777, altarestaurant.com
Arturo's
An oft-packed staple of the neighborhood, this red sauce and pizza spot has been the location of many great group dinners. The weekend jazz nights are always a pleasure.
106 W. Houston St., 212-677-3820, No website
Blue Hill
Tucked away in an old speakeasy space on a quaint block, Blue Hill is a fine-dining favorite with an extremely local and seasonal bent. Produce and meat comes from their farm just up the Hudson.
75 Washington Pl., 212-539-1776, bluehillfarm.com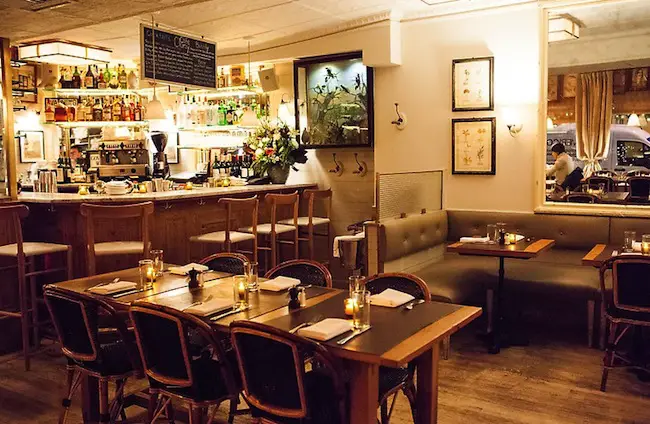 Café Cluny
A charming, outdoorsy French bistro for unfussy steak frites and frisée salads. Great for casual dates and small parties for brunch.
284 W. 12th St., 212-255-6900, cafecluny.com
Café Reggio
Café Reggio claims to be the first spot in America to serve cappuccino (they opened in 1927). Whether or not that claim is true, the sidewalk seating at this charming spot is always full on warm weekend afternoons.
119 MacDougal St., 212-475-9557, cafereggio.com
Corner Bistro
The mugs of McSorley's and classic, huge cheeseburgers have been voraciously consumed deep into the night at this warm dive spot since the 60s.
331 W. 4th St., 212-242-9502, cornerbistrony.com
Fedora
A sexy, hip, subterranean date spot with a great front cocktail bar and a satisfying take on French bistro fare. Keep it in your back pocket for discreet late-night small-plate action as well.
239 W. 4th St., 646-449-9336, fedoranyc.com
Jeffrey's Grocery
A, charming, sun-kissed corner spot that's home to one of the great brunch vibes in the city. You may want to sit at the bar to have your oysters and bloodies.
172 Waverly Pl., 646-398-7630, jeffreysgrocery.com
Joe's Pizza
Another perennial contender for best slice in the city. It's a humble storefront that gets their crust thin and perfectly crispy and their sauce perfectly balanced between sweet and tangy.
7 Carmine St., 212-366-1182, joespizzanyc.com
John's of Bleecker Street
Many believe John's, with its college-town pizza joint vibe and its singular brick oven pies, to be the best classic option for pizza in Manhattan. The lines to get make the case.
278 Bleecker St., 212-243-1680, johnsbrickovenpizza.com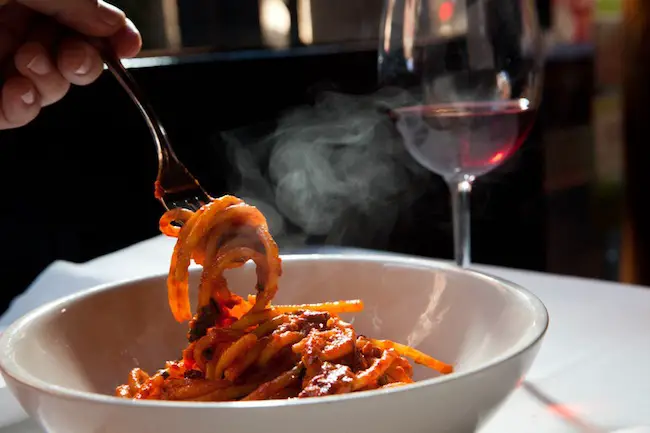 Lupa
Celebrity chef Mario Batali's most discreet spot in New York. Lupa's got an excellent, generous spaghetti carbonara and is great for a low-key brunch on walks through the Village.
170 Thompson St., 212-982-5089, luparestaurant.com
Mamoun's
A staple for quick falafel and lightning fast service that's been feeding students, musicians and comedians (The famous Comedy Store is a few feet away) for more than 40 years.
119 MacDougal St., 212-674-8685, mamouns.com
Mighty Quinn's
A spacious outpost of the beloved brisket spot. Fast and casual, the Texas-style barbecue here far surpasses expectations.
75 Greenwich Ave., 646-524-7889, mightyquinnsbbq.com
Minetta Tavern
An essential box on any great NYC restaurant checklist. The Black Label burger is always near the top of best-of lists and the French Dip is the peak of the form and this retro-feeling bistro.
113 Macdougal St., 212-475-3850, minettatavernny.com
Miss Lily's
A lively Jamaican spot with reggae records all over the walls, a tender jerk chicken, excellent goat and some unexpectedly delicious carrot cake. Also home to a juice and to-go bar right next door.
132 W. Houston St., 646-588-5375, misslilysnyc.com
Morandi
The weekend brunch crowd loves the lengthy stretch of outdoor seating at this popular Italian trattoria, and by night you'll want to bring a date for risotto with shrimp and a good Italian red.
211 Waverly Pl., 212-627-7575, morandiny.com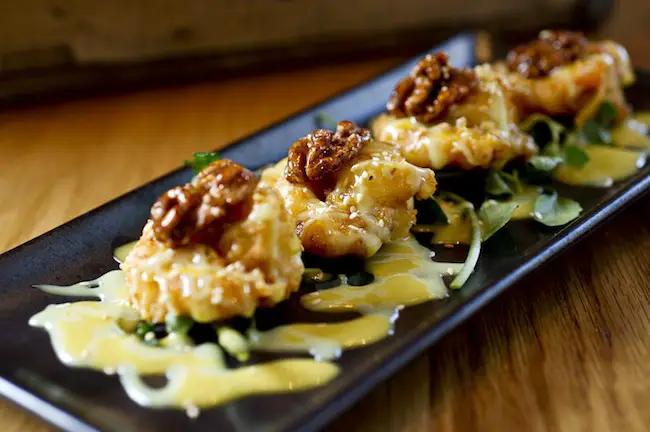 Red Farm
A farmhouse-like hot spot for fantastic modern takes on dim sum and a few Chinese classics. Remember to get the soup dumplings. They don't take reservations and typically have a long line of walk-ins, so spend your wait time cocktail staple Employee's Only, just across the street.
529 Hudson St., 212-792-9700, redfarmnyc.com
Rosemary's
A big, trendy Italian spot that's already a favorite in the neighborhood with its lengthy back wine bar and its reputation as a prime spot for Friday dates.
18 Greenwich Ave., 212-647-1818, rosemarysnyc.com
Sticky's Finger Joint
Part of the city's revolution of single-focused menus— this one's popular with the NYU and post-bar crowd, and it's where you can get chicken fingers ranging from wasabi to salted caramel.
31 W. 8th St., 212-777-7131, stickysfingerjoint.com
Tartine
A crowded weekend and evening favorite for group dinners of light French fare like chicken paillard and homemade gnocchi. Take note: this one is BYOB.
253 W. 11th St., 212-229-2611, tartinecafenyc.com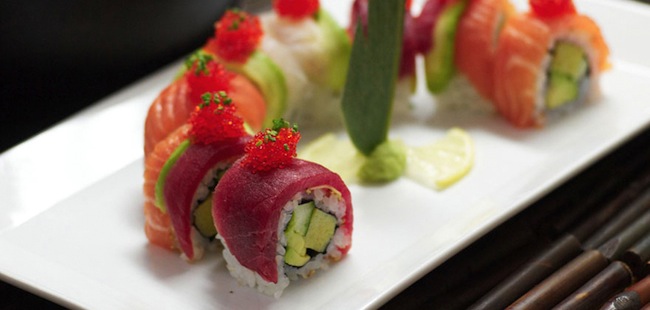 Tomoe Sushi
Interesting rumors persist about just how Tomoe Sushi gets the freshest fish in the city, but no matter how or why that's the case, diners don't hesitate to wait online to get in each night.
172 Thompson St., 212-777-9346, tomoesushi.com
Westville
The original location of the all-day favorite for reasonably priced locovore pork chops, veggies and pie a la mode.
210 W. 10th St., 212-741-7971, westvillenyc.com
Looking for Free Group Planning Services?
Get free advice on planning your group's trip to New York.
RESTAURANTS

Multi-concept restaurant offering modern Japanese cuisine, a...

THEATER

In a heartbeat, 38 planes with 6,579 passengers were strand...

SHOPPING

DataVision is redefining retail with their new, fully intera...

SIGHTSEEING

Sweeping, unobstructed, open-air views of NYC from the top o...