Chelsea, the area west of Fifth Avenue and north of 14th Street to about 30th Street, has long been known for its tree-lined residential streets and the storied artists haven that was the Chelsea Hotel. In recent years, however, it has become a sought-after New York neighborhood with an abundance of art galleries, bars, and restaurants—and the New York offices of a little business called Google.

The area attracts people of all stripes, particularly creatives who might work in a nearby gallery or fashion house. Chelsea is also one of the most LGBTQ-friendly neighborhoods in the city, with same-sex couples and queer-owned businesses residing there in pride.
Visitors are drawn to large attractions like Chelsea Market, a diverse indoor market filled with food vendors, the Artists & Fleas market, and Anthropologie. Vintage clothing and other secondhand treasures await shoppers at Housing Works on West 17th Street, where 10% of sales go to HIV/AIDS research. Chelsea Piers, an enormous sports complex with great dining and sports-related shopping, is also a great stop.  
The city's stunning public park, The High Line (map), was built upon an elevated freight rail line above the streets of the west side. Beautiful scenery and breathtaking views of the city aren't the only things the High Line has to offer visitors. Friends of the High Line hosts numerous free or low-cost programs and tours, including programs on art, gardening, design, and history. In summer, The High Line is open late for post-dinner strolls under the stars. 
Something of a sub-neighborhood of Chelsea, The Meatpacking District has become a posh destination for clubbers and shoppers with money to spend. When the sun sets on 14th Street and Ninth Avenue, the crowds wait outside the latest clubs and bars while celebrities breeze through the doors. There are also a lot of high-end clothing stores in Meatpacking, including Alexander McQueen and Diane von Furstenberg. Nearby is the Whitney Museum, showing the work of living artists and overlooking the Hudson River.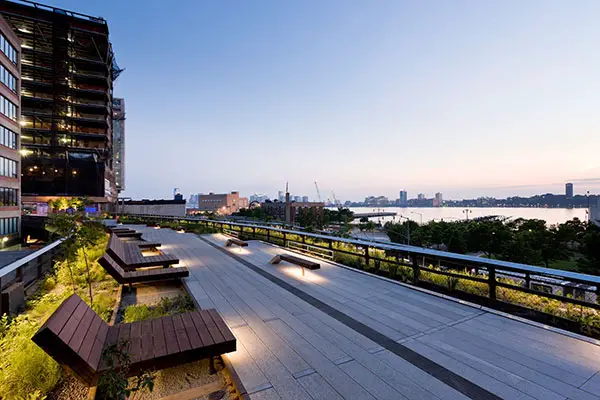 The Flower District, located along Sixth Avenue and largely focused on 28th Street in Chelsea, blooms with almost any flower, plant, or accessory you could want for your garden. From 23rd to 26th Streets between Sixth and Seventh Avenues, find the Antique District. Weekdays are for the serious shoppers, who can easily spend a pretty penny in some of the top-dollar stores on their slower days. But, on the weekends, flea markets crowd the area, and bargain antiques are hard to miss.

Soho was once the king of the contemporary art scene, but major local art galleries have all moved to Chelsea. For a great list of current exhibitions at Chelsea galleries and museums, check out this handy Chelsea Gallery Map.
You'll find the Fashion Institute of Technology (FIT) on 27th Street between Seventh & Eighth Avenues. The Museum at FIT is open Tuesdays through Saturdays, and features exhibits every fashion-lover should visit.
Chelsea lies south of Macy's Herald Square and Madison Square Garden, both in the neighborhood of Midtown West. Chelsea is separated from Greenwich Village by West 14th Street.
Dining in Chelsea: For our list of the best places to eat in Chelsea, click here.
Shopping in Chelsea: Annex Markets, Dave's New York
Nightlife in Chelsea: Gotham Comedy Club
Contributors: Irene Ross and Merrill Lee Girardeau