Historically, young artists with big dreams and empty pockets flocked to the East Village. In the 1960s and 70s, this cutting-edge crowd left a cultural imprint that has remained to this day, with a neighborhood full of alternative clubs, experimental music and theatre, fashion boutiques, and tattoo parlors.
Bordered on the north by East 14 Street and on the south by East Houston Street, the East Village starts when you walk east of Union Square—preferably past the Strand, the indie book emporium. Under the layer of new developments, the area has in part retained its reputation as a haven for young creatives looking for cheaper rent and like-minded neighbors.  
Still, places like CBGB's, once the cornerstone of the punk scene where The Ramones and Patti Smith used to play, has been replaced by a John Varvatos store. Luckily, St. Marks Church, where queer poets Allen Ginsberg and Eileen Myles used to read, still stands proudly in its yard of crooked cobblestones on 2nd Avenue. At Astor Place, Bernard Rosenthal's sculpture Alamo, better known as the "Astor Place Cube," has perched on 8th Street near 4th Avenue since 1967.



Image credit
What seems more like an open-air artistic bazaar than a street lined with apartments, St. Marks Place is a sort of "Santa Monica" of the east coast with t-shirt shops, CD stores, sidewalk shopping, and bars, though it has become more gentrified in recent years. But the real action in this area happens after the sun goes down. Nondescript doors hide some of the hippest places in the city. The sound of James Brown comes out of one bar, jazz piano from another, while Celtic chanting comes from still another.
Two of Off-Broadway's longest-running hits, Stomp and Blue Man Group, are also in the neighborhood. Another highlight of the area is Tompkins Square Park, home to annual events like the Charlie Parker Jazz Festival.
The south side of East Sixth Street between First & Second Avenues is a strip of Indian Eateries, collectively called Little Bombay. Established in 1854, McSorley's Old Ale House is the city's oldest continuously operated saloon, and seems to have changed very little in the last 160+ years.
East of the East Village is Alphabet City, and no one can agree if it starts at Avenue A or Avenue B. Regardless, think of it as something of an East-East Village, with characteristic hip, hole-in-the-wall dining and crowded neighborhood bars, plus the aforementioned Tompkins Square Park. 
The East Village lies adjacent to Greenwich Village, home of NYU and Washington Square Park. To the south is the historic immigrant enclave and the land of nightlife: the Lower East Side.   
Dining in the East Village: For our list of the best places to eat in the East Village, click here.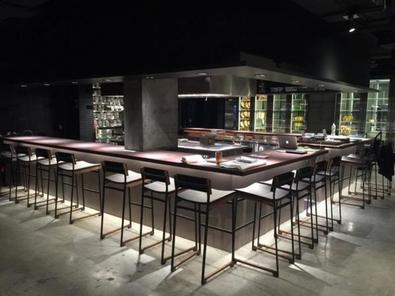 Momofuku Ko. Photo: David Chang's Instagram
Contributors: Irene Ross, Kathy Novak, Derrell Bradford, Colin Carlson, Linda Sheridan, and Merrill Lee Girardeau