For decades, New York City's Lower East Side was synonymous with immigrants housed in cramped tenements, suffering terrible conditions in hope of a better life. Today, this cultural mecca is home to emerging artists, young professionals, and innovative shopkeepers with dreams of their own. 
The Lower East Side remains a neighborhood synonymous with immigration, displaying signs in English, Spanish and Chinese. Among the old-world shops and delis are trendy boutiques, cafes, art galleries, and velvet-roped nightspots. Bordered by Houston Street, the Bowery, and the East River, the Lower East Side once attracted many Jewish immigrants, and the generous delis in the area still serve up heaping portions of pastrami on rye (incidentally, these make great late-night fare).


Tour the Lower East Side Tenement Museum, a preserved tenement paying tribute to the 7,000 people from 20 nations who once lived there. View fully restored apartments and hear stories of immigrant families who struggled to survive. The museum also offers walking tours of the Lower East Side so that visitors can view this new-bohemian area with a kind of X-ray vision.   

Visit the Museum at Eldridge Street, completed in 1887 as the first Eastern European synagogue in the city. A restoration project initiated in 1986, the gorgeous synagogue features an enormous starry blue stained-glass window, designed by Kiki Smith and Deborah Gans, in the back of the temple. Eldridge Street now hosts many public programs and events, as well as Sabbath and holiday services. Tours are also available.
The highly curated Hester Street Fair operates Saturdays from late April until late September, paying tribute to the neighborhood's "pushcart roots" with one-of-a-kind items and specialty foods.

Shop the LES for home decor and clothing boutiques. Vintage stores like Edith Machinist and Ritual Vintage cover the 1940s to the 1990s, and a variety of new designers have set up shop in the neighborhood for cutting-edge clothes fit for a night out. 
Speaking of which, clubs and bars are a dime a dozen in the Lower East Side, but you'd be well-advised to check out the uber-popular Beauty & Essex and other hotspots like Arlene's Grocery (live band karaoke!), Bowery Electric, and Pianos. A laid-back concert venue with great taste, Rockwood Music Hall is the go-to for live music on Allen Street.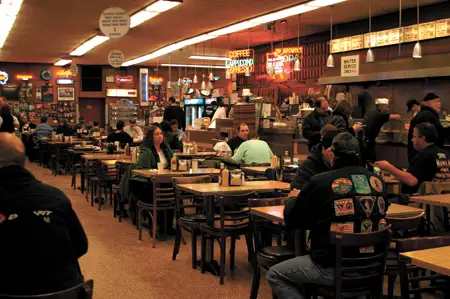 Famous for its bialys and savory pickles from a barrel, the LES has maintained a bastion of Jewish food culture in businesses like Russ & Daughters and Katz's Delicatessen. Join the perpetual crowd at Katz's, the oldest and largest deli in the city, for some of the best pastrami on rye around. Or grab some amazing ice cream at Morgenstern's. Another late-night favorite, The Meatball Shop will make you wait, but the meatballs are pretty spectacular.
For something a little different and a lot adorable, visit the city's first cat cafe, Meow Parlour. The cafe has free-roaming—and adoptable!—cats from KittyKind while an adjoining patisserie offers baked goods, macarons, and Blue Bottle Coffee. 
To the west of the Lower East Side is Chinatown, home to a vibrant immigrant community and delicious dim sum.
Dining on the Lower East Side quick links: Katz's Delicatessen.
Contributor: Merrill Lee Girardeau