Where to Eat in the East Village
May 22, 2015 - by City Guide
New York's East Village has some of the best restaurants in town and a truly diverse dining scene. With literally hundreds of smaller cafés, diners, pizza parlors, fine dining establishments and romantic holes-in-the-wall, there is a destination for every craving.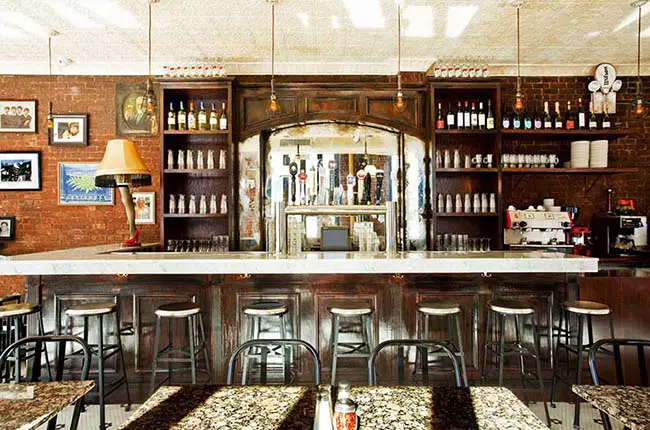 Artichoke Pizza
A favorite among the late-night crowds. This beloved hole-in-the-wall is chock full of tired revelers yearning for the eponymous artichoke sauce pizza slices.
328 E. 14th St., 212-228-2004, artichokepizza.com
Bar Primi
A rustic, bi-level buzz spot for both classic and less-classic pasta dishes. Think spaghetti pomodoro for breezy lunches and squid ink campanelle with crab for a romantic Downtown dinner.
325 Bowery, 212-220-9100, barprimi.com
Bobwhite
A small, laid-back lunch counter and the place to be in the neighborhood for traditional fried chicken and soul food.
94 Ave C., 212-228-2972, bobwhitecounter.com
Brindle Room
The secret home of one of the city's best burgers, this unassuming neighborhood spot also has a small but strong list of draft beers.
277 E. 10th St., 212-529-9702, brindleroom.com
Crif Dogs
The nostalgic home of some of the city's most creative hot dogs, a Pac-Man arcade game and, behind the phone booth, one of America's most celebrated cocktail bars.
113 St. Marks Pl., 212-614-2728, crifdogs.com
Hearth
A romantic dinner spot for Tuscan-American farm-to-table goodness. Be sure to sample from their extensive and well-curated wine list.
403 E. 12th St., 646-602-1300, restauranthearth.com
Huertas
Basque favorites and Spanish small plates (even smaller than tapas) are what you'll find in this hot spot. It's definitely one of the only places in the area where you'll find a selection of Spanish craft beers.
107 1st Ave., 212-228-4490, huertasnyc.com
Ippudo
A perpetually packed ramen and sake spot with a no-reservations policy. Of the many ramen options they offer, the Akamaru Modern is most worth the wait.
65 4th Ave., 212-388-0088, ippudony.com
Jeepney
A kitschy Filipino spot with a secretly excellent burger. Head to the back patio if the Filipino girly magazines on the walls are too much for you.
201 1st Ave., 212-533-4121, jeepneynyc.com
Jewel Bako
With a narrow, arched space that looks like something out of a Kubrick film, Jewel Bako is also home to one of the more underrated omakase experiences in the city, let alone the neighborhood.
239 E. 5th St., 212-979-1012, jewelbakosushi.com
John's
A good old-fashioned white-tablecloth, red sauce, red wine joint that's been a staple in the neighborhood since 1908. Bring a date or the family, and try the veal.
302 E. 12th St., 212-475-9531, johnsof12thstreet.com
Lafayette
A massive, airy French bistro and bakery from chef Andrew Carmellini. Come for coffee and macarons Saturday mornings and Bouillabaisse and cocktails at night.
380 Lafayette St., 212-533-3000, lafayetteny.com
Mighty Quinn's
What was once a stand at a Brooklyn food fair is now a bustling Second-Avenue barbecue lunch spot, where you'll get burnt ends and hot links by the pound or in platters.
103 2nd Ave., 212-677-3733, mightyquinnsbbq.com
Momofuku Ssäm
This is arguably celebrity chef David Chang's most interesting restaurant. The pork buns are the stuff of legend and the adjacent cocktail bar, Booker & Dax, is one of the more interesting in the city.
207 2nd Ave., 212-254-3500, momofuku.com
Motorino
An always-popular, charmingly cramped spot for flaky Neapolitan pizzas and a neighborhood feel.
349 E. 12th St., 212-777-2644, motorinopizza.com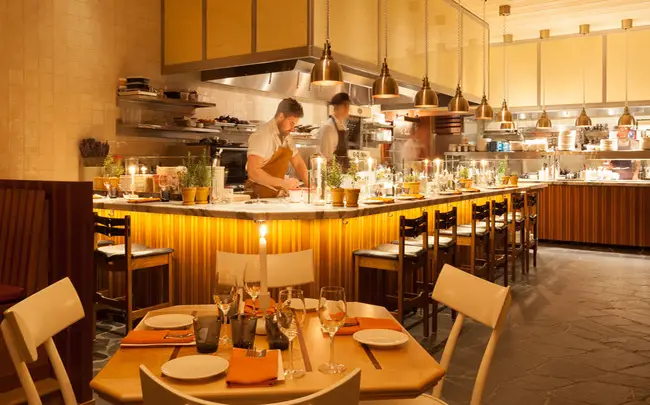 Narcissa
The bright, elegant crown jewel of The Standard East Village. They do things with carrots here you'd never thought possible, and the pork chop is not to be missed.
25 Cooper Sq., 212-228-3344, narcissarestaurant.com
Porchetta
A humble storefront where everyone's walking out with the excellent porchetta sandwich. Stop in, pick one up and take a walk around the neighborhood.
110 E. 7th St., 212-777-2151, porchettanyc.com
S'mac
Twelve distinct varieties of mac and cheese feed the after-the-bars crowd until 1am on weekends. Expect a wait, but also expect a great masala variation on the dish.
345 E. 12th St., 212-358-7912, smacnyc.com
The Mermaid Inn
A cozy nautical spot for raw bar favorites and wine. Also a particularly good place to be during patio season.
96 2nd Ave., 212-674-5870, themermaidnyc.com
The Smith
A favorite among the neighborhood's post-work and brunch crowds, The Smith is always lively and a good solution to the problem of not having mac n' cheese and Moscow Mules.
55 3rd Ave., 212-420-9800, thesmithnyc.com
The Wren
A busy, modern take on an Irish pub with a young crowd of draft beer drinkers and a secret talent for Irish breakfasts on the weekends.
333 Bowery, 212-388-0148, thewrennyc.com
Upstate
A humble-but-lively spot for oysters, fish and craft beer. Also one of the only spots in the neighborhood with a daily-rotating scallop menu.
95 1st. Ave., 917-408-3395, upstatenyc.com
Veselka
An old-world Ukrainian classic with a lunch counter vibe and everything from diner breakfast dishes to borscht and pierogis.
144 2nd Ave., 212-228-9682, veselka.com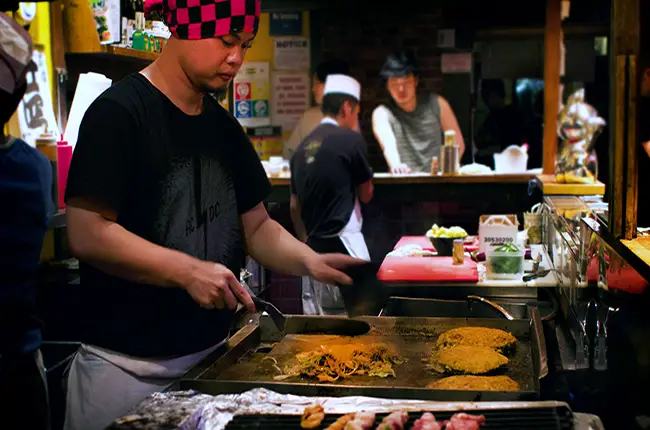 Village Yokocho
Go one flight above street level to find a bustling, late-night group dinner destination for Japanese bar food. Ask your server to point you toward the excellent Japanese speakeasy its hiding after your meal.
8 Stuyvesant St., 212-598-3041, villageyokocho.com
Zum Schneider
An always-packed German bierhaus where giant steins and weiner schnitzel rule the tables. This spot is a must for alfresco seekers.
107 Ave C., 212-598-1098, zumschneider.com
Looking for Free Group Planning Services?
Get free advice on planning your group's trip to New York.
RESTAURANTS

Multi-concept restaurant offering modern Japanese cuisine, a...

THEATER

In a heartbeat, 38 planes with 6,579 passengers were strand...

SHOPPING

The sweetest experience in Times Square!...

SIGHTSEEING

In addition to 360-degree views from Midtown Manhattan, the ...