Here is everything you need to know about the Off-Broadway and Off-Off Broadway shows in NYC in 2023. Throughout Manhattan, Brooklyn, and Queens, Off- and Off-Off Broadway theatres present everything from the classics—plays and musicals—to cutting-edge experimental pieces, concerts, festivals, and immersive works.
PLAYING OFF-BROADWAY & OFF-OFF BROADWAY, 2023-24
360 ALLSTARS (New Victory Theater, 209 W. 42nd St.). World record-holding athletes and artists show off their mad skills in freestyle basketball, BMX biking, breakdancing, acrobatics, and more. Experience the thrill of extreme sports backed by a pulse-pumping, live soundtrack-looped soundtrack. 2/17 thru 3/3/24. (newvictory.org)
Aanika's Elephants (New Victory Theater, 209 W. 42nd St.) Sesame Street writer Annie Evans mixes puppetry, music and gentle humor to entertain and educate audiences on the plight of Africa's elephants. Aanika, a Kenyan girl, befriends a baby elephant and their bond of sisterhood shows that a family can be anything—from an animal orphanage, a widowed father and daughter, and a herd of hunted elephants. Ages 6+. 3/29 thru 4/7/24. (newvictory.org)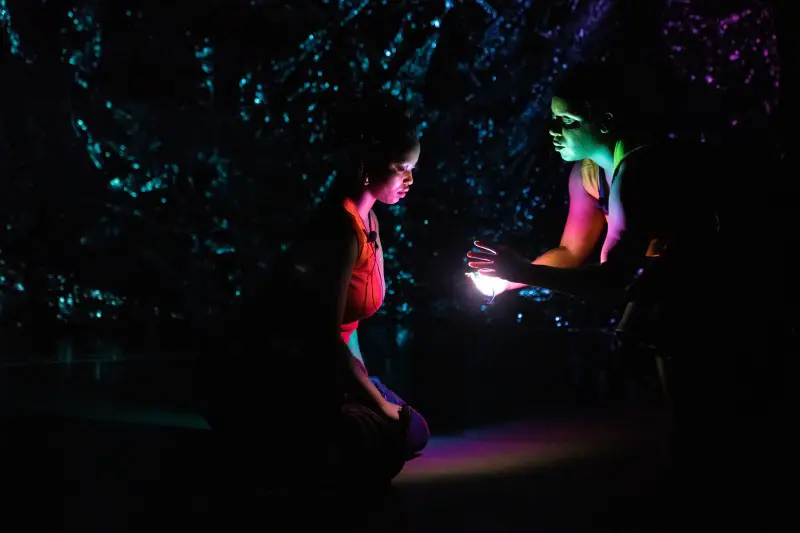 ADAKU, PART 1. Photo by Lauren Miller.
adaku, part 1: the road opens (BAM Fisher Fishman Space, 321 Ashland Pl., Brooklyn)
Collaborators Okwui Okpokwasili and Peter Born's latest work is set in a precolonial African village at the cusp of a major upheaval, touching on the fraught relationship between ancestors, future generations, and the role of ritual. A sonic and visual landscape of reflective textures, contouring shadows, and thrumming facilitates an intimate exchange between performers and audience. Part of BAM's Next Wave 2023. 11/28 thru 12/2. (bam.org)
ADRIFT, A Medieval Wayward Folly (59E59 Theaters, 59 E. 59th St., Theater B) Characters from the paintings of Hieronymus Bosch and archetypes from the tarot are brought to life in a production of theatrical alchemy using live music, physical comedy, puppetry, and so much more. This pod of eccentrics will drift into the world to bring delight, share hopes and fears, and find a way forward. And, of course, it wouldn't be the Middle Ages without a hellmouth, demons, and angels. 11/29 thru 12/24. (59e59.org)
All of Me (Pershing Square Signature Center, 480 W. 42nd St.) Playwright Laura Winters' classic "boy meets girl" storyline using text-to-speech to connect its leading couple. From 4/23/24. (thenewgroup.org)
All The Devils Are Here: How Shakespeare Invented The Villain (DR2 Theatre, 103 E. 15th St.) Tony nominee/Grammy winner Patrick Page created and performs this tour de force show, in which he explores the twisted motivation and hidden humanity at the heart of more than a dozen Shakespearean villains. Thrilling, biting, hilarious, and enlightening, what Mr. Page delivers is a masterclass on the most terrifying subject of them all: human nature. 9/29 thru 2/25/24. (allthedevilsplay.com)
The Ally (Public Theater, 425 Lafayette St.) When Asaf is asked to sign a social justice manifesto, he becomes embroiled in an increasingly conflicted web of relationships that challenge his commitments as a liberal, a husband, an academic, an American, an atheist, and a Jew. With tensions at an all-time high, Asaf is forced to confront the age-old question: "If I am only for myself, what am I?" By Tony-winning playwright Itamar Moses. February, 2024. (publictheater.org)
An American Soldier (PAC NYC, Perelman Performing Arts Center, 250 Fulton St.) The New York premiere of composer Huang Ruo and librettist David Henry Hwang's opera based on the powerful true story of U.S. Private Danny Chen. 5/12 thru 5/19/24. (pacnyc.org)
Photo by Jeremy Daniel.
Amid Falling Walls (Edward J. Safra Hall, Museum of Jewish Heritage, 36 Battery Pl.) A new musical celebrating the resilience and hope of those who endured during the Holocaust, portrayed through the power of Yiddish song. Presented in Yiddish with English subtitles, the show features material written and performed in ghettos, cabarets, partisan encampments in the forests, concentration camps, and clandestine theaters. Presented in Yiddish with English supertitles. 11/14 thru 12/10. (nytf.org)
The Apiary (Second Stage's Tony Kiser Theater, 305 W. 43rd St.) Twenty-two years in the future two lab assistants hatch a plan that could change the world. All they need are a few volunteers. A raucous and provocative world premiere work by Kate Douglas about sacrifice, ambition, and honeybees. Part of the Next Stage Festival. 1/31 thru 2/25/24. (2st.com)
ARCADIA cast, photo by Ashley Garrett.
Arcadia (West End Theater, 263 W. 86th St.) Tom Stoppard's absorbing play takes us back and forth between the centuries and explores the nature of truth and time, the difference between the Classical and the Romantic temperament, and the disruptive influence of sex on our orbits in life—"the attraction which Newton left out." 10/27 thru 1/7. (bedlam.org)
Aristocrats (Irish Repertory Theatre, 132 W. 22nd St.) Set in Ballybeg Hall in County Donegal, Brian Friel's Chekhovian masterpiece chronicles the decaying home of District Justice O'Donnell, where the family congregate for a wedding, but stay to attend a funeral. Friel's tale of three sisters and their 'eccentric' brother reveals the way in which the ache of one family becomes the microcosm for the ache of a society. 1/11 thru 3/3/24. (irishrep.org)
As I Eat the World (The Tank, 312 W. 36th St.) A Latine man goes on a journey as to what brought him to a breaking point that may or may not destroy him. Navigating the ins and outs of the Latine culture, forced masculinity, and complete avoidance of mental wellness in order to be who he was expected to be, and what the outcome of that was. He confronts his eating disorders and mental health by attempting to literally eat the world. 11/30 thru 12/17. (thetanknyc.org)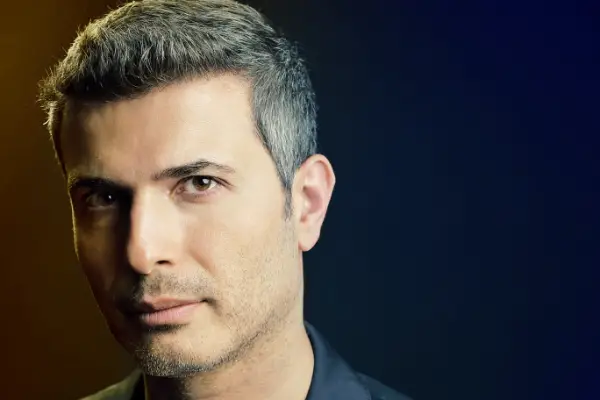 Asi Wind's Inner Circle (The Gym at Judson, 243 Thompson St.) (75 mins.) The moment audiences enter the intimate theatre space, they become a part of acclaimed magician Asi Wind's exhilarating, mysterious, and hilarious show. The unique setting intensifies the performance and creates a logic-defying experience: theatregoers not only witness the magic, they become the magic itself. Thru 1/14/24. (asiwind.com)
An Axemas Story (Players Theatre, 115 MacDougal St.) It's Christmas time in Tree Town but after a few classmates begin to disappear, Small Paul and Noel begin to question Tree Town's relationship with Farmer Todd. Will the duo crack the case before the Christmas Pageant? Or will the Trees of Tree Town discover the true meaning of axemas this year? A send-up of capitalism, Christmas shows, '80s tropes, and the religious right—but mostly, it's a very silly show with a lot of tree puns. 11/30 thru 12/17. (anaxemasstory.com)
Between Two Knees (Perelman Performing Arts Center, 250 Fulton St.) The Indigenous sketch comedy group The 1491s (Reservation Dogs) presents an outrageously funny play which spans 90 years in the life of a fictional Native American family. 2/3 thru 2/24/24. (pacnyc.org)
Beverly Johnson: IN VOGUE (59E59 Theaters, 59 E. 59th St., Theater B) An intimate "live-autobiography" in which Johnson takes the stage, sharing personal dispatches on the ever-shifting fashion and entertainment industries. Touching upon everything from her career, relationships, the truth about Bill Cosby, and her involvement in the #MeToo movement, the show, like Johnson herself, is funny, fearless, and unapologetic while illustrating how she bucked trends and blazed a trail through barriers. 1/9 thru 1/28/24. (59e59.org)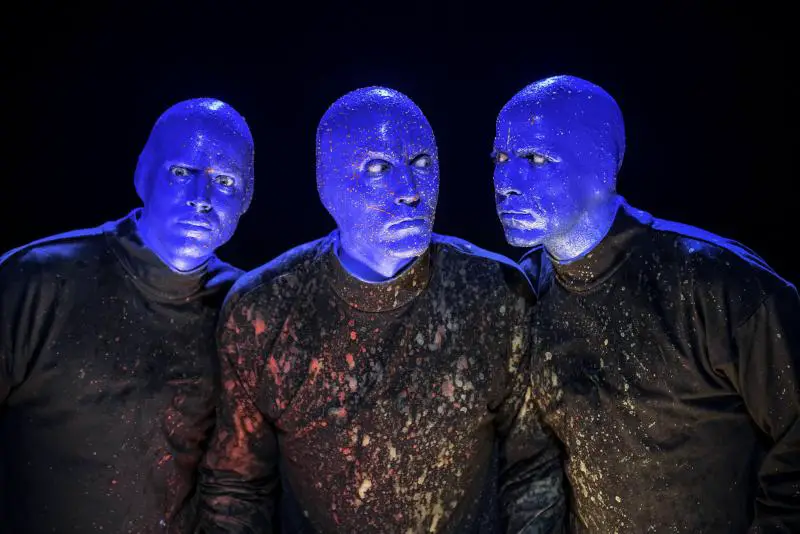 Blue Man Group (Astor Place Theatre, 434 Lafayette St.) (105 mins., no intermission) No plot, dialogue, or ripped from headlines drama, just a romp and a half orchestrated by three blue-hued alien dudes. This long-running Off-Broadway show and international sensation combines music, paint drums, snacks, high-tech hijinks, and unpredictable physical comedy. (blueman.com)
Brooklyn Laundry (New York City Center, Stage I, 131 W. 55th St.) Pulitzer Prize and Tony-winning playwright John Patrick Shanley's latest is about three sisters and a guy who runs a laundry in Brooklyn, and the sometimes savage tricks life plays on them. Tragic and funny by turns, this story will remind you what is important in life...and the sorrow and joy of fully embracing adulthood. From 2/6/24. (nycitycenter.org)
Buena Vista Social Club (Atlantic Theater Company's Linda Gross Theater, 336 W. 20th St.) This world premiere musical, inspired by the Grammy-winning 1997 album, tells the story of the legendary artists who recorded the album. 11/17 thru 1/7/24. (atlantictheater.org)
Chamber Magic (Stage 42, 422 W. 42nd St.) Theatregoers, dressed to impress in cocktail attire, experience the mystifying artistry of Steve Cohen in an elegant and intimate salon within the legendary New York Palace. Recreating the up-close parlor entertainment of Manhattan in the early 20th century, Cohen conjures, mind-reads, and performs sleight of hand, along with a trick called Think-A-Drink. (chambermagic.com)
A Christmas Carol (SoHo Playhouse, 15 Vandam St.) In a stunningly animated solo performance, Guy Masterson (director of Broadway's The Shark Is Broken) brings Dicken's myriad characters to life, from Scrooge and Marley to Fezziwig and Tiny Tim. In short, the perfect way to get into, and celebrate, the Christmas spirit—past, present AND future! 12/20 thru 12/31. (sohoplayhouse.com)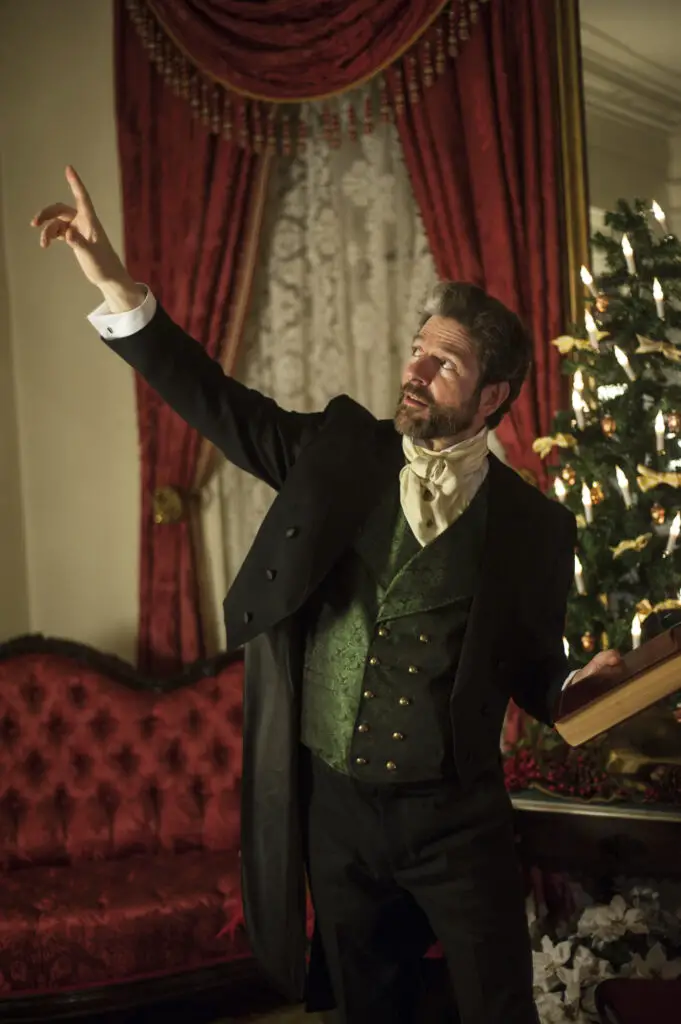 A Christmas Carol at the Merchant's House (Merchant's House, 29 E. 4th St.) It's December 1867 and Charles Dickens (John Kevin Jones) has arrived in New York City for a month of sold-out performances of his beloved holiday classic. Surrounded by 19th-century holiday decorations, flickering candles, and richly appointed period furnishings, audiences are transported back 150 years in the elegant Greek Revival parlor of the landmark 1832 Merchant's House Museum. 11/28 thru 12/24. (merchantshouse.org)
A Christmas Memory & The Thanksgiving Visitor (Park Theater Hudson, 723 Warren St.) A Truman Capote double bill of A Christmas Memory, a story about kindness, adventure, discovery, and true friendship with all the sights, smells, and sounds of the holiday season, while in the hilarious and moving The Thanksgiving Visitor we find out what happens to Buddy and his Friend's unbreakable bond when an unimaginable guest is invited to Thanksgiving dinner. 11/30 thru 12/23. (achristmasmemory.com)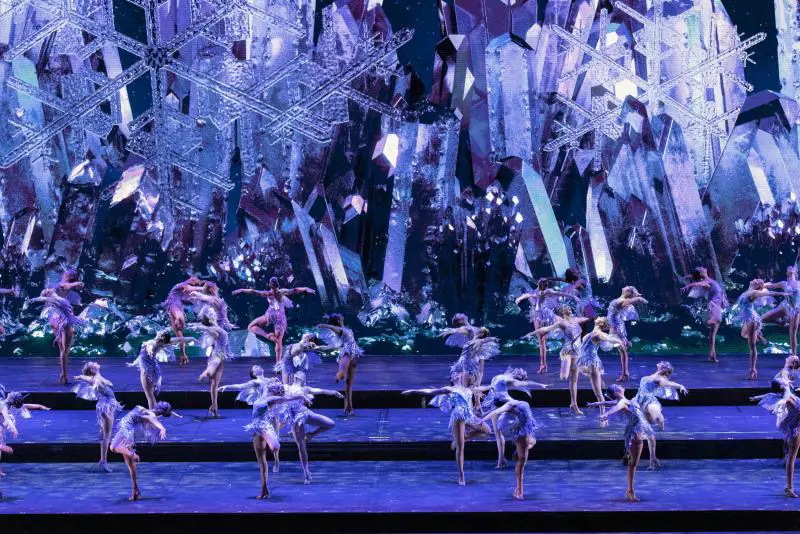 Dance of the Frost Fairies. Photo courtesy MSG Entertainment.
Christmas Spectacular Starring the Radio City Rockettes (Radio City Music Hall, 1260 6th Ave) (90 min., no intermission) America's #1 holiday show is back with all the sparkle and joy that has made it a New York tradition since 1933. Dazzling choreography and show-stopping numbers by the world-famous Radio City Rockettes—including their trademark Parade of the Wooden Soldiers and stunning Dance of the Frost Fairies—guarantee this breathtaking show will be the highlight of your holidays in New York! 11/17 thru 1/1/24. (rockettes.com)
Cocktail Magique (17 Wyckoff Ave., Brooklyn) Company XIV's mixological adventure of unprecedented majesty! Over the course of the show, burlesque stars invoke a selection of tipples and treats to serve guests and pour immersive cocktails from a curated menu at the bar. In short, a tantalizing phantasmagoria of ingenious miracles that unfolds in your midst. 9/21 thru 1/28/24. (companyxiv.com)
The Connector (Robert W. Wilson MCC Theater Space, 511 W. 52nd St.) Set in the late 1990s amid a rapidly changing media landscape we meet a fast-rising journalist, Ethan Dobson, and an assistant copy editor, Robin Martinez, at the revered magazine The Connector. In a world that values the next big sensation, Ethan's writing prowess and ambition force him to confront how far he'll go for the ultimate scoop and Robin to consider how far she'll go to stop him. Featuring Scott Bakula. 1/12/24 thru 2/18/24. (mcctheater.org)
CONVENTUM (3AM Theatre, 920 35th Avenue, Unit #3N, Long Island City) A laboratory work aimed at inspiring cross-pollination between performing artists from multiple disciplines, this live-action podcast includes pieces from each artist's repertoire, spontaneous performances, and conversations with artists. 9/23 thru 12/9. (eventbrite.com)
Photo: Joan Marcus.
Covenant (Black Box Theatre, Harold and Miriam Steinberg Center for Theatre, 111 W. 46th St.) When a struggling guitarist returns to his small Georgia town a blues star, rumors swirl that he may have made a deal with the devil to attain his musical genius. Before long, however, it's clear he's not the only one with a secret. York Walker's mythic and suspenseful new play delivers one devilish twist after another. 10/5 thru 12/17. (roundabouttheatre.org)
CORRUPTION (Lincoln Center Theaters' Mitzi Newhouse Theatre, 150 W. 65th St.) When Parliament member Tom Watson is maliciously smeared by Rupert Murdoch's News International publications, he and a small band of journalists, lawyers, and politicians struggle to expose the endemic criminality at the heart of this media monolith, risking their careers and, at times, their very lives. Epic in scope and often startlingly funny, the play is a true-life David and Goliath tale with democracy at stake. From 2/15. (LCT.org)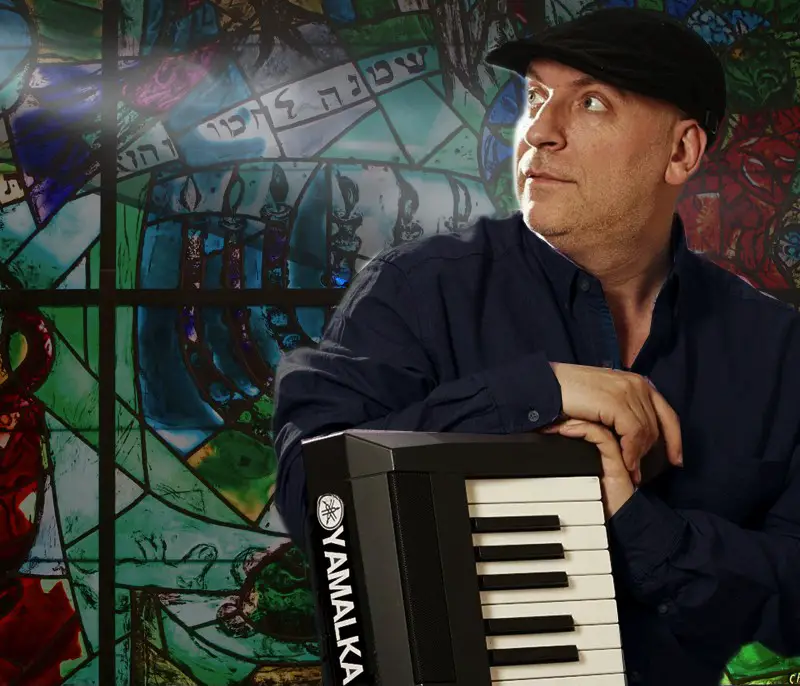 Daniel Cainer's Jewish Chronicles…Christmas Special (SoHo Playhouse, 15 Vandam St.) 131 W. 55th St.) Cainer's songs are for anyone who has ever wrestled with their home, heritage, and heart (and is partial to bagels). All the human condition is here, expertly brought to life with brilliant rhyming and wordplay, great musicianship, and haunting tunes you won't forget. Back for his seventh residency at SoHo Playhouse. 12/13 thru 12/23. (sohoplayhouse.com)
Photo by Emilio Madrid.
Danny and the Deep Blue Sea (Lucille Lortel Theatre, 121 Christopher St.) Have you ever been caught in an earthquake? A chance meeting. A dive bar. Some encounters are so dangerous and so beautiful, they redefine the meaning of love. Follow two desperate people in the Bronx, Danny and Roberta, as they walk the line between destruction and transcendence. This revival of Tony and Pulitzer-winning playwright John Patrick Shanley's 1984 play stars Aubrey Plaza and Christopher Abbott. 10/30 thru 1/13/24.(dannyandthedeepbluesea.com)
Dark Noon (St. Ann's Warehouse, 45 Water St., Brooklyn) A cast of South African actors and members of the audience re-enact the story of the American wild, wild west through the lens of Hollywood Westerns. This incendiary spectacle turns American history on its head—from the land rush to the gold rush, to gunfights and gunslingers, the territorial conflicts between the European settlers and the indigenous natives are all there. It's an absurd and vicious game, playful until it isn't. 6/7 thru 7/7/24. (stannswarehouse.org)
David Den Bottrell: The Death of Me Yet (Pangea, 178 Second Ave. at 11th St.) A unique one-solo show exploring mortality with humor and warmth. Through tales of potluck funerals, encounters with chatty EMS personnel, and an exploration of unconventional burial options, David recounts his personal experiences the big "D' in a life-affirming journey through life's inevitable destination. Playing in repertory with Dear Mr. Bottrell, I Cannot Possibly Accept This. 10/16 thru 12/18. (pangeanyc.com)
Dead Outlaw (Minetta Lane Theatre, 18 Minetta Lane) A new musical centering on ambitious outlaw Elmer McCurdy, whose death at the hands of a Western posse ended a life of failed crime and alcoholism and began a brilliant career as a mummified side-show attraction that travelled the USA for decades -- until a grip for a 1970s TV series discovers him in an amusement park's house-of-horrors, which launches hunt for the origins of this enigma. 2/28 thru 4/7/24. (audible.com)
Photo by Emilio Madrid.
Death, Let Me Do My Show (Orpheum Theatre, 126 Second Ave.) A one-woman musical comedy that is definitely not about the ever-present spectre of death. Rachel Bloom's new show is filled with raunchy and escapist material that will in no way explore the pandemic and all the tumultuous events that ensued in her personal life. Nothing will stop Rachel from partying like it's 2019! 12/7 thru 1/6/24. (rachelbloomshow.com)
The Desire of the Astronaut (Puerto Rican Traveling Theater, 304 W. 47th St.) This original musical explores the enduring myth and popular iconography of the astronaut through the fictional story of Esteban Only, the last Boricua in space. Drifting on a dying spacecraft with only intermittent contact with Earth, Esteban undertakes repairs that may facilitate his rescue or accelerate his court martial on grounds of insubordination. 5/2 thru 6/2/24. (pregonesprtt.org)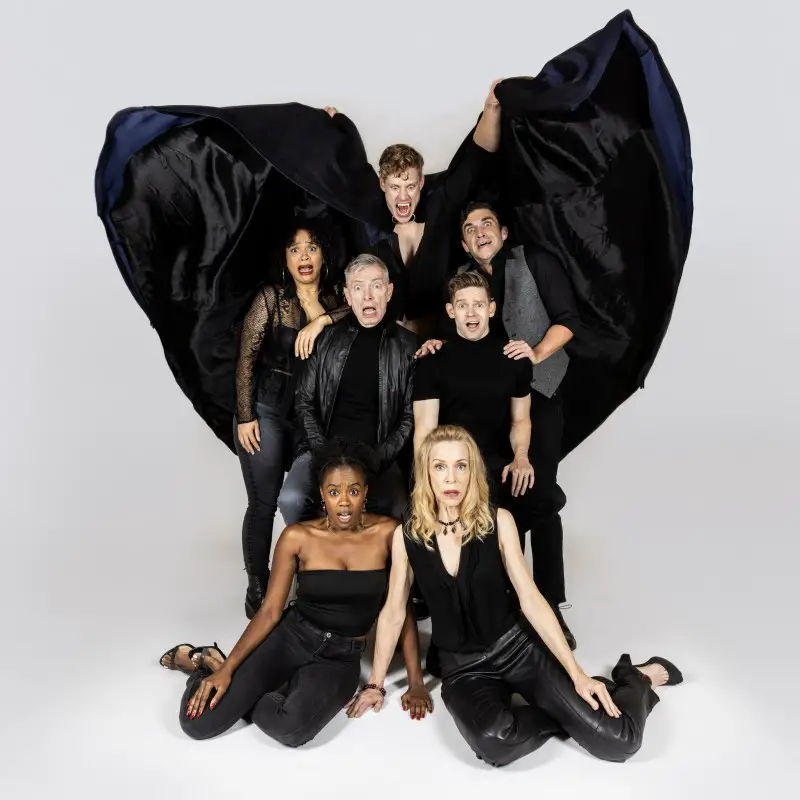 DRACULA, A COMEDY OF TERRORS cast, photo by Maria Baranova.
Dracula, A Comedy of Terrors (New World Stages, 340 W. 50th St.) This riotous makeover of Bram Stoker's classic celebrates goth, camp, and sexuality in a gender-bending romp centering on a pansexual GenZ Count Dracula in the midst of an existential crisis. When he sets his sights on the brilliant young scientist Lucy Westfeldt, he meets his match – as well as a slew of other colorful characters, embodied by a cast of stellar, quick-take comedians. 9/4 thru 1/7/24. (draculacomedy.com)
Drunk Musicals (Green Fig Piano Bar, 570 10th Ave.) Half scripted, half improv, this interactive show's cast solicits highlights from favorite musicals, pops them into a parody script, and are off and creating a madcap production—with a twist: theatregoers can send the performers shots during the show. The sobriety—and hilarity—of the actors is in the audience's hands. Totally. (Ages 21 & up.) (thegreenroom42.com)
Drunk Shakespeare (The Garden at Selene, 11 Hanover Sq.). Five actors meet as members of The Drunk Shakespeare Society. One of them has five shots of whiskey and then attempts to perform a major Shakespearean role while the four sober actors attempt to keep the script on track. Suffice to say, every wildly madcap show is different. Craft cocktails are available for purchase and entry is strictly 21+. (drunkshakespeare.com)
The Duchess of LES: An AI Musical From Little Ukraine. Photo by Randy Simon.
The Duchess of LES: An AI Musical From Little Ukraine (Kraine Theatre, 85 E. 4th St.) In this retro musical, breakdancer Simon falls in love with her psychotic brother's wife. The edgy/grungy backdrop is Little Ukraine, NYC, home to as many as 60,000 Ukrainian immigrants within a few square blocks, along with the great mosaic of people from around the world. From the synth arpeggios to the driving drum beats, the music—as imagined by AI—will transport you back to the 1980s. 11/16 thru 12/3. (duchess.nyc)
El Otro Oz (Atlantic Stage 2 Theater, 330 W. 16th St.) Inspired by The Wizard of Oz, this new bi-lingual musical with salsa, merengue, and Mexican folk-infused music follows Dora, a contemporary Latiné teenager, struggling with her family's ideas about tradition. But, when she's swept to a strange new land, she learns how to celebrate her unique rhythm and embrace her cultural identity. 1/13 thru 2/18/24. (atlantictheater.org)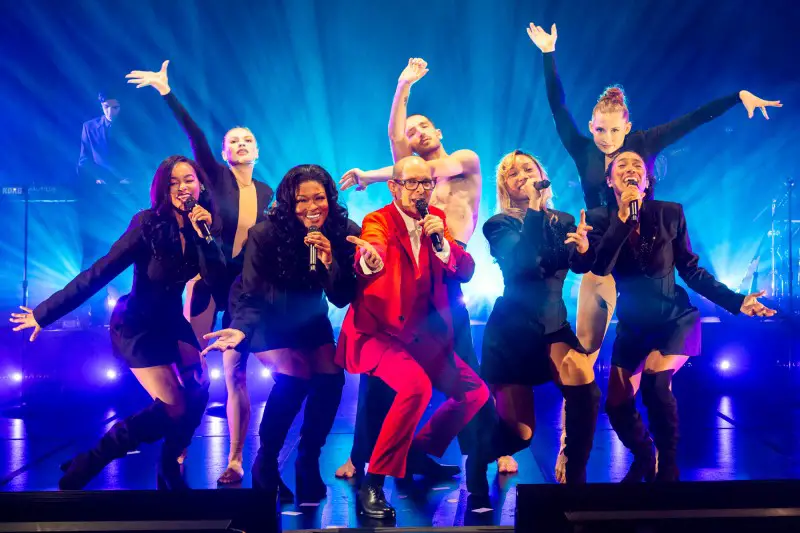 Photo by Russ Rowland.
EMERGENCE: Things Are Not As They Seem (Pershing Square Signature Center, Alice Griffin Jewel Box Theater, 480 W. 42nd St.) Part music, part monologue, part science journey, part rock concert, part psychedelic trip, this groundbreaking performance led by Patrik Olson explores the deepest aspects of the human experience. Original music, highlighted by a dynamic ensemble of musicians, singers, dancers and visual effects, merge seamlessly while asking big, bold questions. 10/10 thru 1/7/24. (emergenceshow.com)
The Energy Curfew (Minetta Lane Theatre, 18 Minetta Ln.) In an imagined near-future where electricity is rationed worldwide, America instates a weekly Energy Curfew when the grid goes down for 24 hours to promote the unplugged lifestyle. "The Energy Curfew Music Hour" is broadcast across the nation an hour before the lights go out – and you're invited to the recoding. Each episode of this full acoustic musical variety show is performed live, hosted by Punch Brothers. 11/11 thru 12/10. (audible.com/ep/minettalane)
The Eric Carle Show (Theater 555, 555 W. 42nd St.) Introduce your little ones to a brand-new Eric Carle experience as they greet new friends in From Head to Toe; explore the world with The Very Quiet Cricket; play along with mischievous shapes in Little Cloud; and help The Very Hungry Caterpillar on his timeless journey. World-class puppeteers and 45 handcrafted, magical puppets bring Eric Carle stories to life for a colorful journey full of wit & imagination—and one very hungry caterpillar! Thru 12/31. (hungrycaterpillarshow.com)
ESREVER (3AM Theatre, 920 35th Avenue, Unit #3N, Long Island City) A blend of live electronic music, video, lighting installation, and experimental juggling. Created & performed by 3AM artistic director Kyle Driggs, the work deconstructs art forms he is most passionate about, melding them into a feverish, transcendent live performance. 9/28 thru 12/2. (eventbrite.com)
The Fire This Time Festival (The Wild Project, 195 E. 3rd St.) FRIGID New York's 15th annual Ten-Minute Play Program focuses on Black women and the Black family with themes, from a family who redefines the meaning of kinship to another family dealing with the psychological toll racism has on their teenage daughter, and women navigating careers as artists and activists. Visit website for a complete list of productions and playing schedules. 1/15 thru 1/28/24. (firethistimefestival.com)
The Following Evening (Perelman Performing Arts Center, 250 Fulton St.) An intimate portrait of a couple creating what may be their final performance together after a lifetime at the heart of the experimental theater scene. A unique collaboration between two theater-making couples a generation apart. 2/1 thru 2/18/24. (pacnyc.org)
Friends! The Musical Parody (Jerry Orbach Theater at The Theatre Center, 210 W. 50th St.) The unauthorized comedic musical that lovingly pokes fun at TV's Friends celebrates the adventures of Ross, Monica, Rachel, Phoebe, Joey, and Chandler as they navigate the pitfalls of work, life, and love in 1990s Manhattan. The show recreates favorite moments from all 10 seasons of the iconic sitcom through an uncensored, fast-paced, music-filled romp! (ticketmaster.com/friends-the-musical-parody-new-york)
Fun with Panic Attacks (INTAR, 500 W. 52nd St., #4W) In this new performance piece by Florencia Lozano, Floppy explores her life's journey with anxiety as she invites you to take off your shoes, lie down on the floor, and check in to see if you are holding your breath. Psychological funhouse meets choose-how-immersive-you-want-it-to-be theatrical event. 1/12 thru 1/28/24. (intartheatre.org)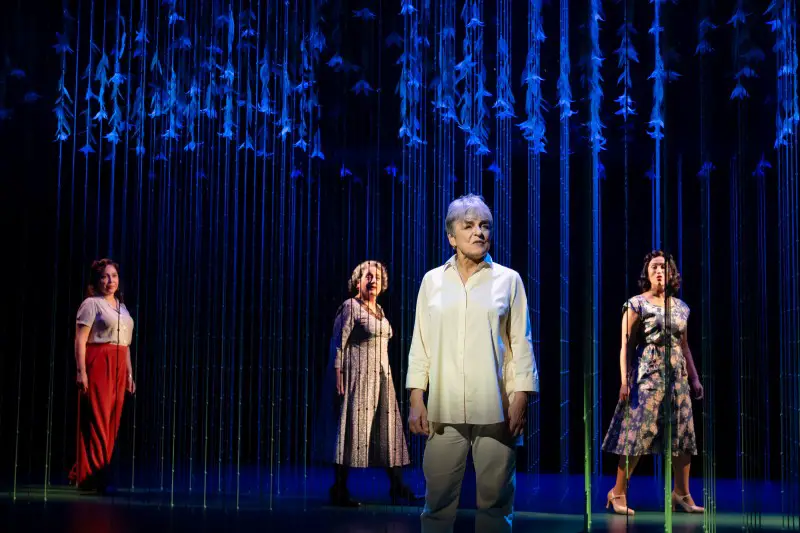 From L to R, Andréa Burns, Mary Testa, Priscilla Lopez, and Eden Espinosa. Photo: Julieta Cervantes.
The Gardens of Anuncia (Lincoln Center Theaters' Mitzi Newhouse Theater, 150 W. 65th St.) In this funny and poignant musical, Anuncia tends her country house garden and looks back on her girlhood in Juan Perón's Argentina, paying homage to the family of women whose love and sacrifices allowed her to become an artist. Starring Tony winner Pricilla Lopez, the show features a romantic and tango-infused score. Thru 12/31. (lct.org)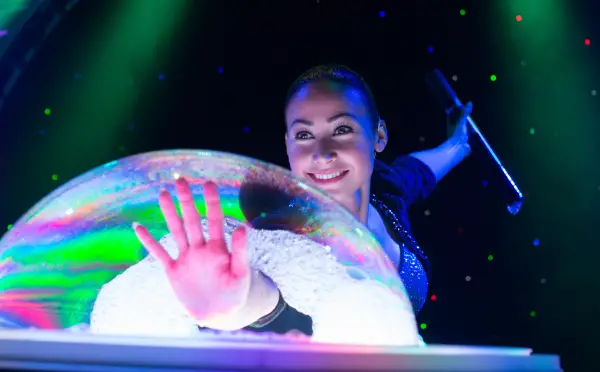 Gazillion Bubble Show (New World Stages, 340 W. 50th St.) A family phenom for your family from the Yang family of bubble virtuosos. "We are so thrilled to be bringing bubbles back to the stage and smiles to our audiences," says master bubble maker Melody Yang. (gazilllionbubbleshow.com)
A Good Day Not To Be Me (Connelly Theater, 220 E. 4th St.) A storytelling tour-de-force by and starring Lameece Issaq. Funny and gut-wrenching, this new play follows a 40-"whatever" dental lab tech who gets fired and moves into a women's rooming house run by nuns. While there, she must come to terms with her unfulfilled path to motherhood and the untimely death of her sister—all while fending off her unpredictable and sometimes deranged cohabitants. Thru 12/16. (waterwell.org)
The Gospel According to Chaim (Theater for the New City, 155 First Ave.) This strange and mystical parable introduces us to Chaim Einspruch, a Yiddish writer who translated the New Testament into Yiddish and set out to publish his book in Baltimore in the early years of WWII, only to be turned down by every Yiddish printer he approached. Undeterred, he learned the art of printing so that he could print an elegantly illustrated manuscript on his own. 12/21 thru 1/7/24. (newyiddishrep.org)
Grand Soft Day (New Victory Theater, 209 W. 42nd St.) This all-seasons adventure is filled with live music and a sprinkling of words that will ready young viewers for whatever weather wends their way. Created for audiences aged 2-5, this special show is presented in an intimate setting where little ones may even feel a touch of wind (from a fan) or rain (spritzed water) on their face. 1/13 thru 1/21/24. (newvictory.org)
The Greatest Hits Down Route 66 (59E59 Theaters, 59 E. 59th St., Theater A) It's the summer of '99. The Franco family is taking the Great American Road Trip. Challenged at every turn by their kids, the parents find themselves detouring into their own childhood memories. Part family comedy, part musical odyssey, the work careens around America's iconic landmarks and cultural relics accompanied by live music drawn from Carl Sandburg's American Songbag, a 1920s anthology of U.S. folk songs. 1/13 thru 2/18/24. (59e59.org)
The Gyno Kid (Kraine Theater, 85 E. 4th St.) As the child of small-town gynecologists, comedy writer Claire Ayoub experienced an untraditional and often mortifying adolescence destined to end in therapy—and comedy. This is her delightfully cringeworthy walk down memory lane. In addition to her solo show, Ayoub will moderate a Laugh + Learn Q&A after each show where healthcare experts will share their expertise on specific health topics. Once monthly: 7/14 thru 12/8. (frigid.nyc)
Grenfell: In the Words of Survivors (St. Ann's Warehouse, 45 Water St., Brooklyn) The extraordinarily resilient Grenfell community in London protected and cared for one another before, during, and after a deadly fire many of them foresaw. Crafted from verbatim interviews and public inquiries, the survivors' haunting recollections, heroic acts, and unspeakable loss amplify a fierce campaign for justice and reform. 4/13 thru 5/12/24. (stannswarehouse.org)
Hamlet | Toilet (Japan Society, 333 E. 47th St.) Theater Company Kaimaku Pennant Race (KPR), renowned for its nonsensical yet profound style that seamlessly weaves Japanese pop culture into reimagined scenes from Shakespearean plays, debuts their version of the Bard's renowned play, Performed in Japanese with English surtitles. 1/10 & 1/13/24. (japansociety.org)
Hamlet: La Telenovela (Kraine Theater, 85 E. 4th St.) Are Shakespeare and Telenovelas a match made in heaven? This adaptation of the Bard's classic heightens the melodrama innate in the story and explores it under a farcical and comedic lens for the sort of cathartic guilty pleasure that only Telenovelas (soap operas) can give. 9/16 thru 12/15. (frigid.nyc)
Hell's Kitchen (Public Theater, 425 Lafayette St.) In a cramped apartment hanging off the side of Times Square, 17-year-old Ali is desperate to get her piece of the New York dream. Ali's mother is just as determined to protect her daughter from the same mistakes she made. When Ali falls for a talented young drummer, both mother and daughter must face hard truths about race, defiance, and growing up. Based on the life of Alicia Keys. 10/24 thru 1/7/24. (publictheater.org)
Here I Am (AMT Theatre, 354 W. 45th St.) This new musical by Samantha Roberts and Christian Cantrell is a modern love story centering around social media and the effect it has on interpersonal relationships and our self-conception. From 3/1/24. (amttheater.org)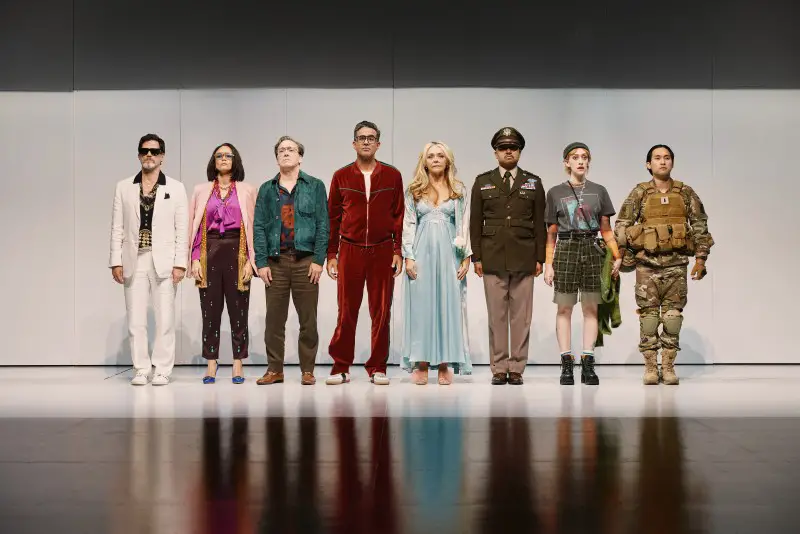 Photo: Emilio Madrid.
Here We Are (The Shed's Griffin Theater, 545 W. 30th St.) Inspired by two films—The Discreet Charm of the Bourgeoisie and The Exterminating Angel, by Luis Buñuel—this new musical features music and lyrics by Stephen Sondheim and a book by David Ives. The all-star cast includes Tony winners David Hyde Pierce, Bobby Cannavale, Rachel Bay Jones, and Denis O'Hare. Thru 1/21/24. (theshed.org)
A Holiday Reception with Mr. Dickens (Merchant's House, 29 E. 4th St.) As Charles Dickens, actor John Kevin Jones performs "A Visit from St. Nicholas" in honor of the 200th anniversary of the poem's original publication. Taking place in the 19th century-family room, kitchen, and garden (weather permitting) of the Merchant's House Museum, a maximum of 20 guests are invited to raise a cup of "Smoking Bishop" (mulled wine) or chilled cider alongside "Mr. Dickens". Offered at select performances of A Christmas Carol at the Merchant's House. 12/8 thru 12/24. (merchantshouse.org)
The Hours Are Feminine (INTAR, 500 W. 52nd St., #4W) In the summer of 1960, Hurricane Donna ravages the Northeast and a Puerto Rican family of three, who has never left home before, moves to rural Long Island. Evalisse, Fernán, and their son Jaivín rent a dilapidated little house on the property of an old middle-class Italian named Charlie. Tensions rise between the families of old immigrants and new. Written and directed by Jose Rivera. 5/11 thru 6/9/24. (intartheatre.org)
How To Live (after you die) (BAM Fisher Fishman Space, 321 Ashland Pl., Brooklyn) Lynette Wallworth spent her early adulthood like any average person—acting as a Bible-interpreting prophetess in a radical Pentecostal community in Sydney, Australia. In her BAM debut, she shifts her work from film to stage to share an incisive and deeply engrossing morality tale for our times—one in which she just happens to be the protagonist. Part of the Brooklyn Academy of Music's Next Wave 2023 Festival. 12/7 thru 12/9. (bam.org) 
The Human Dream Project (The Tank's 98-Seat Theater, 312 W. 36th St.) Cross the liminal curtain and navigate the odd, sometimes hilarious, sometimes despairing world of dreams that all humans experience as they sleep in this irreverent, moving multimedia performance that illustrates recordings of people describing their dreams with technicolor handmade costumes and textural foley and music. 4/5 thru 4/28/24. (thetanknyc.org)
The Hunt (St. Ann's Warehouse, 45 Water St., Brooklyn) A rural hunting community goes mad when a teacher is accused of misconduct by a 6-year-old child. A modern-day parable/thriller, where guns and drinking songs are the way of life and truth is no match for the impulses unleashed. 2/16 thru 3/17/24. (stannswarehouse.org)
I Can Get It For You Wholesale (Classic Stage Company, 136 E. 13th St.) In this dark musical comedy, Bronx-born Harry Bogen must choose between the comfort of community and his own ambitious dreams. He'll have to do whatever it takes to get ahead in 1937's Garment District, and even more to stay there. Better watch your back—sewing needles can be sharp. Starring Tony winner Santino Fontana and Tony nominee Judy Kuhn. 10/10 thru 12/3. (classicstage.org)
I Wish (New Victory Theater, 209 W. 42nd St.) On a musical quest to recover their powers, Le Gateau Chocolat (the stage name for six-and-a-half-foot-tall performer George Ikediashi) steps into the shoes of beloved storybook characters, managing mystical messes and learning that, while life's not always fair(ytales), love and acceptance can be more than fantasy. Ages 4 to 7. 5/11 thru 5/19/24. (newvictory.org)
I'mPossible (New Victory Theater, 209 W. 42nd St.) Brooklyn's big-top extravaganza incorporates American Sign Language, audio description, sensory-friendly lighting and sound, in a relaxed environment where movement and vocalization are welcome. A Deaf ringmaster, a gymnast who uses a wheelchair, and an aerialist born without legs are part of the Omnium Circus—a troupe that ensures everyone is in on the action! Ages 5+. 4/12 thru 4/28/24. (newvictory.org)
The Inheritance of a Long-Term Fault (Theatre Row, Theatre Four, 410 W. 42nd St.) While presenting the keynote at a high-profile conference, Me, a successful geologist in her field, asks: what is our creation story? Interrelated scenes over space and time reveal the friction between what Me wants and what she's inherited. Only a tectonic shift will allow her to hear the echoes from a mythological past, and explore new possibilities of what comes next. 12/1 thru 12/23. (bfany.org/theatre-row/shows/the-inheritance-of-a-long-term-fault)
Is It Thursday Yet? (Perelman Performing Arts Center, 250 Fulton St.) A solo dance work tracing creator/choreographer/performer Jenn Freeman's neurodivergent journey through a stunning tapestry of dance, live music and home video footage. 12/8 thru 12/23. (pacnyc.org)
Jelly's Last Jam (New York City Center, 131 W. 55th St.) A vivid, impressionistic portrait of legendary jazz pianist Jelly Roll Morton, the show puts the "inventor of jazz" in a purgatorial afterlife, accusing him of denying and denigrating his cultural legacy. By utilizing two of this country's most potent forms of storytelling—jazz and musical theater—Jelly's Last Jam weaves a complex fable of American history, legacy, and truth. Featuring Tony winner Billy Porter. 2/21 thru 3/3/24. (nycitycenter.org)
Jordans (Public Theater, 425 Lafayette St.) Bitingly funny, this new play by Ife Olujobi is set in an overwhelmingly white workplace where a long-suffering receptionist finds herself in personal, professional, and psychic jeopardy when her ruthless boss hires a hip new employee in an effort to improve the company's image and "culture." Suddenly, the two young, Black social climbers are forced together and torn apart by their race, ambition, and otherworldly circumstance. April, 2024. (publictheater.org)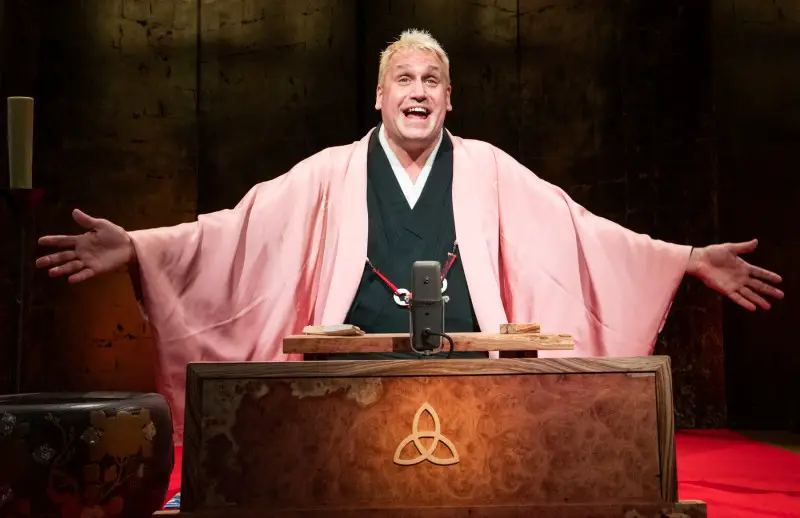 Photo by Russ Rowland.
Katsura Sunshine's Rakugo (New World Stages, 350 W. 50th St.) (75 mins., no intermission) Rakugo, the 400-year-old Japanese art of comic storytelling, features a lone storyteller using only a fan and a hand towel for props. He performs a comic monologue followed by traditional stories handed down from Master to Apprentice for centuries. Sunshine is the only Western Rakugo Master and has performed all around the world promoting Rakugo and Japanese culture. Thru 12/23. (rakugo.lol)
Life & Times of Michael K. (St. Ann's Warehouse, 45 Water St., Dumbo, Brooklyn) Handspring Puppet Company and Cape Town's Baxter Theatre's adaptation of J.M. Coetzee's Booker Prize-winning novel about a simple who man embarks on a journey through civil war-ravaged South Africa to return his mother to die on the farm where she was born. He finds strength in his own humanity, connection to the earth, and unique path, all of which reveal to him his reason for living. 11/29 thru 12/23. (stannswarehouse.org)
Like They Do in The Movies (Perelman Performing Arts Center, 250 Fulton St.) The world premiere of a one-man tour-de-force written and performed by the Tony and Emmy Award winning actor Laurence Fishburne. 3/10 thru 3/31/24. (pacnyc.org)
Corbin Bleu and Constance Wu. Credit: Evan Zimmerman.
Little Shop of Horrors (West Side Theatre, 407 W. 43rd St.) The wildly acclaimed Tony-winning musical revival is now a long-running Off-Broadway hit! The story follows hapless flower-shop employee, Seymour, who finds himself trapped under the blood-thirsty fronds of the plant he's named Audrey II, after the girl of his dreams. (littleshopnyc.com)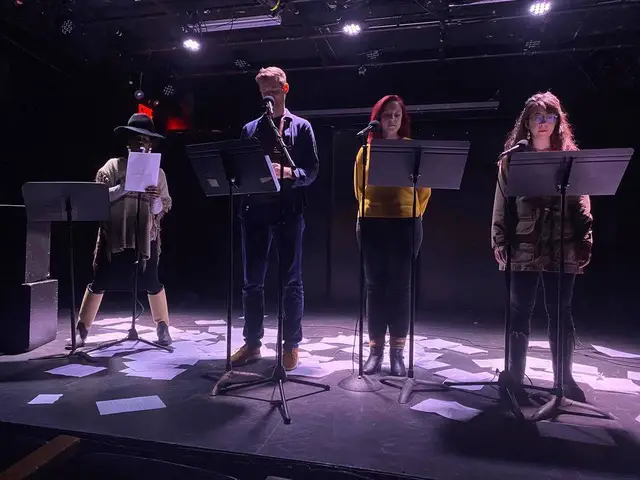 Living Radio (Kraine Theater, 85 E. 4th St.) In this monthly series of new radio plays written and created onstage before a "studio" audience, current events are reimagined to explore alternate presents that range from wacky to poignantly reflective; apocalyptic to aspirational. Five new plays are presented once a month featuring an array of independent theatre artists, mixing and matching in the roles of playwright, director, and actor. 9/4 thru 12/4. (frigid.nyc)
Lone Star (Theatre Row, 410 W. 42nd St.) James McLure's dark comedy takes place in the cluttered back yard of a small-town Texas bar. Roy is back in town, battling symptoms of PTSD, after a hitch in Vietnam. Joined by his brother Ray, this study of a pair of Texas "good ole boys" explores the depths of brotherhood and the scars to be dealt with from battles fought at home and abroad. 11/25 thru 12/23. (ruthstage.org/lonestar)
The Lonely Few (Robert W. Wilson MCC Theater Space, 511 W. 52nd St.) In this new rock musical, Lila and her band, The Lonely Few, have a standing gig at Paul's Juke Joint in their small Kentucky town. When an established musician, Amy, gives them a chance to join her on tour, they take it. Love blossoms between Lila and Amy on the road, but can it endure? April, 2024. (mcctheater.org)
Macbeth (an undoing) (Theatre For A New Audience @ Polonsky Shakespeare Center, 262 Ashland Pl., Brooklyn) Shakespeare's Lady Macbeth is ruthless and driven, yet she quickly descends into madness and despair. Writer/director Zinnie Harris's thrilling new version undoes the story we know, and remakes it, examining Lady Macbeth's trajectory asking if we have really heard the whole story.  4/5 thru 4/28/24 (tfana.org)
Madwomen of the West (Actors Temple Theater, 339 W. 47th St.) At Jules' Brentwood mansion, hangry Marilyn is throwing a surprise birthday brunch for Claudia, who hates birthdays. Champagne corks pop and tempers flare when their long-estranged celebrity friend Zoey crashes the party, fresh from her TED Talks. Starring Marilu Henner, Brooke Adams, Melanie Mayron, and Caroline Aaron. 11/11 thru 1/1/24. (telecharge.com/off-broadway/madwomen-of-the-west)
Make Me Gorgeous!  (Playhouse 46 at St. Luke's, 308 W. 46th St.) The incredible true story of Kenneth Marlowe, a trailblazer in LGBTQ+ history. As one of America's most openly gay personalities, Marlowe's catalog of careers included hairdresser to the stars; gay prostitution ring madam; author; female impersonator; hustler; Army private; missionary; mortuary cosmetologist; columnist; and for the final decade of an unparalleled life, a woman—having transitioned to become Kate Marlowe. 11/10 thru 12/31. (gorgeousplay.com)
Manahatta (Public Theater, 425 Lafayette St.) The story of Jane Snake, a young Native American with a Stanford MBA who reconnects with her ancestral Lenape homeland when she moves from Oklahoma to New York for a banking job just before the 2008 financial meltdown. Her struggle to reconcile her new life with the expectations and traditions of her family and Nation are interwoven with the history of the Delaware Nation's expulsion from their land. 11/16 thru 12/17. (publictheater.org)
Mario the Maker Magician (SoHo Playhouse, 15 Vandam St.) Contagiously upbeat and full of heart, Mario leads audiences in a romping explosion of vaudeville and magic, cardboard and robots, science and innovation, punctuated with moments of heart and emotion that will catch you by surprise. Not "just a kids' show," this is an all-ages theater experience… for adults, kids, families…http://mariothemagician.comeveryone. 11/4 thru 12/30. (mariothemagician.com)
Mascot (SoHo Playhouse, 15 Vandam St.) Growing up with an alcoholic mother, two older brothers, and an extremely stressed-out father, Rob Ryan tries to pinpoint the role HE played in his broken home throughout this hilarious and touching piece. Starting with his childhood, Rob uses his stand up and story-telling skills to walk us through one outrageously funny and Child Protective Services-inducing tale after another. 11/30 thru 12/16. (sohoplayhouse.com)
Merry Me (New York Theatre Workshop, 79 E. 4th St.) On an island not far away from the vulnerable coasts of the enemy state, a mysterious blackout has left the Navy restless and itching for action. Lieutenant Shane Horne has occupied her time satisfying the libidinous needs of all the women on the base—including the jealous general's wife. But her own merries will not...come. Meanwhile a famed Angel re-descends to amend her previous prophesy, sending the Navy's psychiatrist on an epic quest to save humanity. 10/11 thru 1/19. (nytw.org)
Mind Mangler: A Night of Tragic Illusion (New World Stages, 340 W. 50th St.) From the minds behind The Play That Goes Wrong and Peter Pan Goes Wrong comes a hilarious new comedy starring Mischief veterans Henry Lewis and Jonathan Sayer. Join the "Mind Mangler" as he returns to the stage following a two-night run at the Scranton, PA Holiday Inn Conference Center, Suite 2B. His new spectacular is predicted to spiral into chaos as he attempts to read your MIND. 11/10 thru 3/3/24. (mindmanglernyc.com)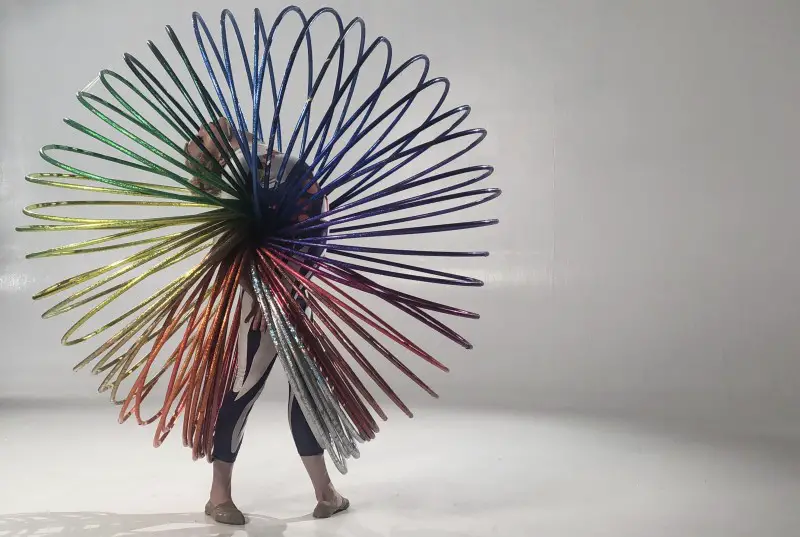 Mindful Manipulations (3AM Theatre, 920 35th Avenue, Unit #3N, Long Island City) Circus artists Kyle Driggs and Ellie Steingraeber team up with musical husband and wife duo Musiquita to create a unique and entertaining family show of singalongs, interactive activities, and circus acts. A color-filled adventure awaits offering audience members the opportunity  to try their hand at circus, and bring home the art they've created. Thru 12/10. (eventbrite.com)
Monsieur Chopin (59E59 Theaters, 59 E. 59th St., Theater A) Featuring some of the pianist/ composer's most enduring music, the play is set in Chopin's Parisian salon on in March 1848, days after the February 1848 revolution. As he teaches a piano lesson, Chopin reveals secrets about the art of the piano and composition—and himself. Hershey Felder's portrayal delves deep into both the art and psyche of the man, considered the true "Poet of the Piano." 11/16 thru 12/24. (59e59.org)
Motion/Matter: Street Dace Festival (Perelman Performing Arts Center, 250 Fulton St.) A celebration of the multitude of street dance movements emerging from New York City and from around the world including legendary DJs, epic battles and concert dance premieres. 1/5 thru 1/14/24. (pacnyc.org)
munich medea: HAPPY FAMILY (WP Theater, 2162 Broadway at 76th St.) When childhood friends Caroline and Alice reestablish contact after 20+ years, they begin to unravel shared memories, including the part that Caroline's father, a renowned theater actor, played in both their lives. This new work by Corinne Jaber captures the wild vulnerability of youth and the heavy armature of adulthood in unsparing, theatrical detail. 1/27/24 thru 2/25/24. (wptheater.org)
Música (New Victory Theater, 209 W. 42nd St.) Sunny songstress Sonia De Los Santos is back with this upbeat and uplifting bilingual concert created especially for New Victory audiences ages 4 to 7. As the playful band charts a joyful journey of Latin American rhythms ranging from festejo to cumbia to traditional Mexican folk, everyone will find themselves dancing in and out of their seats! 3/9 thru 3/17/24. (newvictory.org)
A Musical About Star Wars (AMT Theater, 354 W. 45th St.) With a subtitle like "Or, Why Star Wars Is The Greatest Thing To Ever Happen In The History Of The Galaxy Much, Much Better than Star Trek" you kind of see where this is going—or do you?  Scott and Taylor dream of performing their very unauthorized Star Wars musical at Comic-Con, but Dark forces are looming over their production…and her name is Emily. Part parody. Part tribute. Totally rad. Thru 1/28/24. (amusicalaboutstarwars.com)
My First Nutcracker (Theatre Row, 410 W. 42nd St.) Adapted for young audiences by Barbara Zinn Krieger and choreographed and directed by Melissa Riker, My First Nutcracker is a perfect introduction to the beloved ballet and a new holiday tradition for hundreds of NYC families. Best for ages 3 to 8, but fun for the whole family. 12/2 thru 12/21. (nycchildrenstheater.org)
Next Wave Festival (BAM Fisher Fishman Space, 321 Ashland Pl., Harvey Theater at BAM Strong, 651 Fulton St.& BAM Howard Gilman Opera House, 30 Lafayette Ave., Brooklyn) The 40th iteration of the Brooklyn Academy of Music's creative odyssey features a dynamic slate of groundbreaking music, dance, theater, and opera productions. Visit website for complete descriptions and schedules. 10/19/23 thru 1/13/24. (bam.org)
Night Light (New Victory Theater, 209 W. 42nd St.) Andy Manley and Teater Refleksion team up for this cozy special production created specifically for very young audiences aged 3 to 5. Night Light's whimsical world is set in a cityscape made of miniature furniture, delivering delightful discoveries to little ones. 12/1 thru 12/10. (newvictory.org)
The Night of the Iguana (Pershing Square Signature Center, Irene Diamond Stage, 480 W. 42nd St.) In Tennessee Williams's classic work set on the brink of WWII, it's a stormy night at Acapulco's Costa Verde Hotel where a defrocked clergyman, four women and a 97-year-old poet have gathered. As the five engage in the clergyman's spiritual struggles, their lives leap dramatically forward. Starring Tim Daly, Daphne Rubin-Vega, Austin Pendleton, Lea DeLaria and Jean Lichty. 12/6 thru 2/25/24. (iguanaplaynyc.com)
Nobody Cares (Minetta Lane Theatre, 18 Minetta Ln.) Tony-winner Laura Benanti wrote and performed this new show debuting all-new music created with Todd Almond, as well as a few sensational stories. 2/2 thru 2/4/24. (audible.com/ep/minettalane)
Number Our Days (Perelman Performing Arts Center, 250 Fulton St.) A multi-media oratorio based on Jamie Livingston's "Photo of the Day" series, which explores our era's strange alchemy of technology, memory, and community. 4/12 thru 4/14/24. (pacnyc.org)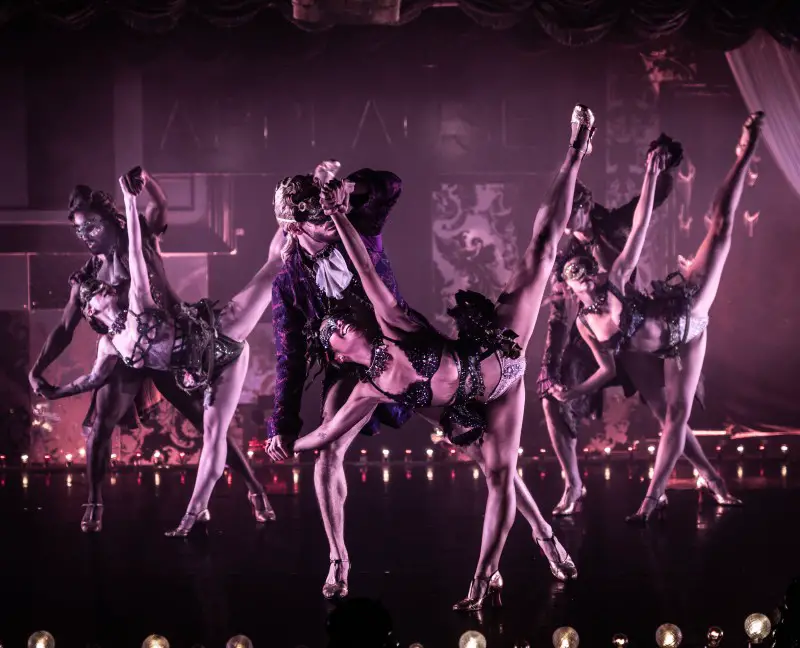 Nutcracker Rouge (Théâtre XIV, 383 Troutman St., Brooklyn) Company XIV's naughty take on the classic ballet returns for a 13th anniversary limited engagement. Circus artists, enchanting chanteuses, burlesque dancers, and baroque extravagance fashion a dazzling symphony to liberate a familiar tale with sensual and opulent flair. 11/16 thru 1/27/24. (companyxiv.com)
The Office! A Musical Parody (Jerry Orbach Theatre at The Theatre Center, 210 W. 50th St.) It's a typical morning at Scranton's third largest paper company until, for no logical reason, a documentary crew begins filming the lives of the employees of Dunder Mifflin. An hilarious, unauthorized parody of the Long-running hit TV show. (theofficemusicalparody.com)
Once Upon a Mattress (New York City Center, 131 W. 55th St.) Sutton Foster stars as Princess Winifred ("Fred") the Woebegone, an unapologetic free spirit loose in a repressed kingdom that revels in her ability to charm and transform with willpower, honesty, and a little bit of help from her friends. Full of gloriously catchy melodies, this uproarious update of Hans Christian Andersen's "The Princess and the Pea" promises both classic charms and new delights. 1/24 thru 2/4/24. (nycitycenter.org)
Our Class (Brooklyn Academy of Music, 339 W. 47th St.) Ten Polish classmates, five Jewish and five Catholic, growing up as playmates, friends, and neighbors, turn on one another with life and death consequences. Inspired by real life events surrounding a horrific 1941 pogrom in the small village of Jedwabne, the play follows their lives from childhood through eight decades of upheaval. 1/12 thru 2/4/24. (ourclassplay.com)
Perfect Crime (Anne Bernstein Theater at The Theater Center, 210 W. 50th St.) This ultra-long-running murder mystery is the story of brilliant but money hungry psychiatrist/ suspected cold-blooded killer Margaret Brent, her wealthy husband, deranged patient, and the handsome detective who's falling in love with her while trying to solve the crime. (perfect-crime.com)
Pericles (Classic Stage Company, 136 E 13th St.) From confident leader to yearning lover to seeker of meaning, the Prince of Tyre in Shakespeare's tragicomedy is launched into a Mediterranean adventure full of riddles, betrayals...and pirates by the ever-inventive Fiasco Theater. 2/26 thru 3/24/24. (classicstage.org)
Philadelphia, Here I Come (Irish Repertory Theatre, 132 W. 22nd St.) Set in 1962, Brian Friel's bittersweet comedy centers upon Gar O'Donnell on the eve of his departure from Ireland to America. His heartache from losing his girlfriend to a successful businessman has propelled him to live with an aunt in Philadelphia. Despite the wild fantasies of what life in America might hold, and his yearning to escape the tedium of small town Ballybeg, a kind word from his taciturn father could change his mind. 3/16 thru 5/5/24. (irishrep.org)
Pinocchio (Theatre Row, 410 W. 42nd St.) This innovative dance/drama show offers a fresh and modern twist on the classic tale. Through dance, puppets, original music, and narration, Pinocchio embarks on an unforgettable adventure, encountering a captivating cast of characters, including a cunning fox, a clever cat, and a remarkable giant fish. Best for ages 4 to 8, but fun for the whole family. 3/23 thru 4/14/24. (nycchildrenstheater.org)
Photo by Jeremy Daniel.
The Play That Goes Wrong (New World Stages/Stage 4, 340 W. 50th St.) (2 hrs.) A madcap hybrid of Monty Python and Sherlock Holmes, this award-winning comedy is bringing down the house—literally—Off-Broadway. It's opening night of The Murder at Haversham Manor where an unconscious leading lady, corpse that can't play dead, and actors who trip over everything are only some of the hilarious mishaps. (broadwaygoeswrong.com)
Primordial (The Tank's 98-Seat Theater, 312 W. 36th St.) In one of the first verbatim documentary theater productions entirely about pregnancy and childbirth, playwright Lillian Isabella weaves together diverse race, age, and gender experiences into overlapping stories that amplify one another and include patient advocacy, maternal health, birth without violence, and birth equity. 2/1 thru 2/25/24. (thetanknyc.org)
Public Obscenities (Theatre for a New Audience, Polonsky Shakespeare Center, 262 Ashland Pl., Brooklyn) When Choton returns to Kolkata on a research trip with his American boyfriend Raheem he finds he loves being the translator, toggling nimbly between Bangla and English, interviewing queer locals, showing Raheem his world. But through the lens of Choton's grandfather's old camera, Raheem begins to notice things Choton can't. 1/17 thru 1/21/24. (utrfest.org)
Pushkin "Eugene Onegin" in Our Own Words (BRIC, 647 Fulton St., Brooklyn) In Krymov Lab NYC's production of the Pushkin classic, four Russians try to communicate the value of an untranslatable classic to a New York audience. Why should we be made to care about the trials of a shallow Byronic hero, a too-deep teenage girl, and a less-than-successful birthday party? Is there still a place in today's world for Dostoevsky, Tchaikovsky, Pushkin? Can beauty and intellect survive today? And should it? 1/10 thru 1/21/24. (utrfest.org)
Queens of Sheba (Lincoln Center for the Performing Arts, Clark Studio Theater, Rose Bldg., 7th Fl., 165 W. 65th St.) Turned away from a nightclub for being "too black," the Queens navigate the minefields of misogynoir, seeking power in the songs of Tina Turner, Diana Ross, and Aretha Franklin, finding elevation in sisterhood, and relief in laughter and tears. Packed with fury and soul, the show offers a unique meditation on Black Women's identity, suffering, and joy. 1/5 thru 1/13/24. (utrfest.org)
Archival photo, by Michael Palma Mir.
The Red Rose (Puerto Rican Traveling Theater, 304 W. 47th St.) Arriving in NYC as a youth in 1917, Afro/Black Puerto Rican writer and activist Jesús Colón went on to become a chronicler of the Puerto Rican migrant experience and one of its enduring icons. The musical narrates his meeting with undercover FBI agent Mildred Blauvelt, and their subsequent face-off before the House Un-American Activities Committee in 1959. 11/30 thru 1/7/24. (pregonesprtt.org)
Reverend Billy and the Stop Shopping Choir (Earthchxrch, 36 Ave C. at 3rd St.; Joe's Pub, 425 Lafayette St.) An hour of rousing, moving, and then comic songs and sermonettes on the theme of activism in defense of the Earth. The activist/singers deliver the passionate music in call-and-response to the preacher Reverend Billy, homing in on a year of invading the lobbies of fossil fuel banks and defending eco-systems and parks against toxic spraying. Visit website for scheduled locations. Thru 12/17. (revbilly.com)
Russian Troll Farm: Workplace Comedy (Vineyard Theatre, 108 E. 15th St.) Steve likes Masha; Masha likes Nikolai; and Egor just wants to win a microwave. It's another day at St. Petersburg's infamous (real-life) Internet Research Agency, whose job is manipulating social media to advance Russia's agenda at home and abroad. Set in the lead-up to 2016's U.S. presidential election, office comedy meets political satire in Sarah Gancher's examination of the power, seduction, and danger of a good story. 1/25 thru 3/3/24. (vineyardtheatre.org)
Sabbath's Theater (Pershing Square Signature Center, Romulus Linney Courtyard Theatre, 480 W. 42nd St.) Philip Roth's fearlessly filthy, funny and moving novel in a new play—part ghost story, part love story—by John Turturro and Ariel Levy. When his secret life of debauchery comes to a heartbreaking end, disgraced puppet maker Mickey Sabbath plunges into increasingly mad and maddening encounters with people from his wild and wicked past. 10/10 thru 12/17. (thenewgroup.org)
Sally & Tom (Public Theater, 425 Lafayette St.) Pulitzer Prize-winning playwright Suzan-Lori Parks' edgy dramedy celebrates the craft of theater while taking a hard look at history. The off-off-off-Broadway theater troupe Good Company is putting on a play about Sally Hemings and Thomas Jefferson. Writer Luce is cast as Sally; her romantic partner, and the play's director, Mike, is cast as Tom—really, people, what could possibly go wrong? March, 2024. (publictheater.org)
Saw the Musical: The Unauthorized Parody of Saw (AMT Theater, 345 W. 45th St.) This send-up of the cult horror film begins when Lawrence Gordon and Adam Stanheight find each other in the bathroom trap. Will they follow "the rules" as they discover each other's secrets? Will they escape the game in time and saw right through? A love story with fluidity (and lots more fluids), this new musical pushes the boundary on sexuality and how to love. [Parental Advisory: Explicit Content.] 9/16 thru 1/1/24. (sawthemusical.com)
Scene Partners (Vineyard Theatre, 108 E. 15th St.) Winter, 1985. 75-year-old Meryl ditches ice-cold Milwaukee for sunny Los Angeles, hell-bent on becoming a movie star. She's got big dreams, a little money, and a whole lot of nerve. But will the world ever know her for who she really is? Starring two-time Oscar winner Dianne Wiest, John J. Caswell, Jr.'s new play is a wildly theatrical, hilarious, and genre-twisting gallop through the experience of a woman reborn. 10/26 thru 12/3. (vineyardtheatre.org)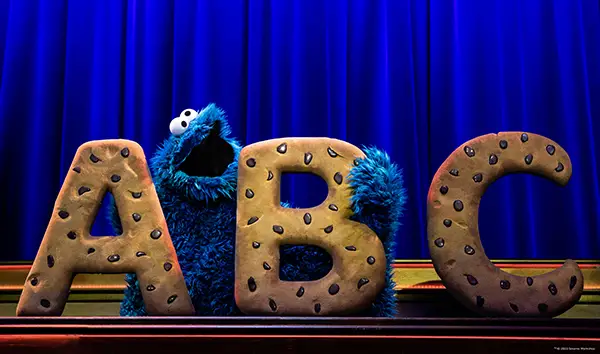 Sesame Street: The Musical (Theatre 555, 555 W. 42nd St.) The monster hit is back! Join Elmo, Cookie Monster, Abby Cadabby, Grover, Rosita, Bert, Ernie, Oscar the Grouch, The Count, Gabrielle, and a whole host of Honkers, Martians, and other Sesame Street favorites as they appear onstage in their very own musical. Filled with live puppetry, songs fans know and love, and fun new compositions, this production is designed for both the young and the young-at-heart, including all things furry fun for fans of all ages. Thru 12/31. (sesamestreetmusical.com)
Seven in One Blow, or The Brave Little Kid (Axis Theatre, 1 Sheridan Sq.) For its 16th consecutive holiday season, this irresistible Axis production invites kids aged 4 and up to join the Kid on an adventure-filled journey filled with difficult tasks, interesting and bizarre characters, and important life lessons. And, as always, children—aged 4 and up—are invited to participate in many of the Kid's challenges with singing and organized "shout outs"! Thru 12/19. (axiscompany.org)
The Seven Year Disappear (Pershing Square Signature Center, 480 W. 42nd St.) Cynthia Nixon and Taylor Trensch star in the world-premiere of Jordan Seavey's play about a mother and world-famous performance artist who suddenly reappears after having gone missing. From 2/6/24. (thenewgroup.org)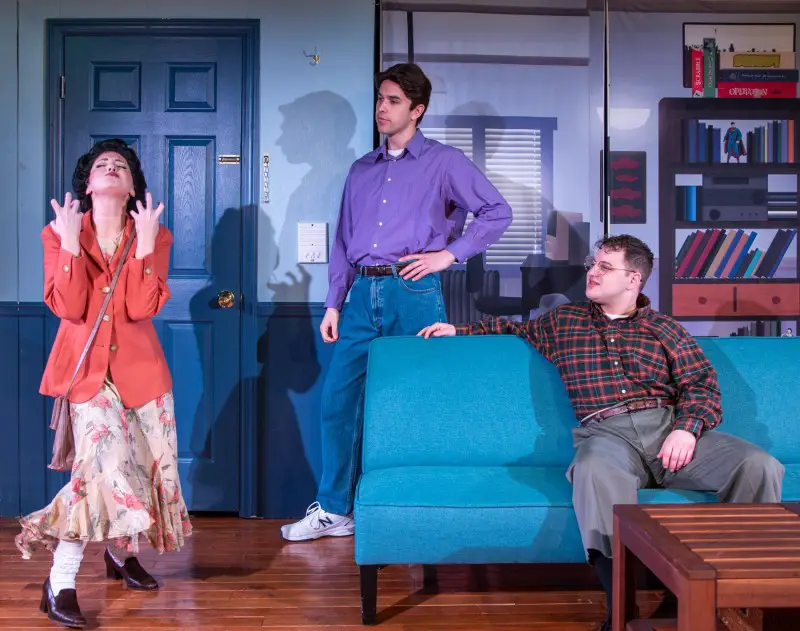 Singfeld! A Musical Parody About Nothing! (Jerry Orbach Theater, 210 W. 50th St.) This unauthorized parody of the hit sitcom Seinfeld follows Jerry, Elaine, George, Kramer, and other iconic (albeit peripheral) characters as they navigate the highs and lows of living and loving in New York City. The hilarious score features such songs as "What's the Deal with Musicals?," "The Ballad of Bubble Boy," and "The Yadda Yadda Song." (singfeld.com)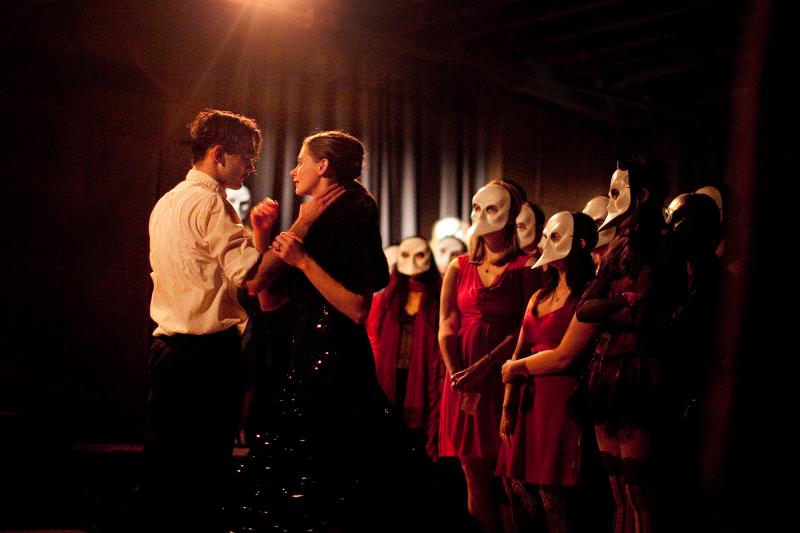 Photo by Robin Roemer.
Sleep No More (McKittrick Hotel, 530 W. 27th St.) This award-winning theatrical experience tells Shakespeare's classic tragedy Macbeth through a darkly cinematic lens. Audiences move freely through the epic world of the story at their own pace, choosing where to go and what to see, ensuring that everyone's journey is different and unique.(mckittrickhotel.com)
Sleeping Beauty (Abrons Arts Center, 466 Grand St.) From ONOFUS comes this feel-good holiday spectacular. Celebrating the power of chosen family, the magic of love, and the defeat of Evil Queen Karen, this family-friendly show comes with exuberant mayhem, spectacular dream sequences, 40 pies-in-the-face, and time travel. Rest assured about Sleeping Beauty: She Woke! 12/6 thru 12/24. (abronsartscenter.org)
Spain (Second Stage Theatre's Tony Kiser Theater, 305 W. 43rd St.) It's 1936, and a pair of passionate filmmakers have landed their next big project: a Spanish Civil War film with the potential to change American hearts and minds. It just happens to be bankrolled by the KGB. This seductive and funny new play about the art of propaganda and the dangerous ongoing Disinformation Age explores how art can change the world—for better and worse. From 11/8. (2st.com)
Speakeasy Magick (The McKittrick Hotel's The Club Car, 530 W. 27th St.) Purveyor of amazement and master deceptionist, Todd Robbins hosts a night of up close and personal prestidigitation. This unprecedented night of magic as you've never before seen, features a changing roster of New York City's best magicians. (mckittrickhotel.com/the-club-car/magick)
A Star Without a Name (Theatre at St. Clement's, 423 W. 46th St.) By sheer chance, an express train makes a quick stop at a provincial Romanian town's only train station, leaving behind a mysterious young redhead. Her beauty strikes right through the heart of a simple school teacher, who's fascinated by stars and astrology. Will their improbable love survive past its cosmic conception or will it combust like so many nameless stars in the sky? 11/8 thru 12/3. (pmtheater.com)
Stereophonic (Playwrights Horizons, Mainstage Theater, 416 W. 42nd St.) Set in 1976 in in a Sausalito, CA recording studio, David Adjmi's Stereophonic zeros in on an up- and-coming rock band intent on creating the album that will jettison them to superstardom. Up against escalating pressures, the question becomes, will this potential breakthrough result in their breakup? Featuring original songs by Arcade Fire's Will Butler. Thru 12/17. (playwrightshorizons.org)
The Sweet Spot (59E59 Theaters, 59 E. 59th St., Theater C) Jerry and Vita are an independent, passionate couple with 50 years of marriage under their belts, the type of couple that knows each other so well they can finish each other's complaints. An opportunity to move to an assisted living community arrives sooner than expected and they must quickly make a life-changing decision. 1/11 thru 1/27/24. (59e59.org)
this house is not a home (Abrons Arts Center, 466 Grand St.) Nile Harris's experimental play finds the artist turning to performance lecture, minstrelsy, and dance to intervene on the tradition of theater and narrate incisive cultural critiques inspired by collaborations with his close friend, the late interdisciplinary artist and filmmaker Trevor Bazile. Evocative of childhood play, the work represents the sinister monuments that come and go in the wake of contemporary social and political catastrophe. 1/6 thru 1/14/24. (utrfest.org)
Three Scenes in the Life of a Trotskyist (The Tank's 56-Seat Theater, 312 W. 36th St.) This play about politics, literature, and the corrosive power of success in America traces the 43-year story of Lev Trachtenberg from leftist firebrand at City College in 1939 to the other side of campus picket lines in the 1960s to zealously embracing the Reagan Right in the 1980s, leading his one-time comrades to question if he's abandoned his ideals or held them too tightly as the world around him changed. 2/22 thru 3/17/24. (thetanknyc.org)
Third Bird (Guggenheim, 1071 Firth Ave.) After narrating and directing 100+ performances of Prokofiev's Peter & the Wolf, Isaac Mizrahi was inspired to create an homage to this iconic work. Highlighting a cast of eight—including a flying bluebird, a swimming duck, and a running ostrich—performed by Dance Heginbotham, accompanied by Carnegie Hall's Ensemble Connect, and conducted by Michael P. Atkinson, Mizrahi's Third Bird celebrates each individual's unique strengths. 12/15 & 12/16. (worksandprocess.org)
Thunderbird American Dancers Pow Wow and Dance Concert (Theater for the New City, 155 First Ave.) Featuring dances, stories, and traditional music from Native Peoples of the Northeast, Southwest and Great Plains regions, this annual event – now in its 49th year -- has become a treasured New York tradition for celebrating our diversity by honoring the culture of our first Americans. 1/9 thru 1/21/24. (theaterforthenewcity.net)
'Til Death (Theatre Row, Theatre 5, 410 W. 42nd St.) In Elizabeth Coplan's play, one mother's choice unveils a family's long-buried secrets. As Mary's life-altering decision sends shockwaves through her loving-but-turbulent family, they all must confront their past, reconcile the present, and pick up the missing pieces in the process. The production stars Tony winner Judy Kaye and Tony nominee Robert Cuccioli. 11/19 thru 12/23. (abingtontheatrecompany.org)
Titanic (New York City Center, 131 W. 55th St.) Pared down to its essence and highlighting the majestic sweep of Maury Yeston's nearly sung-through score, this striking production meditates on the nature of ambition and the human scale of this epic tragedy, focusing on the class divides both illuminated and transcended by the ship's inexorable sinking, and painting a heartrending portrait of the individuals whose dreams of America were dashed in the Atlantic. 6/12 thru 6/23/24. (nycitycenter.org)
Titanic Deptression (New York Live Arts, 219 W. 19th St.) A solo absurdist manifesto from the peerlessly subversive and unpredictably bonkers alt-cabaret icon Dynasty Handbag (alter ego of performer/visual artist/playwright Jibz Cameron), that takes the plot of 1997's Kate and Leo movie and puts it through the cracked kaleidoscope of Dynasty's eye-popping signature style. 1/14 thru 1/120/24. (utrfest.org)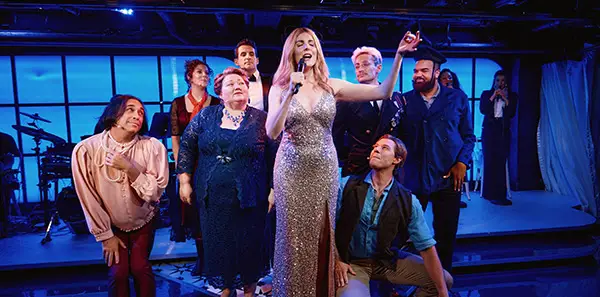 Titanique (Daryl Roth Theatre, 101 E. 15th St.) A musical celebration that turns one of the greatest love stories of all time into a hysterical and joyful slay-fest. Want to find out what really happened to Jack and Rose on that fateful night? Leave it to Céline Dion to casually hijack a Titanic Museum tour and enchant the audience with her totally wild take, recharting the course of Titanic's beloved moments and characters with her iconic song catalog. Thru 6/16/24. (titaniquemusical.com)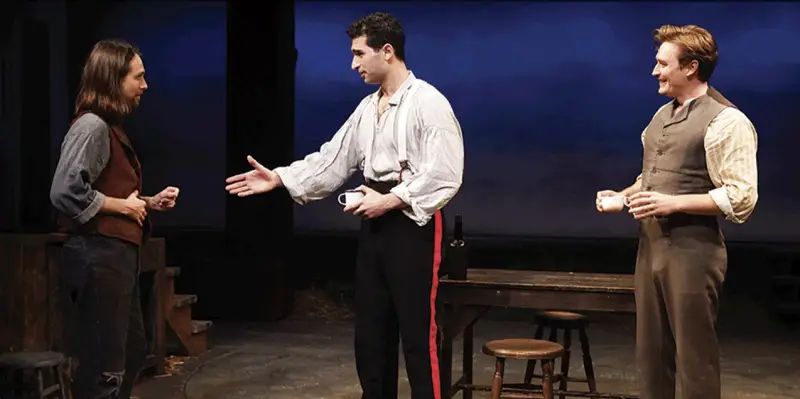 Translations (Irish Repertory Theatre, 132 W. 22nd St.) In this play by Brian Friel, it's 1833 and friction arises when a detachment of Royal Engineers, engaged by the British Army and Government, arrives in the Irish-speaking community of Baile Beag to "standardize" Gaelic name places by translating them into English. The play illuminates the significance of language and questions the meaning of cultural expression and identity in an Ireland under British rule. 10/20 thru 12/3. (irishrep.org)
Travels (Ars Nova Theater, 511 W. 54th St.) This cross-continental play-meets-electronic-music-set by James Harrison Monaco fuses synthesizers with storytelling to share accounts of modern-day travel – from vacation to work trips, border-crossing, asylum-seeking and long-distance relationships. Over the span of a setlist sown with adventure, heartbreak and euphoria, audiences traverse the complex topography of language, borders, power and privilege one beat at a time. 3/15 thru 4/13/24. (arsnovanyc.com)
'Twas the Night Before… (Theater at Madison Square Garden, 4 Pennsylvania Plaza) Cirque du Soleil's festive holiday flurry of love and cheer created especially for families is based on the famous poem "A Visit from Saint Nicholas" by Clement Clarke Moore. Memorable lines from this cherished classic inspired Cirque's story about a jaded young girl who rediscovers the magic of the holidays. Featuring thrilling acrobatics, lovable characters, and a soundtrack including holiday classics re-invented by Cirque du Soleil. 12/7 thru 12/28. (msg.com)
Two Foreskins Walk Into A Bar (Kraine Theater, 85 E. 4th St.) With his 10-year relationship at an end and his career heading south, British playwright Chris Thompson heads to NYC seeking sexual liberation and self-discovery, only to be hit with the harsh realities of city life and the limitations of his own desires. Unflinching, hilarious, and ultimately self-affirming, this is the stage account of Thompson's hit podcast is all about starting your life again when you're a bottom who has hit rock bottom. 8/10 thru 12/14. (frigid.nyc)
Unconfined (59E59 Theaters, 59 E. 59th St., Theater C) Written and performed by Liz Richardson, this monodrama is based on the true story of a man who spent 18 years on death row where he developed into an artist and spiritual practitioner. Told from multiple viewpoints, the play tracks how he changed the lives of the people around him in ways they could never have anticipated. The central figure is unseen but reflected in each of three characters: a painter, a professor, and another prisoner. 12/6 thru 12/22. (59e59.org)
Under the Radar (Various venues in Manhattan & Brooklyn) New York's cutting-edge festival of experimental works returns in partnership with 12 venues, including Lincoln Center, La MaMa, and St. Ann's Warehouse. In short: three weekends…16 shows…a symposium… coming attractions… parties… late-night talks. Visit website for descriptions, dates and locations. 1/5 thru 1/25/24. (utrfest.org)
Waiting for Godot (Theatre For A New Audience @ Polonsky Shakespeare Center, 262 Ashland Pl., Brooklyn) Samuel Beckett's iconic down-and-outs, Vladimir (Paul Sparks) and Estragon (Michael Shannon), fill time with games and musings on existence as they await a savior. Hilarious and heartbreaking, the play is modern theatre's indispensable document of rootlessness, uncertainty, and perpetually postponed deliverance. 11/4 thru 12/3 (tfana.org)
Walk On Through: Confessions of a Museum Novice (Robert W. Wilson MCC Theater Space, 511 W. 52nd St.) Tony-winning actor/songwriter Gavin Creel had never been to The Metropolitan Museum of Art…until now. Inspired by the hours he spent wandering through the collections for a MetLiveArts commission, this new musical written, composed, and performed by Creel takes us on an intimate, relatable journey of discovery and transformation through the lens of the art that captured his imagination. 11/13 thru 12/23. (mcctheater.org)
War Words (A.R.T./New York, 502 W. 53rd St.) Based on interviews conducted by playwright Michelle Kholos Brooks, this docu-play shines a light on the heroic and heartbreaking stories of the veterans, families, and allies of people who served in the U.S. Military during the Afghanistan and Iraq wars,: those who came home, and those who were left behind. 11/14 thru 12/17. (onthestage.com)
The Welkin (Atlantic Theater Company, 336 W. 20th St.) Rural England, 1759. As the country awaits the return of Halley's comet, a young woman is sentenced to death. When she tries to escape the noose by claiming she is pregnant, 12 ordinary women are gathered to decide whether she is telling the truth. Lucy Kirkwood's dark, fierce, funny play is about democracy and housework. 5/16 thru 6/30/24. (atlantictheater.org)
What Became of Us (Atlantic Stage 2 Theater, 330 W. 16th St.) Two siblings. One born there. One born here. How do they maintain their connections to The Old Country, and to This Country, and to each other? This new work marks playwright Shayan Lotfi (First Gen MixFest 2022) Off-Broadway debut. May–June, 2024. (atlantictheater.org)
The White Chip (The Frankel Theatre at MCC Theater Space, 511 W. 52nd St.) Steven is on top of the world: he's married, has good friends, and is steps away from his dream job running one of the hottest theaters in the country. He also happens to be an alcoholic spinning out of control. This play by Sean Daniels follows his trajectory from first sip to rock bottom, where he carves an unusual path to sobriety. From 1/22/24. (whitechipplay.com)
White Gold (Stage 42, 422 W. 42nd St.) Phare Circus brings the special gifts of Cambodian culture and performing art to audiences 5+ in this exhilarating spectacle. Celebrate the holidays and savor Cambodia's artistic heritage with juggling, tumbling, teeterboard, and other Cambodian circus arts featuring thrilling acts that date back twelve hundred years. 12/8 thru 12/30. (newvictory.org)
White Rose: The Musical (Theatre Row, Theatre 3, 410 W. 42nd St.) Set against the backdrop of Nazi Germany, this new musical follows Sophie and Hans Scholl and a group of young activists as they create and distribute leaflets challenging Hitler's propaganda. Based on a true story, the show vividly captures the unwavering spirit of youthful resistance against oppression. 1/17 thru 4/2/24. (whiterosethemusical.com)
Wine in the Wilderness (Classic Stage Company, 136 E 13th St.) Fortune has smiled on artist Bill Jameson—his friends just introduced him to a model for the final piece of his triptych on Black womanhood, and she's about to give the artist much more than he bargained for. Set against the backdrop of the 1964 Harlem riot this a rarely seen play by Alice Childress, is directed by Tony winner LaChanze. 5/2 thru 6/16/24. (classicstage.org)
The Yorkville Nutcracker (Kaye Playhouse at Hunter College, 68th St. bet. Park & Lexington Aves.) This magical tour of 1895 NYC with Dances Patrelle begins with a Christmas Eve party at Gracie Mansion attended by dignitaries. You'll behold a battle with life-sized mice, go for a bracing midnight skate in Central Park, and take a sleigh-ride to the Bronx Botanical Gardens for a sunrise buffet of sweets, hosted by the Sugar-Plum Fairy. 12/14 thru 12/17. (dancespatrelle.org)
BROADWAY, OFF-BROADWAY, OFF-OFF BROADWAY
In case you're wondering about theatre classifications, here's the basic formula:
         Broadway: 500 seats or more
         Off-Broadway: Between 100 & 499 seats
         Off-Off Broadway: Under 100 seats
Good to Know: The majority of Off- and Off-Off-Broadway shows have limited runs, but many extend their runs due to popular demand. With this in mind, be sure to check our listings for revised closing dates.
Click here for what's playing on Broadway, including the latest notes and openings.
Vaccination and Mask Policy for Broadway and Off-Broadway Shows in NYC
For information regarding safety and safety protocols, please consult your show's official website or the website of the theatre you are planning to visit. Please verify the theatre policies and requirements before making your purchase.
More information is available here.—The Broadway League Sq..S
What do you think?
About the Author
City Guide Theatre Editor Griffin Miller moved to New York to pursue an acting/writing career in the 1980s after graduating magna cum laude from Case Western Reserve University in Cleveland, Ohio. Since then, she has written for The New York Times, For the Bride, Hotels, and a number of other publications, mostly in the areas of travel and performance arts. An active member of The New York Travel Writers Association, she is also a playwright and award-winning collage artist. In addition, she sits on the board of The Lewis Carroll Society of North America. Griffin is married to Richard Sandomir, a reporter for The New York Times.
More Articles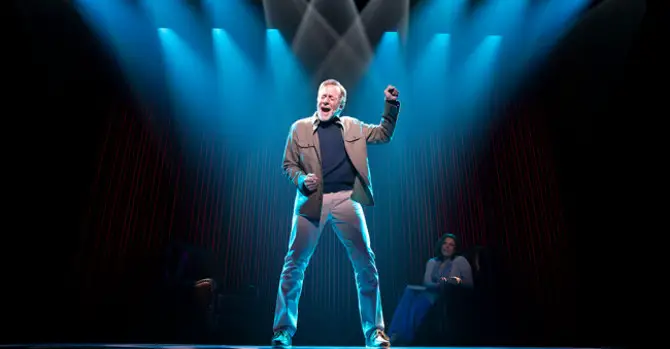 Two Faceted Diamond: Mark Jacoby Lifts Broadway's A Beautiful Noise
Veteran Broadway actor Mark Jacoby skillfully portrays Neil-Now in "A Beautiful Noise, The Neil Diamond Musical." The show masterfully weaves Diamond's past and present, with Jacoby's amazing singing voice at full throttle in the show's penultimate number, "I Am…I Said," alongside Neil-Then Will Swenson.