13 NYC Theme Bars That Really Commit
February 8, 2019 - by Merrill Lee Girardeau
Sometimes we want a little atmosphere with our drinks. Luckily, New York drinking establishments deal in great atmosphere, with themes ranging from tiki to honky tonk to arcades. Here are 13 theme bars in New York, serving alcohol and food with a side of theatrics.
BlackTail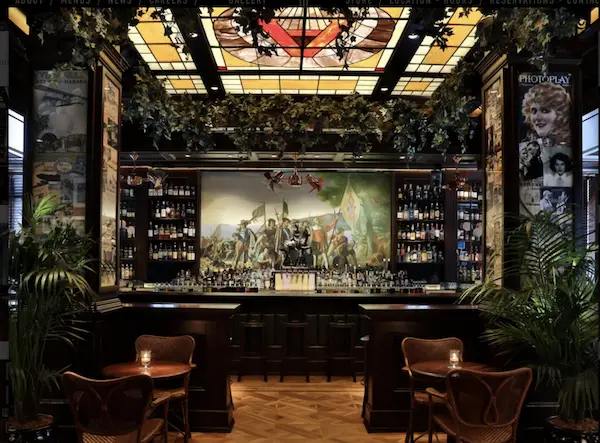 BlackTail checks a lot of boxes you might type into your search engine: waterfront view, live music, killer cocktails, and amazing food. It's themed after those who relocated to Cuba during Prohibition, transported by BlackTail flying boats. Overlooking the Statue of Liberty and Ellis Island, BlackTail tends to fill up quickly at night, with patrons sipping Cuba Libres or lemon daiquiris. The kitchen takes the food seriously too, with a spicy burger topped with Manchego cheese and sloppy joe-style empanadas. Live music plays Tuesday, Wednesday, and Sunday evenings. 22 Battery Place, 2nd Floor of Pier A, 212-785-0153, blacktailnyc.com
The Folly
Located at the southern border of Greenwich Village, The Folly feels like you stumbled onto the Black Pearl from Pirates of the Caribbean. While we've never seen Johnny Depp here, we do highly recommend the excellent happy hour, every day from noon to 8pm. There are several rum cocktails to consider, plus a food menu full of seafood if you get peckish. 92 W. Houston St., 646-726-4740, follynyc.com
Rusty Knot
The Rusty Knot blends the nautical with the tropical to great effect. This casual West Village spot is a great pick for a lazy mai tai in a red and white captain's chair, plus a pretzel dog if you get hungry. The cocktails skew tropical, while the menu of typical bar food is far better than it should be. Stick around, and you'll find a friendly crowd, a shark wrapped in Christmas lights, and good vibes all around. Happy hour is Monday through Friday, 4-7pm. 425 West St., 212-645-5668
Skinny Dennis
It's Nashville by way of Brooklyn at Skinny Dennis in Williamsburg. Come here for a cold beer and live country, rock, or folk, and you'll be treated to a solid Southern ambiance meanwhile. There are boiled peanuts on offer, lots of Willie Nelson-themed wall hangings, taxidermy, and a kitschy light-up menu behind the bar. Their signature drink is Willie's Frozen Coffee, made with bourbon and served in a classic New York bodega cup. Happy hour every day, 12-7pm. 152 Metropolitan Ave., skinnydennisbar.com
Barcade
From Mortal Kombat II to Ms. Pac-Man to Atari Basketball, there are countless arcade games at Barcade, and they're all primed to transport you back to middle school. Grab one of their many beer selections and indulge in some nostalgic fun at this arcade/bar, which has locations in Chelsea, the East Village, and Williamsburg, Brooklyn. Chelsea: 148 W 24th St, 212-390-8455, barcadenewyork.com; East Village: 6 St. Marks Place, 212-388-0522, barcadestmarks.com; Williamsburg: 388 Union Ave., 718-302-6464, barcadebrooklyn.com
Oscar Wilde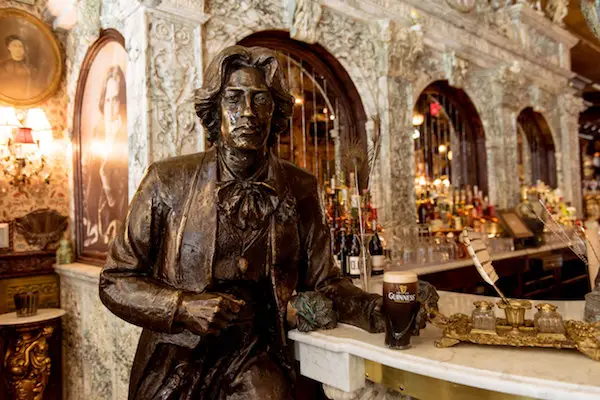 Photo: Oscar Wilde NYC
The bar Oscar Wilde is decorated with jaw-dropping opulence, from the extra-long Carrara marble bar to the antique piano repurposed as a whiskey cabinet. Hopefully Wilde himself, the Victorian writer known for an ostentatious personal style, would approve. Bring your favorite bibliophile to this NoMad curiosity, which also has an Irish Writer's Wall in tribute to Wilde, Yeats, Heaney, and others. Oscar Wilde serves craft cocktails and upscale pub fare for dinner and brunch. 45 W. 27th St., 212-213-3066, oscarwildenyc.com
Beauty Bar
Martinis & Manicures sounds like a Sex and the City episode, but it's actually what makes Beauty Bar famous. Indeed, you can sip a drink and get your nails done for just $10 at this East village bar, which also contains a row of vintage hair drying helmets to complete the hair salon look. Don't just come when your nails are chipped; there are also comedy shows and burlesque performances at Beauty Bar. 231 E. 14th St., 212-539-1389, thebeautybar.com
169 Bar
169 is less a theme bar in aesthetics than in spirit. An unapologetic dive bar, it gets its New Orleans attitude from owner Charles Hanson, who came from Louisiana to New York. Like many New Orleans bars, 169 is loud, fun, and a little strange. It was originally established as The Bloody Bucket in 1916; things have changed quite a bit since then, as you can text in your order from your table. Try the signature pickle martini with a po' boy, and come for live jazz. Happy hour every day, 11:30am-7:30pm. 169 East Broadway, 212-641-0357, 169barnyc.com
Burp Castle
Burp Castle is known as a "quiet bar." Bartenders frequently shush visitors who raise their voices, creating a reverent atmosphere in this narrow room on East 7th. In fact, the founders have dubbed Burp Castle the "temple of beer worship," as many of its brews are traditional Belgian ales once made by monks—who are known for being pretty quiet. Sunday, Monday, and Wednesday, Burp Castle hands out free french fries from Pommes Frites. Happy hour is Monday-Friday, 5-7pm, with $1 off tap beers. 41 E. 7th St., 212-982-4576, burpcastlenyc.wordpress.com
Zombie Hut
It's island time at this tiki bar in Cobble Hill, Brooklyn. Complete with thatched ceiling and palm tree wallpaper, Zombie Hut serves cheap and excellent island drinks (we're partial to the Spicy Cucarita) with plastic monkeys hanging off the rims. There's also a large backyard, complete with tiki torches, and board games on hand to keep the night going. 273 Smith St, 718-875-3433
The Johnson's
Start your evening at The Johnson's for the happy hour deals ($6 for a frozen Painkiller), and stay awhile, because happy hour lasts till 9pm! This throwback bar in Bushwick, Brooklyn offers a pool table, astroturf, plastic-covered sofa, and other 70s-inspired accents. It's a large enough space to relax in, but the deals draw lots of visitors to liven up the joint. There's also a booth for Strange Flavor Burger Shack in the front, serving must-try Animal-Style Fries and a Pop's Burger. 369 Troutman St., 718-417-7100
Camp
New York wouldn't seem the ideal place to relive your memories from summer camp. That doesn't stop Camp from serving s'mores—complete with fire—and propping a red canoe in the corner of the bar. The theme works well, particularly in winter when you can snuggle up near the fireplace and place one of their board games. If you'd rather drink your nostalgia, try a Dirty Girl Scout. Camp is located a few blocks from Zombie Hut in Brooklyn, if you're looking for a theme-bar crawl. Happy hour every day, 5-8pm. 179 Smith St., 718-852-8086, campbklyn.com
House of Wax
House of Wax is located inside Alamo Drafthouse, a multiplex in Downtown Brooklyn. Anyone who likes horror movies will get into this bar, which doubles as a museum. House of Wax is themed after 19th-century panoptica, museums full of macabre objects, pieces of anatomy, and curiosities. Gaze at a wax death mask as you drink a Horse's Neck, and don't say we didn't warn you if you get spooked. 445 Albee Sq. W., 718-513-2547, thehouseofwax.com
Looking for Free Group Planning Services?
Get free advice on planning your group's trip to New York.
RESTAURANTS

Multi-concept restaurant offering modern Japanese cuisine, a...

THEATER

In a heartbeat, 38 planes with 6,579 passengers were strand...

SHOPPING

A premier destination for family entertainment....

SIGHTSEEING

The only provider of ferry transportation to the Statue of L...