Hudson Yards is the state-of-the-art building development, new to the West Side of Manhattan. Larger than Rockefeller Center at 28 acres, this impressive neighborhood contains a monumental sculpture, a hotel, a mall, an observation deck, an arts space, offices, residences, restaurants, and 14 acres of public space.
For decades, this patch of the Hudson River shoreline—from West 30th to 34th Streets, between 10th and 11th Avenue—was a waystation for subway train cars. Now, floating above those trains is a luxurious collection of sights, shops, eats, and the northern terminus of the High Line. Located between Midtown West and Chelsea, Hudson Yards can be the launching point for your next visit to New York.
High Line Park in Hudson Yards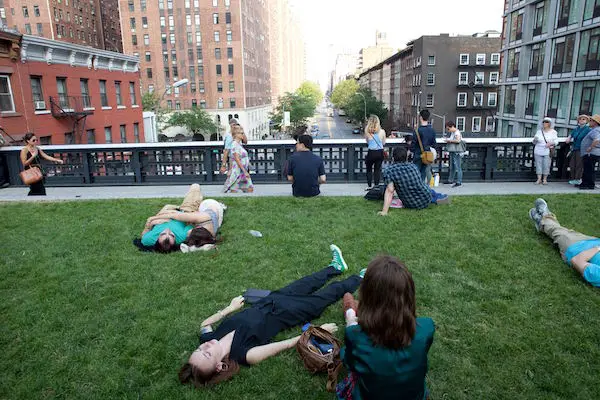 You already know the High Line as a beloved public space in Chelsea. Now, this converted elevated rail line extends to Hudson Yards and finds its end near the tower at 55 Hudson Yards. Like the southern portions of the park, the new portion of The High Line provides an elegant, walkable space 30 feet from the ground with beautiful greenery, waterfront views, and public art. Now you can walk all the way from the Whitney Museum to the shops at Hudson Yards without battling street traffic! 
The Vessel in New York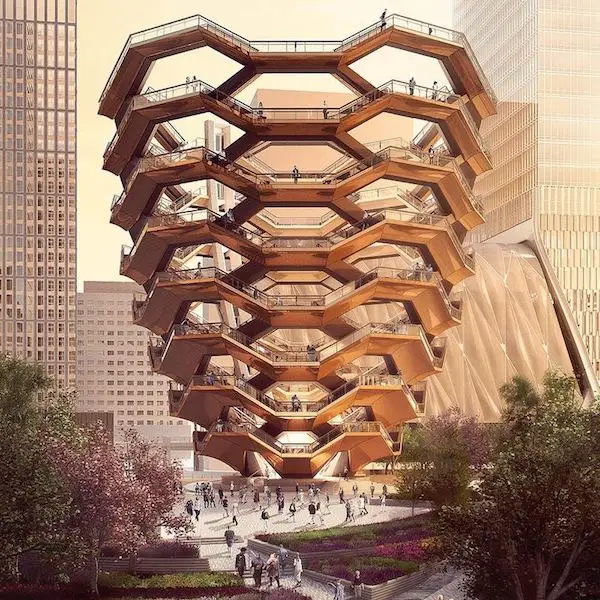 The centerpiece of the plaza at Hudson Yards is Thomas Heatherwick's very Insta-friendly sculpture The Vessel. This enormous bronze honeycomb stands at 15 stories tall. From the inside, it's an intricate chamber of stairs; there are 2,500 steps, 154 flights, and 80 landings in total. Unfortunately, safety concerns keep it closed to climbers. But it does make an impressive photo op.
Hudson Yards Mall: The Shops at Hudson Yards
The luxury Hudson Yards mall contains seven floors of fashion, beauty, tech, art, and so much more. Among the nearly 100 stores at The Shops, you'll find favorite brands like Van Cleef & Arpels, M.A.C., Coach (with corporate headquarters now at 10 Hudson Yards), Aritzia, lululemon, Zara, Pandora, Madewell, and Sephora. Iconic jeweler Tiffany & Co. also has a new location here, and innovative concept stores can also be found among more traditional retailers.
The Edge NYC Observation Deck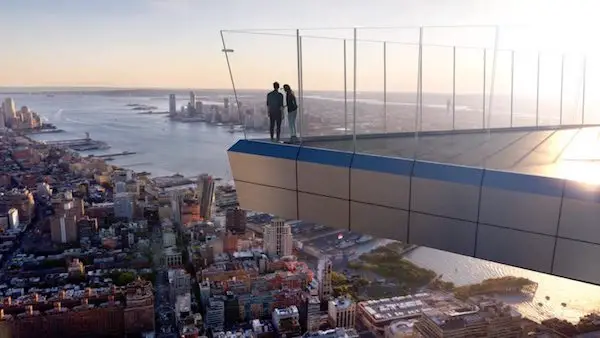 The world's highest outdoor observation deck, Edge, is located at 30 Hudson Yards. Towering 1,100 above street level, this deck extends 65 feet into the air and provides incredible views of Manhattan on one side and the Hudson River on the other. A portion of the floor of the deck is made of glass for extra thrill seeking, and plenty of other photo ops along the terrace. A large restaurant, Peak, on the 101th floor of 30 Hudson Yards, offers meals with views, and there's a champagne bar as well. 20 Hudson Yards, Level 4, 332-204-8500, edgenyc.com
The Restaurants at Hudson Yards
There are at least 25 restaurants at Hudson Yards, ranging from fast food to fine dining. Co-curated by chef Thomas Keller (of three-Michelin-starred Per Se), these establishments represent some of the brightest culinary talents. David Chang's Momofuku imprint can be found at popular fast food chicken spot, Fuku. The bottom floor of the shopping center is occupied by Mercado Little Spain, the Spanish market (it's to-go for now, while the city recovers from the pandemic). New York favorites like Van Leeuwen Ice Cream, Cookshop, Dylan's Candy Bar, Jack's Coffee, and William Greenberg have locations at Hudson Yards as well. 
The Shed in NYC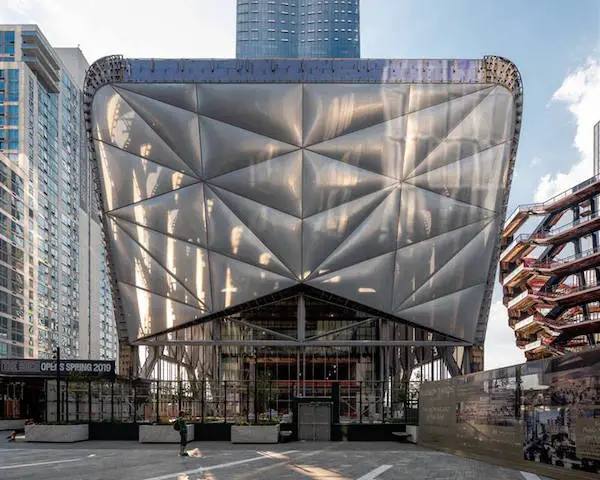 The Shed is the multidimensional arts venue at Hudson Yards. This incredible hybrid structure serves as equal parts museum, performance space, and public meeting place. An innovative nesting design, The Shed's transparent outer shell can extend and retract as needed for a variety of events. For a visual aid, visit this page for a very helpful video made by the architects Diller Scofidio + Renfro. On any given week, you can check out a dance performance, an art exhibition, a concert, or a play at this dynamic new cultural center. 
The Shed also features a full-service restaurant from Danny Meyer (Union Square Cafe, Shake Shack). This restaurant, Cedric's at The Shed, is open all day and offer an extensive beverage program as well as sandwiches, salads, and snacks. 545 W. 30th St., 646-455-3494, theshed.org
The Hudson Yards Hell's Kitchen Alliance (HYHK)
Neighborhood beautification by the Hudson Yards Hell's Kitchen Alliance (HYHK).
The Hudson Yards Hell's Kitchen Alliance (HYHK) is a not-for-profit neighborhood business improvement district, taking in West 42nd Street to the north, Eleventh Avenue to the west, West 30th Street to the south and Ninth Avenue to the east. Their work involves supplemental sanitation services, streetscape improvements, neighborhood horticulture and beautification projects, and assistance to local small businesses. They're also the NYC Parks Department's official maintenance and operations partner for Bella Abzug Park in Hudson Yards, a site of music and arts festivals in the neighborhood.
Equinox Hotel & Electric Lemon in Hudson Yards
Equinox is known for its killer gym game; now it's also a hotel chain. Visit its first location at Hudson Yards, and stay in one of its luxe rooms so you'll have ready access to the neighborhood's shops, restaurants, and sightseeing. There's also a fitness center at Equinox Hotel, as well as a spa and a SoulCycle studio. On the 24th floor, get healthy, delicious food with an incredible view at Electric Lemon. Stephen Starr of Pastis and Le Coucou created this seasonal restaurant with fresh ingredients and flavors at the forefront. The terrace dining puts the dining experience over the top in warmer months—especially at sunset! Equinox Hotel: 33 Hudson Yards, 212-812-9200, equinox-hotels.com; Electric Lemon: 33 Hudson Yards, 24th Floor, 212-812-9202, electriclemonnyc.com