First-time visitors and seasoned New Yorkers can't resist the pull of Times Square. Often called the heart of New York City, Times Square pulses in the middle of Manhattan, drawing people in with bright lights, Broadway stars, and brilliant attractions from dining to shopping to sightseeing. Within a short radius of Times Square, you'll find the media center-turned-sightseeing hub Rockefeller Center and the restaurant-rich neighborhood of Hell's Kitchen. Below is a quick primer on Times Square, Broadway shows, Rockefeller Center, Hell's Kitchen, and what to do there!
Times Square
Times Square is the crossroads of commerce and the performing arts, exhilarating and overwhelming at once. What was once the city's seedy underside is now a magnet for family-friendly tourism and world-famous Broadway shows. At the top of One Times Square, the Waterford-crystal New Years Eve Ball awaits its big drop at the turn of every new year. This honored ceremony has run nearly every year since 1907. Back then, the ball was considerably less glitzy, composed of iron and wood. 
After a recent revamp, the plaza at Times Square (bounded by 42nd and 47th Streets on 7th Avenue and Broadway) is more pedestrian-friendly than ever. Snap pictures, take in the splashy supersigns, and people-watch for free entertainment in these swaths of crowded public space. You'll observe plenty of street performers—the Naked Cowboy and unlicensed characters among them—as well as salespeople peddling tickets to attractions and performances. Just below you is the enormous Times Square subway station, with several subway lines accessing just about every NYC neighborhood.
Hang out on the massive red steps beside the TKTS booth while you wait for discounted Broadway tickets in the center of Times Square's hustle and bustle. Times Square's 24-hour spectacle also holds a surprise near midnight, when its huge animated signs coordinate in an artistic display to mark a new day in New York. 
Gigantic stores representing your favorite brands (M&Ms, Gap, Sephora) surround the plaza, and most are open for late-night shopping sprees. Interspersed are famous Times Square restaurants like Hard Rock Cafe and a multitude of hotels. Madame Tussauds New York tops the list of sightseeing hotspots for families and groups of friends. 
Here's City Guide's quick guide to Times Square for the best sightseeing and dining in this iconic neighborhood.
The Theatre District
With 41 Broadway theatres, many of which are landmarked, the Theatre District represents a world leader in live theatrical performance. Family-friendly musicals, dramatic plays, and movie star-studded comedies abound in all seasons. Within mere blocks of each other, you can see a long-running favorite like The Lion King, a new classic like Hamilton, and the work of an up-and-coming playwright on or Off-Broadway.    
The Theatre District is comprised of Times Square and the surrounding area: roughly 6th Avenue to Ninth Avenue, between West 42nd Street and 56th Street. We recommend researching the shows you'd like to see before you arrive, as well as looking for affordable tickets. Count on City Guide's Theatre section as your source!  
Rockefeller Center
A short walk east of Times Square is Rockefeller Center, home to the GE Building ("30 Rock") and the National Broadcasting Company's New York studios. Favorite NBC programs like "Saturday Night Live," "The Tonight Show With Jimmy Fallon," and the "Today" show are taped at Rockefeller Center (here's how to snag a seat to one of these television tapings).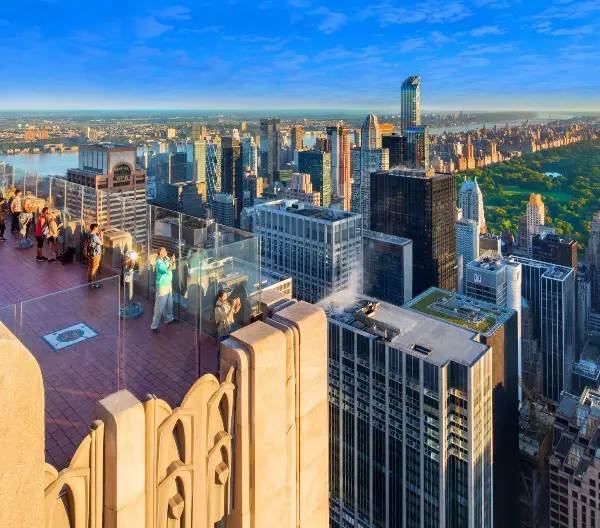 30 Rock's regal rooftop, Top of the Rock, features a refurbished observation deck that re-opened in 2005 after being closed for 20 years. Top of the Rock affords stunning views of the city. Rockefeller Center (located between Fifth and Seventh Avenues and 49th and 51st Streets) holds an extensive food court in its basement floor, a variety of shops, and the popular winter ice rink during the holidays. 
Nearby is the "showplace of the nation," Radio City Music Hall. The Rockettes, the annual Christmas Spectacular, and many other popular acts hit this storied stage every night. 
Here's how to spend your day at Rockefeller Center. 
The Finer Things
Just north of Rockefeller Center, witness masterpieces like Van Gogh's The Starry Night and Andy Warhol's Campbell Soup Cans at the Museum of Modern Art (MoMA). The main branch of the New York Public Library, the elegant Bryant Park, and The Paley Center for Media are also within walking distance of Times Square.
You'll find dozens of stores, each with dazzling displays of jewelry, in The Diamond District. On this brilliant block—West 47th Street from Fifth to Sixth Avenues—there's an unparalleled selection of watches, rings, necklaces, and more, in every conceivable price range. 
Hell's Kitchen
The Theatre District blends into what is called Hell's Kitchen, the northwest corner of Midtown West broadly defined by an eclectic—and exceptional—restaurant culture. This is the epicenter of pre-theatre dining. 
The name Hell's Kitchen supposedly comes from the scene of a riot in the 1920s, when a policeman remarked, "This place is hell itself." His partner said, "Hell's a mild climate. This is Hell's Kitchen." 
Thankfully, the area has adopted a much milder demeanor since then. In fact, this inclusive community recently tied with Chelsea as having the most LGBTQ-owned businesses in the city, as well as the most same-sex households. Along Ninth Avenue are several gay bars like Flaming Saddles Saloon and drag shows at Therapy. 
Restaurant Row, the packed street of diverse dining options, lies along West 46th Street between Eighth and Ninth Avenues. The best restaurants in Hell's Kitchen include Casa Del Toro and the French charmer Le Privé.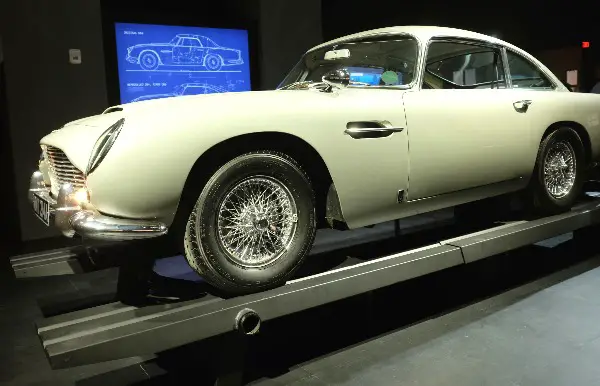 SPYSCAPE
Also located adjacent to Hell's Kitchen is SPYSCAPE, the museum that casts each visitor as a secret agent. The Iridium, with 25 years in the area, is the intimate live music venue for hearing guitar geniuses and up-and-coming acts in a range of genres.
Neighboring Areas
Just north of Hell's Kitchen is Columbus Circle, located at the southwest corner of Central Park. Read more in our guide to The Upper West Side. 
Other nearby areas include Midtown West, home of the Empire State Building. Midtown East, also nearby, boasts world-class shopping on Fifth Avenue and Grand Central Terminal. 
Restaurants in Times Square NYC 
Whether you're looking for a spot to grab a bite before heading to a Broadway show or you need to fuel up before shopping and spending more time in the neighborhood, we've got you covered. Check out this ultimate guide to restaurants in Times Square, the Theater District, and Restaurant Row.
Shopping in Times Square/Theatre District quick links: 
Sightseeing in Times Square/Theatre District quick links: 
Circle Line Sightseeing Cruises
Top of the Rock Observation Deck