Instagrammable moments, or should we say "immersive experiences," are taking over New York. Whether located in a pop-up space, museum, or major retail store, these photo ops are awfully pretty and fabulous fun to visit. There's the selfie-friendly Color Factory, brand pop-ups, and offbeat picks like SPYSCAPE. Each of these experiences will make great fodder for your Insta feed, only in the endlessly photographable New York City.
Color Factory
Color Factory, a massive interactive art space, began in August 2017 in San Francisco. Wildly popular, the project has set up shop in Soho as of last summer. Designed by a wide spectrum of artists, Color Factory walks visitors through 16 rooms devoted to the wonder of color. You're invited to compliment someone using color words, discover your signature color, and read wishes for the world written by NYC school children on varicolored balloons. Each room is equipped with a camera that can take a picture of you and send it to your phone: the better to post with! 251 Spring St., support@colorfactory.co, colorfactory.co, @colorfactoryco
The New York Botanical Garden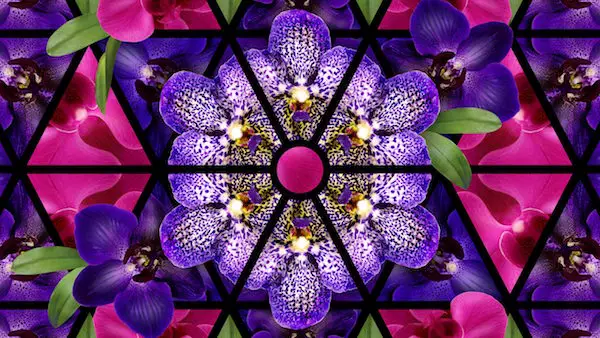 The Orchid Show: Jeff Leatham's Kaleidoscope. The orchids return to The New York Botanical Garden for the 18th year! This year's Orchid Show features the dazzling floral creations of Jeff Leatham, the famed artistic director of the Four Seasons Hotel George V, Paris, and floral designer to the stars. Leatham's bold and colorful vision unfolds through captivating installations and designs that transform each gallery of the exhibition in the historic Enid A. Haupt Conservatory into a different color experience, like a turn of a kaleidoscope. See dramatically arranged orchids in arches of deliberate hues delivering a tunnel effect, along with other design surprises featuring thousands of orchids—both rare and iconic—from the Garden's renowned collections and the finest growers in the world. (Coming May 9th is Kusama: Cosmic Nature, by Japanese artist Yayoi Kusama, who will present a plant and flower-inspired immersive installation.) 2900 Southern Blvd., The Bronx, 718-817-8700, nybg.org
Rosé Mansion
Take wine tasting and education (and your Instagram feed) to a whole new level at midtown's rosé-sipping funhouse, Rosé Mansion. Learn all about rosé's 7,000-year history while roaming through "Cleopatra's Palace," the "Celebration Room," and a "personality test" zone that will lead you to a favorite rosé. All tickets include eight wine tastings, a collectible pin, a wine glass by Govino, and access to RoséLand, where you can purchase bottles and glasses of your favorites while enjoying private cabanas and a treehouse and picnic area. In addition to sipping adventures, Rosé Mansion is adding an interactive art experience to the mix. The very Instagrammable "Immersed in Wonderland" starts welcoming guests down an Alice-inspired rabbit hole adjacent to Rosé Mansion on March 13th (see below). 111 W. 32nd St., rosewinemansion.com, @rosewinemansion
Immersed in Wonderland
In addition to sipping adventures, Rosé Mansion is adding an interactive art experience to the mix. Starting March 13, the very Instagrammable "Immersed in Wonderland" will be welcoming guests down an Alice-inspired rabbit hole adjacent to Rosé Mansion. Travel through the looking glass into a world of illusion that lets you step inside paintings, wear painted costumes, and interact with kaleidoscopic installations that transform you into a living piece of two-dimensional art. Among the magical scenes: the Mad Hatter's Tea Party, the Queen of Heart's House of Cards, an obstacle course, a psychedelic Cheshire Cat, an enchanted Winter Wonderland. Touch down at Rosé Mansion's Mad Tea Party Bar, a bar inspired by the Mad Hatter's Tea Party. Through June 28th. 111 W. 32nd St., immersedinwonderland.com, #ImmersedinWonderland
ARTECHOUSE
Head to the historic boiler room of Chelsea Market for ARTECHOUSE, a new immersive art space that's very Instagram friendly. The latest exhibition is "Intangible Forms by Shohei Fujimoto," a dramatic new laser installation that conveys the sensation of stepping into the engine room of a spaceship, or perhaps being in the audience for an orchestra made out of light. Minimalism and technical know-how are both on display as the art builds and shifts, with sound to complement. (You can pause for a drink at the augmented reality "AR bar," which is stocked with multi-sensory mocktails.) "Intangible Forms" is on display March 3rd-April 19th, Sun.-Thurs. 10am-10pm, Fri.-Sat. 10am-11pm. 439 W. 15th St., #artechouseNYC, @artechouse, artechouse.com
The Nature of Color at the Natural History Museum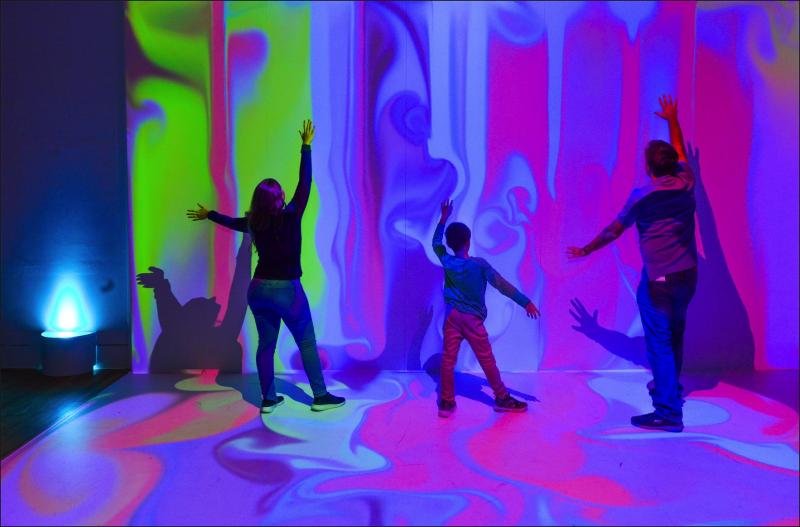 New pop up exhibition The Nature of Color celebrates the rich shades of the world and the many questions they raise when we pause to examine them. As part of the American Museum of Natural History's 150th anniversary celebration, learn how color carries information in nature—where organisms use it to find food, warn off predators, and conceal or reveal themselves—and across cultures, where colors signal everything from good luck to power to urgency. This fun, family-friendly exhibition features models, objects, media, and interactive exhibits that invite visitors to play and experiment. The show runs March 9th through August 8, 2021. Central Park W. at 79th St., 212-769-5100, amnh.org
2120: An Art Experience

The Upper West Side is home to a new pop-up that's the world's first blockchain-enabled art exhibition. 2120: An Art Experience, featuring artist Jacob M Fisher, merges blockchain tech from Portion.io with large-scale art to create something emphasizing shared experiences and ownership. The vision is of the world a century from now (2120). Tickets are $12 general admission and $8 for students and seniors; the installation is open Saturdays through Tuesdays. 2307 Broadway, ytg.agency/2120,
#2120anartexperience
Driven: 007 x SPYSCAPE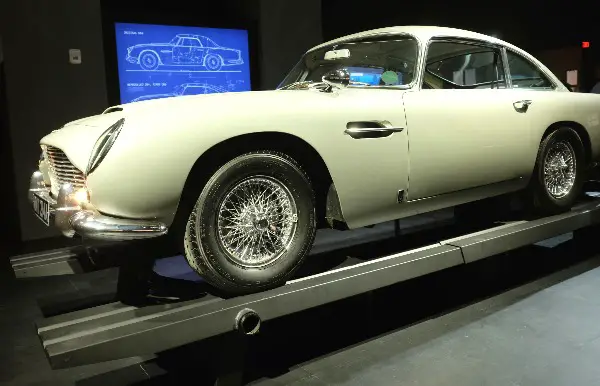 Midtown's spy museum takes a new look at the world's most famous secret agent: James Bond. Visit SPYSCAPE to snag a pic with Bond's Aston Martin DB5 in this thrilling exhibition about the world of 007 himself. Visit Q's lab to see gadgets used throughout the Bond film franchise, and get a look behind the scenes of the finale in Skyfall. You'll even see concept art from Sir Ken Adams, the Oscar-winning production designer who worked on seven Bond films. Open now. 928 Eighth Ave., 212-549-1941, spyscape.com/events/007, #007xspyscape
Jump for Joy: Bouncy Castle of Breasts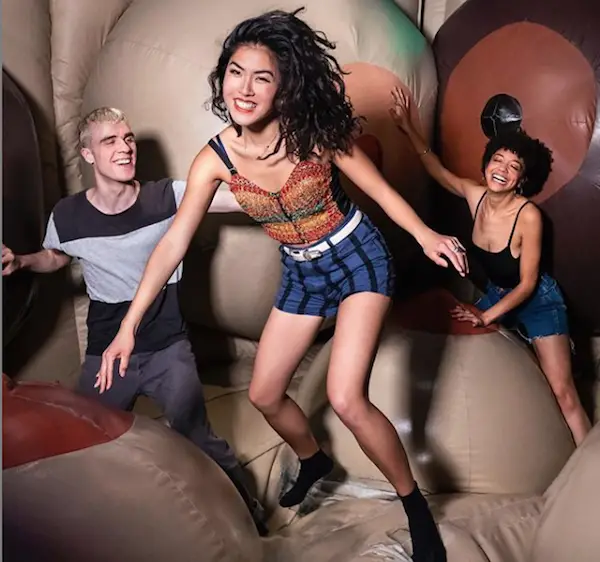 Museum of Sex Instagram.
Playful and kinky, the Bouncy House of Breasts will make a perfect Instagram story or video. Inside this unique art installation, you can jump around like a child in a bouncy castle—except the inflatable forms are all breast-shaped (and it's for adults only). This ongoing installation at Flatiron's Museum of Sex was designed by Bompas & Parr, who drew on the hidden eroticism of historic traveling fairs. The designers also encourage body awareness among visitors in the midst of this exuberant anatomical environment. Tickets to the bouncy house are $3.50 in addition to regular museum admission. 233 Fifth Ave., 212-689-6337, museumofsex.com
Museum of Illusions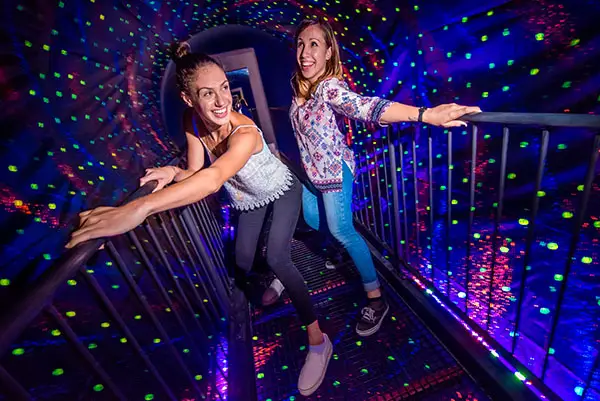 The Museum of Illusions NYC is great photographic fun, as you'll be able to laugh, scream, run, take selfies, and generally do the kinds of things they don't allow in other museums. You (or your prankster friend) can even become a head on a platter. There's also an Anti-Gravity Room, an Infinity Room (a hall of mirrors for the 21st century), and a room where you'll walk on walls. Nothing is as it seems; it's all illusion, and all incredible! 77 Eighth Ave., 212-645-3230, newyork.museumofillusions.us, @moi_newyork
The Winky Lux Experience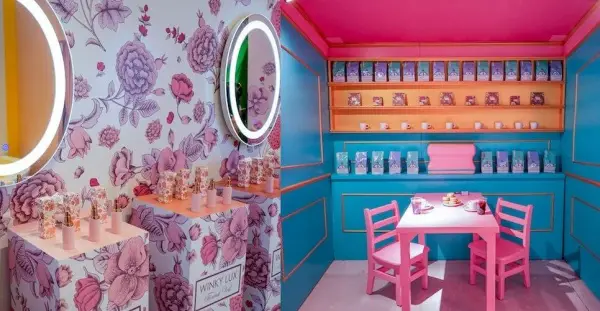 Winky Lux, the smash-hit beauty brand, has opened a pop-up experience in tandem with their Soho retail store. The Winky Lux Experience leads you through seven brightly colored rooms full of fur pillows, splashy rose wallpaper, large flowers, and makeup, of course. Their cheeky philosophy, according to the Winky Lux site: If it didn't happen on Instagram, it didn't happen. Your $10 ticket goes toward the purchase of a beauty product at the end of your journey. The success of this popup has led to additional Experience Stores in Chicago, Tysons Corner, Virginia, and another coming up in Nashville. NYC Experience Store on view now. 430 W. Broadway, 646-952-0380, winkylux.com, #winkyluxnyc
National Geographic Encounter: Ocean Odyssey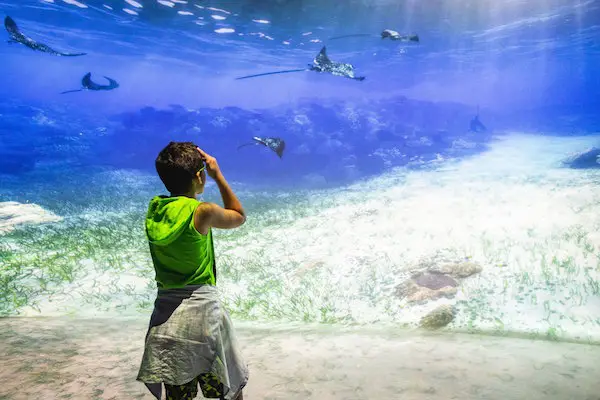 Take a portal from the heart of Times Square into the depths of the sea at National Geographic Encounter: Ocean Odyssey. This immersive experience explores ocean life using state-of-the-art projections in walk-through screening rooms that surround you and your family with the deep blue sea. You'll get panoramic views of a blue whale, sharks, schools of fish, and coral reef. The experience also challenges visitors to rethink ocean conservation and reduce plastic use. Use City Guide's coupon to receive $10 off admission. 226 W. 44th St., natgeoencounter.com
Sloomoo Institute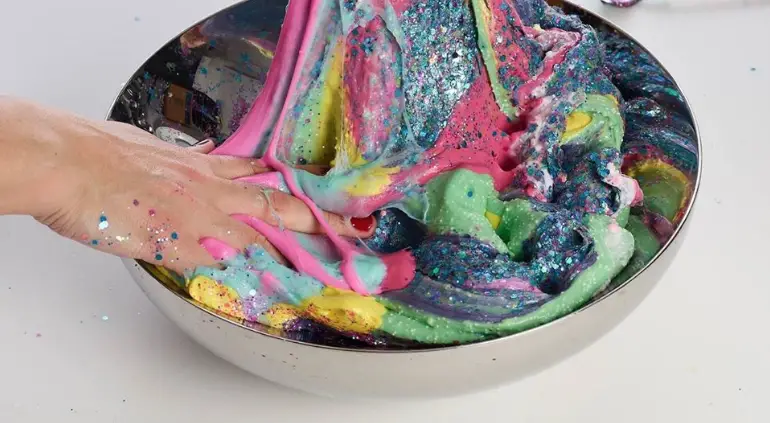 Facebook.
Have "the slime of your life" at Sloomoo Institute, a new pop up sensory playground. Activate your senses of touch, sound, and scent through endless vats of slime waiting to be played with. There's also a an immersive ASMR tunnel. a glow-in-the-dark cove, an EEG machine to show your brain "on slime," and a 150-foot long DIY bar where you can design your dream slime. Limited run, scheduled end is April 12th, 2020.
sloomooinstitute.com
STORY at Macy's Herald Square
STORY at Macy's combines a pop-up installation with an engaging shopping experience. This new store inside the flagship Macy's on 34th Street tells a new retail story every 6-8 weeks with a themed suite of small-business products for sale. This season, "Home for the Holidays" STORY features gift ideas like a cocktail kit from Brooklyn's Hella Bitters, a clutch from Julie Mollo, or candles from Illume, housed inside a warm and woodsy space. 151 W. 34th St., 212-695-4400, macys.com, #storyatmacys
Dolce & Gabbana Clubhouse for Millennials
The dressing room at a retail store is decent Instagram fodder if you have the right outfit, but you're usually working with poor lighting and boring backgrounds. Take your personal fashion show to the stratosphere at Dolce & Gabbana's Soho store, a.k.a. the Clubhouse for Millennials. Floor to ceiling, this store is wild and colorful, full of textures and patterns only the dynamic duo of Domenico Dolce and Stefano Gabbana could dream up. There are iridescent brick walls, a hand-painted sofa, and a second floor covered in leopard print from the rug to the wallpaper. 155 Mercer St., 212-716-1247, dolcegabbana.com
SHOWFIELDS
"The most interesting store in the world" is, you might imagine, pretty Insta-friendly. SHOWFIELDS combines immersive environments with retail, encouraging you to try out a wide range of awesome products on site at its Soho location. Right now, featured brands include Priori's "adaptive skincare," Boodles Gin, and gorgeous shoes from CFDA x Isa Tapia. All products are showcased in artistically unique environments that just beg to be photographed. 11 Bond St., showfields.com
Arcadia Earth
Arcadia Earth is a one-hour immersive exhibit created by an artist collective. Augmented reality messages, virtual reality animations, and interactive environments will teleport you into a journey through the planet. For every ticket sold, Arcadia Earth will plant one tree and donate to charity partner Oceanic Global. Open through May 11, 2020. 718 Broadway, arcadia.earth, @arcadiaearth
Winter Rose Garden at Dream Downtown

Photo: David Jacobson.
Dozens of red roses (15,000 to be precise) adorn the walls of the Winter Rose Garden at Dream Downtown. The hotel's seasonal rose-themed space, which is accented with bold red furniture and lots of flickering candles, boasts a menu of thematic rose cocktails and light bites, all of which makes a good case for your Instagram feed. You can get your flower on through March, 2020. 355 W. 16th St., 212-229-2559,
dreamhotels.com/downtown
Love Me Hug Me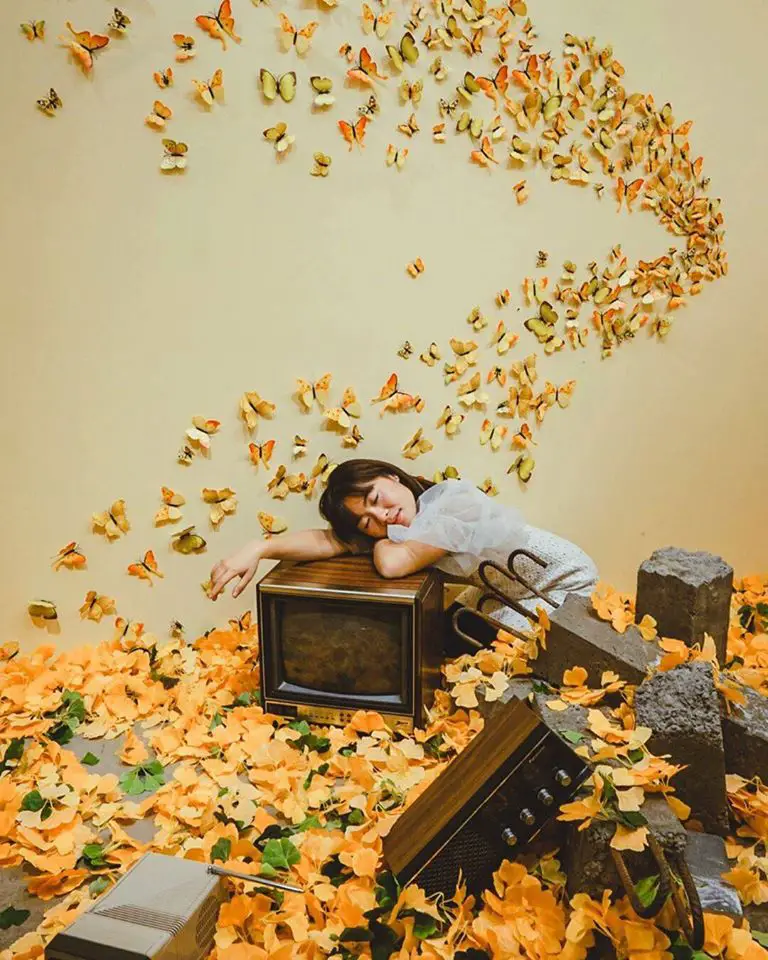 This pop up exhibition is not only great looking on Instagram it also serves to raise public awareness about Alzheimer's. A love story impacted by fading memory, Love Me Hug Me seeks to have its guests be inspired to seize the moment. In addition to a short film, there are seven rooms that include "Memento Terminal," the "Twisted Playground," and a last stop at "Love Crossroad." Now extended through March 10th. 139 Wooster St., showclix.com/event/love-me-hug-me, #lovemehugmepopup
---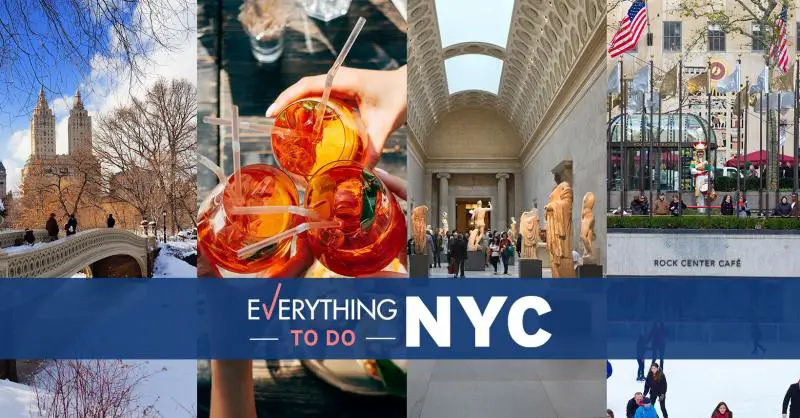 Want free advice on what to do and see in New York? Join our Facebook group Everything to Do NYC, a place for people to ask questions and get tips on how to make the most of the city.