Do It for the Gram: NYC's Most Instagrammable Pop-Up Exhibits
September 5, 2018 - by Merrill Lee Girardeau
Instagrammable moments, or should we say "immersive experiences," are taking over New York City these days. They're not quite art exhibits and not quite museums, but these photo ops are awfully pretty and fabulous fun to visit. These walk-through installations are based on themes as diverse as The Velvet Underground and pizza, but they'll all make great fodder for your Insta feed, with neon lighting, patterned wallpaper, and ball pits designed for selfies galore. Below are seven installations happening now and in the coming months, only in the endlessly photographable New York City.
Instagrammable Pop-Ups in NYC: Dream Machine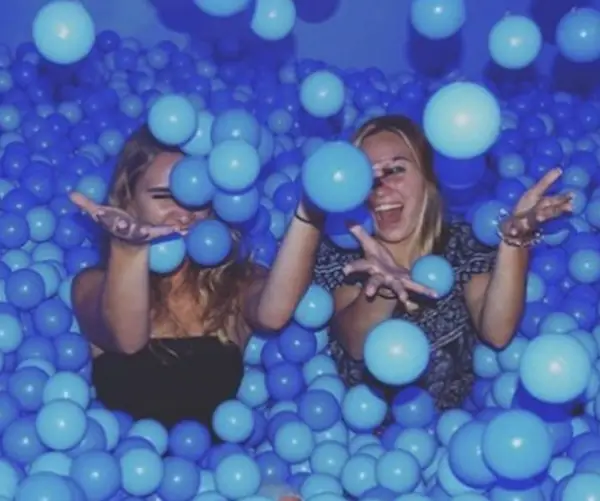 The Dream Machine is billed as a tactile, interactive dive into dreamland. That's absolutely true—if your dreams are lit like a Nylon photoshoot (if so, we're jealous!). Ham it up in a blue ball pit fashioned like a swimming pool, and take the bait under the cheeky sign saying Drop-Off & Selfie Service. Hop over to Williamsburg and enjoy your dreamy Insta photos! On view till September 9, 2018. 93 N. 9th St., hello@visitdreammachine.com, visitdreammachine.com
Instagrammable Pop-Ups in NYC: Room for Tea
Interact through the history of tea in oh-so-photogenic surroundings at Room for Tea. Cherry blossoms will fall, neon signs will glow, and red curtains will surround you at this tea-centric exhibition. Purchase a special ticket to see a divine tea ceremony, performed three times per day for 40 minutes. All ticket-holders will receive a free boba tea with their admission to Room for Tea, and boba vendors will rotate each week. Ticket proceeds go to Trees for the Future, a nonprofit that plants trees in farming communities in need. Through September 22, 2018. 371 Broadway, info@roomforteanyc.com, roomforteanyc.com
Instagrammable Pop-Ups in NYC: Rosé Mansion
Rosé fans, rejoice! This exhibition pays homage to your favorite beverage. A walk through Rosé Mansion means a very pink, very fun 6,000-year history of this unique flavor of wine, a swing on a gold chandelier, and, yes, some wine tastings. (It is a mansion, after all.) At the end, you'll arrive in a bar with the largest rosé list in the country! Caviar will be available for purchase, but the bathtub full of rose petals is free to sit in. On view till October 2018. 445 Fifth Ave., rosewinemansion.com
Instagrammable Pop-Ups in NYC: Color Factory
Color Factory, a massive interactive art space, began in August 2017 in San Francisco. Wildly popular, the project has set up shop in Soho and is sure to inspire lines as long as the cronut did at nearby Dominique Ansel Bakery. The Color Factory walks visitors through 16 rooms devoted to the wonder of color. You're invited to compliment someone using color words, discover your signature color, and read wishes for the world written by NYC school children on varicolored balloons. Each room is equipped with a camera that can take a picture of you and send it to your phone: the better to post with! On view now. 251 Spring St., support@colorfactory.co, colorfactory.co
Instagrammable Pop-Ups in NYC: The Velvet Underground Experience
Linger on at The Velvet Underground Experience, coming to Noho in October. This iconic band helped define the city's music scene in the 1970s, along with their friend Andy Warhol, who designed the iconic banana on the album cover to The Velvet Underground & Nico. That banana has inspired a brand-new VR experience at the exhibition you'll definitely want to 'gram. Warhol video footage of band members Lou Reed and Nico will also be on display, as well as other archival footage, over 350 photographs, and 1,000 artifacts. Expect other exciting events like live music, lectures, and pop-up installations during the three-month run of The Velvet Underground Experience. Runs October 10 to December 30, 2018. 718 Broadway, velvetunderground-experience.com
Instagrammable Pop-Ups in NYC: Museum of Pizza
The Museum of Pizza promises "a space to bask in multi-sensory, psychedelic pizza joy." That will involve a pizza cave, pizza beach, "Pizza Zen" ASMR experience, films, interactive installations, and so much more. We'll safely assume you get a slice while you're there too. This exhibition occurs at the same location as The Velvet Underground Experience, so you can pull a doubleheader in Nolita—a little Nico and a little pizza! October 13-28, 2018. 718 Broadway, themuseumofpizza.org
Instagrammable Pop-Ups in NYC: Museum of Illusions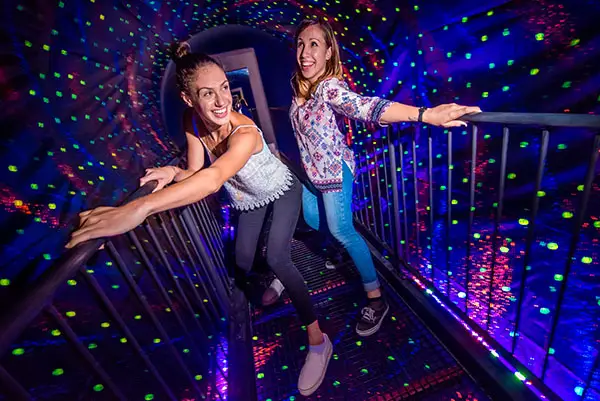 The Museum of Illusions has opened in seven countries around the world with more on the way. The New York version will prove to be great photographic fun, with fool-the-eye rooms, optical illusions, and a playroom with games and puzzles. You'll be able to laugh, scream, run, take selfies, and generally do the kinds of things they don't allow in other museums. See yourself in new ways in the Mirror Room, free yourself in an infinity room, resist the laws of gravity and size ratios, and get pics of it all. It's all illusion, and all incredible! Check the website for opening date and exact location (on the corner of Eighth Avenue and 14th Street, where Chelsea meets the Meatpacking District). newyork.museumofillusions.us
Looking for Free Group Planning Services?
Get free advice on planning your group's trip to New York.
RESTAURANTS

Beloved midtown spot takes inspiration from local tradition,...

THEATER

In this new musical, Jenna, supported by her quirky crew of ...

SHOPPING

DataVision is redefining retail with their new, fully intera...

SIGHTSEEING

In the heart of Midtown, steps from Times Square and the The...