Do It for the Gram: NYC's Most Instagrammable Pop-Up Exhibits
November 27, 2018 - by Merrill Lee Girardeau
Instagrammable moments, or should we say "immersive experiences," are taking over New York City these days. These walk-through installations are based on themes as diverse as dogs, The Velvet Underground, and pizza, but they'll all make great fodder for your Insta feed, with neon lighting, patterned wallpaper, and ball pits designed for selfies galore. Below are seven installations happening now and in the coming months, only in the endlessly photographable New York City.
Instagrammable Pop-Up Art in NYC: Fairy Island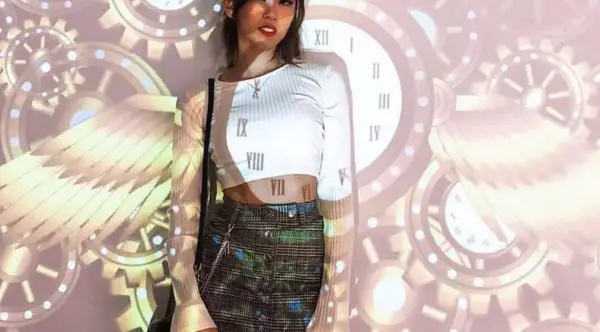 Women are the stars of the show at Fairy Island, a pop-up themed around the stories of six women and their wildest dreams. These picturesque settings range from a floor full of confetti to a reflective tunnel lit with neon. There are unicorns, huge flowers, and a set of wings to pose with at Fairy Island, now in Midtown East. Now extended through Nov. 30. 152 Lexington Ave., fairyislandusa.com, @fairyislandnyc
Instagrammable Pop-Up Art in NYC: The Velvet Underground Experience
Linger on at The Velvet Underground Experience, now on in NoHo. This iconic band helped define the city's music scene in the 1970s, along with their friend Andy Warhol, who designed the iconic banana on the album cover to The Velvet Underground & Nico. That banana has inspired a brand-new VR experience at the exhibition you'll definitely want to 'gram. Warhol video footage of band members Lou Reed and Nico is on display, as well as other archival footage, over 350 photographs, and 1,000 artifacts. Live music, talks, book launches, and more are upcoming at The Velvet Underground Experience. Through December 30. 718 Broadway, velvetunderground-experience.com, @velvetundergroundexperiencenyc
Instagrammable Pop-Up Art in NYC: Sugar & Spice
This year's newest addition to the Sugar & Spice pop-up: The Nutcracker. Facebook.
For the month of December, give a super-sized holiday infusion to your Instagram feed with Sugar & Spice. This family-friendly exhibit in Williamsburg, Brooklyn has oversized teddies, nutcrackers, ornaments, and lots and lots of twinkle lights. You can also toss fake snow in the air, swim in a hot cocoa ball pit, and write your message of holiday cheer on a gigantic chalkboard wall. Bonus: there will also be a huggable cookie. On view December 1-31. 58 S. 6th St., sugarandspicepopup.com, @sugarandspicepopup
Instagrammable Pop-Up Art in NYC: The Mad Hatter's G&T Party
For those 21 years and up, it's all good in Wonderland (by way of Williamsburg) with the Mad Hatter's G&T Party. This experience invites participants to a boozy tea party on a double-decker bus, the top floor of which is the Mad Hatter's cottage. The Mad Hatter is the host, while the March Hare and Dormouse are also on hand for the festivities, which include games and plenty of Tanqueray gin. Tea snacks and molecular cocktails are yours for the enjoying, with non-alcoholic options as well. Through December 31. 173 Morgan Ave., 917-818-4348, madhattersbus.com, @madhattersbus
Instagrammable Pop-Up Art in NYC: Miracle on 9th Street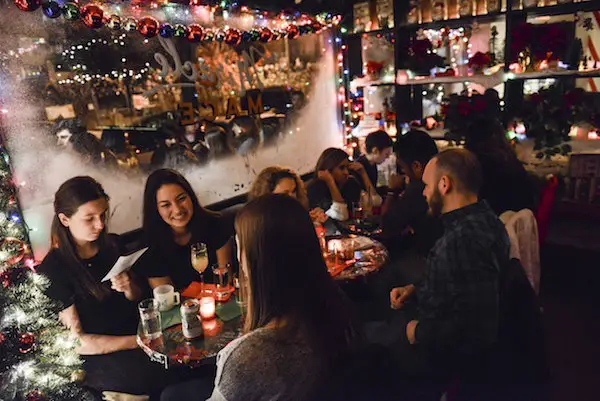 Photo: Liz Barclay
Christmas descends on the East Village bar MACE every year, turning it into Miracle on 9th Street. This pop-up tradition, now in its fourth year, has expanded to bars throughout the world. Over-the-top decor and Santa Claus cocktails make for a winning visit during the holidays. Think eggnog, Christmapolitans, and a Run Run Rudolph. That's tequila, coffee liqueur, iced hot chocolate, and Mexican spices. Nostalgic ambiance and creative booze make this bar irresistibly Instagrammable. There's also one in Brooklyn this year! Open now through December 31. 649 E. 9th St., miraclepopup.com, @miracleon9thstreet
Instagrammable Pop-Up Art in NYC: The Future of Sports
Art and athletics collide at The Future of Sports, another pop-up installation in Williamsburg. This space, neon on the inside and outside, reimagines sports with a spirit of equality. What if the basketball court had enough hoops for everyone to dunk at once? What if the bikes inside your cycling studio were arranged in the round, so you could be spurred on by other participants and not just the teacher? These questions and more are answered in stylish, creative ways inside The Future of Sports. Through January 6, 2019. 61 N. 9th St., thefutureofsports.co, @thefutureofsports
Instagrammable Pop-Up Art in NYC: Candytopia
If you've ever wanted a tour of Willy Wonka's chocolate factory, you'll get a taste at Candytopia (without the imminent peril). Dive into a ball pit of marshmallows, view portraits made of candy, and take pics with candy-striped backgrounds and a life-sized emoji. And the wax figure of Katy Perry? She's free for selfies too. Candytopia is conveniently located near Herald Square and the Macy's flagship store. Now extended through January 6. 145 W. 32nd St., candytopia.com, @thecandytopia
Instagrammable Pop-Up Art in NYC: Color Factory
Color Factory, a massive interactive art space, began in August 2017 in San Francisco. Wildly popular, the project has set up shop in SoHo and is sure to inspire lines as long as the cronut did at nearby Dominique Ansel Bakery. Designed by a wide spectrum of artists, Color Factory walks visitors through 16 rooms devoted to the wonder of color. You're invited to compliment someone using color words, discover your signature color, and read wishes for the world written by NYC school children on varicolored balloons. Each room is equipped with a camera that can take a picture of you and send it to your phone: the better to post with! On view now. 251 Spring St., support@colorfactory.co, colorfactory.co, @colorfactoryco
Instagrammable Pop-Up Art in NYC | ESCHER: The Exhibition & Experience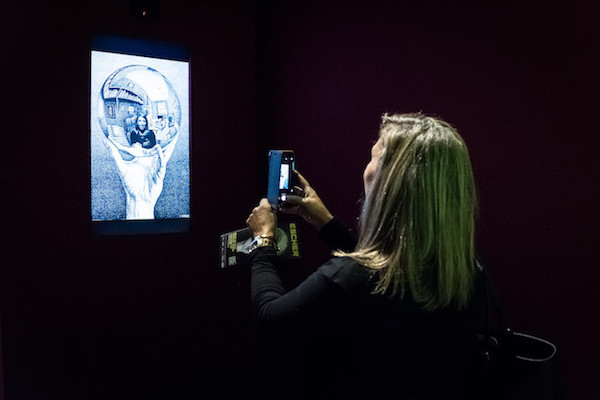 ESCHER, on view now in Brooklyn's Industry City, invites you into the topsy-turvy world of the artist M.C. Escher. Escher was a master of optical illusions and architectural puzzles, and over 200 of his works will be display in the exhibition space of this pop-up. The "Experience" portion of ESCHER throws visitors into mind-bending Escher landscapes. Take a picture in the photo booth with an optical-illusion background, and encounter illusions of scale in the Relativity Room, a la Alice in Wonderland. You can also see your reflection echoing forever in the Infinity Room. Instagramming encouraged! Through February 3, 2019. 34 34th St., Building 6, Brooklyn, eschernyc.com, @eschernyc
Instagrammable Pop-Up Art in NYC: Mickey: The True Original Exhibition
It was 90 years ago that the world met Mickey Mouse in the short cartoon "Steamboat Willie." Today Disney's beloved mouse is in the Meatpacking District for an over-the-top pop-up. Inside this multidimensional space, you'll see Shinique Smith's huge sculpture made of plush Mickey Mouse toys, while video artist Brian Bress drew 100 images of Mickey for his video installation at the exhibition. Kenny Scharf's black-lit Cosmic Cavern, inspired by the Mickey Watch, will send you deep into the 80s, while Mickey's gigantic wizard's hat will take you to the world of Fantasia. Tanya Aguiñiga, James Jean, London Kaye, and other artists have celebrated Mickey by creating photogenic backgrounds in other rooms throughout Mickey: The True Original. On view now through February 10, 2019. 60 10th Ave., partners.disney.com/mickey-the-true-original-exhibition, @MickeyTrueOriginal
Instagrammable Pop-Up Art in NYC: Google Hardware Store
Google has gotten in on the pop-up retail experience with Google Hardware Store, located near Color Factory in Soho. This retail store sells Google products but also contains setpieces perfect for pics while you're around. Explore a tiny treehouse, a stylish kitchen with a teeny mint-colored fridge, a playful swing set, and a couple of hammocks. It's childish wonder with forward-thinking tech, all in one very photogenic space. There's also one in Chicago if you're headed to the Midwest anytime soon. Open now. 131 Greene St., store.google.com, #googlepopup
Instagrammable Pop-Up Art in NYC: Rebel Rebel: The Secret David Bowie NYC Tour
The late, great David Bowie set the standard for high-wire glam rock in the 1970s and became one of the biggest musical acts of the 20th century. But to Soho locals in NYC, Bowie was just another face on the street. The British rock star lived in New York for twenty years, longer than he'd lived anywhere else, and now there's an immersive walking tour to tell you the tale. Your tour guide Jason, a British historian and Bowie-phile, will take you from the West Village to Soho and speak about Bowie's many musical faces. One stop on the tour is the legendary Electric Lady Studios in Greenwich Village, where Bowie recorded his first U.S. No. 1, "Fame," in January 1975 with his buddy John Lennon on board for support. Available at 12pm on Wednesdays, Thursdays, Fridays, Saturdays, and Sundays. Through Jan. 19. Meet at 178 Seventh Ave. S, musae.me

Instagrammable Pop-Up Art in NYC: Museum of Illusions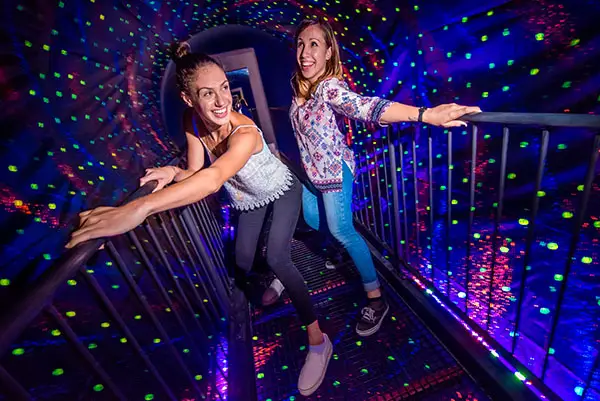 The Museum of Illusions has opened in seven countries around the world with more on the way! The Museum of Illusions NYC will prove to be great photographic fun, as you'll be able to laugh, scream, run, take selfies, and generally do the kinds of things they don't allow in other museums. You (or your prankster friend) can even become a head on a platter. There's also an Anti-Gravity Room, an Infinity Room (a hall of mirrors for the 21st century), and a room where you'll walk on the walls. Nothing is as it seems; it's all illusion, and all incredible! The Museum of Illusions opened September 20 on the border of Chelsea and the Meatpacking District. On view now. 77 Eighth Ave., 212-645-3230, newyork.museumofillusions.us
Instagrammable Pop-Up Art in NYC: The Winky Lux Experience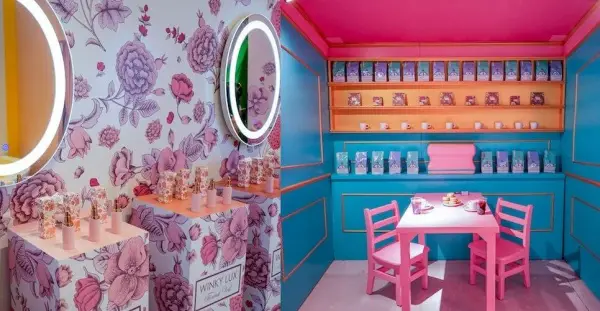 Winky Lux, the smash-hit beauty brand, has opened a pop-up experience in tandem with their Soho retail store. The Winky Lux Experience leads you through seven brightly colored rooms full of fur pillows, splashy rose wallpaper, large flowers, and makeup, of course. Their cheeky philosophy, according to the Winky Lux site: If it didn't happen on Instagram, it didn't happen. Your $10 ticket goes toward the purchase of a beauty product at the end of your journey. On view now. 430 W. Broadway, 646-952-0380, winkylux.com
Looking for Free Group Planning Services?
Get free advice on planning your group's trip to New York.
RESTAURANTS

Serving hearty All-American family fare since 1980....

THEATER

This new American musical offers a deeply personal and profo...

SHOPPING

Heaven for designers, artists, and antiques lovers....

SIGHTSEEING

Spirit Cruises is New York City's most vibrant and entertain...