Instagrammable moments, or should we say "immersive experiences" at interactive museums in NYC, are taking over the Big Apple. Whether located in a pop-up space, museum, or major retail store, these photo ops are awfully pretty and fabulous fun to visit. There's the selfie-friendly Color Factory, cutting-edge art spot ARTECHOUSE, and offbeat picks like SPYSCAPE. Each of these cool museums and experiences will make great fodder for your Insta feed, only in the endlessly photographable New York City.
The 9 Best Interactive Museums in NYC
1. The Museum of Ice Cream
Among the first of its kind, The Museum of Ice Cream enjoyed a sweet stint in Manhattan beginning in 2016. Now it's back at a permanent location with even more space to play in. Check out the three-story slide that ends in a pool of sprinkles, and walk through a hall of ice cream scoops. There's also branded ice cream to taste and very cute MOIC merch to take home. 558 Broadway, museumoficecream.com, @museumoficecream
2. ARTECHOUSE

Head to the historic boiler room of Chelsea Market to experience the immersive art space ARTECHOUSE. You've never seen art like this before, as room-sized digital projections merge with sound design to create a cinematic experience. Opening this Saturday, May 14th,  is Life of a Neuron, which draws on decades of neuroscience research to create a cellular-level journey through the human brain. Come explore the intersections of art and science and discover new layers of a universal human experience—the story of ourselves. The main installation is joined by additional immersive artworks. You can also grab a drink at the newly opened XR Bar. 439 W. 15th St., #artechouseNYC, @artechouse, artechouse.com
3. Color Factory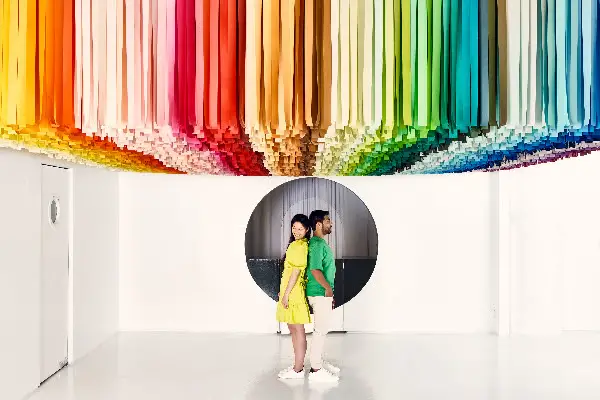 Color Factory, a massive interactive art space, began in August 2017 in San Francisco. Wildly popular, the project has set up shop in Soho as of last summer. Designed by a wide spectrum of artists, Color Factory walks visitors through 16 rooms devoted to the wonder of color. You're invited to compliment someone using color words, discover your signature color, and read wishes for the world written by NYC school children on varicolored balloons. Each room is equipped with a camera that can take a picture of you and send it to your phone: the better to post with! 251 Spring St., support@colorfactory.co, colorfactory.co, @colorfactoryco
4. Museum of Illusions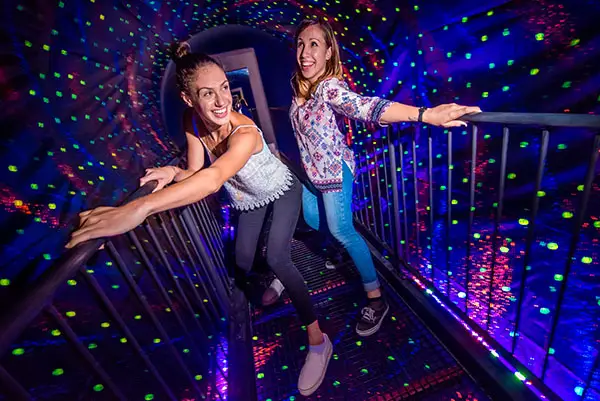 The Museum of Illusions NYC is great photographic fun, as you'll be able to laugh, scream, run, take selfies, and generally do the kinds of things they don't allow in other museums. You (or your prankster friend) can even become a head on a platter. There's also an Anti-Gravity Room, an Infinity Room (a hall of mirrors for the 21st century), and a room where you'll walk on walls. Nothing is as it seems; it's all illusion, and all incredible! 77 Eighth Ave., 212-645-3230, newyork.museumofillusions.us, @moi_newyork
5. Arcadia Earth
Arcadia Earth in NoHo is a one-hour immersive exhibit created by an artist collective. Augmented reality messages, virtual reality animations, and interactive environments will teleport you into a journey through the planet. For every ticket sold, Arcadia Earth will plant one tree and donate to charity partner Oceanic Global. New to the museum is the world's first mixed-reality environmental art exhibit. Making use of Microsoft's augmented reality HoloLens, the new add-on lets you mix it up with interactive holograms. Get a new perspective on the planet while helping support environmental organizations. 718 Broadway, tickets.arcadia-earth.com/event/arcadia-earth, arcadia.earth, @arcadiaearth
6. The Museum of Sex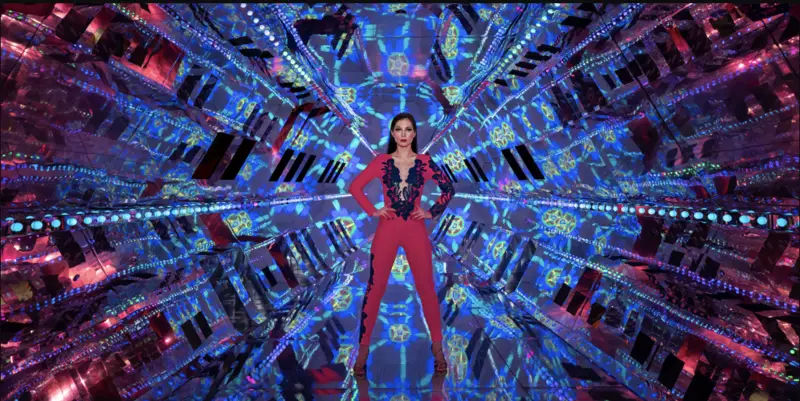 Museum of Sex's pop up exhibit Super Funland: Journey into the Erotic Carnival examines the sexual history of the carnival. An interactive exhibition of 13 erotically charged games and amusements allows visitors to lose themselves in the carnality, decadence, and joy of a reimagined carnival. You'll also pick up some history along the way, as the exhibit looks at the bacchanalian origins of the carnival in ancient Greece and Rome and its evolution in pre-industrial Europe and the "midway" of the great World's Fairs of the 20th century. 233 Fifth Ave., 212-689-6337, museumofsex.com
7. Sloomoo Institute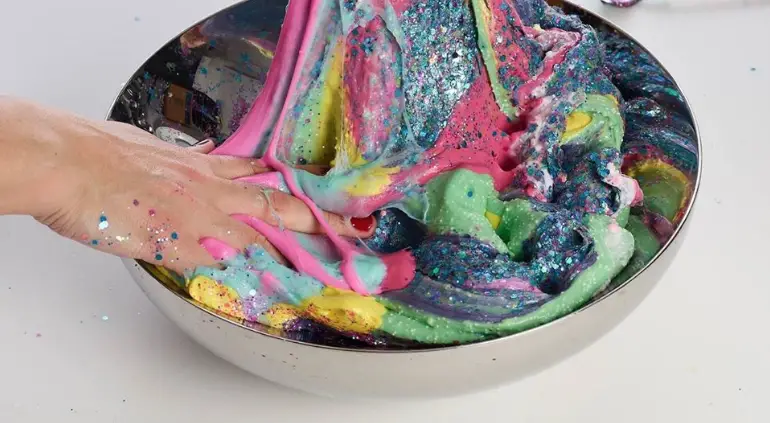 Facebook.
Have "the slime of your life" at Sloomoo Institute, a new pop up sensory playground. Activate your senses of touch, sound, and scent through endless vats of slime waiting to be played with. There's also a an immersive ASMR tunnel. a glow-in-the-dark cove, an EEG machine to show your brain "on slime," and a 150-foot long DIY bar where you can design your dream slime. 475 Broadway, sloomooinstitute.com
8. SUMMIT One Vanderbilt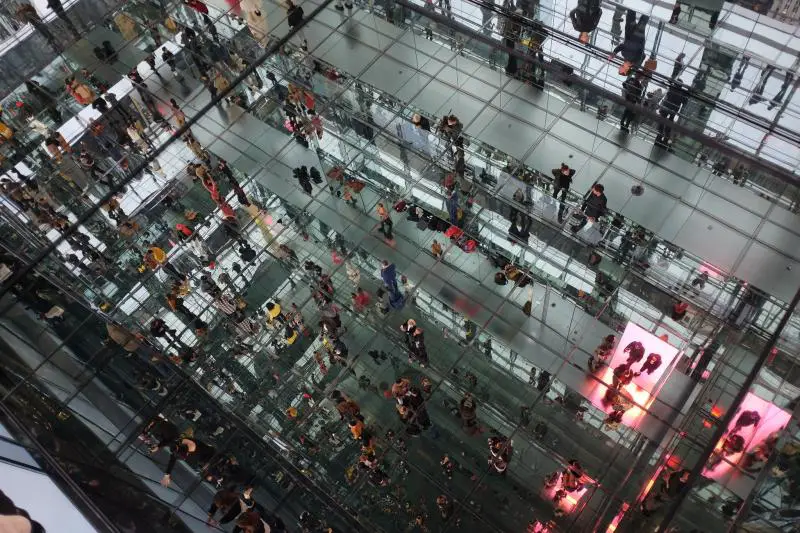 Blending elements of art, technology, architecture, and thrill, SUMMIT One Vanderbilt takes the concept of an "observation deck" to entirely new heights through its three levels of multi-sensory experiences. Look for immersive art installations on top of stunning midtown views, both day or night. 45 E. 42nd St., 877-682-1401, summitov.com
9. IAM Inverted Art Museum—Coming September 1st, 2022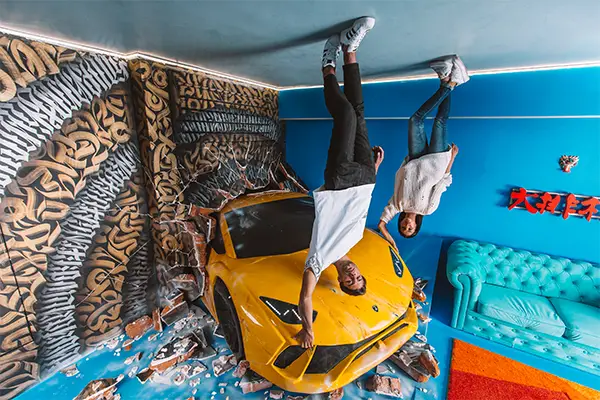 See the city from entirely new perspectives. Starting this September, the IAM Inverted Art Museum will let you explore room after room presenting the different personalities of the urban landscape, from the gritty to the luxurious, uptown trains to the empty apartments of Billionaires' Row. New York artists like KAWS will be prominently displayed as will NYC highlights like an IAM Statue of Liberty, an authentic New York antique shop, a diorama inspired by Stan Lee, a Plasma Room inspired by Nikola Tesla, and a LEGO bathroom. Advance tickets at 40% off (with other perks) are now available. 419 Broome St., invertedartmuseum.us
5 Fun, Interactive Pop Up Museums in NYC
1. Candytopia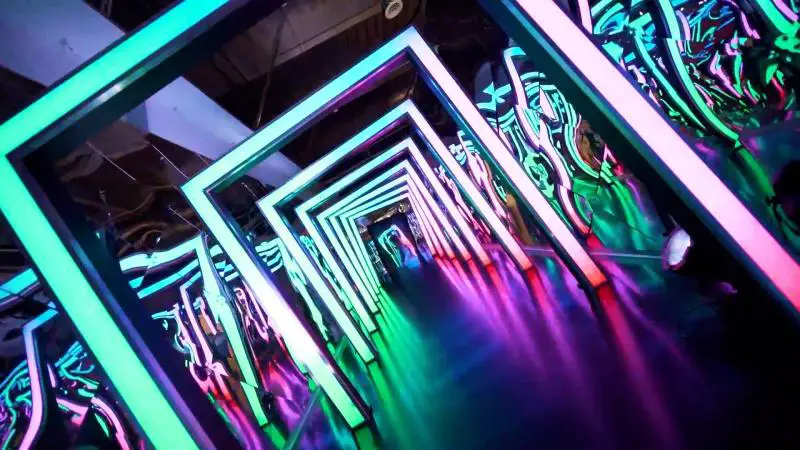 If you've ever wanted a tour of Willy Wonka's chocolate factory, you'll get a taste at Candytopia (without the imminent peril). Dive into a ball pit of marshmallows, view portraits made of candy, and take pics with candy-striped backgrounds and a life-sized emoji. Candytopia is conveniently located near Herald Square, Penn Station, and the Macy's flagship store. Through July 31st, 2022. 111 W. 32nd St., candytopia.com, @thecandytopia
2. Korea: Cubically Imagined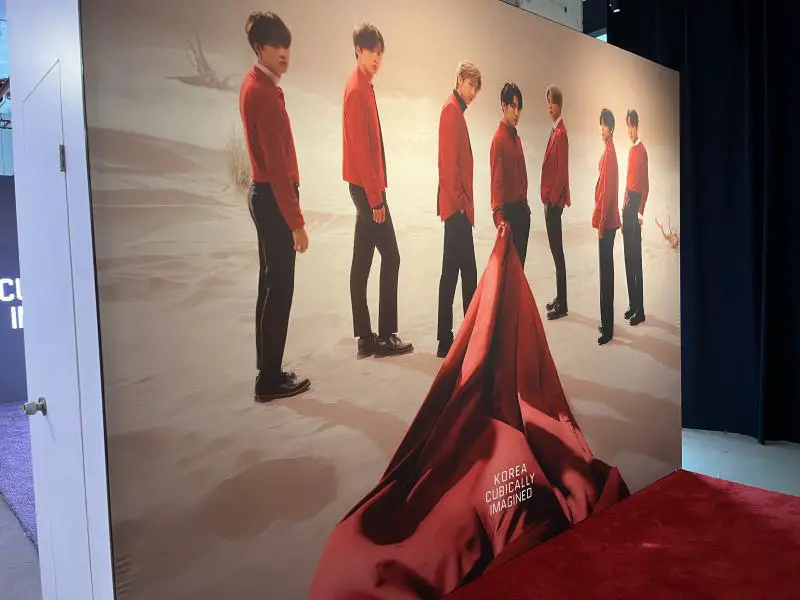 Minutes away from Hudson Yards' The Vessel is new experience Korea: Cubically Imagined. Immerse yourself in Korean culture within one of the four simulation areas here. Start by watching a moving image of Mt. Geumgang. This beautiful painting shows all four seasons on the mountain and dates back to the Joseon period. Then head over to the Seoul exhibit to view imagery remanent of the city. This part of the exhibit also has other fantastic presentations featuring flowers, lights, and more. Next, Parasite fans will be able to experience a special VR world. While the experience is short, you do feel as though you were transported into the film. Lastly, the BTS station is one all ARMY will love! Watch one of their performances on the big screen or don the VR set to experience a private "concert." While in virtual reality fans can pick between DNA and Dope to jam out, too. Check out the exhibit, on view through Saturday, May 14th. It's free and open to the public Monday to Sunday, 10am to 7pm.—Samantha Aronson 549 W. 28th St., reservations
3. Cricket's Candy Creations
Cricket's Candy Creations is a Hudson Square pop-up that lets kids get messy with their favorite medium: candy. There's a Candy Kitchen with Silly Sushi and Bogus Burgers, a place to make a Tasty Trinket, edible slime (it comes in three flavors, Birthday Cake, Gummy Bear, and Candy Slime), a Chocolate Chamber, Lollipop Lounge, and much more. 200 Hudson St., cricketscandy.com
4. The Visionary Universe of Star Trek: Strange New Worlds
The Visionary Universe of Star Trek: Strange New Worlds is an immersive pop up exhibition at The Paley Center for Media. The exhibition celebrates the latest incarnation of the Star Trek franchise, Star Trek: Strange New Worlds from Paramount+, and other series in the Star Trek universe. Throughout the exhibit's run (it ends May 29th), look for screenings, costumes and artifacts, weekend kids and family programs, and the chance to take photos in the captain's chair. 25 W. 52nd St,, 212- 621-6600, paleycenter.org
5.

CAMP x Disney's "

Mickey

& Friends: An Extra Big Adventure"—Coming Soon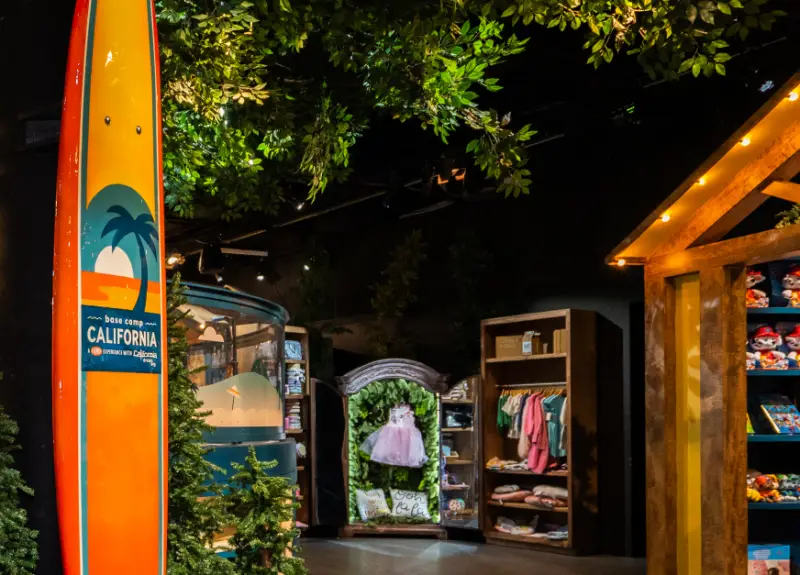 A new interactive retail experience is coming to the flagship CAMP store on Fifth Avenue. Disney fans will not want to miss CAMP x Disney's "Mickey & Friends: An Extra Big Adventure," which opens on May 28th. Behind CAMP's signature Magic Door will be an immersive experience where families are guided by a CAMP Counselor through a narrative-driven adventure, packed Disney and CAMP magic. Guests will climb, slide, bounce, and dance their way through a themed environment. Expect plenty of photo ops along the way. Tickets are $24 each. 110 Fifth Ave., 917-997-0439, camp.com
6. Star Wars Exhibition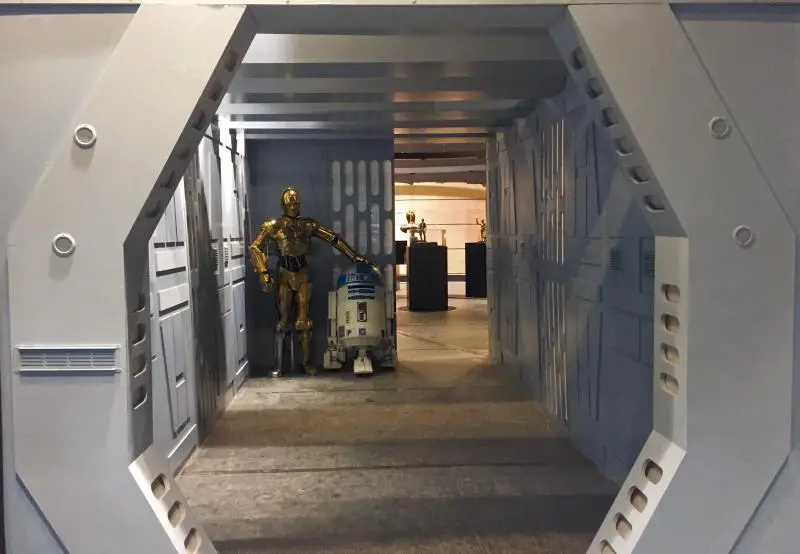 Photo credit: EMS Entertainment.
New exhibition The Fans Strike Back: The Largest Star Wars Fan Exhibition reflects four decades of devoted fandom. Get immersed in the saga as never before with the largest private collection of official Star Wars items, including life-size figures, models, one-of-a-kind sculptures, figurines, photos, posters, and costumes. There are more than 600 collectable items in all. The show runs from March 24th through June, 2022. 526 Sixth Ave., @thefansstrikeback, thefansstrikebackexhibition.com
7. Van Gogh: The Immersive Experience
Step into a van Gogh! Van Gogh: The Immersive Experience is a massive light and sound spectacular featuring two-story projections of the artist's most compelling works. Encounter the brilliance of one of history's greatest artists in a 360-degree exhibit at this waterfront location in Battery Park City. There's also a one-of-a-kind Virtual Reality interactive exhibit that guides you on a 10-minute journey through "A Day in the Life of the Artist." You'll walk alongside Vincent van Gogh and discover the inspiration behind eight of his iconic works, including "Bedroom in Arles" and "Starry Night Over the Rhône." 300 Vesey St., 213-277-2954, vangoghexpo.com/new-york
8. Gold in Motion—Coming Summer 2022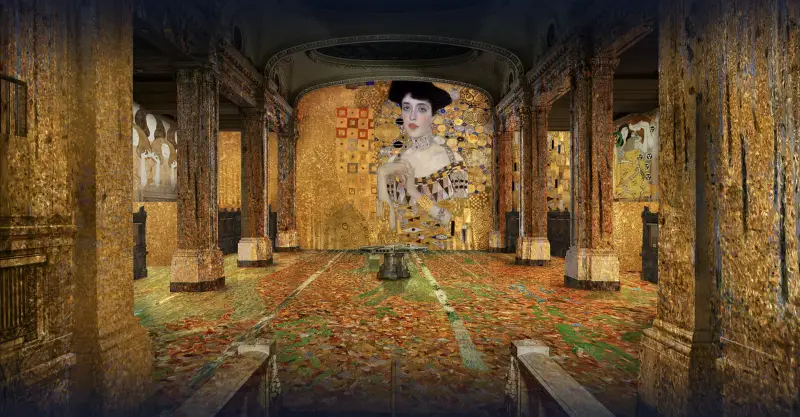 The inaugural Hall des Lumières' exhibition "Gustav Klimt: Gold in Motion" is a multi-sensory celebration of Klimt's most iconic work. Using unique, cutting-edge mapping technology, original soundtrack, and a historic location, let yourself be transported to a world of color in the Financial District. 49 Chambers St., halldeslumieres.com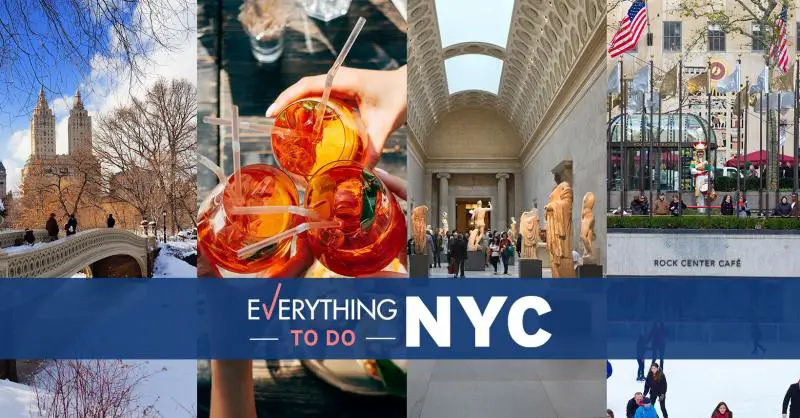 Want free advice on what to do and see in New York? Join our Facebook group Everything to Do NYC, a place for people to ask questions and get tips on how to make the most of the city.