With the Empire State Building turning 85 years old this year, we thought it appropriate to divulge some of the iconic skyscraper's secrets. Don't worry, you won't have to be sworn to secrecy over these strangely interesting facts—but you might be surprised by them! From the time it took to build the Empire State Building to the nap pods that once took over an entire floor, these seven secrets are inspiring, intriguing, and in some cases, downright bizarre!
1. You can get married here.

No, we are not kidding. Every year the Empire State Building has a lottery that allows its winters to get married on the 86th floor observation deck. The catch? It only happens once a year, on Valentine's Day. The ceremony lasts 15 minutes, and in 2015, 100 weddings were performed on the deck.


2. There is a private observation deck.

Ever glimpsed a photo of one of your favorite celebrities atop of the Empire State Building with no gate behind them? That's because there's a private observation deck on the 103rd floor for VIPs. Reportedly, there isn't even an elevator that leads to it, so those VIPs must take the stairs from the 102nd floor. We'd say it's worth it.
3. It has its own zip code.

That's right, the Empire State Building has its own zip code. Because of the building's enormous size and the amount of people that occupy it, the city has given it 10118 as its own, personal zip code, shared by no other building in the city. Pretty awesome if you ask us.
4. The lights go out at midnight during migration season.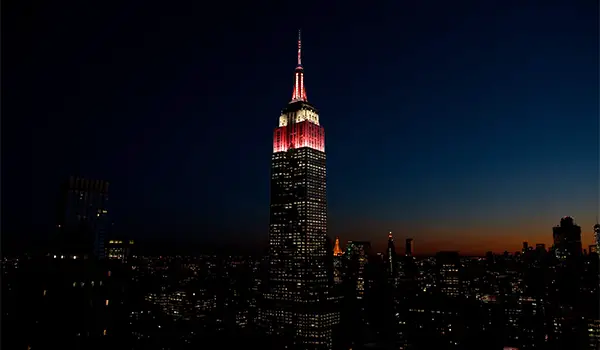 If you ever find yourself up past midnight during the fall or spring seasons and are shocked to see that the Empire State Building isn't aglow, worry not. The darkened skyscraper is not broken; it's merely been turned off so as not to confuse birds who are migrating. Thoughtful, right?
5. It took under two years to build.

Most of us get sick of looking at the same construction project for more than two years, but fortunately for the people living on 5th Avenue during 1930 and 1931, that wasn't a problem. The Empire State Building only took one year and 45 days to be built, making it the quickest construction recorded for a project of its size.
6. Blimps have never docked on top of it.
Though its builders claimed that the spire was designed to be a docking space for airships, this was never the case. In fact, the famous photo of the Navy dirigible Los Angeles docking at the building's post is a fake. The spire was likely added to the building for record-breaking purposes, helping the Empire State Building to surpass the Chrysler Building in height, it's competition at the time of its building.
7. There was once entire floor dedicated to sleeping.
And you thought Google was the only place you could find nap pods? Between 2004 to 2008, an entire floor of the Empire State Building contained nap pods for those wanting to catch some quick shut-eye in intervals of 20 minutes. Though there are no longer nap pods in the building, we have to commend the Empire State Building for being way ahead of the game.