The Call of the Wild Beckons at New York City's Zoos (and Aquarium)
August 31, 2012 - by Ellis Nassour
Curious children of all ages flock to zoos to see the extensive variety of unique, intelligent and sometimes intimidating wildlife that exists. The Wildlife Conservation Society, founded in 1895 as the New York Zoological Society, is befitting one of the greatest cities in the world, managing the largest system of urban wildlife parks worldwide. Each habitat, easily accessible by subway or bus, grants its visitors live, up close [sometimes eye-to-eye], and personal moments with myriad species. The WCS remains dedicated to saving wildlife and wild places worldwide through science, global conservation, education, and management of the world's largest system of urban wildlife parks.
There's the landmark Bronx Zoo, the midtown jewel Central Park Zoo, Brooklyn's Prospect Park Zoo, Queens Zoo, and the New York Aquarium (also in Brooklyn)– each boasting unique exhibits, attractions, and educational programs. Attractions are kid and family friendly, with petting zoos, play areas, rides, and discovery programs.
WCS's flagship animal habitat is the Bronx Zoo, the largest metropolitan wildlife habitat in the U.S., which sits on 265 wooded acres. It exhibits more than 600 species from around the globe, from insects to giant beasts. With attractions like the one-of-a-kind Zucker Bug Carousel, carved from eco-friendly sustainable boxwood, and the butterfly garden, it's virtually a children's entertainment and adventure paradise, where at every corner you observe nature's most amazing creatures.
Antelope, baboons, bison, all manner of deer, flamingos, giraffes (with several spirited youngsters stretching their long legs and necks), lions, and tigers roam their grassy compounds. Western lowland gorillas have their own Congo Gorilla Forest. You can also view the antics of monkeys galore swinging on vines and animals you don't see every day (such as aardvarks, owls, and red pandas).
On the Tiger Mountain expanse, Amur (Siberian) tigers and Malayans graze and laze. The glass-enclosed viewing structure offers up-close views and photo opportunities. Visitors can join a zookeeper demonstration on the care of tigers.
One of the Bronx Zoo's most popular new attractions is the Madagascar! immersion exhibit which brings the island's mysterious, exotic creatures "as close as this." Lemurs, Nile crocodiles, endangered Madagascar-radiated tortoises and ring-tailed mongoose roam in naturalistic habitats.
The 20-minute, two-mile Wild Asia monorail ride, a live guided tour that is both an adventure and educational, crosses over the picturesque Bronx River, twice. Suggestion: ride this attraction early, while the animals are out and about. As closing time approaches, instinct tells them their keepers will soon be taking them to their overnight quarters and they tend to gather by the gates waiting to punch out.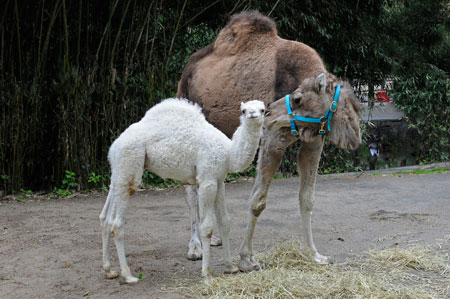 The zoo's Wild Asia section has 12 dromedary [one hump] camels and one Bactrian [two humps]. A male Northern African dromedary calf has joined the herd, the first camel born at the Bronx Zoo since 1982. He'll weigh in as an adult at 1,500 pounds or more. Visitors can ride camels at Asia Plaza [into October, $6; not included in any ticket].
At nearby Jungle World [additional $4 without Total Experience ticket], transport yourself to the tropics, where amid jungle sounds are 800 critters: Malayan tapir, Asian small-clawed otters, white-cheeked gibbons, Indian fruit bats [flying foxes], ebony langurs, and tree kangaroos.
Kids will love the 4-D Theatre, where the 3-D movie actually comes alive with animated manipulation. A special attraction is Avenue Zoo on the Asia Plaza stage [through September 9], with a guest appearance by Kate Monster, the beloved puppet star of the Tony Award-winning musical Avenue Q. It's fun and educational as Kate Monster meets exotic animals and discovers that though they are strange and different, they aren't so scary.
The Bronx Zoo is more than 110 years old and boasts some impressive Beaux Arts buildings from that time. In addition, there's the stunning landmarked Rockefeller Fountain in Astor Court. The three-tiered fountain, carved of Bianco Pi Italian marble, is composed of a swan surrounded by sea creatures, including a nymph. It dates back to 1872 when it was erected in Como, Italy's harbor. Later, in disrepair, it was salvaged by William Rockefeller, shipped to New York, restored, and erected at the Zoo in 1903.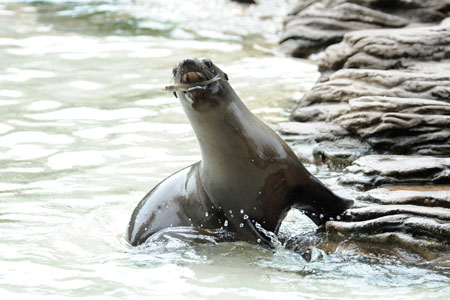 At all of the New York City zoos, immensely popular attractions are the playful sea lions. Try to catch feeding times, morning and afternoon, when trainers put them through their paces. www.bronxzoo.com
Planning a Visit
For directions, transportation, parking options, special attractions, seasonal operating hours, and admission packages to the Bronx Zoo, visit www.bronxzoo.com. Keep in mind, terrain is at various levels and much walking is required, even if you take advantage of the shuttle trams, which don't offer up-close-and-personal views but which will land you in various regions. Wear very comfortable shoes. Bring a stroller or rent one for tots, or you'll be carrying quite a load all day. While every safety precaution possible is in place, young children tend to tire easily. It's vital to keep a close watch on them. Stop often for water, beverages, and snacks. There are clean bathrooms throughout. Concessions, at arena/cineplex pricing, and gift shops abound, but you can pack favorite snacks and enjoy them in numerous picnic areas.
Beyond the Bronx Zoo
In the center of midtown is one of our crown jewels: the Central Park Zoo, with one of the most beloved monuments, the Delacorte clock, with animals dancing to nursery rhymes. For the tots, there's the Tisch Children's Zoo, designed to inspire children, who can walk across lily pads, feed a goat, and pet domesticated animals. Among the animals are Artic polar bears (also at the Bronx Zoo), penguins, red pandas, snow monkeys, and snow leopards. There's also Tropic Zone: The Rainforest and a 4-D Theatre. www.centralparkzoo.com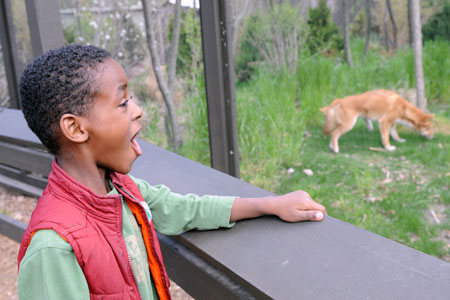 Brooklyn's compact, well-designed Prospect Park Zoo, in magnificent Prospect Park [designed by Frederick Law Olmsted and Calvert Vaux, who designed Central Park] exhibits more than 400 animals including sea lions, wallabies, red pandas, prairie dogs, and reptiles. Don't expect large mammals, such as bears, elephants, hippos, lions and tigers. A typical visit might take between 90 minutes and two hours. Recently debuting are two male and two female dingoes, wild dogs found in Australia's open plains and forests, adding a new species to the zoo's Australian Walkabout on Discovery Trail. They're the first dingoes in a New York City zoo in 40 years. www.prospectparkzoo.com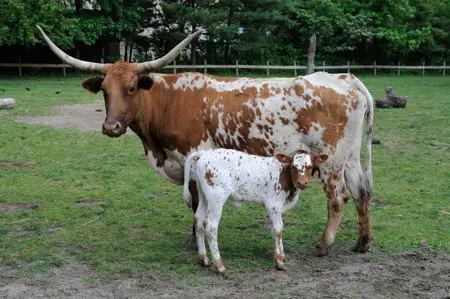 Along with a petting zoo, a unique highlight of the 18-acre Queens Zoo, located in Flushing Meadows/Corona Park constructed on the site of the 1964 World's Fair, is the geodesic dome aviary. It was designed as a cageless zoo. It's home to more than 75 species native to the Americas. There are alligators, bald eagles, Andean bears, bison, coyotes, cranes, Roosevelt elk, Texas longhorn, and thick-billed parrots. New residents include a trio of endangered Chacoan peccaries, a species nicknamed "the pig from hell" and found only in South America's remote dry forests and, until recently, thought to be extinct.
"This was a species that was not even known to still exist a few decades ago," says zoo director Scott Silver. "Being able to exhibit them helps us further our goal of educating people on the need to save wildlife and habitats." It's estimated that only 3,000 are left in the wild. www.queenszoo.com
At Brooklyn's New York Aquarium, there's a rare breed of Pacific walrus, an array of sharks, stingrays, all manner of colorful fish, and frogs. For more fun, the famous wooden rollercoaster, the Cyclone, is literally next door. www.nyaquarium.com
The eight-acre accredited Staten Island Zoo isn't affiliated with the Wildlife Conservation Society. More than 400 animals of over 206 different species are exhibited. Popular attractions are the African Savannah and the Serpentarium, regarded as one of North America's largest and complete collections of rattlesnakes. Residents include the "Staten Island Chuck," a groundhog who's New York's official Groundhog Day forecaster and Grandpa, a Black-handed Spider Monkey, who's been keen to predict U.S. Open winners. www.statenislandzoo.org
Looking for Free Group Planning Services?
Get free advice on planning your group's trip to New York.
RESTAURANTS

Conveniently located in the Port Authority Bus Terminal, the...

THEATER

Kander and Ebb's "musical vaudeville" in which Roxie Hart ga...

SHOPPING

Specializing in the great vineyards of California, France, A...

SIGHTSEEING

Manhattan's premier all-glass, European-inspired dining crui...