Fantasma Magic: Now You See It, Now You Don't
December 27, 2012 - by Ruth J. Katz
Open sesame...abracadabra...hocus-pocus... Utter these alchemy-inducing incantations in the middle of the new, enchanting Fantasma Magic store and you might move the floor, open secret doors, or even raise the specter of Houdini himself. (A life-sized Houdini automatronic drops out of the ceiling every 15 minutes to stage his famous straitjacket maneuver.) This shop is located inside the new Houdini Museum of New York where his actual props, handcuffs, straitjackets and secret gimmicks reside. The magic shop allows you to become the next Houdini and learn truly amazing magic tricks that are easy to do. However, even the most advanced magicians like David Blaine, Penn and Teller and David Copperfield visit often. Don't be surprised if you see another celebrity while you visit Fantasma Magic and the Houdini Museum.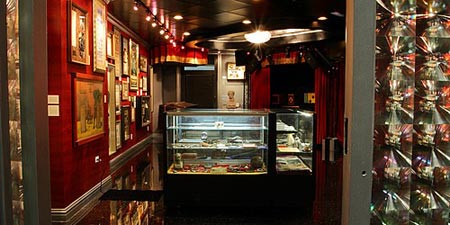 As one young visitor told us, "This is the funnest store." But it's in-the-know, grown-up practitioners of legerdemain who are truly bowled over. And our glee was due in no small part to the coin magic shown us by renowned performer and resident guru Magick Balay (you've seen him countless times on TV).



But this isn't just a store selling "gimmicks." It's also a place where sleight-of-hand artists can "hang out and kibbitz," as owner Roger Dreyer puts it. There are free lectures as well as classes and workshops on everything from basic magic to juggling, ventriloquism, and so on. The venue also hosts private events that can range from $1,000 to $10,000, depending on the entertainment selected and number of guests.

Ask Dreyer, The CWO (Chief Wizard Officer), to discuss the shop and magic, and his megawatt smile takes over. He's performed since he was a child, "from the time kids were cheating me at cards. So my grandfather got me a deck of marked cards."

The store houses items as diverse as starter magic kits for children five & up, charming antique automata (performing magic tricks), and even collectible Houdini items.There are countless versions of all types of supplies — for example, the three cups (used for the oldest trick in recorded history) come in plastic versions at $12 and also in exotic woods with mother-of-pearl inlays at $1,200 — and at every price point in between.
421 Seventh Ave. at 33rd St., 3rd flr., 212-924-8345; www.fantasmamagic.com; www.houdinimuseumny.org


Looking for Free Group Planning Services?
Get free advice on planning your group's trip to New York.
RESTAURANTS

Beloved midtown spot takes inspiration from local tradition,...

THEATER

Gaston Leroux's famous period thriller is now one of Broadwa...

SHOPPING

PANDORA, one of the leading names in jewelry for more than 3...

SIGHTSEEING

Start by ascending to the top of the tallest building in the...