The hub of New York, Grand Central Terminal, is more than an iconic train station. Step inside the historic building's several passageways and find shops of every kind. This complete guide to shopping at Grand Central Terminal in NYC includes top fashion designers, small boutiques, and specialty stores within the terminal.
Before you go: Check out this map of Grand Central Terminal, so you know exactly where your favorite stores are located.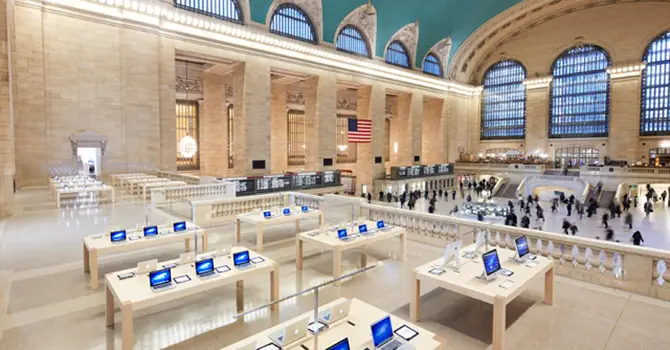 Apple Store
East Balcony
212-284-1800
At the Grand Central Apple outpost, purchase a brand new iPhone, troubleshoot and get electronic advice at the Genius Bar, and walk away feeling like the tech savvy New Yorker (or tourist) you are.
The Art of Shaving
Lexington Passage
212-682-0248
This grooming and men's skincare store features top-of-the-line products, from aromatherapy skin tonics, to shaving brushes for the well-preened man.
Aveda
Lexington Passage
212-682-5397
Stock up on plant-based beauty products, and enjoy complimentary mini-treatments while you shop.
Banana Republic
107 E. 42nd Street
212-490-3127
Men's and women's apparel that corners the market on classic American chic style. Tourists, head here as a shopping destination. Commuters, pick up some new duds on your way to the train.
Beer Table to Go
Graybar Passage
212-922-0008
A microbrewer's micro-sized beer paradise. Though the storefront may be mini, at Beer Table to Go, choose from 100 bottled beers, including old standbys and seasonal brews, or fill up a 64-ounce growler with one of six rotating local drafts.
Central Watch
45th Street Passage
212-685-1689
Have your watch battery replaced with same-day service, or shop for a beautiful, restored vintage timepiece.


Cursive
Lexington Passage
212-867-5550
Explore a world of fine paper, stationery, greeting cards, journals, pens, and unique gifts at the quite charming Cursive New York.
Dahlia
Biltmore Passage and Lower Level
212-697-5090
Everything is in bloom at Dahlia! Purchase beautiful, fresh flowers to bring home to your honey, or to liven up your day.
GNC Live Well
Graybar Passage
212-953-0899
Keep your body -- and vitamin cabinet -- healthy with GNC's assortment of quality healthcare supplements and products.
Grand Central Optical
Lexington Passage
212-599-1221
Keep your eye on the prize with some snazzy new spectacles from Grand Central Optical. You can also get a full eye exam on-site.
Grand Central Racquet
45th Street Passage
212-292-8851
Purchase a new racquet for any racquet sport, or have your existing racquet restrung with a fast turnaround time. Oh, and if you're looking to book a court time, the Vanderbilt Tennis and Fitness Club has you covered.
Grande Harvest Wines
Graybar Passage
212-682-5855
Snag a bottle of your favorite white or red wine, plus peruse a fine selection of whiskey, tequila, and other spirits.
InnaSense
Lexington Passage
212-883-7660
Shop fine gemstone jewelry, including braclets, necklaces, and beautiful rings that make a bold, elegant statement.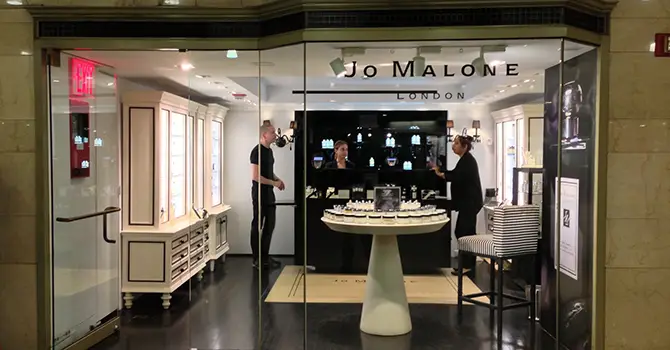 Jo Malone
Lexington Passage
212-682-1904
Get whisked away by the unique fragrances from London-based Jo Malone's exclusive collection. Shop perfumes, lotions, and products for the bath and home.
Kenneth Cole
107 E. 42nd St.
212-949-8097
Head to Kenneth Cole's Grand Central storefront and find the designer's timeless collection for men's and women's classic, yet urban clothing.
Kidding Around Toys
42nd Street Passage
212-972-8697
Pick out the perfect toys and gifts for children at this family-owned toy store, right in Grand Central Station.
LittleMissMatched
Lexington Passage
212-682-7686
Dress your daughter up in funky, zany patterns that defy complimentary colors and prints. LittleMissMatched is for creative girls who want to have fun with fashion.
L'Occitane
Lexington Passage
212-557-6754
Fragrant French products for the body and home. L'Occitane's most popular scents include verbena and lavender. Their shea butter collection is also a huge hit.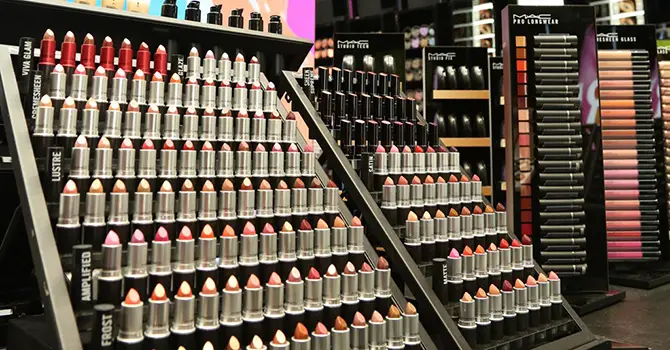 M.A.C Cosmetics
Lexington Passage
212-297-0107
Known for their bold and flashy colors, M.A.C. offers a full line of cosmetics, from bright, red lipsticks, to creamy, foundations for every skin tone.
O&Co.
Graybar Passage
212-973-1472
Transport yourself with the authentic Mediterranean flavors of the 23 olive oils O&Co. has ready for you to taste and purchase. You'll also find gourmet vinegars, dips, and finely crafted kitchenware.
Origins
Lexington Passage
212-808-4141
Organic, plant-based skincare and body products designed through science to give your body the best possible results. For some extra fun, pop a peppermint gumball from their giant gumball machine.
Papyrus
42nd Street Passage
212-490-9894
A paper lover's palace, Papyrus sells beautifully crafted stationery and paper goods, so you can send the perfect greeting.
PIQ
Shuttle Passage
212-867-0969
PIQ is the destination for quirky goods, from satirical birthday cards, to funky shaped kitchen gear, and extra large wine glasses.
Swatch
Lexington Passage
212-297-9192
Always be on time with Swatch's fun, innovative watches bursting with color and Swiss personality.
Tia's Place
Lexington Passage
212-922-9577
There's no shortage of women's baubles at Tia's Place. This boutique is packed with beautiful scarves, Swarovski-encrusted accessories, and chic fashion to make you feel extra fly.
Toto
Lexington Passage
212-661-4499
Toto specializes in fine leather goods, from handbags to wallets. If leather isn't your thing, check out their quality scarves and accessories for sale.
Tumi
Lexington Passage
212-973-0015
For the high-class traveler, Tumi offers top-of-the-line travel gear, from suitcases, to luxury briefcases, and everything in between.
Vince Camuto
42nd Street Passage
646-588-4444
The Vince Camuto boutique sells haute womenswear, from dresses, to chic casual styles that translate from the runway to the concrete jungle perfectly.