Guy Fieri—with his bleached blond hair, goatee, outlandish shirts, shades, bling and motorcycle jackets, best known as the host of Diners, Drive-ins and Dives on the Food Network—is an in-your-face kind of dude. So is his new Times Square restaurant, Guy's American Kitchen and Bar. It's a three-floor, 500-seat everyman colossus complete with elevator, deer heads, guitars, Camaro and Corvette Sting Ray logos, Jack Daniels posters, and a high industrial ceiling. You get the idea: a huge, rustic, splashy spot that gives off saloon and pub vibes.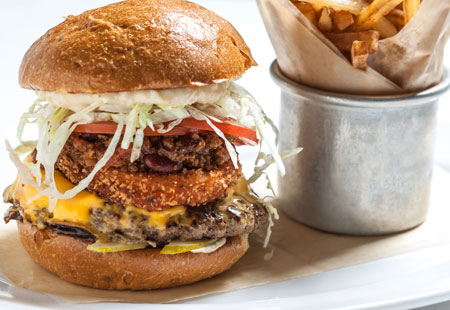 The audacious Mr. Fieri, never one to be shy or retiring, has charged right square into the heart of theater land on West 44th Street. Along with his partner, Heartland Brewery, they have created a big, busy, bustling enterprise that specializes in no-nonsense, king-sized portions of robust food.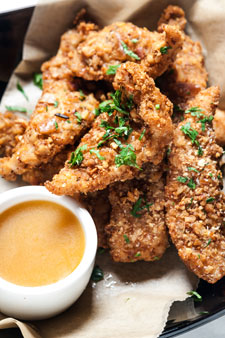 Its location is also appropriate. Times Square is often referred to as the crossroads of the world, and despite the "American" in its name, Guy's is in many ways a culinary crossroads. While all the expected ribs, steaks, burgers, pulled pork, onion rings, chili, and chicken wings are available in abundance (as are Mr. Fieri's signature "awesome pretzel chicken tenders") there are also Mexican, Japanese, Italian and Chinese spins galore. The cocktails keep up the beat with the likes of "Jimmy Fallon's Boozy Creamsicle and the North Cali Mojito.
Our appetizers illustrated the diversity: from below the border, three tangy chipotle BBQ pork soft tacos topped with roasted corn salsa, cotija cheese, cilantro, and tequila lime cream in addition to the sweet and spicy chipotle pulled pork. By way of the Orient there were four sashimi tacos filled with cold ahi tuna given a turn or two by wasabi, soy, and mango jicama salsa. The Malibu oysters were fresh and fine, and orchestrated by their abundant spinach, peppers, onions, Havarti and lemon. Those pretzel chicken tenders were super tender and as crunchy as advertised with a welcome, spicy honey-Dijon dip.
Among the main events was BBQ buffalo meatloaf, a hearty revelation with a BBQ glaze and onion straws with ranch and roasted garlic mash. The Cedar plank salmon, with jalapeño apricot jam, was flaky and moist. The Motley Que ribs, six house-smoked St. Louis ribs, were everything they should be and more as were the soft filet mignon medallions in the steak Diane filet.
Think chocolate when ordering dessert. Aim for the dense, rich chocolate malt cake complete with two chocolate malted balls and the gooey hot fudge sundae with warm brownie bits and vanilla ice cream.
220 W. 44th St. (7-8 Aves.), 646-532-4897; www.guysamerican.com