Steps away from the United Nations, the Japan Society in Midtown East welcomes anyone interested in things Japanese. Now in its seventeenth year, Japan Cuts, the annual film festival kicked off for summer, featuring a range of films from cutting-edge indies to blockbusters, anime and documentaries. Tickets, from $15 to $12 (seniors and students), always sell out fast. During the year, other films, largely Japanese classics and retrospectives, are screened—generally monthly. From September through June, the Japan Society offers performing arts—music, plays, play readings, and dance.

Or, on a calming note, try the Tuesday meditation series, 45 minutes of centering led by members of the New York Zendo Shobo-ji. 
The Galleries, closed for summer, reopen in October with Ego Obscura, works by Yasumasa Morimura, a contemporary Japanese "appropriation" artist who inserts his face and body into historical portraits, riffing on artists from Manet to Rembrandt to Cindy Sherman. Morimura's work takes on gender, race, ethnicity, and cultural standards and is on view in major museums worldwide.
Throughout the year, language classes are very popular. There are four-day intensive courses that are useful for those traveling to or planning to move to Japan, as well as classes in speaking Japanese for people with no previous background. The Nihongo Chat and J-Culture series, free to current Language Center students and $5 for non-students (RSVP required), has refreshments and sometimes a special addition like a Japanese martial arts demo.
Visitors with kids enjoy family programs, sometimes tied to Japanese holidays and cultural traditions with crafts, performances, and other child-friendly activities. Throughout the year, Talks+ focus on topics such as design, architecture, pop culture, and fashion. Business and Policy programs target those with corporate, tech, and financial interests. There are also one-off events like sake tastings, which bring Japanese brewers face to face with audiences to explain and initiate experiences with this national beverage.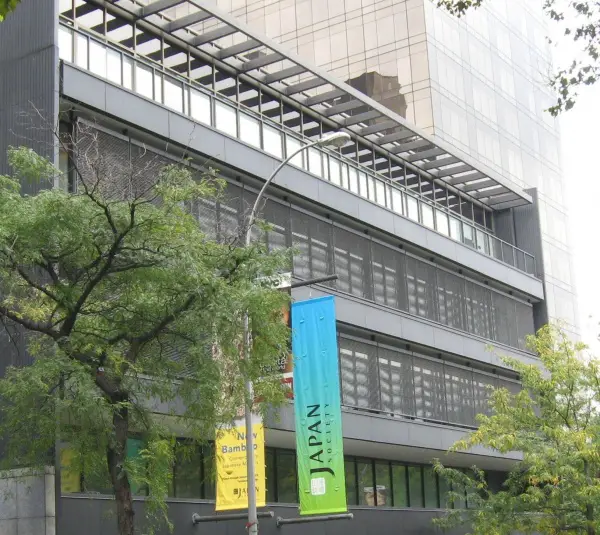 By Jim.henderson - Own work, Public Domain
Japan Society is a lovely, airy, five-story spot with indoor gardens, a reflecting pool, and a waterfall. Founded in 1907, the organization offers wonderful experiences of Japanese art and culture and facilitates the exchange of ideas, knowledge, and innovation between the U.S. and Japan. Along with the mostly American audiences, come to a lecture, exhibit, or special program. You will leave energized and delighted. The Japan Society, at 333 E. 47th St., is open Monday through Friday and select weekends and evenings. Programs are accessible. Walking in is free as are gallery visits. Other programs require tickets. For more information, visit japansociety.org.