February 25 is Mardi Gras, when New Yorkers channel the New Orleans spirit. That means masquerades, parades, hurricane cocktails, po' boys, and jazz are all fair game for your Fat Tuesday fun. Below are concerts, restaurants, and parties for your Mardi Gras festivities in NYC. 
Mardi Gras NYC: Brass, Sass & Ass at House of Yes
House of Yes' annual Mardi Gras party boasts a parade to fit the occasion. The large Bushwick, Brooklyn venue specializes in outrageous entertainment and all-night revelry—so wear a marvelous mask, and enjoy their epic take on Mardi Gras. You'll also be treated to a brass band and a DJ (that's the "ass" portion of the evening, according to the invite). Circus stunts and dancing are also on the docket. Best of all? No cover. 2 Wyckoff Ave., 646-838-4937, eventbrite.com
Mardi Gras NYC: Brooklyn Bowl
Bring your family to the Mardi Gras edition of Brooklyn Bowl's kid-friendly concert series. The Williamsburg alley/concert venue will host the band Black Tie Brass on February 23 at noon. Dancing and singing along are encouraged, and games will be provided. 61 Wythe Ave., 718-963-3369, brooklynbowl.com


Mardi Gras NYC: Da Capo
Head to the Upper West Side for a Fat Tuesday/Mardi Gras shindig at Da Capo. Look for all the N'awlins favorites, including Hurricanes, Abita Beer, Sazerac, po boys, andouille sausage, beads, masks, and a three-piece brass band! 322 Columbus Ave., 646-882-0197, dacaponyc.com
Mardi Gras NYC: Ana Popovic at The Iridium
Photo: Martine Berendsen
Visit a jazz and blues club for Mardi Gras, and savor a new take on Southern music. Expert blues guitarist Ana Popovic will perform February 24 and 25 at The Iridium in Hell's Kitchen. The intimate underground venue serves great food and drink, and this performer will wow you with guitar prowess worthy of B.B. King himself. 1650 Broadway, 212-582-2121, theiridium.com
Mardi Gras NYC: Hornblower Bateaux Brunch Cruise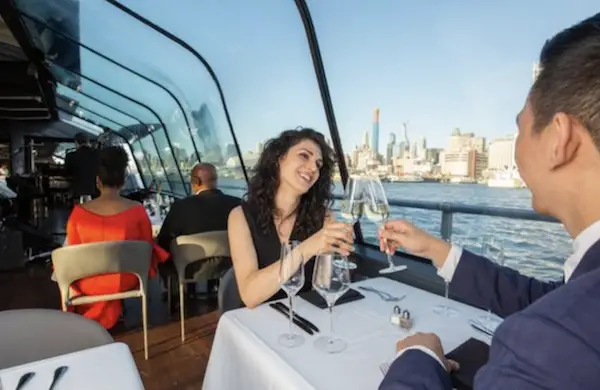 Listen to jazz piano on a European-style boat for Mardi Gras this year. Hornblower offers its brunch cruise every Sunday on a beautiful, climate-controlled ship with all-glass walls for supreme skyline viewing. Get pics of the Statue of Liberty and the Brooklyn Bridge while sipping on unlimited mimosas: it's equal parts sightseeing, dining, and entertainment! A brunch buffet will be on offer at this Sunday cruise, offered two days before Mardi Gras proper, on February 23. Depart from Pier 61, 212-727-2789, hornblower.com
Mardi Gras NYC: Aqua Boil

Aqua Boil, the new Cajun-inspired seafood boil restaurant in Hell's Kitchen, will be hosting a week-long New Orleans-style Mardi Gras celebration. From Monday, February 24th through Sunday, March 1st, the restaurant will be offering all-you-can-eat shrimp boils priced at $35 for 90 minutes. You can customize with sauce (garlic butter,lemon pepper and Cajun mix, garlic butter, or lemon pepper and Old Bay) and spice level (mild, medium, spicy, or raging hot). There will be sides as well, like oven-baked Brussels sprouts, garlic fried rice, andouille sausage, corn, garlic bread, and potatoes. A cocktail may complement as well: try a "Seas the Day!" with tequila, mango puree, and a spicy Cajun salt rim. 750 Ninth Ave., 212-464-7428, aquaboilnyc.com
Mardi Gras NYC: Cha Wa at DROM
Cha Wa is sure to get you moving for Mardi Gras. The group bills itself as a "New Orleans brass band-meets-Mardi Gras Indian outfit," complete with brass and ostentatious outfits worthy of a Nola parade. The band will perform with the funk and R&B group Drop the 4 at Drom in the East Village for their Mardi Gras show. The performance starts at 11pm on Saturday, February 21. 85 Ave. A, 212-777-1157, dromnyc.com
Mardi Gras NYC: Rosé Mansion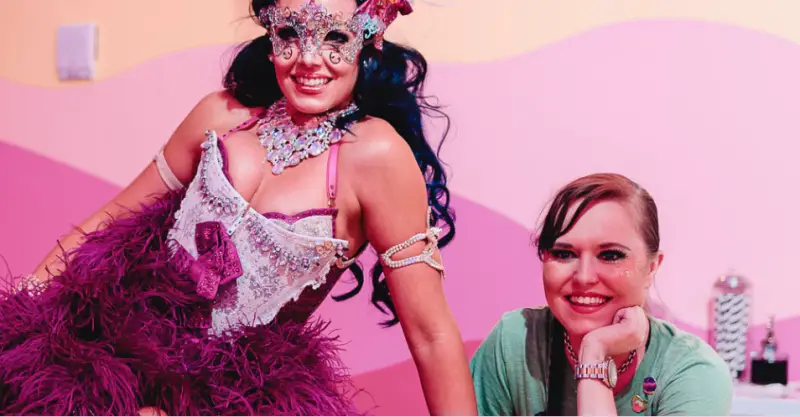 Rosé Mansion has 14 rosé-themed rooms, perfect for sipping, learning, and working some Instagram magic. For Mardi Gras, they'll be putting on a rosé-inspired fête. Expect can wine specials, beads, and all that jazz. Toss confetti, don some feathers in the mansion's French Cabaret, sip on King Frosé, and win a special prize if you find the hidden baby.  The weekend runs just ahead of Fat Tuesday itself, from Friday, February 21, through Sunday, February 23. 111 W. 32nd St., rosewinemansion.com, @rosewinemansion
Mardi Gras NYC: Jimmy Cobb at Blue Note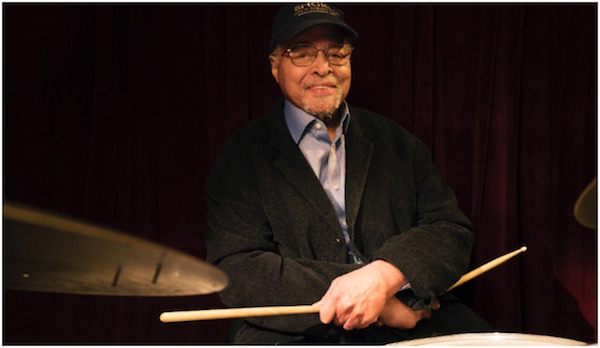 Celebrate the jazziest holiday with a trip to one of New York's most storied clubs. The night of Fat Tuesday, the Blue Note will host two performances by jazz drummer Jimmy Cobb, who played on Miles Davis' iconic Kind of Blue. Cobb will bring his sensational percussion alongside Jazz by 5 at both the 8pm and 10:30pm shows. 131 W 3rd St., 212-475-8592, bluenotejazz.com
Mardi Gras NYC: Le Privé
Pay tribute to the French, who brought the Mardi Gras tradition to America in the 1700s. Hells Kitchen's Le Privé is our pick for a laid-back and elegant French bistro this February. At weekend brunch or Fat Tuesday dinner, you'll have access to authentic Champagne, escargots, and updated favorites like the lamb burger. The intimate Victorian atmosphere is the perfect place to indulge in roast chicken and a cheese plate before you give up dairy for Lent. 626 10th Ave., 212-837-2795, lepriveny.com
Mardi Gras NYC: Claw Daddy's
The spirit of Louisiana cooking is alive and well at the Lower East Side's Claw Daddy's. This ode to the Deep South shellfish boil offers Cajun/Creole basics like shrimp and crawfish, fried green tomatoes, and fried alligator for the fearless. The cornerstone of their drink menu is the "Adult CapriSun," with variations like the spicy Harlem Holiday and a drink named after Mardi Gras itself (passionfruit, mint, and soju). Claw Daddy's also has a location near Barclays Center in Brooklyn. LES: 185 Orchard St., 646-590-6816; Brooklyn: 31 Third Ave., 347-318-8893; clawdaddysnyc.com
Mardi Gras NYC: Strip House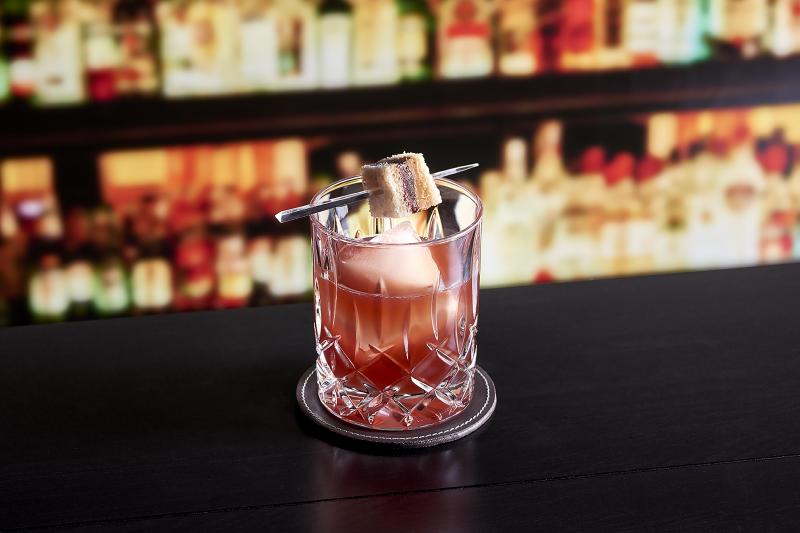 Indulge all your senses when you experience famed New York City steakhouse Strip House. An innovative menu features signature prime cuts of beef, paired with an extensive wine list. The dining room is striking with a siren-red interior and black and white vintage photography. For Mardi Gras, take advantage of a last chance for decadence with incredible steaks and specialty cocktails like the "PBJ Old Fashioned" above. 
Strip House Midtown is located at 15 W. 44th St. Call 212-336-5454 or visit striphouse.com/venues/midtown for reservations; Strip House Downtown is located at 13 E. 12th St. Call 212-328-0000 or visit striphouse.com/venues/downtown for reservations. Strip House Speakeasy, 11 E. 12th St. (btw. Fifth Ave. & University Pl.), 212-838-9197, striphouse.com/venues/speakeasy.