Before abstract art was a speck in Kandinsky's eye, the painter Hilma af Klint (1862-1944) was pioneering non-representational painting in Sweden. A spiritualist who claimed to communicate with the dead, af Klint worked in near-obscurity, forbidding her paintings from public exposure until 20 years after her passing. Upon her death in 1944, she left 1,300 paintings behind, a body of work constituting some of the world's first abstract art. Discover Hilma af Klint, a woman before her time, at the new Solomon R. Guggenheim Museum exhibit Hilma af Klint: Paintings for the Future, opening October 12.
Note: to celebrate the final days of the exhibition the museum will be open until 8pm starting Friday, April 19 through Tuesday, April 23.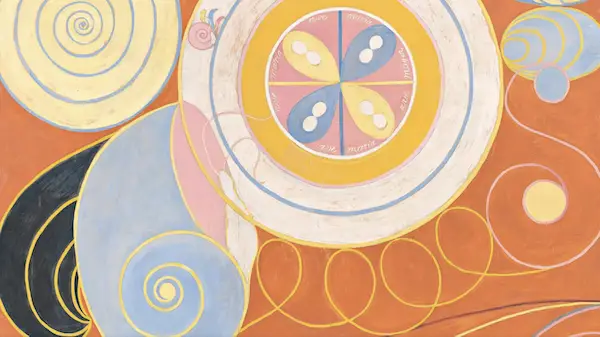 Group IV, the Ten Largest, No. 3, Youth, 1907, from Untitled Series. Photo: Albin Dahlström, Moderna Museet, Stockholm


This exhibition will show over 170 of af Klint's non-figurative paintings, richly colored and often staggering in scale. Somewhat like the biomorphic forms of a later artist like Joan Miró, many of these pieces play with geometry and floral shapes that frequently overlap as they seem to swim across the canvas. Other works like No. 2a, The Current Standpoint of the Mahatmas feel more somber and reflective, with neutral colors and a singular geometrical shape.
Unlike her Impressionist contemporaries like Monet or Cezanne, af Klint didn't paint to represent people, places, or objects in the visible world. Much more interesting to her were images inspired by the paranormal and the supernatural. Af Klint participated in the spiritualist movement, which influenced Europe and the U.S. in the late 19th century. Spiritualists sought to commune with the dead and other supernatural powers through séances presided over by a medium. Similar movements such as Theosophy and Rosicrucianism were also of interest to af Klint.  
For ten years, af Klint met with a group of women called "The Five" for prayer, Scripture, and séances. At these meetings, they purportedly spoke with spirits they called De Höga, or "The High Ones." Af Klint felt a special connection with these spirits, who commissioned her to paint a series later known as The Paintings for the Temple. These 193 paintings, completed from 1906 to 1915, mark af Klint's initial departure from the portraiture and landscapes on which she had built her career. More importantly, this project numbers among the first works of abstract art in the world.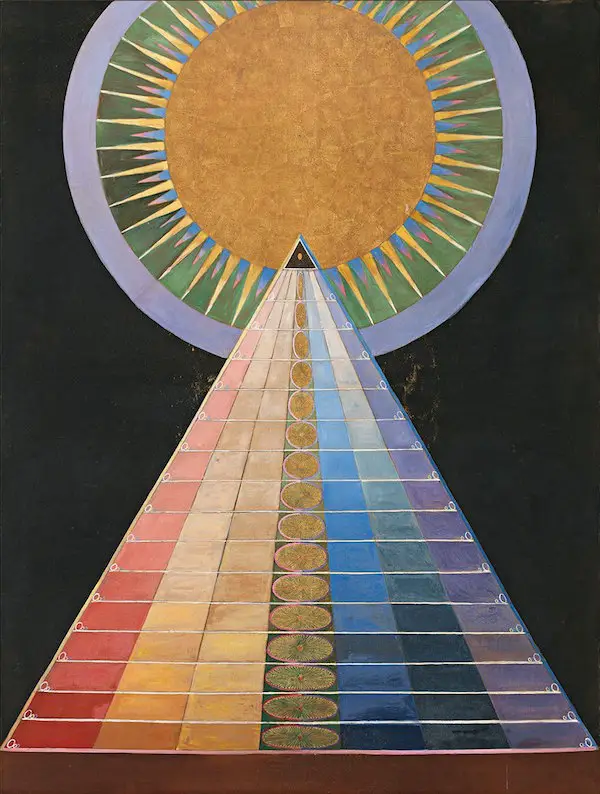 Hilma af Klint, Group X, No. 1, Altarpiece(Grupp X, nr 1, Altarbild), 1915 from Altarpieces (Altarbilder)
Oil and metal leaf on canvas, 237.5 x 179.5 cm, The Hilma af Klint Foundation, Stockholm
Photo: Albin Dahlström, the Moderna Museet, Stockholm
Paintings such as Group X, No. I, Altarpiece, which depicts a rainbow-hued pyramid beneath a resplendent sun, are an expression of the higher reality af Klint sought to represent. Arranged and designed like this, the triangle and circle strike viewers as mathematical and mystical at once. It's almost as if, stepping up the pyramid, one could ascend to where the "High Ones" live and unlock more cosmic mysteries.
Af Klint tended to describe the paintings as if they were not her invention, studying religions both contemporary and ancient to find the symbols that made their way into her paintings. Perhaps the work's unintelligible nature led her to agree with the "High Ones," who commanded her that no one should see the paintings. So she kept them in secret, all 1,300 paintings and 125 notebooks full of work, and never exhibited them in public during her lifetime.
In 1944, Hilma af Klint died of injuries from a traffic accident. Her will ordered that none of her art should be shown for at least 20 years. In 1986 the Los Angeles County Museum of Art (LACMA) showed af Klint's work to the public for the first time in a show called The Spiritual in Art: Abstract Painting 1890-1985. 
As af Klint worked on The Paintings for the Temple, she envisioned a spiral temple as their eventual home. She got her wish over a century later with this exhibition at the Guggenheim, where af Klint's groundbreaking work will line the winding walk of this spiral (cultural) temple designed by Frank Lloyd Wright.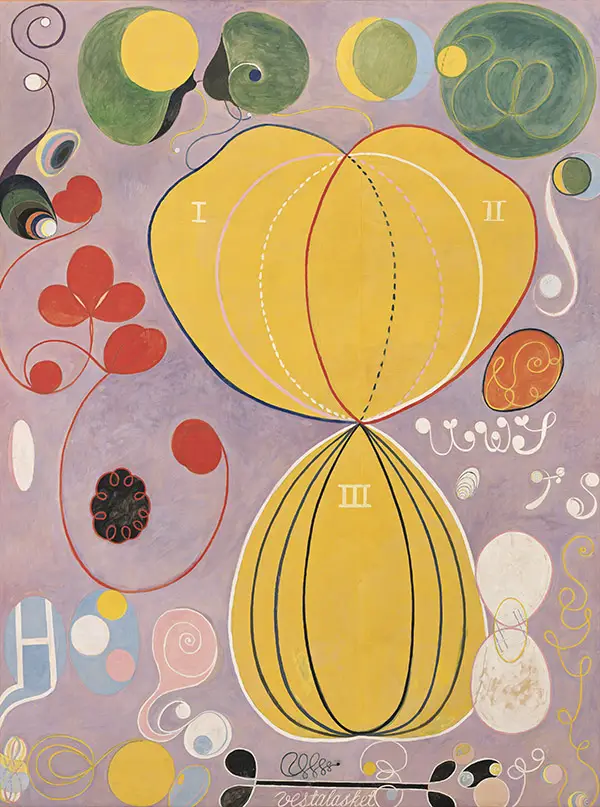 Hilma af Klint, The Ten Largest, No. 7., Adulthood, Group IV, 1907, Tempera on paper mounted on canvas, Stiftelsen Hilma af Klints Verk, Photo: Albin Dahlström/Moderna Museet
Hilma af Klint: Paintings for the Future opens October 12 and will close April 23, 2019. It is curated by Tracey Bashkoff, Director of Collections and Senior Curator, with the assistance of David Horowitz, Curatorial Assistant, and organized with the cooperation of the Hilma af Klint Foundation, Stockholm. This exhibition is presented in conjunction with R.H. Quaytman: + x, Chapter 34, which presents new work from contemporary artist R.H. Quaytman, inspired by af Klint's.
The Solomon R. Guggenheim Museum is located at 1071 Fifth Ave. Call 212-423-3500 or visit guggenheim.org for tickets and more information.