The 12 Best Restaurants for Indian Food in NYC
July 14, 2017 - by Chelsey Grasso and Regina Molaro
Spice lovers know where to find a good Indian food fix in their hometown, but sometimes it can be tricky to find a great Indian meal when you're traveling, especially to a place as potentially overwhelming as NYC. Fortunately, we've rounded up the best Indian cuisine in the city, and we know that New York locals agree with us. Enjoy your favorite curry-filled dishes and spice-infused entrees at these seven dining establishments below. You might not be in India, but that doesn't mean your food can't be authentic.
Best of NYC Indian Food: Darbar Fine Indian Cuisine (Midtown East)
Bustling Midtown's Darbar Fine Cuisine offers the authentic taste of India in an exotic space that invites guests to enjoy the art of fine dining. A vast selection of appetizers, soups, salads, entrées, desserts, and drinks are offered. Enjoy the house specialty—beetroot malai kofta, which features beetroot dumplings and onions in an aromatic sauce. Another specialty is the lamb/goat bhuna, cooked in special spices and herbs. Darbar also features a lunch buffet and happy hour. 152 E. 46th St., 212-681-4500, darbarny.com
Best of NYC Indian Food: Darbar Grill (Midtown East)

For those seeking a more casual dining experience, Darbar also operates Darbar Grill, which is renowned for its offering of topnotch Indian fare at budget-conscious prices. Catering to a wide range of preferences, the extensive menu features lunch and dinner, as well as happy hour. A prix fixe menu includes a $40 Spring Spice Lunch and All You Can Eat Lunch Buffet. From traditional to modern, the menu includes lamb tikka masala, shrimp biryani, and more. 157 E. 55th St.,
212-751-4600, darbargrill.com
Best of NYC Indian Food: Junoon (Flatiron)
Junoon is all about respecting classic Indian cuisine while not being afraid to modernize it in the process. It's also one of the most high-end Indian restaurants you'll find in New York City. Dinner is served in three courses, allowing guests to choose an appetizer, main course , and dessert for $65 total. Children under 13 are not allowed in the main dining room—we told you, this place is high class. 27 W. 24th St., 212-490-2100, junoonrestaurants.com
Best of NYC Indian Food: Brick Lane Curry House (East Village)
Brick Lane Curry House got its claim to fame on Man vs. Food where its Phaal Curry Challenge was featured on national television. Fortunately, the average diner doesn't have to order what's known as "the hottest curry in America", and instead can stick with flavorful classics that are cooked to perfection like Tikka Masala, Chana Masala, and Tandoori Chicken. Additional location in Midtown East. 99 2nd St., 212-979-2900, bricklanecurryhouse.com
Best of NYC Indian Food: Basera Indian Bistro (Hell's Kitchen)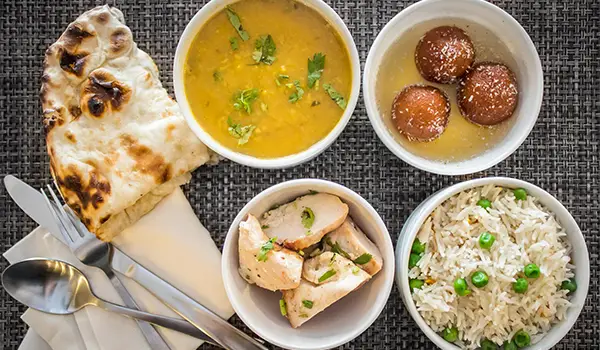 Get your fill of Northern Indian cuisine at Basera Indian Bistro, a favorite of local New Yorkers. Lunch specials come with rice and naan, and there are chicken, lamb, beef, fish, shrimp, tandoori, and vegetarian options, so there's always plenty to come back for. If you show up for dinner, bring your friends, because this is the kind of restaurant you want to enjoy family-style. 745 Ninth Ave., 212-757-9787, baserany.com
Best of NYC Indian Food: Chola (Midtown East)
Hailed by The New York Times as being a "stellar establishment", Chola greets diners with a plethora of spices and aromas as soon as they walk in the door. All of Chola's dishes are authentic with their flavors, and the Lata Shattys Coondapur (chicken, coconut, curry leaves) and Konju Pappas (shrimp, kokum, tomatoes, coconut milk) are two chef specials that everyone has to try at least once. They also offer a lunch buffet seven days a week. 232 E. 58th St., 212-688-4619, cholany.com
Best of NYC Indian Food: Dawat Haute Indian Cuisine (Midtown East)

When translated "Dawat" means "an invitation to feast", and we know we couldn't think of a more appropriate name for one of our favorite Indian restaurants in NYC. Named by New York Magazine as the city's "best and most creative Indian restaurant," you certainly won't get bored ordering from their menu which includes items such as keema samosas (lamb), ginger cauliflower soup, and zeera aloo (spicey potatoes). 210 E. 58th St., 212-355-7555, dawatny.com
Best of NYC Indian Food: Milon Restaurant (East Village)
Milon is one of those NYC restaurants you can't not go to. You'll probably recognize it from its beloved decorations of hundreds of light strands hung from every square inch of the ceiling. Ambiance is everything at Milon, and the prices aren't half bad either. A number of dinner specials "for two" is the way to go here, with soup, appetizers, entrees, and dessert included in the mix for under $30. 93 First Ave., 212-228-4896, milonny.com
Best of NYC Indian Food: Tamarind Restaurant (Tribeca)

If you're looking for an elegant dining establishment where you can enjoy hara bhara kababs, milagu curry, paneer labadar, and the like, head over to Tamarind Restaurant. This gorgeous restaurant makes you realize just how important atmosphere is at any dining establishment thanks to its sleek and contemporary design. 99 Hudson St., 212-775-9000, tamarindrestaurantsnyc.com
Best of NYC Indian Food: Benares

(Tribeca)
Renowned for its diverse Indian cuisine, Benares offers diverse Indian cuisine that hails from the 28 states of India. The menu boasts new dishes from recently appointed chef Qutab Singh Negi, who infused the menu with selections that are inspired by his family in northern India. Of course, he continues to honor the original menu presented by Executive Chef Peter Beck. It highlights regional dishes with an emphasis on the cuisines that hail from the city of Benares. The menu includes healthy vegetarian and seafood entrées. A well-edited global wine list was specially selected to pair with the flavors and spices. Finally, the minimalist interior exudes an uptown vibe and is decked out in a palette of deep mustard, dark brown, earth-toned hues, and red. 45 Murray St., 212-766-4900, benaresnyc.com
Best of NYC Indian Food: Swagat (Upper West Side)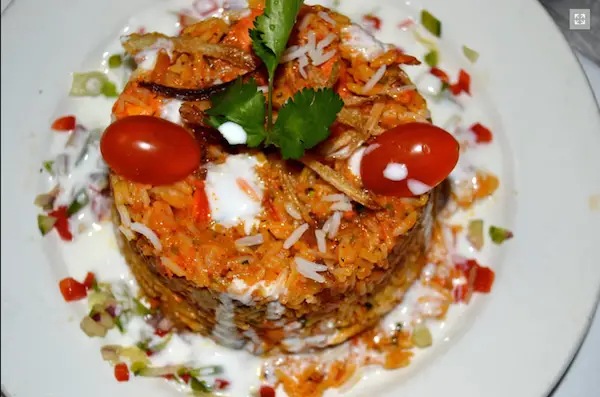 Swagat recently reopened its doors after a short-term closure for renovations. The restaurant is owned by Executive Chef Lala Sharma, whose mastery of Indian cuisine was gained during a stint at Bukhara, which is recognized as one of the world's 50 top restaurants. Sharma's tandoor expertise results in signature dishes such as adrak lamb chops—imported lamb chops marinated in red wine, yogurt, ginger, and spices, and chicken tikka kebab—cubes of chicken breast marinated in a flavorful mix of ginger, garlic, and herbs. The menu also boasts a selection of curries in vegetarian, chicken, lamb/goat, and seafood varieties. 411 Amsterdam Ave., 212-362-1400, SwagatNY.com
Best of NYC Indian Food: Vatan
Celebrating the flavors of Gujarat and the ambiance of a typical Indian Courtyard, Vatan entices with an all-you-can-eat fixed-price menu with Gujarati-style vegetarian food. Beyond the delectable, flavorful food is an exotic, serene setting, which boasts a 20-foot banyan tree, hand-painted tables, charming thatched roof, and more. 409 Third Ave., 212-689-5666, vatanny.com
Looking for Free Group Planning Services?
Get free advice on planning your group's trip to New York.
RESTAURANTS

Multi-concept restaurant offering modern Japanese cuisine, a...

THEATER

Kander and Ebb's "musical vaudeville" in which Roxie Hart ga...

SHOPPING

PANDORA, one of the leading names in jewelry for more than 3...

SIGHTSEEING

This renovated museum complex includes the 900-foot-long air...