Traveling can get expensive quickly, especially if you're headed to New York City. We've rounded up some of the best tips for taking on NYC with staying on a budget. From useful information on transportation and lodging, to great resources for finding free activities and sample sales, we hope these tips will come in handy next time you visit Manhattan.
NYC Budget Tips: Take Advantage of Museum Free Days
Almost every museum, zoo, and botanical garden in NYC has a free day, and many of them are "pay as you wish" no matter the day of the week. Take advantage! From the 9/11 Memorial Museum, the Metropolitan Museum of Art and the Museum of Modern Art, to the Brooklyn Botanic Garden and Bronx Zoo, you can get your fill of learning without having to pay the big bucks.


NYC Budget Tips: Check Out Some of NYC's Renowned Sample Sales
Image: Eva Rinaldi/Flickr
If you love to shop but don't want to burn a hole in your pocket on designer clothes while you're visiting NYC, be sure to research some of the sample sales happening in the city during your stay. Top Button and NYC Insider Guide are two great sites for finding out when and where the latest deals are happening.
NYC Budget Tips: Check Out City Guide's Discounts
City Guide NY offers a slew of discount codes and coupons for some of NYC's hottest attractions, including One World Observatory, Madison Square Garden, and M&M's World New York. You can save up to $7 on an adult ticket for Ripley's Times Square, $5 on New York Water Taxi's Statue Liberty Express, and $3 on admission into the Intrepid Museum. Be sure to check back regularly to see what other deals pop up during your time of travel.
NYC Budget Tips: Attend a Free TV Show Screening
Image: Endosidney/Flickr
Chances are that one of your favorite TV shows is taped in Manhattan, so why not attend a taping why you're visiting the Big Apple? From Late Night with Jimmy Fallon and The Daily Show with Jon Stewart for comedy fans to Good Morning America and The Chew for those who tune into the talk shows daily, you can see it all in-person, and you can see it all for free!
NYC Budget Tips: Consider Sharing a Place on Airbnb
Even Airbnb can get costly in Manhattan, but if you opt to share an apartment with whoever's renting it out, you'll likely be able to score a pretty sweet deal. Sure, you'll have a little less privacy and probably have to share the bathroom… but on the plus side you can pick up a few local tips from your renter and keep your lodging budget low.
NYC Budget Tips: Get a Weekly Metro Card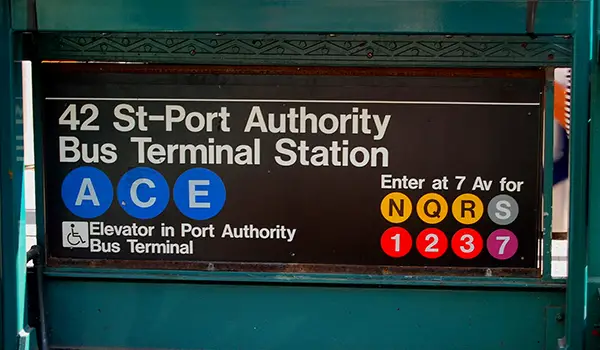 Image: Henning Klokkerasen/Flickr
If you feel comfortable taking the subway (and you should, it's surprisingly easy to figure out and one of the most convenient ways to travel in New York City), then make sure to purchase a weekly pass from MTA. You can use it as many times as you want, and considering that a one-way fare is $2.75, you can bet that it will save you some extra cash while you're traveling.
NYC Budget Tips: Take in the Parks
New York City parks aren't like any regular parks. They're filled with activities and performances year-round. Instead of shelling out a bunch of cash for a paid performance, check out some of NYC's most beautiful parks, including the High Line and Central Park. You'll almost always be guaranteed to find some sort of entertainment happening at Washington Square Park as well.