For 34 years, City Guide, New York's most popular tourist guide, has been bringing NYC visitors all the latest information on New York theater, culture, dining, sightseeing, shopping, and nightlife, as well as providing readers with the best in NYC coupons and discounts. In addition to the latest news on our website, pick up a free copy of our magazine, published weekly, at the more than 330+ hotels and 65+ essential visitor destinations all around the city. City Guide makes the Manhattan experience accessible for readers from around the world.



Locations to pick up your free copy of City Guide include visitors' centers across Manhattan, kiosks, sidewalk mounted newspaper boxes, and tourism and shopping destinations. Some of our most popular pick up spots include:
34th Street Partnership Kiosks
The 9/11 Memorial
Bryant Park Kiosk
Grand Central
Lincoln Center
NYC & Co. Visitor Center
Times Square Visitor's Center
TKTS
Inside the magazine, our listings include neighborhood icons that correspond to the map in the back of the book, making it easier to plan your agenda. If you're looking to save, check out our directory of discounts. (These listings also include easy to find "save" icons for businesses that provide special offers.)
City Guide also hosts the Concierge Choice Awards, and you'll see previous winners and finalists marked in the listings. Click here to read about this year's winners. The ceremony took place Sept. 26, at a black tie gala at Battery Gardens in Lower Manhattan.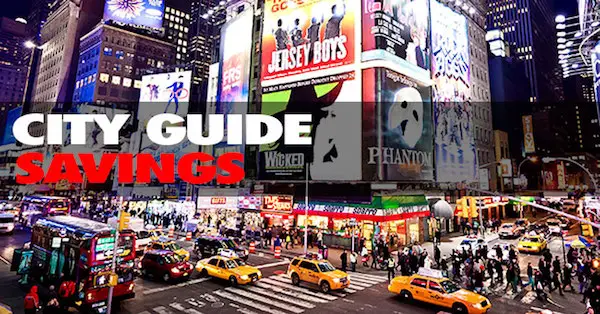 In every issue of City Guide, we highlight the best events of the week, in the section This Week in the City. Be sure to visit cityguideny.com for our continually updated calendar of events. You can also follow us on Twitter (@cityguidenyc), and like us on Facebook (facebook.com/CityGuideNY).
Enjoy your visit, and thanks for making City Guide part of your experience!