Coming Soon! Center for Women's History at the New-York Historical Society
February 24, 2017 - by Chelsey Grasso
The New-York Historical Society will be opening the Center for Women, the country's first public exhibition and educational center dedicated to women's history, in April 2017. The soon-to-be-opened Center for Women will be located on New-York Historical Society's fourth floor and will combine permanent exhibitions with temporary exhibitions that explore how women brought about change long before they even had access to voting. Covering the entire spectrum of race, class, and culture, the Center for Women promises to be a diverse and enriching experience that will host talks, debates, and events that add to the cultural landscape of New York City.
Center for Women: Exhibitions
The Center for Women will be home to four innovative and immersive exhibits when it opens in April. New York Women in a New Light, a multimedia film, will explore the Progressive Era of America leading up to the change in the U.S. Constitution to give women the right to vote. The Joyce B. Cowin Women's History Gallery will display two to three exhibitions per year, alternating between history-focused and art-focused exhibits. The Tiffany Gallery will be a stunning display of the New-York Historical Society's Tiffany collection of lamps designed by Clara Driscoll. And last but not least, "Women's Voices" will be an interactive display that gives voice to the women, the movements, and the networks that led women's studies and served as catalysts in U.S. history.
Center for Women: Education
The Center for Women will also provide educational resources for students at the K-12 grade level, allowing children to engage with primary sources while focusing on the history of women. While these resources will be available onsite, they will also be available for online use. Additionally, the Center for Women will be offering Women's History Teacher Events that will cover topics ranging from "Women and Workplace Equality" to "Saving Washington".
Center for Women: Scholarly Initiatives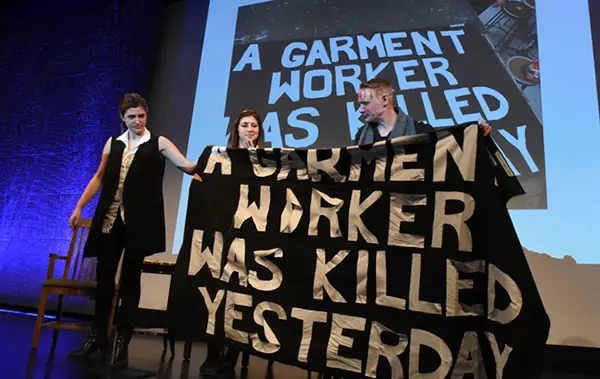 In addition to educating the public through planned curriculum and primary sources, the Center for Women will be hosting the Diane and Adam E. Max Conference on Women's History. Reserve seats for the Reproductive Rights in Historical Context Conference this year to be held on March 5th. A Scholarly Advisory Committee will help advise the Center for Women's History during its planning stages, as well as after it officially opens to the public, helping to keep the center up to date and serving as a reliable source for the latest scholarly discussions regarding women.
Center for Women: Girls Write Now
Beginning in April, the New-York Historical Society will be hosting Girls Write Now's CHAPTERS Reading Series, where talented young writers take their work from the page to the stage. Along with a selection of readings from some of New York City's most impressive young, female writers, each CHAPTERS Readings Series will also begin with a keynote speaker that is a professional author. Emma Straub, Emma Cline, Hala Alyan, and Karina Glaser are just some of the big names you can expect to see taking part in the reading series this year.
For more information, vist nyhistory.org.
Looking for Free Group Planning Services?
Get free advice on planning your group's trip to New York.
RESTAURANTS

Brings together the character of Hell's Kitchen past with th...

THEATER

In a heartbeat, 38 planes with 6,579 passengers were strand...

SHOPPING

The sweetest experience in Times Square!...

SIGHTSEEING

Located in Times Square in the heart of New York City, Riple...