Nightlife in New York City This Weekend - March 15-March 17
March 11, 2019 - by CG Directory Editor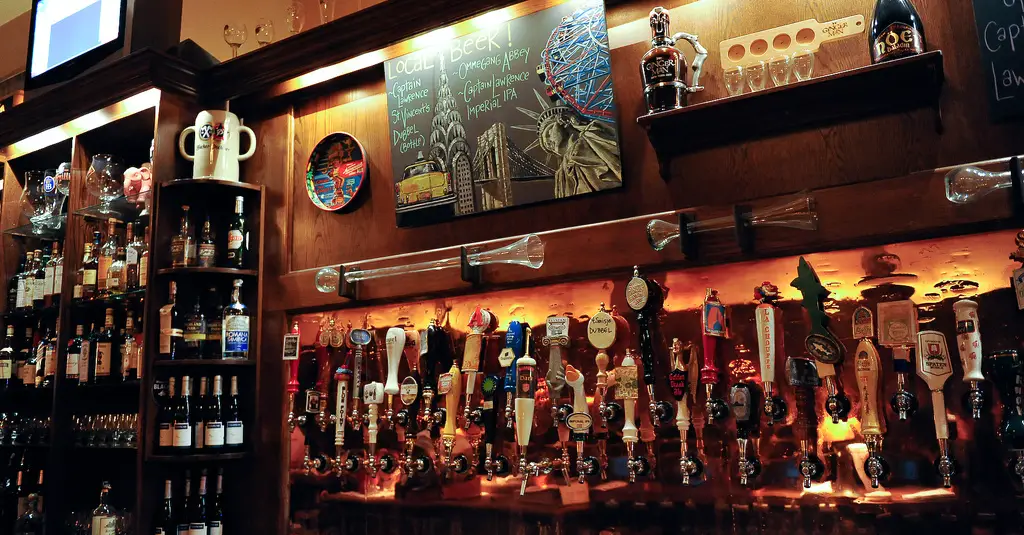 Photo: Jazz Guy/Flickr

New York City is the ideal metropolis for night owls wanting to stay out late long past the setting of the sun. From evening shows and late night performances to bustling bars and packed nightclubs, find exactly what you're looking for on City Guide's weekend nightlife guide to New York City.


Borgore - Schimanski
Through March 15, 2019 - Brooklyn
Borgore VIP/Bottle Service
Pastrytown 2019 - Eventbrite
March 16, 2019 - Queens
Doughnuts dance, strawberries shimmy and coffee beans catapult into stouts from the best breweries in the world at Pastrytown, a new beer festival by Other Half NYC. Join us on March 16th at Industry City for this adjunct fantasyland of sweet and savory flavors baked into your favorite brews like pastry stouts, barrel-aged barley wines and fruited Berliners. Pastrytown is a brewer-owned and brewer-run festival where we've rounded up over 30 of our brewer friends who know how to have fun with adjuncts. And if this isn't sweet enough, we're icing this cake with some professional wrestling. NY Wrestling Connection will be there to entertain (with moonsaults and other moves you wish you could do) while you decide which brew to try next. Come thirsty and ready to have some fun.
Have a Nice Life / Planning for Burial / Wreck and Reference / Consumer - Brooklyn Bazaar
March 16, 2019 - Greenpoint
Have A Nice Life Planning For Burial Wreck and Reference Elizabeth Colour Wheel CONSUMER
Seated Launches A Brooklyn Restaurant Tour on March 14th - Restaurant partner breakdown: 20 Williamsburg / 10 Greenpoint / 10 Bushwick / 35 Other Hoods (Fort Greene, Downtown BK, Cobble Hill, Park Slope, Dumbo, etc.).
Through March 18, 2019 - Brooklyn
Seated will be hosting a 4-day restaurant "crawl" in collaboration with 75 + restaurant partners in Brooklyn neighborhoods. On March 14, users who sign up, will receive an email which will feature a map of the restaurants participating in the crawl. Seated will also be rewarding a $500 Amazon gift card to whoever checks out the most Seated BK restaurants in the 4 day period.
The Legendary Russian Samovar Restaurant Presents SEKRET - Russian Samovar
Through March 21, 2019 - New York
The Legendary Russian Samovar Restaurant Presents SEKRET Featuring The One and Only DJ Mekhanik Every Thursday Starting at 8 PM Full Bar, Food, Bottle Service, Drink Specials Ladies receive complimentary glass of champagne before 10 PM Upstairs at Russian Samovar For more information, visit www.russiansamovar.com Russian Samovar 256 W 52nd St, New York, NY 10019 212-757-0168
Timatha Kasten & Her TKO PARTY BAND at ROW HOTEL NYC - ROW HOTEL NYC - Times Sq.
Through March 28, 2019 - New York
THURSDAYS EACH WEEK!! Bring your friends and come on over to the TKO SHOW AT ROW!! Grooving the Row hotel in Times Square! Come join the best dance party band in town for funky live music hits, good times, cocktails, and gourmet pizzas / salads/ cheese plates ! (FREE / No cover charge) *** Timatha Kasten *** & Her TKO R&B PARTY BAND!!!! TIME: 9pm -12 THURSDAYS (Near all Times Sq. Transportation) (Kitchen closes at 11pm/ BAND PLAYS TILL MIDNIGHT!) LOCATION: ROW HOTEL ADDRESS: 700 8th Ave. between 44th/ 45th Streets NYC (All ages welcome/ 21+ i.d. to drink) (Playing hits of Earth, Wind & Fire, Bruno Mars, Prince, Kool & the Gang, Commodores, The Emotions, Tina Turner, Justin Timberlake and more! Oldies to CURRENT hits!) **** Timatha Kasten Orchestra & Her TKO Party Band *** are available to play for your holiday parties, corporate events & weddings. Contact us Thru: WWW.TKObandUSA.com or (212) 946-1244
Audi and The James Beard Foundation Host #DriveProgress Dinner Series at the James Beard House to Celebrate Women's History Month - The James Beard House
Through March 28, 2019 - New York
Audi and The James Beard Foundation Host #DriveProgress Dinner Series at the James Beard House to Celebrate Women's History Month In celebration of Women's History Month, Audi and the James Beard Foundation will host a four-part #DriveProgress dinner series on March 6, March 14, March 21, and March 28 at 7pm at the prestigious James Beard House in New York City. The James Beard House serves as a "performance space" for visiting chefs. The five-course chef-curated dinner series will feature graduates of the Women's Entrepreneurial Leadership (WEL) Program, founded by Audi. Participating chefs include: • Sarah Huck of Kos Kaffe in Brooklyn, NY; Liza Hinman of Spinster Sisters in Healdsburg, CA;, Fiona Lewis of District Fishwife in Washington, D.C.; Joanne Canady-Brown of The Gingered Peach in Lawrenceville, NJ; and Christine Cikowski of Honey Butter Fried Chicken and Sunday Dinner Club in Chicago, IL (March 6, 7pm ET) • Kelly Fields of Willa Jean in New Orleans, LA, and Ann Marshall of Hire Wire Distilling in Charleston, SC (March 14, 7pm ET) • Kathleen Blake of the Rusty Spoon in Orlando, FL (March 21, 7pm ET) • Amy Brandwein of Centrolina in Washington, D.C. (March... (read more)
Manhattan Hip Hop vs. Reggae Party Cruise Yacht party - Skyport Marina
Through June 23, 2019 - New York
Friday June 22nd, 2018 – NYC Hip Hop vs. Reggae Yacht Party at Skyport Marinas Jewel Yacht located at East 23rd st & FDR Drive 10010 NY (347) 592-0300. Music by NYC Hottest Djs! Tickets 20$! Boarding 11:45pm, Sailing after midnight! The Only Hip Hop vs. Reggae cruise to be in NYC...Jewel Yacht! www.Gametightny.com (347) 592-0300 info/tickets YACHT PARTIES IN NY - NY'S HOTTEST – YACHT NIGHT PARTY NYC HIP HOP VS. REGGAE CRUISE! The Only Boat Party to be in NY... Skyport Marina Jewel Yacht East 23rd st & FDR Drive 10010 (347) 592-0300 NYC HIP HOP VS. REGGAE BOAT PARTY! 1 DAY - 1 EXCLUSIVE EVENT! MUSIC BY NYC HOTTEST DJS AT SKYPORT MARINA JEWEL YACHT PARTY, NEW YORK!! TICKETS JUST $20 FOR TICKET WHICH INCLUDES:ADMISSION TO THE BOAT SAILING INFO:Boarding Starts at 11:45pm (highly recommend getting there at 10:00pm to avoid long lines & confusion), Sails after midnight. Boat Returns at approximately 4am. For tickets info, birthday parties, table reservations please call (347) 592-0300 or simply log onto www.Gametightny.com Also you can email us at Gametightny@hotmail.com
Looking for Free Group Planning Services?
Get free advice on planning your group's trip to New York.
MORE Activity Planner ARTICLES
RESTAURANTS

Beer hall casual meets craft cocktails with a healthy dose o...

THEATER

Kander and Ebb's "musical vaudeville" in which Roxie Hart ga...

SHOPPING

Specializing in the great vineyards of California, France, A...

SIGHTSEEING

The only provider of ferry transportation to the Statue of L...