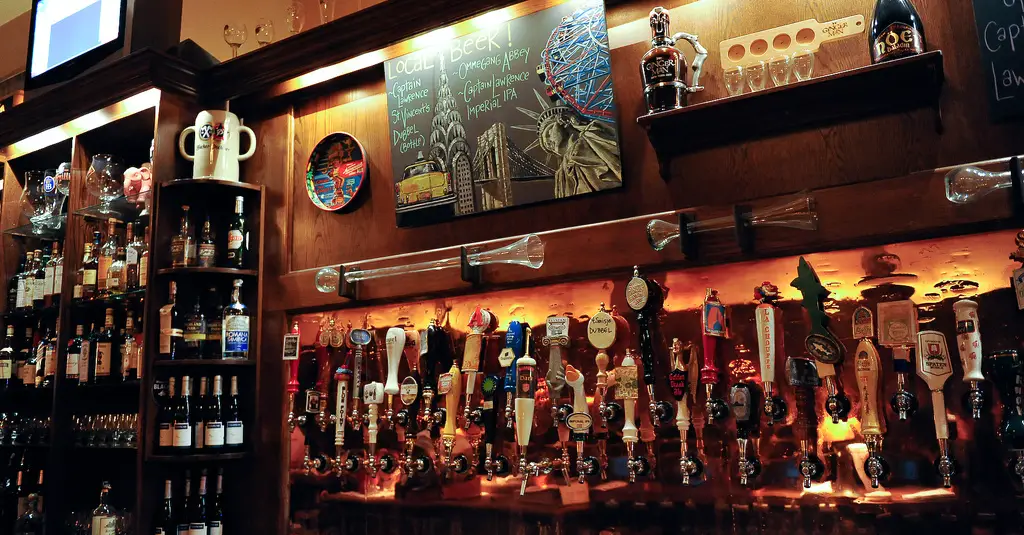 Photo: Jazz Guy/Flickr

New York City is the ideal metropolis for night owls wanting to stay out late long past the setting of the sun. From evening shows and late night performances to bustling bars and packed nightclubs, find exactly what you're looking for on City Guide's weekend nightlife guide to New York City.


Beer and Cheese: Barrel Aged Edition - Murray's Cheese Shop
November 08, 2019 - New York
In this beer class, we will be joined by Boulevard Brewing company to celebrate their 30th anniversary with some beer and cheese pairings.
Hugel - Lavo
November 08, 2019 - New York
21 & OVERHugel
20 Highview Back to Butterfields - Butterfields
November 08, 2019 - Hauppauge
20 Highview Back to Butterfields
Hot Rabbit - DROM
November 08, 2019 - New York
Ages 21+
Wild Tomorrow Fund Gala - Manhattan Penthouse
November 08, 2019 - New York
Please join Wild Tomorrow Fund on Friday, November 8th for an unforgettable evening to support our conservation efforts to protect the threatened and endangered wildlife in southern Africa. Featuring dinner, open bar, silent and live auctions and entertainment.We are excited to be honoring South African conservationist, Les Carlisle who has dedicated to his life and career to care for wildlife. Les was one of the original founders of Phinda Private Game Reserve now a globally recognized conservation model. Les is also Project Manager at the renowned Rhinos without Borders organization.If you are unable to join us, wed be delighted if you could make a donation to support our conservation and community work.
After Hours hosted by Ray Gallon - Fat Cat
November 08, 2019 - New York
After Hours hosted by Ray Gallon
Noizu - Schimanski
November 08, 2019 - Brooklyn
19+Schimanski is excited to bring you Noizu on 11/08. You are not going to want to miss this very special set.
Bahia Connection - DROM
November 09, 2019 - New York
Ages 21+Te Encontro No Samba presents:Bahia ConnectionA Samba night honoring Brazil's African roots in celebration of Brazil's Black Consciousness Month.Featuring Batal New York - the premier all female Samba-Reggae group in the city, bringing the traditional sounds of Carnaval da Bahia.Dj Moniki on the 1s & 2s serving the best of Baile Funk, Latin, Afro Beats, Hip Hop & Good Vibes.Finally the roda will heat up with Te Encontro No Samba's traditional Samba de Roda. This time emphasiz
Sky Room Rooftop Fridays - Sky Room
Through November 09, 2019 - New York
PRIVE GROUP Presents:SKY ROOM ROOFTOP FRIDAYSJoin us each and every Friday at the highest rooftop lounge in Manhattan: Sky Room Rooftop!Come enjoy drinks, great music, and dancing, and lounge on our heated outdoor patio and take in breathtaking views of the Manhattan Skyline!Sky Room, which boasts 360 views of Manhattan and the Hudson River from the city's highest rooftop lounge, takes New York City nightlife to new heights! Occupying the 33rd and 34th floors of the newly constructed Fairfield Inn and Suites by Marriott Times Square, the bi-level ultra lounge transports guests to a high energy oasis atop 40th Street and offers five distinct spaces: The Times Square Lounge, The Cube Balcony, The Private Salon, The North Terrace with retractable roof, and The South Terrace with private cabanas.
La Fte du Champagne Salon Pop-Up - Freehand Hotel
Through November 09, 2019 - New York
Exclusively for American Express Card Members join us for a festive Champagne pop up at the Freehand Hotel in New York City. Personally curated by La Fte du Champagne co-founders, Daniel Johnnes and Pier Liem, your experience includes a flight of Champagne highlighting a specific grape or regional style and paired with delicious bites created by Global Dining Collection, Chef Daniel Boulud. After you enjoy your flight, stay and enjoy an incredible list of Champagne offered at a terrific value from 6:00pm-10:30pm, Thursday through Saturday.For three nights only, choose from the following flights and an incredible list of luxurious Champagnes poured by some of New Yorks top sommeliers:-Blanc de Blancs: Three distinct styles all made from the noble Chardonnay grape and grown on the chalky soils of the Cte des Blancs.-Ros: Enjoy the diversity in styles of pink Champagne, from a super dry "Brut Nature, to a richer example and finishing with an opulent yet fresh style.-Blanc de Noirs: Compare three excellent Grower Producers of Champagne who specialize in clear Champagne made from red grapes.-The Distinct Sub Regions: Taste the diversity of soil types within Champagne f... (read more)
Beauty & Essex Parlor Sundays - Beauty & Essex
November 10, 2019 - New York
Every Sunday, head down to the Lower East Side at 2pm 6pm for Beauty Parlor Sundays The party thats so much more than Brunch! Celebrate with delicious food, divine dcor and of course, flowing Champagne throughout the day! Included with every ticket is a four-course pix fixe menu, with incredible dishes that range from the famous Red Velvet Waffles to the all-new Beautys Brunch Wonder Wheel!
After Hours hosted by The Program of Deprogramming - Fat Cat
November 10, 2019 - New York
After Hours hosted by The Program of Deprogramming
Brunch: Every Sunday! - Zavo
November 10, 2019 - New York
One-of-a-kind elegant fine dining, drinks, and extravagant live entertainment at one of NYCs very best restaurants. All in a stunning, opulent interior with Italian marble, leather seats, and crystal chandeliers.Every Sunday enjoy brunch, with sounds from a special guest DJ!
Desi Saturdays - Stage 48
Through November 10, 2019 - New York
Each & Every Saturday Night, come experience the Glamour & Glitz of Bollywood as you Mix, Mingle and Dance at New York City's Hottest Saturday Night DesiParty Stage4, Desi Saturdays is one high society DesiParty. Wow factor everywhere. Beautiful people, beautiful venue, beautiful ambiance, and did we mention beautiful people? High energy, amazing music and a packed house are just some of the traits of what you would expect at this weekly Bollywood party.
Sky Room RoofTop Saturdays - Sky Room
Through November 10, 2019 - New York
Must say BestNYCnightLife LIST TO GET INROOFTOP PARTY SATURDAY NIGHTWITH an UPSCALE AND CLASSY AtmosphereATSKY ROOM Rooftop TIMES SQUARE
Old School 80s/90s Throwback Party! - Hudson Station
Through November 10, 2019 - New York
Were back at Hudson Station with a special 80s/90s party, so we can quietly throw it back to that old school feel! Come out and dress up as your favorite 80s or 90s music or TV characters like Miami Vice, MC Hammer, Flavor Fav, Spice Girls, etc; Think outside the box! The event kicks off at 11pm when the headphones go on and DJs take the stage. Theyll be spinning everything to keep you singing, drinking and dancing till 3am!Your 3 live DJs are spinning all night:DJ 1 (Green): 90s Pop/Rock/Dance HitsDJ 2 (Red): 80s Old School HitsDJ 3 (Blue): 90s Hip Hop/R&BYour experience includes: A pair of Quiet Events headphones Glow in the Dark gear 3 live DJs battling for your attentionSpecial notes: 21+ Rain or Shine Dress Code: 80s/90s costumes encouraged!What to bring: Valid ID You MUST have a credit or debit card for the check-in process. If the headphones are NOT returned, there will be a $100 charge to your credit or debit card after the event. No need to print your ticket, just show the code on your phone or they will have your name at the door.How it works:With your pair of Quiet Events headphones you can adjust the volume a... (read more)
Desi Saturdays - Stage 48
Through November 10, 2019 - New York
Age: 21+Each & Every Saturday Night, come experience the Glamour & Glitz of Bollywood as you Mix, Mingle and Dance at New York City's Hottest Saturday Night DesiParty @ Stage48.Desi Saturdays is one high society DesiParty. Wow factor everywhere. Beautiful people, beautiful venue, beautiful ambiance, and did we mention beautiful people? High energy, amazing music and a packed house are just some of the traits of what you would expect at this weekly Bollywood party.This event is the talk of the town amongst young socialites. It's so exclusive it only takes place on Saturday Nights, and don't even try to dress down, because it is almost impossible to get in, but more importantly you would feel so out of place. So don your best, and you may just be lucky enough to party out on Saturdays Nights at Stage48!!+ Google Calendar+ iCal Export
International Sherry Week Festival - Mercado Little Spain
Through November 10, 2019 - New York
Come celebrate International Sherry Week at Mercado Little Spain, Jos Andrs Spanish market in Hudson Yards, a world festival happening for its 6th consecutive year around 30 countries with thousands of sherry-lovers from November 4th to the 10th. Little Spain will be offering a variety of specials across the market, as well as complimentary menu pairings and tasting menus in two of the full-service restaurants including Mar, an intimate restaurant and chefs counter devoted to fish and seafood, and Lea, an ode to live-fire cooking and grilled meats. Below is a full list of offerings and events as well as a link to register for all events: https://www.littlespain.com/happenings/NOVEMBER 4-10, 2019: International Sherry Week ALL BARSSherry Flights - Create Your Own; Pick 3 for $25oBiological- Fino, ManzanillaoOxidated- Amontillado, Oloroso, Palo CortadooSweet- Pedro Ximenez, MoscatelMARMenu PairingsoBienmesabe + Fino en Rama SherryoVieira Pipirrana + Manzanilla SherryoGambas al ajillo + Palo Cortado SherryoArroz de bogavante + East India Solera SherryMar Experience Tasting MenuoWave 1: Mejillones al azafran, Bienmesabe can... (read more)
Veterans Month at the Southampton Inn - Southampton Inn
Through November 30, 2019 - Southampton
Throughout the month of November, Southampton Inn is celebrating Veterans Month! All month long, our service men and women can enjoy an overnight stay for *$125/double occupancy.*Plus tax and fees. Valid ID required.For the latest packages, deals and rates, please call 631-283-6500, email reservations@southamptoninn.com or visit www.southamptoninn.comSouthampton Inn91 Hill Street, Southampton, NY 11968
Complimentary Dessert Tea - Grand Seoul
Through November 30, 2019 - New York
Celebrate Halloween at Grand Seoul, a lively Korean barbecue restaurant in the heart of Chinatown (85 Chrystie Street). Opt for All You Can Eat specials (available for both lunch and dinner at $35 per person) paired with Somaek Towers (a combination of beer and soju that arrives tableside in a glowing dispenser) and for a larger group, Grand Seoul offers a private dining room (20-40 guests).If youre looking to detox post-Halloween sugar-binge, make sure to try their seasonal (complimentary!) dessert beverage, SuJeongGwa (available beginning October 14 through November.)The traditional Korean tea is fruity and spicy, made from cinnamon, jujube, ginger, and sugar, and aids in digestion - ideal following All You Can Eat KBBQ or Halloween.
VICE Night Market - Villain
Through December 13, 2019 - Brooklyn
Were taking the party indoors with VICE Night Market. Most Fridays in Brooklyn well be serving up delicious food and drinks from our carefully curated vendors, plus music and programming from VICE. Whether you start your night with us or come by for a night cap on the way home, we have everything you need for a night out all under one roof. Admission is free and food vendors include Scarrs Pizza, Maos Bao, Oyster Party, Palenque Home Made Colombian Food, Jibarito Shack, Better Pop, Crackd Food Concepts, and more.
The Big Quiz Thing - Q.E.D
Through December 17, 2019 - New York
Since 2002, The Big Quiz Thingas seen on the official TV game show of New York Cityhas grown into Americas greatest source of custom trivia entertainment, for corporate and private clients nationwide. And this fall, the BQT is proud to return to Queens center for unique live entertainment, Q.E.D. Astoria, for a series of special themed trivia game shows. Featuring multimedia puzzles, the Buzzertastic Finale, Smart-Ass Points, a unique digital answer system, and much more, the Big Quiz Thing applies its unique trivia experience to four fantastic themes, including Wednesday, October 2: DC vs. MARVEL The comics, the movies, and more (in honor of New York Comic Con) Tuesday, October 29: HALLOWEEN Horror movies, candy, costumes, and beyond Sunday, November 17: DISNEY The most magical trivia on earth Sunday, December 15: STAR WARS Every aspect of the premier sci-fi franchise
Geoffrey Zakarians The Lambs Club Announces Cocktails on Broadway - The Lambs Club at The Chatwal
Through December 31, 2019 - New York
COCKTAILS ON BROADWAY is a new event series starting on Thursday, July 18th. This program is being introduced by Celebrity Chef Geoffrey Zakarian and his restaurant, The Lambs Club, Grey Goose and six different well known musicals on Broadway: including King Kong, Pretty Woman, Beetlejuice, Chicago, Tootsie and Waitress. Every month from July through December, a new musical will be hosting a fun night to celebrate this program at The Lambs Club. Each show will have cast members in attendance at the event to interact with guests. All of these events will be open to the public and Grey Goose Ambassador, Douglas Graham-Leigh, will be creating specialty Grey Goose cocktails for each show that guests can enjoy. Artist Toby Triumph will produce six pieces of unique art drawn on Grey Goose bottles, and each bottle will feature artwork symbolizing the Broadway show featured that month. There will also be complimentary light snacks offered to all guests in attendance and there will be an opportunity for fans to win tickets to the featured Broadway shows as well as fun door prizes.
KCBC Beer and Cheese Pairing - Murray's Cheese Shop
Through June 06, 2020 - New York
KCBC Beer and Cheese Pairing
Kest Pizza Making Class - Kest Fulton
Through December 17, 2020 - New York, NY
Keste recreational pizza classes consist of 2 hours of pizza history, techniques, and the actual making and enjoying of your pizza. We also include one glass of our house wine or beer/soft drink. If you want to purchase unlimited wine and beer you can do so with an additional $35 per person. Also included in our recreational classes is a gift bag of Caputo flour, a can of our highly prized Ciao tomatoes and a recipe of our pizza so you can make at home. We host classes every Tuesday and Thursday of the week 7PM-9PM, depending on the availability left. The pricing depends on how many people you would like in your reservation. The class for 1-9 adults is priced at $80/person (not including taxes and tips). However, if you plan on having more than 10 people we do have a group discount of $60 (not including tax + gratuity) per person. It is to be noted that the maximum capacity for our classes is 40 people. Please note we require a 30% non-refundable down payment for us to reserve the spot for you. This does not include sales tax and gratuity. Please keep in mind the rate will change according to the above stated amount should the number of attendees drop from the initi... (read more)

Want free advice on what to see and do in NYC? Join our Facebook group Everything to Do NYC, a place for people to ask questions and get tips on how to make the most of the city.