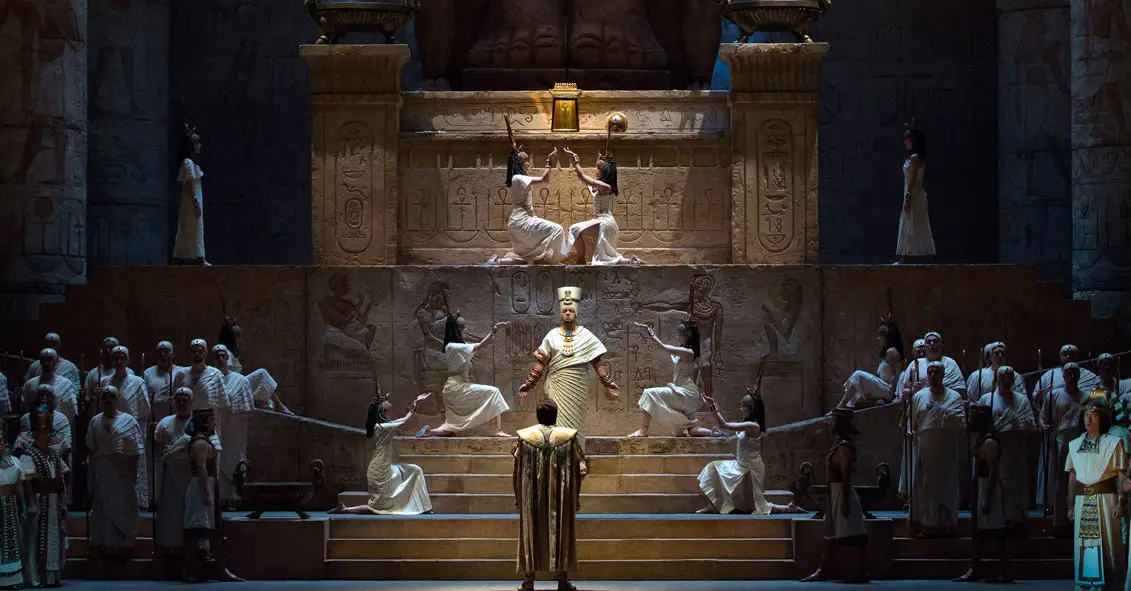 The Metropolitan Opera is world-class and world famous, and it's among the comprehensive weekend opera listings you can find on City Guide's calendar. In addition to the famous season of the Met Opera, we've also got all the great classical performances going on in the city, from string quartets to piano recitals to full orchestras. Get inspired for your next musical outing to Carnegie Hall, Lincoln Center, Bargemusic, or even one of the Philharmonic Concerts in the Parks.


Ariana Gillis - Funk 'n Waffles
July 12, 2019 - Syracuse
All Ages Ariana's soulful talent has taken up elite residency in what constitutes the very best that songwriting has to offer.
Drew Azzinaro Classical Guitar - Daily Planet Coffee
July 12, 2019 - Buffalo
Every Friday from Noon-1 one you can come enjoy some delicious coffee or tea with the warm sounds of live classical guitar at Daily Planet Cafe. Drew Azzinaro has been playing a variety of music on his guitar ranging from his compositions, jazz, pieces from the classical guitar cannon to music from around the world to offer musical mid day break for over 2 years now.
Marius Duboule Trio - Tomi Jazz
July 12, 2019 - New York
Marius Duboule Trio
Whiskey Red & the White Knuckle Riggers - Bar Chord
July 12, 2019 - Brooklyn
Classic Country
Sing It Out: A 90's & 2000's Music Video Sing-Along - Union Hall
July 12, 2019 - Brooklyn
This event is 21 and over SecretFormula
Jimmie Vaughan - Suffolk Theater
July 12, 2019 - Riverhead
The first time I heard Jimmie Vaughan, I was impressed with the raw power of his sound."- Eric ClaptonBlues royalty arrives at the Suffolk Theater - JIMMIE VAUGHAN, who brought the blues back into pop music with The Fabulous Thunderbirds in the 90s and later joined up with his brother Stevie Ray to record Family Style, an album that reflected the Vaughan brothers' mutually deep musical roots and maturing modern artistic sophistication. Jimmie has collaborated with no less than B.B. King, Eric Clapton, Bob Dylan, Willie Nelson, Carlos Santana- and many more. Over the years, Jimmie Vaughan has received four Grammys with Seven nominations. We're honored to welcome one the blues' greats - Mr. Jimmie Vaughan
Opera Saratoga - Saratoga Performing Arts Center
July 12, 2019 - Saratoga Springs
Ellen West - World Premiere Music by Ricky Ian Gordon Libretto & Poem by Frank Bidart Commissioned by Opera Saratoga and Beth Morrison Projects. Sung in English with English Supertitles Through the evocative poetry of Pulitzer Prize winner Frank Bidart and the beautiful music of Ricky Ian Gordon, explore the emotional, psychological and physical challenges of a woman struggling with perceptions of her body, her relationship with food, and the world closing in around her. Inspired by one of the earliest cases of existential analysis, Ellen West is a remarkable new opera that brings the audience into the lives of psychiatrist Ludwig Binswanger and his patient, "Ellen West." Throughout her life, Ellen filled journals and wrote poetry. Frank Bidart's poem, which serves as the primary source for the opera's libretto, juxtaposes the clinical observations of Binswanger with fictitious entries of Ellen's writing, which shine light on her deeply personal struggles. This tour-de-force chamber opera stars soprano Jennifer Zetlan in her Opera Saratoga debut as Ellen, alongside baritone Keith Phares as her doctor. The world premiere production is directed by Emma Griffin, also in her Op... (read more)
MinJung Baek, Piano - Weill Recital Hall
July 12, 2019 - New York
Pianist MinJung Baek performs a recital of some of the most celebrated works by Rachmaninov—Études-Tableaux, Variations on a Theme of Corelli, and Sonata No. 2. Trained in New York City, Imola, and London, MinJung has performed at international venues and music festivals, including Barbican Hall, Wigmore Hall, and Schleswig-Holstein Festival.
Russell Malone Quartet - Smoke Jazz & Supper Club
July 12, 2019 - New York
Russell Malone [guitar] Rick Germanson [piano] Luke Sellick [bass] Neal Smith [drums] Russell Malone, one of the great jazz guitarists, leads his longstanding quartet with Rick Germanson, Luke Sellick and Neal Smith. Malone is widely known for his early work with Jimmy Smith, Harry Connick, Jr., and Diana Krall. His playing is deeply rooted in the blues and bebop and his soulfully swinging approach is just one of many reasons why he is so popular. The Chicago Tribune states, "Though he spikes his solos with occasional running lines, it's gently rolled chords and lush sequences of harmonies that ultimately define his work," and JazzTimes describes him as "an uncommonly sensitive interpreter of ballads.
The Messthetics - Union Pool
July 12, 2019 - Brooklyn
21 and over LULU LEWIS The last time drummer Brendan Canty and bassist Joe Lally were in a band together, they were the rhythmic architects for Fugazi, an organization whose decade and a half of disciplined progressivism provided a necessary bridge between the zenith of late-punk expression and everything alternative in rock that followed. In 2016, the two were enlisted by guitarist Anthony Pirog in a conspiracy to subvert and reimagine the power trio, bringing fully into the 21st Century a form that may have reached near perfection with Hendrix's Band of Gypsys on the very first day of the 1970s.
Millennial Choirs & Orchestras - Stern Auditorium / Perelman Stage at Carnegie Hall
July 12, 2019 - New York
Performers Millennial Choirs & Orchestras
The Supreme Queens - Fat Cat
July 12, 2019 - New York
The Supreme Queens
Yoshi Waki Group - Fat Cat
July 12, 2019 - New York
Yoshi Waki Group
After Hours hosted by Craig Wuepper - Fat Cat
July 12, 2019 - New York
After Hours hosted by Craig Wuepper
Eric Comstock - Birdland Jazz Club
July 13, 2019 - New York
ERIC COMSTOCK & SEAN SMITH with special guest BARBARA FASANO Smart, suave & utterly delightful … an ingenious musical wit … a dispenser of cabaret caviar. The New York Times Erudite … Expert musicianship & joie de vivre in equal measure." – The New Yorker Hailed as "the truest heir to Bobby Short" in The New York Times, pianist/singer Eric Comstock returns to Birdland with star bassist/composer Sean Smith with songs by everyone from George Gershwin to George Harrison. These two masters met on the Off-Broadway hit OUR SINATRA (which Eric co-wrote) and have since worked separately and together around the world. Vocalist Barbara Fasano joins them at Birdland for a swinging Saturday supper where the music and stories are equally great.
Opera Saratoga - Saratoga Performing Arts Center
July 13, 2019 - Saratoga Springs
THE DAUGHTER OF THE REGIMENT - LA FILLE DU RÉGIMENT (1839) Music by Gaetano Donizetti Libretto by Jules-Henri Vernoy de Saint-Georges and Jean-François Bayard Sung in French with English Supertitles A spirited and charming tomboy, adopted and raised by an army regiment, has fallen in love with a handsome soldier. But when she receives new information about her identity, she must decide whether to follow her place in society, or follow her heart. Opera Saratoga's 2019 Summer Festival opens with Gaetano Donizetti's sparkling French comedy, La Fille du Régiment (The Daughter of the Regiment), which returns to the company for the first time in 17 years. This new production, directed by Artistic and General Director Lawrence Edelson, will feature the company debut of Argentinian bel canto tenor Santiago Ballerini in the role of Tonio, famous for the bravura aria 'Pour mon âme' in which the tenor sings a succession of nine high Cs in one of opera's greatest showpieces; and the return of soprano Keely Futterer – a distinguished alum of Opera Saratoga's Young Artist Program – in her principal artist debut as Marie, The Daughter of the Regiment! This production is suitable for all aud... (read more)
International School of Music Student Recital - Weill Recital Hall
July 13, 2019 - New York
In this performance, students from the International School of Music are featured on a wide variety of instruments and in many musical styles. This recital will include solos for piano, voice, guitar, violin, and cello as well as ensemble pieces for flute choir, piano trio, string quartet, guitar ensemble, and a fiddle band.
Passion Through Performance - Weill Recital Hall
July 13, 2019 - New York
This performance features members of ACMA, an organization that works to provide opportunities for musicians to perform solo and ensemble works in concert. This will be the 14th "Passion Through Performance" concert.
Sin Fronteras - Fat Cat
July 13, 2019 - New York
Sin Fronteras
After Hours hosted by Greg Glassman - Fat Cat
July 13, 2019 - New York
After Hours hosted by Greg Glassman
Senri Oe - Tomi Jazz
July 14, 2019 - New York
Senri Oe
Summer Evenings Ii - Lincoln Center
July 14, 2019 - New Yor
The timeless allure of Mozart evokes emotions from listeners of all ages and places. It's therefore natural to follow his sublime Violin Sonata with the warm glow of Johannes Brahms's autumnal Clarinet Trio, composed in the twilight of his life, and Arensky's hot-blooded Piano Trio, a chamber music classic that is the essence of the Russian musical spirit. Click here for more info (Opens in a new window)
A Musical Salute to Sam Cooke & Smokey Robinson - Groove
July 14, 2019 - New York
All Ages Two item minimum Soul Infinity takes the stage at New York's Club Groove to pay tribute to two R&B legends — Sam Cooke and Smokey Robinson. The Harlem-based band with a knack for recreating Motown soul will pay fitting tribute to Robinson, whose prolific songwriting helped lay the foundation for the trailblazing label. You'll also hear unforgettable gems from Cooke's songbook, including "Chain Gang," "Wonderful World" and "You Send Me.
Heart Bones – In The Round - Le Poisson Rouge
July 14, 2019 - New York
18+ Heart Bones is a collaboration between Sean Tillmann (aka Har Mar Superstar) and Sabrina Ellis (A Giant Dog/ Sweet Spirit). The two became friends while touring together in 2016. They recognized a kindred quality of over-the-top showmanship, and their new project became inevitable. Throughout 2018 the duo have been alternating visits to each other's hometowns of Minneapolis and Austin to co-write original material. Inspired by their favorite classic duos such as Nancy Sinatra/ Lee Hazelwood, Serge Gainsbourg/ Jane Birkin, Sonny & Cher, and Sam & Dave, their influences have spanned everything from doo wop, classic duets, musical theater, electro dance, and melancholy pop.
Opera Saratoga - Saratoga Performing Arts Center
July 14, 2019 - Saratoga Springs
HANSEL AND GRETEL - HÄNSEL UND GRETEL (1839) Music by Engelbert Humperdinck Libretto by Adelheid Wette Sung in German with English Supertitles The classic fairy tale comes alive anew in this remarkable production for the whole family. Join us as Hansel and Gretel venture out into the forest, where they come upon an irresistible gingerbread house and its owner, a very hungry wicked witch who cooks up plans to turn the kids into her own tasty treats! Hansel and Gretel returns to Opera Saratoga for the first time in 29 years in a boundary-breaking production by the Chicago-based theater company Manual Cinema, originally created for La Monnaie in Brussels. Manual Cinema combines handmade shadow puppetry and cinematic techniques to create immersive visual stories for stage and screen. Using vintage overhead projectors, puppets, actors, and live feed cameras, Manual Cinema's production of Hansel and Gretel is a remarkable hybrid between attending the cinema and the opera. Opera Saratoga presents the East Coast premiere of this truly unique version of one of the most beloved operas in the repertoire, featuring members of Opera Saratoga's internationally acclaimed Young Artist Program... (read more)
Evangeline Johns: Torching The Blues - Don't Tell Mama
July 14, 2019 - New York
Singer Darryl Curry on Piano Special Guests: Ariana Johns, Max McGuire & Mark Mindek
Joanna Parson & Elizabeth Inghram - Don't Tell Mama
July 14, 2019 - New York
Musical Duo with Kyle Branzel at the Piano
Salon - Don't Tell Mama
July 14, 2019 - New York
New York's Most Award-Winning Open Mic Hosted by Mark Janas at The Piano Produced by Tanya Moberly A Different Co-Host & Theme Every Week
International Keyboard Institute and Festival: Jerome Rose - Merkin Hall
July 14, 2019 - New York
Jerome Rose, hailed as "the Last Romantic of our own age" and one of America's most distinguished pianists, has been heard in major concert halls across five continents. A Gold Medalist from the International Busoni Competition, Mr. Rose began his international career while still in his early twenties. His catalogue of critically acclaimed recordings are released on Medici Classics. Mr. Rose is on the faculty of the Mannes School of Music, and is Founder/Director of the International Keyboard Institute & Festival. PROGRAM CHOPIN - Polonaise-Fantaisie in A-Flat Major, Op. 61 SCHUMANN - Kreisleriana, Op. 16 BRAHMS - Piano Sonata No. 3 in F Minor, Op. 5
Asaf Yuria Group - Fat Cat
July 14, 2019 - New York
Asaf Yuria Group
After Hours hosted by The Program of Deprogramming - Fat Cat
July 14, 2019 - New York
After Hours hosted by The Program of Deprogramming

Want free advice on what to see and do in NYC? Join our Facebook group Everything to Do NYC, a place for people to ask questions and get tips on how to make the most of the city.