The Best Places to Eat in NYC Parks
September 2, 2016 - by Regina Molaro
Whether you're hungry for brunch, lunch, or dinner or you just want to unwind with a few cool cocktails, there are a host of style-savvy eateries that are located in picturesque city parks or marinas. Ride the wave of early fall by checking into these local hotspots.
Battery Gardens
Located at the southern most corner of Manhattan in Battery Park along the water's is Battery Gardens—a chic restaurant, beer garden, bar and patio with sweeping views of New York Harbor. The menu offers everything from pizza to salads, risotto, duck, fresh fish, and steak. With lots of open space, Battery Gardens boasts views of the historic Ellis Island and Statue of Liberty. 1 Battery Park, 212-809-5508, batterygardens.com
Bryant Park Grill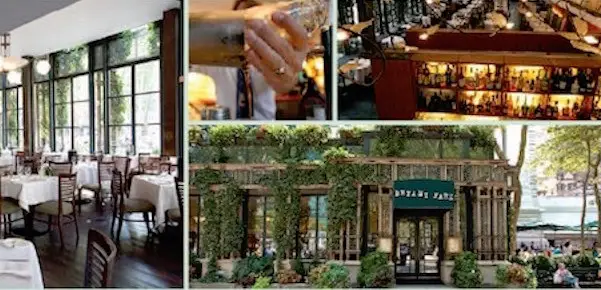 Bryant Park Grill offers New American-style dining in the heart of Bryant Park. Offering a seasonal patio and rooftop dining, it is an ideal location for dining and mingling in pleasant weather. Also run by the more swanky Bryant Park Grill is the Bryant Park Café—a more informal venue that also that serves American fare. Open mid-April to November, it is an ideal locale for enjoying a night out on the town or engaging in an intimate dinner. It boasts an extensive whisky selection, as well as classic cocktails at the Rooftop Bar. 25 W. 40th St., 212-840-6500, arkrestaurants.com
City Vineyard
New to Manhattan's city scene is City Vineyard—a restaurant and wine garden operated by the talents behind City Winery. Located at Pier 96 at Hudson River Park, City Vineyard fuses the buzz of the Big Apple with the charm of vineyard vines, which are associated with good ol' country life. The restaurant, which will unveil its full menu on July 29, also offers house-made wine. Design attributes include an enormous glass wall, second story rooftop, and outdoor seating. The Pier renovation, which has been a multi-year project by the Hudson River Park Trust, offers a park and building that feature unobstructed views of the World Trade Tower, Tribeca, and the river. Tap wine will be offered, as well as a stellar wine list culled from vineyards around the globe. 233 West St., 646-677-8350, citywinery.com/newyork/pier26
Ellington in the Park
Ellington in the Park is a new venue located in the scenic Riverside Park. Restaurateur Glenda Sansone, who opened Manhattan's venue The Ellington in 2013, is also the visionary behind Ellington in the Park. When the sun drops over the Hudson River and illuminates the sky with hues of orange and golden yellow, this beach-themed restaurant transforms into a trendy yet casual al fresco scene complete with drinks, live music, big screen TVs, and fine fare. Its drink menu offers everything from specialty cocktails to fine wines and liquors. An energy-infused lower level lounge area is near to fun summer sports such as beach volleyball, soccer, and softball. Open through November at Riverside Dr. and W. 105th St., 917-922-1156, ellingtoninthepark.com
La Marina
Those seeking a summery island vibe and some casual American cafe should certainly explore the scene at La Marina—a waterfront venue uptown in Manhattan. The newly rebuilt restaurant, bar, and lounge is located right off the Hudson River's scenic waterfront. An ideal spot for enjoying cocktails at sunset, a break from the mid-day heat, or a romantic dinner, La Marina incorporates the style and vibe of Miami's South Beach into the Manhattan scene. 348 Dyckman St., 212-567-6300, lamarinanyc.com
The Loeb Boathouse Central Park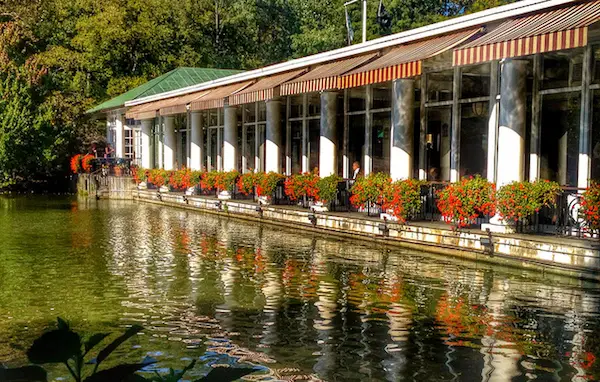 Located in the picturesque, lush setting of Central Park, this elegant lakeside locale is a country-style oasis in the midst of the buzz of Manhattan. Capturing the interest of foodies, nature enthusiasts, and cozy couples, it offers brunch, lunch, dinner, and dessert. The lunchtime menu boasts everything from delicious burgers to game hen and fresh tuna. Unwind with a refreshing drink and enjoy a meal as you watch rowboats pass by on the lake. In 2015, The Loeb Boathouse was an OpenTable Diners'Choice award winner. East 72nd St. and Park Drive North, 212-517-2233, thecentralparkboathouse.com
The Pavilion
This stately American restaurant, which is located in an open-air pavilion in Union Square Park, serves fine fare for brunch, lunch, and dinner. Stimulate the senses by taking in scenic views while enjoying delectable culinary treasures. At lunchtime, the menu is more casual and offers sandwiches, salads, market veggies, and a raw bar. At dinner time—from 5 p.m. to midnight—it offers much of the same, as well as lobster rolls, Blue Maine mussels, tender hanger steak, zesty sesame chicken, and more. Open seasonally through October, The Pavilion is located at 20 Union Square West at 17th St., 212-677-7818, thepavilionnyc.com
Tavern on The Green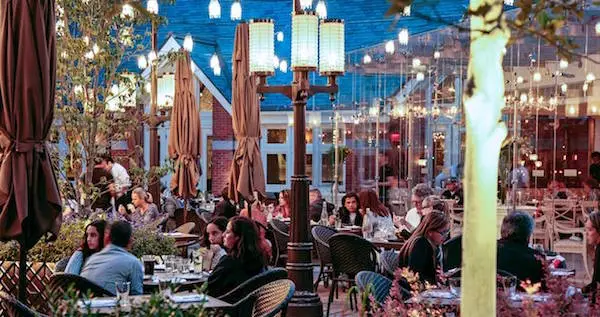 This charming, historic recently restored venue is a Central Park icon that is renowned for serving fine American fare. The landmark locale, which offers menus that range from brunch to lunch, dinner, and dessert, also includes an afternoon menu (burgers, tacos, flatbread, and more), Tavern To Go menu (croissants, salads, sandwiches, and more), and a beverage menu. Regardless of the time of day, the rustic cuisine focuses on local, seasonal ingredients. Originally designed by Calvert Vaux and built in 1870 to house the sheep that once grazed in Central Park's Sheep Meadow, Tavern on the Green has served a diverse range of patrons from locals to former presidents and royalty. The star-studded A-list also includes artists, actors, and more. 1 Tavern on the Green, 67th St., and Central Park West, 212-877-8684, tavernonthegreen.com
Shake Shack
Emerging from a hot dog cart that once served patrons in Madison Square Park, this budding business eventually evolved to become the iconic Shake Shack, which now has many locations throughout Manhattan and beyond. Serving burgers, chicken, flat-top dogs, beer, wine and even treats for pooches, Shake Shack also offers refreshing summer staples such as custard, shakes, cups, and cones. Located at the southeast corner of Madison Square Park (near Madison Ave. and E. 23rd St.), 212-889-6600, shakeshack.com
Looking for Free Group Planning Services?
Get free advice on planning your group's trip to New York.
RESTAURANTS

Brings together the character of Hell's Kitchen past with th...

THEATER

In a heartbeat, 38 planes with 6,579 passengers were strand...

SHOPPING

PANDORA, one of the leading names in jewelry for more than 3...

SIGHTSEEING

Located in Times Square in the heart of New York City, Riple...