Indelible Marks: Tattooed New York at the New-York Historical Society
February 2, 2017 - by Linda Sheridan
Tattoos are an intimate means of expressing one's identity and experiences. First seen in North America in the early 1700s on Iriquois Indians, the popularity of tattoos in New York increased over the next three centuries, with artists establishing shops in the Bowery and Coney Island. The New-York Historical Society's Tattooed New York chronicles the origins of tattoos from early Native American body art to being gradually embraced by sailors, women, and high society personalities, on through the city's current tattoo renaissance.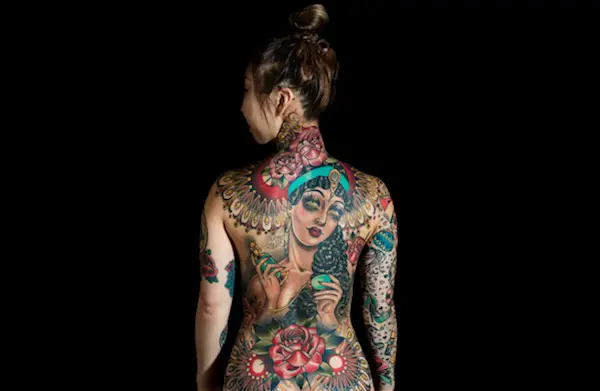 Tattoo Art by Rose Hardy on Zoe Brown, 2016. Courtesy Nicole Reed Photography.
Tattooed New York features more than 250 works dating from the early 1700s to today—exploring the evolution of tattooing needles and ink, stencil materials, and the diversity of tattoo artist styles.
Iriquois Indians would use pigments of soot and crushed minerals for their tattoos, some as personal signatures, others to protect, heal, or demonstrate military victories. Some women had medicinal tattoos to help deal with rheumatoid arthritis.
Soldiers and sailors gravitated to the allure of tattoos, frequently revisiting themes with anchors (stability), cannons for military accomplishments, pigs and roosters on feet (protection and drowning), swallows to demonstrate distance travelled around the world, dragons to demonstrate they'd been to China, or shapely ladies, to inspire them in combat.
By 1859, the first tattoo parlor opened in New York, in Chatham Square (in what is Chinatown today). Martin Hildebrandt (1825-1890) was the earliest recorded American tattoo artist, with shop locations on Water Street, James Street, and Oak Street downtown. He had a rep for using the finest India ink and vermillion, manually poking clients with half a dozen needles tied in a bundle. With the influx of sailors, Coney Island and the Brooklyn Navy Yard also became popular spots for tattoo parlors.
Thomas Edison's Electric Pen, 1876. Collection of Brad Fink, Daredevil Tattoo NYC.
A tattoo needle moves back and forth hundreds to thousands of times per minute, injecting ink into the skin. In 1891, New York tattoo artist Samuel O'Reilly adapted Thomas Edison's prototype of an electric pen into a rotary tattoo machine. This revolutionized the administering of tattoos, making it cheaper, faster, and widely available. Shortly after O'Reilly came out with his version, the British one-upped him with tattoo machines that use electromagnets, which are what's most commonly used today.
Mildred Hull, first woman tattoo shop owner, and business partner Tommy Lee. Collection of Brad Fink, Daredevil Tattoo NYC.
Folks in high society circles of the 19th and early 20th century—writer Dorothy Parker, department store magnate R.H. Macy, President Theodore Roosevelt—all sported tattoos. In 1897, Mildred Hull became the first woman to open her own tattoo shop in the Bowery. Tattoo-inspired apparel became popular in the 1920s. By the 1950s, however, the popularity of tattoos with the wealthy began to wane; the embellishments became associated with people of the rougher segments of society: bikers, gang members, prisoners.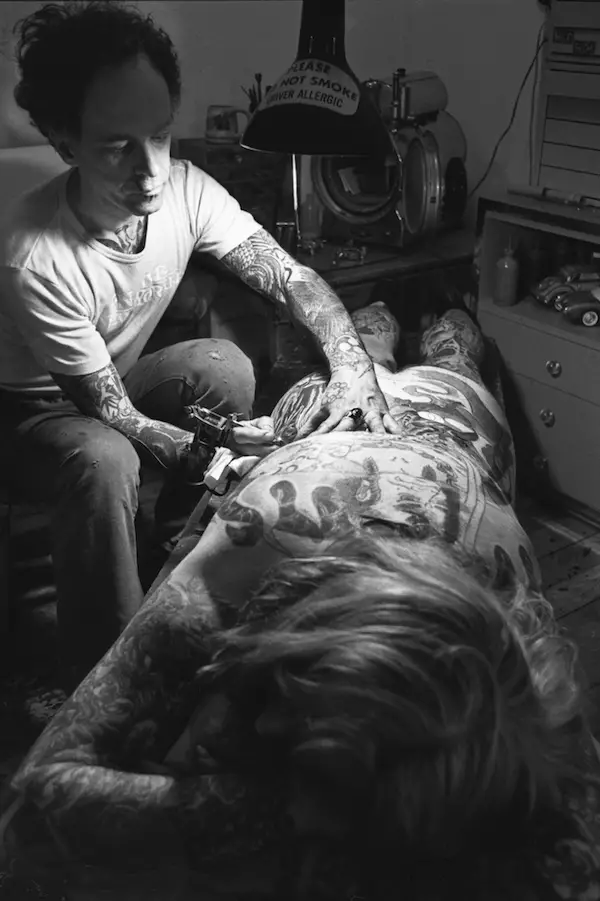 Tattoo artist Thom deVita works on a client in his apartment studio in 1976, during the ban years. Photo by John Wyatt. Courtesy of the artist.
A 35-year ban (between the years of 1961 and 1997) precipitated by a Hepatitis B breakout didn't stop people from getting tattoos—they were just done quietly, in artists' homes at odd hours. The exhibit explores the work of tattoo artists that flourished during this underground period, including Thom deVita, Ruth Marten, Mike Bakaty, and Spider Webb.
In the 1970s, women began to use tattoos as a means to further assert their identity, independence, and control over their own bodies. In later years, women impacted by breast cancer began using tattoos to turn something painful into a beautiful piece of art. A series of tattooed mastectomy portraits are on display, including a renowned, controversial "before" portrait of Maxi Matuschka that graced the cover of The New York Times Magazine in 1993, along with her portrait displaying her tattooed scar in 2003. Commemorative tattoos worn by survivors of 9/11 are also on display.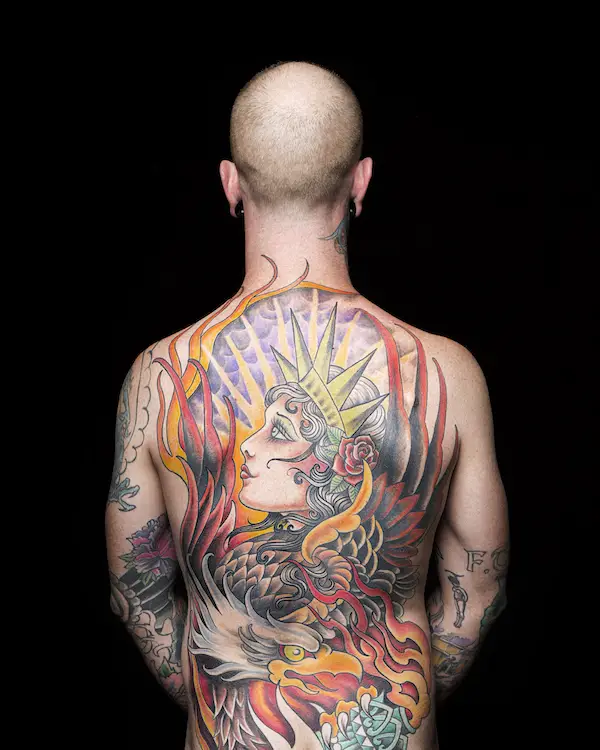 Lady Liberty on Evan Hall, 2016. Photo by Dale May. Tattoo art by Michelle Myles.
Tattooed New York is curated by Christian Petru, assistant curator of exhibitions at N-YHS. Petru spent more than a year researching and interviewing artists at tattoo parlors for this exhibit; he even got his first tattoo, of his mom, after the initial month of research. "It hurt a lot more than I thought it would," he laughed.
During the weekend of February 10-11, N-YHS will even be welcoming local tattoo artists Minka Sicklinger (2/10) and Sophie C'Est La Vie of Saved Tattoo, Brooklyn (2/11) on the premises for live demonstrations (they will be bringing their own clients).
"It's a way to complete the narrative of the show," says Petru. (Please note, artists may be subject to change.) If you want to social something you've seen at the exhibit, tag it with #TattooedNY.
Also, on March 30, architectural historian Barry Lewis will explore the development of New York's entertainment hub, Coney Island, an epicenter of tattoo culture.
For more information, visit nyhistory.org. Tattooed New York will be up through April 30, 2017.
Looking for Free Group Planning Services?
Get free advice on planning your group's trip to New York.
RESTAURANTS

Burke's dual-concept restaurant opened in 2005 and spans the...

THEATER

In this new musical, Jenna, supported by her quirky crew of ...

SHOPPING

DataVision is redefining retail with their new, fully intera...

SIGHTSEEING

Start by ascending to the top of the tallest building in the...