Taylor Swift Joins Madame Tussauds' Roster of Stars
October 29, 2010 - by City Guide News Desk
On Wednesday, Oct. 27th, 2010, pop star Taylor Swift joined the ranks of President Barack Obama, Robert Pattinson, Brad Pitt, and countless other celebrities when her wax likeness was unveiled at Madame Tussauds (234 W. 42nd St., 800-246-8872; www.nycwax.com).
Taylor Swift is the first female solo country artist to have written or co-written all the songs on her platinum-selling debut. Her first album came out in 2006 when Taylor was just 16 years old. Her album has since sold over 3 million copies.

The costume worn by Taylor's wax figure was kindly donated following a sitting with a team of Madame Tussaud's artists who traveled from London to meet her in Nashville, Tennessee. Production of this figure took approximately 4 month, carefully replicating all details. Taylor arranged for us to obtain one of her guitars, which was then customized. This guitar is made with Swarovski Elements.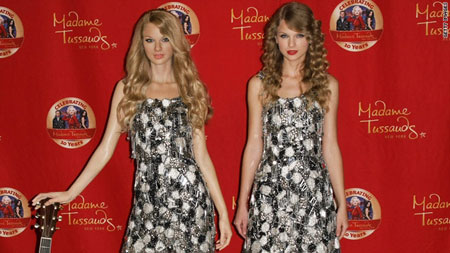 ABOUT MADAME TUSSAUDS NEW YORK: Who do you want to meet? At Madame Tussauds (234 W. 42nd St., 800-246-8872; www.nycwax.com), guests gaze into the eyes of their favorite film, music and sports stars and feel like they're staring right back. Because each wax figure is an exact duplicate of the iconic figure they represent, guests can see how they measure up to their favorite stars. Unlike most museums, which have a 'no-touch' policy, here you can pose for pictures and mingle with over 200 wax celebrities.

Visitors take their time strolling through over 85,000 square feet of exhibit space. Each area has its own theme, like 'Opening Night Party,' which features a slew of stars like Brad and Angelina, Sean Combs, Jennifer Lopez, Julia Roberts, Woody Allen and Tyra Banks. There's also a 'Club' where visitors can hang out with Biggie Smalls, Tupac Shakur, Beyoncé and Usher.

In the 'White House Room,' which features important figures in history, guests have their picture taken in the Oval Office with President Barack Obama and First Lady Michelle Obama. Helen Keller, Ronald Reagan and Richard Nixon are also on display, as is a tribute to the firefighters of 9/11. Who knew that it was possible to 'meet' Albert Einstein, the Dalai Lama, Maya Angelou, Gandhi and Princess Di all in one room?

Don't miss the opportunity to discover the boyish good looks of JFK that charmed a nation (and reportedly a certain starlet). Speaking of starlets, on another floor in a section called 'Andy Warhol's Women,' Jackie Onassis and Marilyn Monroe stand perhaps a little too close for comfort.

Elsewhere, guests descend into one of several 'City Lounges' and mingle with the likes of Madonna, Paris Hilton, Shakira and Jessica Simpson. There's no shortage of top-notch eye candy. The ladies like getting close to heartthrobs like Johnny Depp, Leonardo DiCaprio, and Robert Pattinson, and are amazed to find that the artistry is so precise, their pores are visible!

Did you know that Elvis had a shaving scar on his chin and that JFK had freckles? Guests are encouraged not to be shy and get up close and personal with their favorite stars, like James Dean, Lucille Ball, Muhammad Ali, Johnny Cash, Frank Sinatra and Diana Ross.

Music lovers will cherish their picture with The Beatles, Elton John, Bob Marley, Britney Spears, Bruce Springsteen, Tina Turner, Prince, Michael Jackson, Janis Joplin and Jimi Hendrix. It is possible to go back in time and view legends captured at their peak, like Charlie Chaplin, Josephine Baker, Billie Holiday, Duke Ellington and Joe DiMaggio. Madame Tussauds makes miracles happen.

The bravest of guests can walk through a dizzying hall of mirrors into the Scream attraction, if they dare. There's only one way out of this horror movie-inspired, interactive attraction, and chances are that they'll scream before they get there. Those that make it out intact find themselves on the Rachael Ray set, complete with Rachael Ray.

Also in Madame Tussauds, a 'behind the scenes' multimedia display walks visitors through the wax-sculpting process. From the initial portrait sittings to the final intimate details, it takes 3-4 months from start to finish to create each figure. During the initial sitting, 226 measurements are taken of the subject's head and body. Over 150 photographs are also taken, from which the subject's wardrobe, hair and eye colors are exactly matched. It takes 330 pounds of clay to sculpt each figure, and each strand of hair is inserted into the eyebrows and head separately. Every freckle, mole and dimple of the subject is carefully reproduced. Artisans use real human hair and each iris is hand-painted.

After getting their fill of celebrity fun, visitors head to the 4-D Cinema. The theater boasts a 'fourth dimension' of experience that accompanies the 3-D action on screen. At a recent show, wind, bubbles, and smells wafted thought the theater as the audience followed SpongeBob Squarepants on an underwater journey to find a 'pickle for a patty.' Warning: the seats also vibrate. Hold on to your popcorn!

Take $5 off adult or children's tickets by clicking here.

Check out Madame Tussauds website for more information and group discount information here: www.nycwax.com. -- Caroline Cooney
Looking for Free Group Planning Services?
Get free advice on planning your group's trip to New York.
RESTAURANTS

A sophisticated, elegant steakhouse with generous portions o...

THEATER

This new American musical offers a deeply personal and profo...

SHOPPING

Shop or sell at this weekend bargain hunters' paradise....

SIGHTSEEING

Start by ascending to the top of the tallest building in the...