Things to Do in Gramercy This Month - January 2019
January 5, 2019 - by CG Directory Editor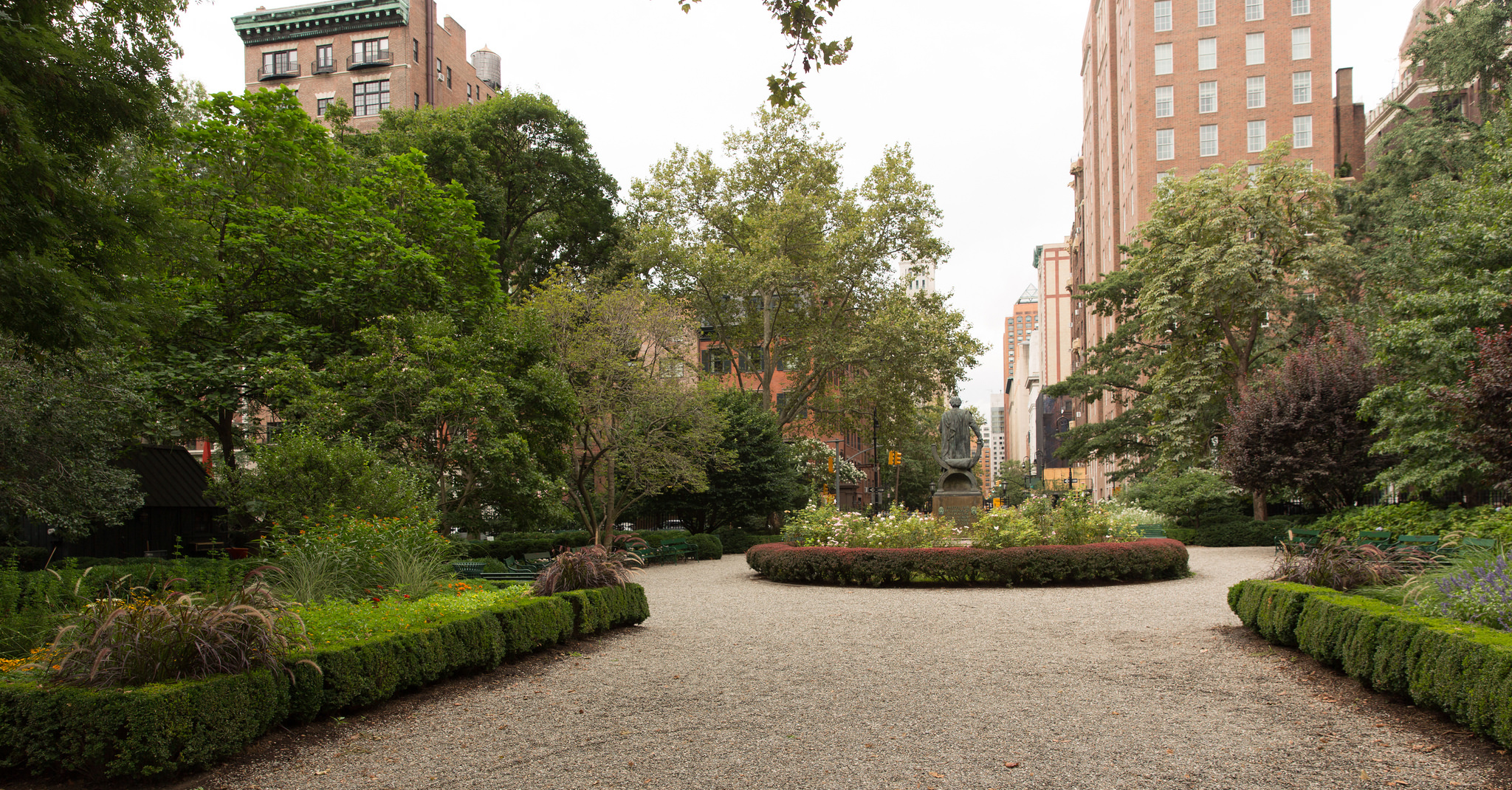 Photo: Andy Rusch/Flickr

Gramercy is one of Manhattan's smallest neighborhoods, but it's also one of the most beautiful. You'll find a nice selection of tasty eateries and independent shops in the area, as well as quite a few class New York City photo ops. City Guide will prepare you for your exploration of the area with this list of things to do in Gramercy this month.


Dafnis Prieto Big Band - Jazz Standard
January 05, 2019 - New York
From Cuba to New York to the world stage, Dafnis Prieto's revolutionary drumming techniques and compositions have had a profound impact on today's Latin and jazz scenes. Soon after his arrival in New York in 1999, Prieto became the drummer of choice for such leaders as Henry Threadgill, Steve Coleman, Eddie Palmieri, Roy Hargrove, and Andrew Hill. He soon struck out on his own, receiving a GRAMMY Award nomination for the album Absolute Quintet (Zoho Music, 2006) followed by a Latin GRAMMY nomination for Best New Artist in 2007; in 2009, his Sí o Sí Quartet released the incendiary Live at Jazz Standard NYC. A 2011 MacArthur Fellowship "genius grant" enabled Prieto to record and release his latest album, Back To The Sunset by the Dafnis Prieto Big Band, on his own Dafnison Music – and now this thrilling set is nominated for a Latin GRAMMY Award for Best Latin Jazz Album. Make your reser­vations now for this special one–night stand by a group that "expresses the sheer force and depth of field that only a big band can achieve!" (Larry Blumenfeld, The Wall Street Journal, 4.2.2018)
Band: The Story of Band - The Peoples Improv Theater
January 05, 2019 - New York
An improvised musical mocumentary.
Grad Show | 1/5| Level 2 Booth - The Peoples Improv Theater
January 05, 2019 - New York
Grad Show
The Magical World of Musical Improv - The Peoples Improv Theater
January 05, 2019 - New York
Come Be Our Guest for this magical, musical improv show where we take your favorite childhood movie scenes and reimagine them with improvised songs! We play clips from classic children's films and then jump on stage as the characters you know and love to finish each scene with a never-before-heard song! Come be a Part of Our World and get ready to experience the Magic Kingdom in a Whole New Way! "Can you feel the laughs tonight?" – Timon the Meerkat, Jungle near the Pride Lands "You ain't never seen a show like this!" – Genie of the Lamp, Agrebah "It's Supercalifragilisticexpialidocious!!!" – M. Poppins, Practically Perfect in Every Way
Centralia - The Peoples Improv Theater
January 05, 2019 - New York
New York improv legends Centralia have been wowing audiences since before we all had smartphones. Their highly theatrical style of improvisation is so seemless most folks assume it was scripted. But it's not, nothing this crazy could be. Always wild, always funny and never like the ordinary, Centralia is a must see improv experience.
Improvised 30 Rock - The PIT
January 05, 2019 - New York
Improvised 30 Rock Is A Group Of Superfans Resurrecting Our Favorite Show Through Longform Improv. Dressed In Costume, Liz, Tracy, Jenna, Jack, Kenneth And The Rest Of Your Favorite Characters Will Perform A Never-before-seen Episode Of 30 Rock Based On An Audience Suggestion, With Live Musical Accompaniment! Featuring: Liz Lemon: Sophie Hirsh Tracy: Cynia Barnwell Jenna: Brielle Demirjian Jack: E.a. Moss Kenneth: David Bluvband Pete: Shannon Burke Frank: Angela Palladino Lutz: Megan Sugrue Alfonso: Nick West
Jazz Brunch: Live Jazz Trio - Fine & Rare
January 05, 2019 - New York
Enjoy our new brunch menu, an array of crafted cocktails & spirits and a live jazz performance.
Live Jazz Trio - Fine & Rare
January 05, 2019 - New York
Live Jazz Performance
Brian Newman's Residency - Fine & Rare
January 05, 2019 - New York
Brian Newman has become one of the most sought-after acts in New York City. Splitting his time between touring with Lady Gaga and Tony Bennett and leading his own quartet with his crooner jazz revival and signature expert trumpeteering, Newman is part of the movement that is bringing glamour back to New York.
Marshall Charloff & The Purple Xperience - The Cutting Room
January 05, 2019 - New York
The most Authentic Tribute to Prince and The Revolution in the World. Marshall Charloff styles the magic of Prince in unmatched fashion with his appearance vocal imitation, and multi-instrumental capacity on guitar and piano. Come see for yourself why this show is the real deal!
On the Radio - The Cutting Room
January 05, 2019 - New York
On the Radio
French Jazz & Tango Celebrating Piaf, Brel, Aznavour & Piazzolla - Club Bonafide
January 05, 2019 - New York
Celebrating Piaf, Brel, Aznavour & Piazzolla Few things are more distinctly French that the music of Edith Piaf, Jacques Brel and Charles Aznavour. These and other Gallic icons are the focus of From Paris With Love, a musical homage to the City of Lights from the duo Yael & Gabriel. Yael Dray-Barel is a French/Israeli singer/songwriter influenced by rock and gypsy jazz, and her songs often incorporate the five languages she speaks. Argentinian guitarist Gabriel Hermida infuses his compositions with the essence of classical tango, flamenco and contemporary jazz. Together, the pair will salute such timeless French songs as "La Vie en Rose," "Non, Je Ne Regrette Rien" and "Hymne a L'Amour, along with work from Argentine composer Astor Piazzolla, at Club Bonafide in New York City
Brazilian Jazz & Flamenco Feat. Barbara Martinez - Club Bonafide
January 05, 2019 - New York
Venezuela-born and New York City-raised singer-dancer Barbara Martinez is a flamenco artist with serious chops. The Philadelphia Inquirer called her voice "achingly beautiful" and The New York Times said she makes "something fresh of the Latino style." Martinez has danced with the Metropolitan Opera in shows like Carmen and La Traviata, and recently appeared in the documentary Sobre Las Olas — A Story of Flamenco in the U.S. Now, this passionate entertainer is coming to the stage at Club Bonafide in New York City.
The Three Stooges Live on Stage, The Three Stooges Live on Stage - Cutting Room
January 06, 2019 - New York
The Legacy Lives On as Curly Howard's Grandson, Brad Server Joins The Cast. Stooges Slapstick with a modern twist. The new live show is loosely adapted from segments of the classic Three Stooges film shorts, woven into a new master storyline. The show includes the expected pie fight updated with virtual reality set design. Stars Chris Durmick, Danny Roque and Andy Pagana (Jay Leno's Tonight Show, Harry Potter touring shows, Universal Attractions, Big Baby and first casting for The Three Stooges movie release 2014) with Ginger Pauley (HBO, Vintage America and Hoosier Daddys), plus John Grantham (Get Shorty), Nick Santa Maria (Biffle and Shooster, Johnny Carson), Scott Martin: Music Director (LA Ovation Award) and J-Walt: Projection Set Designer (Academy Award technology winner and Disney's Epcot VR founder team) .
The Ian Herrin Improv Hour - The PIT
January 06, 2019 - New York
The Ian Herrin Improv Hour is a monthly improv comedy showcase hosted by Ian Herrin! We cram in our favorite indie teams from around the city alongside house teams and special guests all in one tight hour! The result is a fast and fun night of friendship you won't soon forget. Come see why some people are calling us the best indie improv show in the city! Past Special Guests have included Casey Jost, Jon Bershad, James III, Morgan Miller, Molly Thomas, Paul Laudiero, Frank Garcia-Hejl, Mike Kelton, and many more! You can also check out the live show's new companion podcast, The Ian Herrin Improv Half-Hour, on iTunes.
Pluto Is Missing! a Not-So-Planetary Musical - The Peoples Improv Theater
January 06, 2019 - New York
The year is 2006, and there's been a big shake up in the Milky Way: Pluto has been reclassified as a dwarf planet! When news of its demotion reaches the small planetoid, Pluto leaves the Solar System on a cosmic journey, meeting groovy satellites, fun-loving gas giants and a galaxy of other celestial oddballs on its quest to become a planet again. "Pluto Is Missing!" is a family-friendly space comedy that blends music, puppets and fantasy with real science and space exploration history. You'll leave the theater with your head full of catchy songs and astronomical knowledge! Created by Chris Mann Script and Music by Chris Mann and Emily Duncan Starring Calvin Cole, Emily Duncan, Alfonso Giansanti, Chris Mann, Aria Shahghasemi and Mallory Wu!
We Are Thomasse - The Peoples Improv Theater
January 06, 2019 - New York
The British-American married couple perform over 30 sketches in 75 minutes, guaranteeing the fastest pace sketch comedy you'll see on either side of the Atlantic. With hints of Monty Python's wackiness and Carol Burnett's wit, We Are Thomasse serves up a unique brand of squeaky clean yet twisted sketch comedy, covering everything from the Revolutionary War to fairy tales to polite sex and all that's in between. The duo is known worldwide, having performed to full houses in Los Angeles, New York, Austin, London, Paris, and Amsterdam, and pulling in over 13 million views on Facebook, Funny or Die, and YouTube with their digital content. For more information, visit
Camila Meza & the Nectar Orchestra - Jazz Standard
January 06, 2019 - New York
There can never be anything rote or routine about a Jazz Standard performance by Camila Meza – and this night will be no exception. The enchanting Chilean–born singer, guitarist and composer will lead the expanded jazz–plus–strings group she calls the Nectar Orchestra in songs from Ambar, a new CD that elevates Camila's musical storytelling to another level. "Camila Meza is just the latest evidence that this music — stereotypically thought of in today's culture as fussy, niche, over-elite, cold, old — is capable of crossing every barrier. There's an audience for this kind of beauty, melody, invention, flight." (Will Layman, PopMatters, 5.9.2016) Camila Meza – voice, guitar Eden Ladin – piano Noah Wiesenberg – bass, string arrangements TBA – drums Tomoko Omura – violin Fung Chern Hwei – violin TBA – viola Brian Sanders – cello
Jazz Brunch: Live Jazz Trio - Fine & Rare
January 06, 2019 - New York
Enjoy our new brunch menu, an array of crafted cocktails & spirits and a live jazz performance.
The Kat Vokes Trio - Fine & Rare
January 06, 2019 - New York
Live performance by The Kat Vokes Trio
A Beautiful Celebration Of Jazz Classics, Bossa Nova & Originals Feat. Julie E. & Alex Blake With Special Guest Yoichi Uzeki - Club Bonafide
January 06, 2019 - New York
A Beautiful Celebration of Jazz Grammy-winning lyricist and cabaret favorite Julie Eigenberg, also known as Julie E., takes the stage at Club Bonafide with award-winning Bassist Alex Blake for an afternoon of cool jazz.Together With Pianist YOICHI UZEKI they'll bring you Eigenberg's soulful interpretations of jazz classics plus some lively original jams. Relax, kick back and enjoy The Show as you take in this sure-to-be swinging show. Julie Eigenberg Julie Eigenberg, began her singing career in NYC, performing with such greats as George Duvivier, Eumir Deodato, David Spinozza, Vicki Sue Robinson, Moogy Klingman, the Brecker Bros., Leon Pendarvis , Anthony Jackson, Will Lee, and Lew Soloff to name just a few. Julie co-wrote the song, "Why Not!" with Michel Camilo, and the Manhattan Transfer won the 1983 Grammy Award for Best Jazz Vocal of a Group with their Atlantic Records recording of "Why Not". Alex Blake played on that recording. At that time in NYC, Julie was forging her career in the jingle and advertising world, and had the great good fortune to stand next to and sing with Patti Austin, Valerie Simpson, Barry Manilow, Paul Williams as well as some of the greatest studio ... (read more)
Author's Intention: A Table Read of Sketches as the Writers Intended - The Peoples Improv Theater
January 07, 2019 - New York
A comedic sketch evolves from script to stage… so what was the Author's original intention, after all? In this show, we hear non-binary and female-indentifying writers discuss where their stories come from, followed by a comedic staged reading of their scripts… exactly as the writers intended. We're giving the writer's stories back to them, and you're going to want to hear what they have to say.
The Fifth Dentist - The PIT
January 07, 2019 - New York
Written as a love letter to his late father, the infamous owner of "Sid King's Crazy Horse Bar," Mike King performs his life story about being a dentist, a stand up comedian, and the son of a "nightclub" owner. A heart-warming, hilarious tribute to his father Sid King, "The Sultan of Striptease."
Mingus Big Band - Jazz Standard
January 07, 2019 - New York
Our perennially popular "Mingus Monday" series continues tonight with two fiery sets by the GRAMMY Award–winning Mingus Big Band, celebrating the life and music of Charles Mingus (1922–1979). "Among the giants of jazz, composer, bandleader, and string bass player Charles Mingus ranged the fur­thest stylistically. While focusing on bop, especially hard bop, his performances explored all of the other main currents in jazz – the New Orleans style, swing, free jazz, and fusion – and other genres as well – blues, rhythm & blues, boogie woogie, and gospel music." – From The Blackwell Guide to Recorded Jazz, edited by Barry Kernfeld (1992)
Tasting Class: Whiskey 101 - Fine & Rare
January 08, 2019 - New York
Our most popular class to date. This class gives you an overview of the various styles of whiskey including Bourbon, Rye, Scotch, Irish and other international marks. You will nose, taste and evaluate a diverse selection of whiskey.
Audrey Silver - Club Bonafide
January 09, 2019 - New York
Audrey Silver is one of the most elegantly creative singers in jazz today. Known for her smooth, effortless sound, sensitive interpretations, satisfying swing, and unique approach to the American songbook, Audrey sings with a style that radiates her warm, generous personality. Audrey's steady stream of appearances—including performances at the Tanglewood Jazz Festival and New York's prestigious JVC Jazz Festival—have made her more sought after than ever. Based in New York City, she performs at numerous venues including 55 Bar, Cornelia Street Cafe and Jazz at Kitano. In October, 2016 Audrey released her third CD, Very Early. Included in the stellar line-up are two revered jazz musicians, Bruce Barth on piano and Lewis Nash on drums. The album offers a broad array of music from American Songbook standards, originals, to contemporary tunes and a French song all creatively arranged by singer, composer and Berklee professor, Steven Santoro. Audrey received critical praise for her "vocal prowess" in her second album, Dream Awhile, which features many of the players that have worked with her in New York clubs throughout her career, including pianist Joe Barbato, bassist Joe Fitzgerald,... (read more)
David Rudolf, Jerry Buting - The Gramercy Theatre
January 11, 2019 - Manhattan
**Will Call tickets cannot be picked up before the doors open on the night of the show**
Grunge-A-Palooza, Superunknown, Last Exit, White Limo, Flannel - The Gramercy Theatre
January 12, 2019 - Manhattan
"White Limo" is a song by the American rock band Foo Fighters. It is the second single from their seventh studio album Wasting Light. The single was released on March 28, 2011 as an iTunes digital download.
Yasumasa Morimura: Ego Obscura - Japan Society
Through January 13, 2019 - New York
This fall, join us for the first NY institutional solo exhibition of one of Japan's most prolific and versatile contemporary artists, Yasumasa Morimura. Ego Obscura highlights Morimura's 30-year-long project of excavating "the self" from layers of art history, Japanese postwar history, and personal history. In addition to major photographic self-portraits, for which Morimura transformed himself into iconic artistic and pop culture figures, the exhibition will also feature the U.S. premiere of the artist's first full-length video work, Egó Sympósion (2016) and his latest cinematic installation Egó Obscura (2018), in conjunction with a live performance, Morimura's Nippon Cha Cha Cha!, staged by the artist on the opening weekend.
Tasting Class: Luxury Whiskeys - Fine & Rare
January 26, 2019 - New York
This class features six luxury whiskeys. We consider them 'single ingredient cocktails' – meant to be sipped and savored as they are. You will learn how to nose, taste and appreciate fine whiskey and what makes each expression so unique. This class is a treat for those looking for something a bit more special. Selection: Colonel Taylor Barrel Proof Bourbon Kentucky Owl 11yr Rye Westland Garyanna American Single Malt Auchentoshan 17yr by Cadenhead Deanston 20yr Oloroso Finish Ardbeg Grooves Signature cocktail, six whiskeys and light appetizers provided.
The Music of Nina Simone & First Ladies of Jazz & Blues - Club Bonafide
January 31, 2019 - New York
First Ladies of Jazz & Blues: The Music of Etta James, Billie Holiday, Nina Simone & More feat. Emilie Surtees Jazz has not one queen but three, and impassioned vocalist Emilie Surtees will pay homage to all of them in First Ladies of Jazz & Blues. From scat to breathy ballads, "First Lady of Song" Billie Holiday could do it all while Etta James is considered one of the greatest blues singers who ever lived. And Nina Simone lit the world on fire with a vibrato that stirred souls and moved mountains. Hear some of this Holy Trinity's greatest hits as Surtees interprets them with conviction at Club Bonafide in New York.
On Blueberry Hill - 59E59 Theaters
Through February 03, 2019 - New York
Following its world premiere at Dublin Theatre Festival 2017, Olivier Award-winning Fishamble (Charolais, Little Thing, Big Thing, The Pride of Parnell Street) brings Sebastian Barry's critically-acclaimed production of On Blueberry Hill to New York. Featuring Niall Buggy and David Ganly as best of friends and worst of enemies, Christy and PJ, this new play is bursting with humanity as it explores murder, forgiveness, survival, and ultimately, love in the prison of the human heart.
Jimmy Cobb's 90th Birthday Celebration - Jazz Standard
Through February 03, 2019 - New York
A superb, mostly self–taught musician, drummer Jimmy Cobb is the elder statesman of the incredible Miles Davis bands of the 1950s and early '60s. Jimmy's inspirational work with Miles, John Coltrane, and Cannonball Adderley spanned the years 1957–1963, and included the 1959 masterpiece Kind of Blue, still the best–selling jazz album in history; he also played on the Miles Davis albums Sketches of Spain, Someday My Prince Will Come, and Live at Carnegie Hall, to name a few. After leaving the Davis group, Jimmy continued to work with Wynton Kelly and Paul Chambers behind such leaders as Wes Montgomery, Kenny Burrell, and J.J. Johnson before joining Sarah Vaughan's trio for a nine–year run. Cobb made his recording debut as a leader in 2002 with Yesterdays, with contributions from Michal Brecker, Roy Hargrove, and Jon Faddis; his 2014 live album, The Original Mob, featured pianist Brad Mehldau and guitarist Peter Bernstein. "His time feel hasn't changed substantially in 50 years, which would be a problem if he weren't fully in command of its great undercurrent. So while his playing can suggest its own tribute, it also continues to be a living language…For someone like Jimmy Cobb, jazz ... (read more)
Tolkien: Maker of Middle-earth - Morgan Library & Museum
Through May 12, 2019 - New York
"In a hole in the ground there lived a hobbit." With these words the Oxford professor J.R.R. Tolkien ignited a fervid spark in generations of readers. From the children's classic The Hobbit to the epic The Lord of the Rings, Tolkien's adventurous tales of hobbits and elves, dwarves and wizards have introduced millions to the rich history of Middle-earth. Going beyond literature, Tolkien's Middle-earth is a world complete with its own languages and histories. Tolkien: Maker of Middle-earth celebrates the man and his creation. The exhibition will be the most extensive public display of original Tolkien material for several generations. Drawn from the collections of the Tolkien Archive at the Bodleian Library (Oxford), Marquette University Libraries (Milwaukee), the Morgan, and private lenders, the exhibition will include family photographs and memorabilia, Tolkien's original illustrations, maps, draft manuscripts, and designs related to The Hobbit, The Lord of the Rings, and The Silmarillion. Tolkien: Maker of Middle-earth is organized by the Morgan Library & Museum in collaboration with the Bodleian Libraries, Oxford University and with the support of The Tolkien Estate, The Tolk... (read more)
Looking for Free Group Planning Services?
Get free advice on planning your group's trip to New York.
MORE Activity Planner ARTICLES
RESTAURANTS

Beloved midtown spot takes inspiration from local tradition,...

THEATER

In a heartbeat, 38 planes with 6,579 passengers were strand...

SHOPPING

DataVision is redefining retail with their new, fully intera...

SIGHTSEEING

Sweeping, unobstructed, open-air views of NYC from the top o...