Valentine's Day in New York City - Romantic Restaurants and More
January 16, 2014 - by City Guide News Desk
It's that time of year again -- Valentine's Day. The pressure on couples and couples-in-the-making on this day is stronger than it is on a Wall Street stock trader at 4pm. But never fear, we're here to help you convey just the right message to the one you love -- or you just "like like" -- on February 14, 2014.
Many restaurants throughout the city offer special menus for Valentine's Day. Here is a wide variety of selections for the special night in question, the weekend before, and the entire month of February.
Please click on the restaurant name for address, phone number, website, and more information.
Looking to get married in NYC? Click here for all the information you need!
---
Valentine's Day at Abboccato Ristorante will feature a Chef's Four-Course Tasting Menu ($65; $95 with select Italian wine pairings). Dishes include "Small Pasta Squares" (Braised Short Ribs, Tomato, Garlic, Pecorino Romano) and Roasted "Suckling Pig" stuffed with Porcini Mushrooms. To view the full menu, click here. Click here for reservations.
---
B.B. King Blues Club & Grill will be featuring a special Tamia Valentine's Day Show (above) at 7:30pm and a Brazilian Valentine's Evening with Nanny Assis upstairs at Lucille's. Click here for tickets and more info.
---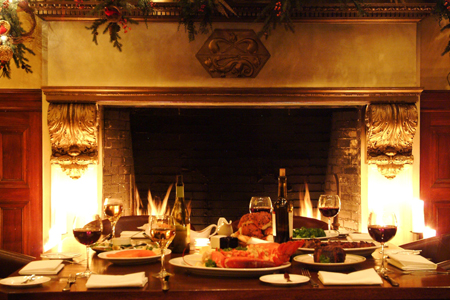 The Valentine's Day menu at Benjamin Steakhouse will include three courses (plus sides) and a Valentine toast for $99. Their entrees include USDA prime, chef-selected, dry aged porterhouse steak (ordered in pairs), filet of Chilean sea bass, USDA prime filet mignon, dry aged USDA prime rib eye steak, and a surf-and-turf plate (lobster tail paired with USDA prime filet mignon), followed by a choice of dessert. For the full menu and more details, click here. Please call ahead for reservations (212-297-9177) or click here to reserve online.
---
"Milan meets Manhattan" at Casa Lever, which will offer a multi-course Valentine's Day dinner from 6-11pm ($140/person; includes a complimentary bottle of Bollinger Rosé). Entrée choices include seared sea scallops and spice-crusted rack of Colorado lamb. (Psst: It's also home to one of the world's largest collections of original Andy Warhol paintings.) For more information and the full menu, click here.
---
What's would be more luxurious than dining on caviar for the evening? Caviar Russe is one of America's largest caviar importers, where you can sample the caviar you're buying. Their restaurant will offer a special Valentine's Day menu ($495) that features Caspian Golden Osetra, Blue Fin Tuna, Foie Gras, Saffron Risotto, Beef Rib Eye and much more. Click here for the full menu; call 212-980-5908 or click here for reservations.
---
In upscale setting reminiscent of old-style European circus tents, Circo on West 55th Street will offer a 4-course Italian Romance Dinner ($68/person; $108 with wine pairings) that includes Nova Scotia selected oysters, homemade squid ink garganelli, roasted Chilean sea bass; and other options. Click here for the full menu; call 212-265-3636 for reservations.
---

Photo: Bill Milne

David Burke Kitchen—located at The James Hotel New York—will be offering a 3-course prix-fixe menu ($79) from 5 to 11pm, which includes Plymouth Rock oysters, pretzel-crusted crab cakes, grilled salmon, grilled swordfish "paella" style, 45 day dry-aged rib eye, and much more. Click here for the full menu; click here for reservations.
---
Celebrate Valentine's Day at Del Frisco's Steak House, located near Radio City Music Hall in Rockefeller Center, midtown Manhattan. The expansive setting reflects the rhythm and energy of midtown, and the menu features fresh, aged prime beef shipped from the Midwest twice a week, and lobster, fish, lamb, and more. Del Frisco's is the perfect place to mark the occasion with impeccable chef-driven cuisine and world-class hospitality. Click here for their menu. Reservations are recommended; call 212-575-5129 or click here.
---
Upper East Side diners lining up for David Burke's signature spin on upscale seafood at Fishtail, which will be offering a Valentine's Day $75 prix-fixe from 5 to 11pm. The menu includes Maine lobster soup, smoked rainbow trout, prawns with wild mushroom gemelli, cauliflower steak, and much more. Click here for the full menu; click here for reservations.
---
For Valentine's Day, Garage Restaurant & Cafe in Greenwich Village will be offering a VIP five-course Couples Menu ($79.95/person) with entreés such as surf & turf for two, New Zealand rack of lamb, twin semi-boneless Cornish game hens (for two), lobster ravioli, flame-grilled Chateaubriand, and salmon Wellington (for two). The white tablecloth gala atmosphere will be punctuated with beautiful roses on the tables, a romantic fire burning in their two-story fireplace, and romantic jazz played late into the evening by the David Coss Quartet and the Justin Lees Quartet. Click here to see the full menu, which is offered from 5pm. For reservations, call 212-645-0600.
Over Valentine's Day weekend (Saturday the 15th & Sunday the 16th) they're be offering special menus for their Weekend Jazz Brunch, including a special couples menu ($69) that includes a bottle of champagne and group brunch menu ($25.95/person for groups of 5 or more).
---
Celebrate Valentine's Day Cuban-style at Guantanamera, located near Times Square and the Theater District, with mojitos, great food, live music, and more. Click here for more information. Call 212-262-5354 for reservations.
---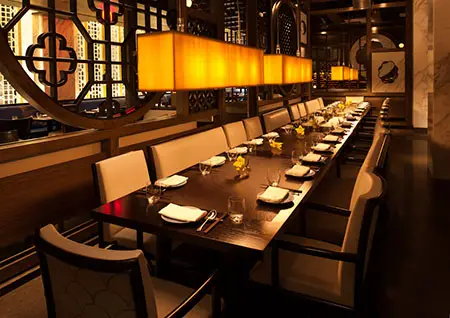 Photo: Mona Zubair
Modern Chinese masters Hakkasan New York will offer a special Valentine's Day menu ($98/person) that includes crispy duck salad, a special steamed dim sum platter, roasted silver cod, home braised veal ribs, and more. Click here to view the full menu (the a la carte menu will also be available); for reservations, click here.
---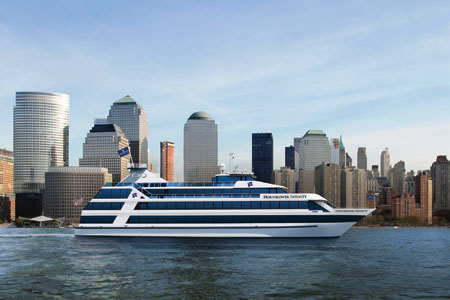 Celebrate Valentine's Day aboard Hornblower Cruises and Events' yacht and enjoy a 3-hour cruise, elegant four-course seated dinner, champagne toast, and ever-changing views before dancing the night away to the sounds of the on-board DJ. A "Lovebirds Dinner" upgrade -- which includes a window table, half-dozen roses, and bottle of sparkling wine -- is also available. Click here or call 888-979-7020 to learn more.
---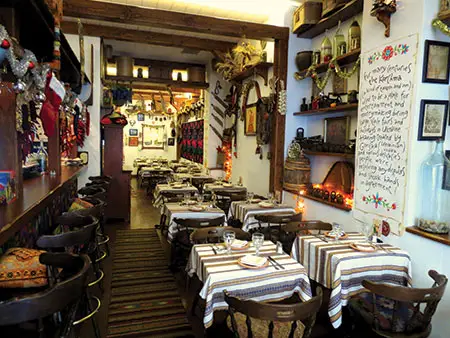 Korchma Taras Bulba in SoHo will be offering a special 6-course Valentine's Day tasting menu ($70/couple) featuring the finest in Ukrainian cuisine, plus champagne and a surprise gift for every couple. Call 212-510-7510 for reservations.
---
Black truffles are known for their aphrodisiac properties, so for Valentine's Day, Le Cirque will offer a five-course Black Truffle Tasting ($225/person; $140 for wine pairing). Click here to view the full menu. The a la carte menu will also be available; call 212-644-0202 for reservations.
---
Liberty Helicopter Tours features many modern jet helicopter flights that feature breathtaking views of Central Park, the Statue of Liberty, the Empire State Building, and many other sights and landmarks. The 18-to-20-minute Romance/VIP tour ($995 for up to 4 passengers) offers a one-of-a-kind way to spend the holiday, or up the ante with the Married Over Manhattan option ($1895; includes officiant and witness). For more information on how to get married above NYC, please call 800-542-9933 or email schaeferp@libertyhelicopters.com.
---
Located in Astor Place near the Village and home to the city's best selection of Argentinean Malbec wine directly imported from Argentina, Malbec Wine Bar and Restaurant will be offering a special 3-course menu ($70) that includes entrée options such as pan-seared duck breast, Arctic char, and mushroom risotto. Click here to view the full menu. 428 Lafayette St., 212-419-4645; malbechouse.com
---
In Hell's Kitchen, New American restaurant The Marshal will be offering a special surf and turf for Valentine's Day that includes wood-oven-roasted 16oz prime rub au jus and a Maine lobster tail served with duck fat, smashed potatoes, and horseradish cream. The regular menu will also be available. Seating is limited, so call 212-582-6300 or click here to make reservations.
---
Famous for USDA prime-aged beef, fresh seafood, fine wine, and elegant desserts, both of Morton's NYC locations (Midtown: 551 Fifth Ave., 212-972-3315; mortons.com/newyork; Downtown: 136 Washington St., 212-608-0171; www.mortons.com/newyorkwtc/) will have a Valentine's Day Steak and Lobster Tail special ($55) from February 13th through the 16th.
---
The Museum of Sex will be celebrating Valentine's Weekend with the entire museum transformed into a garden by artist Joel Yapching, playful Valentine's Day gifts in the MoSEX store (see examples below), and champagne toasts, specialty cocktails, chocolates, oysters, hors d'oeuvres, and 6-course dining packages in their new den/cocktail bar, PLAY (pictured above). Click here to find out about their special admission packages.
---
From the 14th through the 16th, Oceana will offer elegant Valentine's Day specials beginning at 5pm that include Blue Island oysters, seared rouget, poached lobster and Dover sole, and a blood orange & almond soufflé tart. There will also be special cocktails, including Cupid's Arrow (light rum, coconut, pineapple juice, lemon juice, orange bitters, and orange zest) and Raging Bull (Old Overholt rye, Campari, Contrato sweet vermouth, lemon juice, and housemade thyme simple syrup). The regular a la carte and raw bar menus will also be offered. Click here for more information.
---
For $99/person, The Sea Fire Grill's 3-course menu includes a Valentine's champagne toast, and choice of entree that includes roast halibut, yellowfin tuna, Maine lobster, and filet mignon Rossini. Click here for more info and the full menu; call 212-935-3785 or click here for reservations.
---
Sirio Ristorante, located in the Pierre, a Taj Hotel New York near Central Park, will offer a 2-course Feast of Saint Valentine Italian dinner ($95/person) with entrée options that include: pan-seared halibut; roasted duck breast; homemade truffle and burrata stuffed tortelloni; and much more. Click here to view the full menu; click here for reservations.
---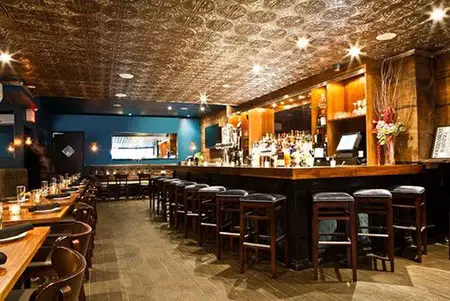 The Stand Restaurant & Comedy Club will be celebrating Valentine's Day in their upstairs restaurant with a 3-course dinner with complimentary champagne for $65. For an extra $20, you can head downstairs and enjoy one of the three comedy shows scheduled for the evening (8, 9:30 & 11:30pm). For more information and to make reservations, click here.
---
Spirit Cruises is offering Valentine's Day dinner cruises with live entertainment, dancing, breathtaking views, and distinctive cuisine. Cruises operate on the evenings of the 14th and the 15th. Click here or call 866-483-3866 for more information and reservations.
---
Travel with your sweetheart in style with Cars Co., who will be offering special Valentine's Day rates on their limos, stretch limousines, and luxury cars. All couples will also get 12% off regular trips (not including the airport). To book, call 800-800-6757 or visit mycarsco.com.
---
Kiss your loved one at the ticket booth and get 2-for-1 tickets at Ripley's Believe It or Not! Times Square on Valentine's Day. Click here for more info.
---
Celebrate the holiday with Romance Under the Stars, a unique NYC experience only at the American Museum of Natural History's Hayden Planetarium. Join in for a cocktail hour, complete with open bar, Champagne, chocolate-covered strawberries, and hors d'oeuvres. Then, join one of the astronomers in the Planetarium for a view of the night sky. Sit back, hold hands, and enjoy some of the greatest romance stories of all time. 6:30pm. $85, includes open bar and appetizers.
---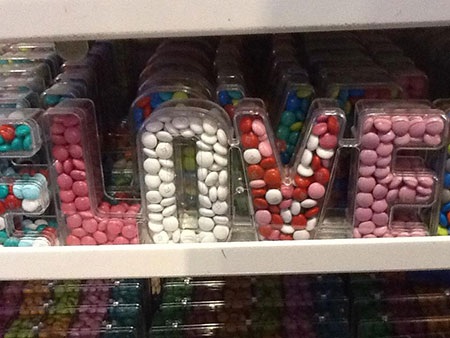 Treat your loved one to some chocolatey goodness with a trip to Times Square's M&M'S World. A popular Valentine's gift is the "LOVE" acrylic, filled with M&M'S and available in all the colors of the M&M'S rainbow. Other winter specials include: a $5 Snowflake Blanket when you spend $25 or more; candy fans, 2 for $9; candy-filled bottles, 2 for $30; and the adult sweatshirt/T-shirt combo pack for $49.95 (regularly $79.95).
The store, located at Broadway and 48th St., is open daily from 10am to midnight. For more information about the M&M'S® World, visit www.mmsworld.com, Facebook (www.facebook.com/mmsworld), and Twitter (@MMsWorldStores).

---
Order flowers online from Starbright Floral Design and get 10% off with code R14. Click here to order.
---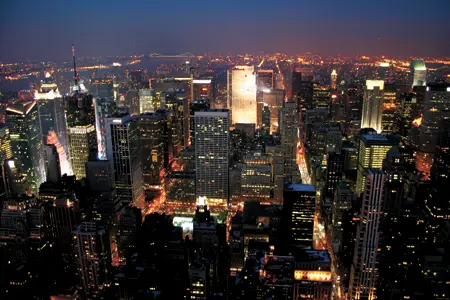 The stars are in your favor since you're already in a place with the most romantic potential in the world. Well, we suppose Paris is nice, but Cary Grant and Deborah Kerr didn't meet at the top of the Eiffel Tower, did they? No, they met at the Empire State Building Observatory, as did Tom Hanks and Meg Ryan. Whether you're "Sleepless in Seattle" or having "An Affair to Remember," the 86th Floor Observatory is one of the most romantic spots in all of NYC, offering panoramic views of the city. Stop by after dark for a romantic nightcap and an opportunity to watch the stars come out over the greatest city in the world. Don't forget about the 102nd Floor Observatory -- separate tickets are required for the highest indoor views of New York. 350 Fifth Ave. & 34th St., 212-736-3100
---
Also offering phenomenal views is Top of the Rock, the 70th floor observation deck atop 30 Rockefeller Center. The triplex deck has 360-degree views extending up to 30 miles on a clear day. You can pick up tickets at 50th St. btw. Fifth & Sixth Aves., or buy timed tickets in advance by calling 877-NYC-ROCK.
Top of the Rock's Starlight Music Series takes place throughout February, including a special Valentine's Day performance by Laura DiStasi from 7 to 9pm.
Looking for Free Group Planning Services?
Get free advice on planning your group's trip to New York.
RESTAURANTS

Burke's dual-concept restaurant opened in 2005 and spans the...

THEATER

In this new musical, Jenna, supported by her quirky crew of ...

SHOPPING

DataVision is redefining retail with their new, fully intera...

SIGHTSEEING

Start by ascending to the top of the tallest building in the...