Where to Eat in Chinatown
May 18, 2015 - by City Guide
Chinatown is one of New York City's best neighborhoods for eating, especially if you're a traveler on a budget. There is a host of inexpensive eateries specializing in noodles, dumplings and other Chinese delights. Wandering the streets of Chinatown is an adventure itself, with a variety of markets, bakeries and more. There are also some fantastic non-Chinese gems to explore. Here are our favorite spots to stop by at.
Bacaro
An Italian wine cellar that somehow crept its way into Chinatown to provide you with the Venetian small plates you didn't realize you wanted before now.
136 Division St., 212-941-5060, bacaronyc.com
Big Wong King
The Platonic ideal of a Chinatown restaurant, with big, round family tables, the occasional red curtain and mean versions of congee (rice porridge) and mapo tofu.
67 Mott St, 212-964-0540, bigwongking.com
Buddha Bodai
A true New York amalgam, what you've got here is an option for kosher vegan vegetarian. Which is to say you should get the pan-fried noodles with mock chicken.
5 Mott St., 212-566-8388, chinatownvegetarian.com
Dim Sum Go Go
The product of a collaboration between a French-American food writer and a Hong Kong chef. You've got 24 dumplings, four skins and four sauces to choose from.
5 E. Broadway, 212-732-0797, No website
Excellent Dumpling House
Keep it simple at this no-frills storefront, keeping to the dumpling soup and scallion pancakes that are the staples of the neighborhood.
111 Lafayette St., 212-219-0212, excellentdumplinghouse.com
Fried Dumpling
A tiny to-go spot for, well, fried dumplings by the bag. If you're down to your last dollar or two, this is the place to be.
106 Mosco St., 212-693-1060, frieddumplingnyc.com
Fung Tu
A thoroughly contemporary take on the Chinese restaurant (the chef comes from Per Se). Expect duck-stuffed dates and a huge wine selection.
22 Orchard St., 212-219-8785, fungtu.com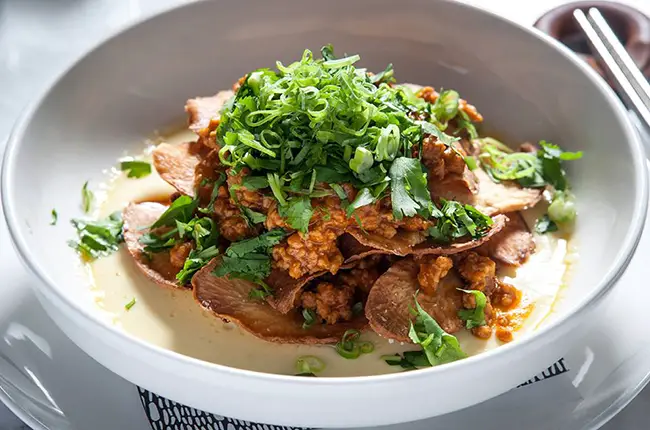 Golden Unicorn Restaurant
You'll go through a lobby and take an elevator to get here, and you'll emerge in a big, open world of sweet and sour chicken and salt and pepper shrimp.
18 E. Broadway, 212-941-0911, goldenunicornrestaurant.com
Great NY Noodletown
A great late-night option, you'll come here for the price, the authentic crowd experience, the salt-baked seafood, and of course, the noodles.
28 Bowery, 212-349-0923, greatnynoodletown.com
Jing Fong
After a lengthy escalator ride and a lot of anticipation, you'll emerge into this monstrous dim-sum hall, where everything you could want is rolling around on carts.
20 Elizabeth St., 212-964-5256, jingfongny.com
Joe's Shanghai
At the end of a long line, with very little in the way of décor, you'll confront your destiny, and understand what the wait was for: soup dumplings.
9 Pell St., 212-233-8888, joeshanghairestaurants.com
Nha Trang One
An unassuming little sliver of a Vietnamese spot for Pho and chao tom (grilled shrimp paste on sugar stalks). You may have to compete for a table with jurors from the nearby courts.
87 Baxter St., 212-233-5948, nhatrangnyc.com
Nice Green Bo
A nice, mostly green spot for excellent soup dumplings and scallion pancakes. Also a solid option for late-night if you're in the area.
66 Bayard St., 212-625-2359, nicegreenbo.com
Nom Wah Tea Parlor
A legendary (it dates back to 1920) and vibrant dim sum and tea spot tucked away on a narrow block. Don't leave without trying the pork buns.
13 Doyers St., 212-962-6047, nomwah.com
Oriental Garden
A banquet hall's worth of fresh-from-the-tank Cantonese seafood and dim sum that's a favorite of some of NYC's well-known chefs. Get the clams with black bean sauce.
14 Elizabeth St., 212-619-0085, orientalgardenny.com
Peking Duck House
The vibe is more contemporary here than most spots in the neighborhood, but the duck is as crispy and classic a version of the dish as you could hope for.
28 Mott St., 212-227-1810, pekingduckhousenyc.com
Prosperity Dumpling
A quick-stop spot for some of the city's favorite (and most reasonably priced) dumplings. Bring cash.
46 Eldridge St., 212-343-0683, prosperitydumpling.com
Pulqueria
One of the neighborhood's hip non-Chinese spots. Grab some esquites and short rib tacos, and leave time for cocktails afterward at neighboring Apotheke.
11 Doyers St., 212-227-3099, pulquerianyc.com
Royal Seafood Restaurant
Here's a traditional dim sum spot that's a regular on "Best of" lists across the city. Take in the golden dragons of it all, and enjoy some crispy fried diced pork ribs.
103 Mott St., 212-219-2338, No website
Shanghai Café Deluxe
A standout in the crowded field of open-late spots for cheap, wonderful soup dumplings, charmingly brusque service and cash-only policies.
100 Mott St., 212-966-3988, shanghaicafenyc.com
Shanghai Cuisine
Shanghainese soup dumplings and pork shoulder, along with a list of '70s-era cocktails. More adventurous fare, like duck tongue, is also available.
89 Bayard St., 212-732-8988, No website
Wo Hop
A subterranean, bi-level classic that's been serving up late-night wonton soup and other Chinese-in-America staples since 1938.
17 Mott St., 212-962-8617, wohopnyc.com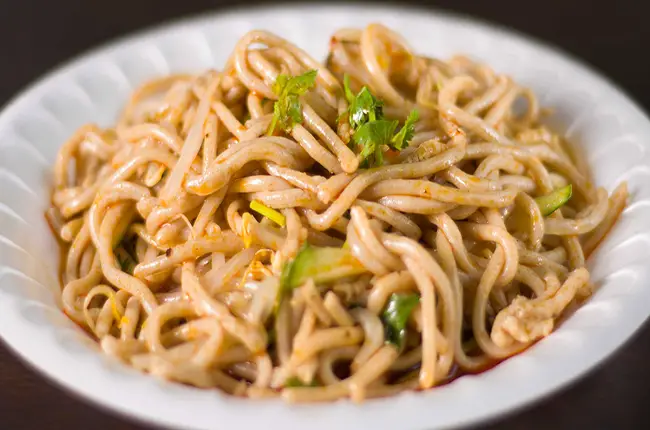 Xi'an Famous Foods
A consistent, if sparse, favorite for outstanding noodles and cumin-lamb burgers. The food is the only focus here, but that's all you need.
67 Bayard St., no phone, xianfoods.com
Looking for Free Group Planning Services?
Get free advice on planning your group's trip to New York.
RESTAURANTS

Multi-concept restaurant offering modern Japanese cuisine, a...

THEATER

In a heartbeat, 38 planes with 6,579 passengers were strand...

SHOPPING

The sweetest experience in Times Square!...

SIGHTSEEING

The 9/11 Memorial honors the nearly 3,000 people killed in t...