That area south of Houston Street in downtown Manhattan—formally known as SoHo, of course—is one of the greatest shopping centers in the city. The major Paris fashion houses have set up outposts (Chanel! Lanvin!) and indie boutiques still reign. Cobblestones continue to pave the streets, and the historical elements of the neighborhood are on full display. From cast iron façades that once housed textile factories to quaint Federal-style townhouses, elements from the area's 19th-century industrial heyday are everywhere. Even evidence of SoHo's not-so-distant past as an artist enclave can be found if you know where to look. To discover where to shop in SoHo, with some fortification along the way, follow our guide below.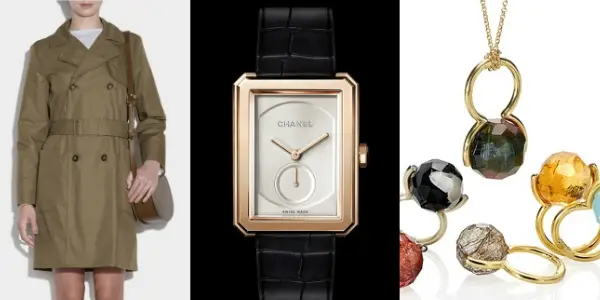 A taste of SoHo is best begun with a calm stroll along one of the neighborhood's iconic cobblestone streets. Start at the top northernmost part of the neighborhood (Houston Street) and head south on Mercer Street. Fuel up for the day at the Mercer Hotel's famed eatery: The Kitchen. Besides just being inside a downright fabulous hotel, the restaurant is constantly filled with fashion editors, celebs, and assorted creative types. Do as the glamorous do and order a creamy yogurt topped with berries and strewn with granola, and a latte (with soy, natch). Next, pop into ridiculously cool boutique A.P.C. for a gander at effortless Parisian-designed separates. We're partial to the label's classic trench coats and impeccably fitted cotton tees. And with goods that cater to both women and men, you'll please everyone in your party. Whether you're shopping for a new iPhone 6s or just ogling Apple Watches, it's worth checking out Apple's Prince Street location. The store is housed in a former post office and retains many of the gorgeous architectural features of yesteryear.
Mercer Hotel, 147 Mercer St.
A.P.C., 131 Mercer St.
Apple, 103 Prince St.
SoHo Shopping: Label Love
If you thought Fifth Avenue was the only place to shop high-end designer goods, think again. SoHo is home to a bevy of heavy hitters. There's no better place to begin than at Chanel's airy boutique on Spring Street, designed by the utterly cool architect Peter Marino. He's outfitted the space in sleek black and white, making shopping for the gorgeous new BOY FRIEND watch an incredibly luxe experience. Next (and ideally with a new watch wrapped around your wrist or a chain-link purse slung over your shoulder), head east on Prince Street toward Prada. The Italian brand's modernist Rem Koolhaas-designed store is as much about admiring the architecture as it is about admiring the ready-to-wear. A zebrawood wave (literally) rolls from the ground floor to the lower level and gives the entire space a zen-like flow. There's also designer Miuccia Prada's merchandise to admire: from nerdy chic coats to '70s-inspired platform boots. All this fashion goodness will undoubtedly have you hankering for something sweet (and something a bit less steeply priced). There's no better place to satisfy that desire than at French import Ladurée. Besides grabbing a macaron—or dozen—take the time to sit down in the gorgeous restaurant for pont neuf potatoes (read: French fries) and veggie brioche.
Chanel, 139 Spring St.
Prada, 575 Broadway
Ladurée, 398 Broadway
Image: Forgemind ArchiMedia/Flickr
SoHo Shopping: Indie Outfitters
In the 1970s SoHo was a mecca for artists. Minimalist Donald Judd lived at 101 Spring Street in a spectacularly well-preserved 1870 cast-iron building. His home was recently restored and turned into a museum, and tours are available to the public to see the entirety of the five floors. Everything is preserved exactly as the artist himself left it, from utensils neatly stacked to a crisply made bed. His interiors will surely inspire you, and make an ideal place to begin your tour of SoHo's independent boutique scene. Kirna Zabête is frequented by fashion insiders seeking unique clothing and seasonal standouts. Founders Sarah Easley and Beth Buccini curate an impeccable collection of goods that range from Altuzarra runway pieces to Mansur Gavriel's coveted handbags. To complete your look, there's no better place to browse for finery than at Yael Sonia Atelier on Lafayette Street. The Brazillian/French designer's airy loft is finished with black-stained oak floors and golden textured walls, making it feel like a jewel box itself. Sonia's designs are simultaneously playful and classic, from her signature pendant necklaces fitted with rolling spheres to natural gemstone cocktail rings—you'll walk out of SoHo just a tad more glittery than you walked in.
Judd Foundation, 101 Spring Sr.
Kirna Zabête, 477 Broome St.
Yael Sonia, 270 Lafayette St.
For more on where to eat in SoHo, click here.