The best restaurants in SoHo range from classic French bistros to Chicago-style pizzerias (only in New York, kids). Like most neighborhoods in NYC, there's quite a range of options. So if you're looking for a delicious burger, an al fresco Italian feast or the world-famous Cronut, you can find it in this always fashionable area.
David Burke Kitchen
Hold out for a seat in the garden at this signature spot at the James Hotel. And once you're firmly planted, you'll enjoy ornately prepared versions of farm-to-table and locavore favorites like Hudson Valley Duck Toast. Another jewel from Craveable Hospitality Group.
23 Grand St., 212-201-9119, davidburkekitchen.com
Pera SoHo
Pera SoHo is a transportative Mediterranean retreat in the heart of Soho. Inspired by the renowned Istanbul neighborhood where cuisine, art, culture, nightlife and the cosmopolitan converge, Pera SoHo seduces with an environment that is simultaneously warm and vibrant. Take a journey through mouthwateringly re-imagined, shareable plates, or let our kitchen delight your taste buds with a tightly curated selection of composed mezes and main courses.
54 Thompson St., 212-878-6305, pera-soho.com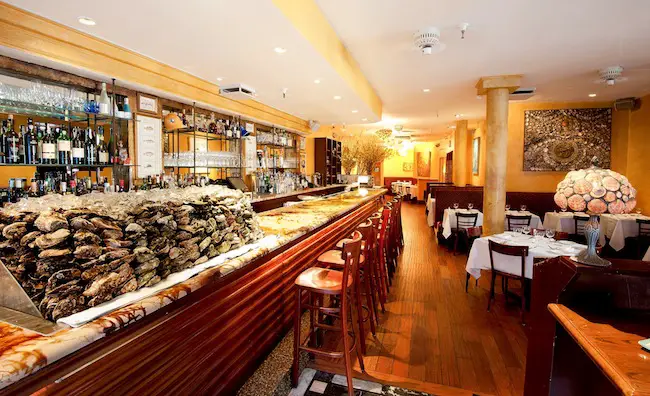 Aquagrill
One of the seafood capitals of SoHo. You're working with an uncharacteristically large corner space, for the neighborhood, and you're also working with an impressive raw bar selection.
210 Spring St., 212-274-0505, aquagrill.com 
B&B Wine Pub
Part craft cocktail bar, part wine bar, part bistro and part burger kingpin. The house burger is cooked with mustard and topped with bacon jam, and is one of the best in the city.
25 West Houston St., 212-334-7320, burgerandbarrel.com
Blue Ribbon Brasserie
The tightly-packed, boisterous Sullivan Street spot is your destination for late-night, upscale fried chicken with honey and heavy-handed cocktails.
97 Sullivan St., 212-274-0404, blueribbonrestaurants.com
Boqueria
A quaint, but typically crowded seasonal tapas and wine spot just out of the path of SoHo's busy shoppers. Great for casual dates and a quick respite from the weekend chaos of the neighborhood.
171 Spring St., 212-343-4255, boquerianyc.com
Café Select
A homey, hip little café that's great to pop in with a friend for wine (they've got a small, well-curated list) or coffee on a lazy afternoon.
212 Lafayette St., 212-925-9322, cafeselectnyc.com
Charlie Bird
One of SoHo's toughest reservations, Charlie Bird boasts an award-winning wine program and a tight, excellent menu of Italian-skewed pastas and meats in a small wedge space decked out in street art.
5 King St., 212-235-7133, charliebirdnyc.com
Cipriani
A Euro-centric crowd of elite shoppers and people watchers populates this ornate, pricey Italian spot. A great option for spring and summer sidewalk seating.
376 W. Broadway, 212-343-0999, cipriani.com
Costata
An unabashedly conspicuous spot for power meals of tomahawk steak and heaping helpings of pricey seafood and wine. This is Michael White's bi-level, white tablecloth version of a Midtown steakhouse.
206 Spring St., 212-334-3320, costatanyc.com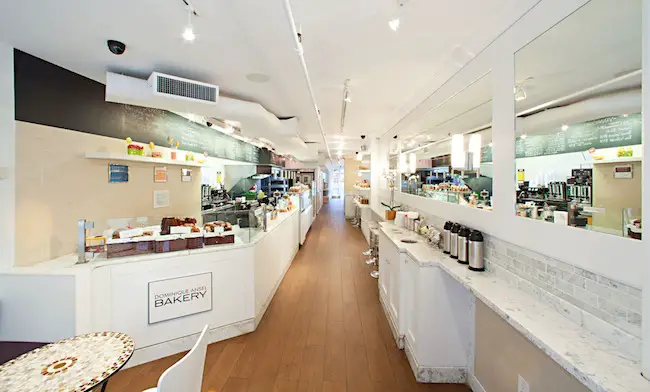 Dominique Ansel Bakery
The tiny bakery that's home of the phenomenon that is the Cronut. If that's what you're after, prepare to be in line early in the morning. If you'll settle for a frozen s'mores or some a milk shot in an edible cookie shot glass, head right in.
189 Spring St., 212-219-2773, dominiqueansel.com
Emmett's
A charming neighborhood spot and the city's sole option for legitimate Chicago-style deep-dish pizza. They've also got hard-to-find beers and a surprisingly robust wine list.
50 Macdougal St., 917-639-3571, No website
Fanelli Café
A quintessential watering hole with a dark-wooded bar and some unexpectedly good chili. Make sure to get there when Bob, one of the city's most charismatic bartenders, is behind the bar.
94 Prince St., 212-226-9412, No website

Jack's Wife Freda
A bustling, slightly Mediterranean spot with a young crowd and an excellent burger. Though it's always crowded during weekend brunches, waits are typically shorter than you'd think.
224 Lafayette St., 212-510-8550, jackswifefreda.com
Koi
Taking up a good portion of the ground floor of the Trump Soho is this tourist and business meal spot. The now ubiquitous tuna and crispy rice is a standout here.
246 Spring St., 212-842-4550, koirestaurant.com
Little Prince
A quaint, high-spirited date spot for wine by the glass, steak tartare and other French bistro favorites. Also good for the occasional post-date nightcap.
199 Prince St., 212-335-0566, littleprincesoho.com
Lucky Strike
One of Keith McNally's lower-key spots, this casual bistro is a great option for no-fuss French dishes like steak frites and croque monsieur and is one of the few spots frequented by SoHo locals.
59 Grand St., 212-941-0772, luckystrikeny.com
Mercer Kitchen
Jean-George Vongerichten's painfully chic restaurant and bar at the bustling Mercer Hotel. You're more likely to see a celebrity here than not, and as a bonus, the fussed-over seafood here is well worth the trip.
99 Prince St., 212-966-5454, themercerkitchen.com
Navy
A small, hip spot where models, artists and PR folks congregate for mid-week group dinners and dates over elegant takes on seasonal dishes like trout and crispy gnocchi. Navy also boasts some creative nightcaps.
141 Sullivan St., 212-533-1137, navynyc.com
Osteria Morini
Michael White's always-packed, rustic Italian spot boasts a wide selection of superlative pastas and seafood dishes in a farmhouse-like setting.
218 Lafayette St., 212-965-8777, osteriamorini.com
Sant Ambroeus
The SoHo outpost of the chic Italian small plates bistro. This is the type of spot where you can get a perfectly plated veal chop for brunch, if you dare to fight through the shopping crowds.
265 Lafayette St., 212-966-2770, santambroeus.com
The Dutch
An airy, perennially crowded tavern favorite that's home to two-person steaks, excellent fried chicken and a vibrant cocktail bar scene. If you're exploring on your own, belly up to the bar and enjoy their upscale take on the Big Mac.
131 Sullivan St., 212-677-6200, thedutchnyc.com
For shopping in SoHo, click here.