After rave reviews for his namesake Tribeca restaurant, Chef Marc Forgione has made a name in the world of steakhouses as well. At American Cut, a steakhouse with two locations in Manhattan, old New York elegance is matched with the chef's 21st century sensibilities. Both dining rooms, located in Tribeca and Midtown East, are designed with Art Deco elements and are filled with professional servers carving steak and torching Baked Alaska. But you won't find any stodgy steakhouse cuisine here. Forgione puts a fusion spin on surf 'n turf and serves tongue-in-cheek dishes like the Carrot Glazed Carrot. Read on to learn why American Cut will make your graduation dinner—or any other steak-worthy occasion—an unforgettable meal.
Dinner & A Show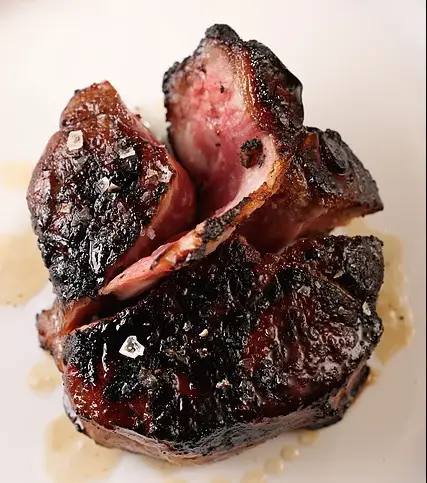 Try the tender filet mignon medallions.
At American Cut, you'll get the finest ingredients and the fullest flavors, prepared with panache. All steaks are certified Black Angus and come from Creekstone Farms. These exceptional steaks range from tender filet mignon medallions to the powerful 52-ounce porterhouse drizzled with bone marrow butter. The Pastrami Ribeye stands out with its classic New York flavors, reimagined as steak seasoning, and specialty cuts like top-of-the-line Wagyu beef are also on offer. Steaks can be customized with special sauces like chimichurri and toppings like bone marrow, blue cheese, or foie gras.
Marc Forgione's Signature dish—the Tomahawk Pork Chop, combined with Chili Lobster.
There are plenty of seafood options at American Cut, but none more famous than Chef Forgione's Chili Lobster, a dish he imported from Marc Forgione Restaurant. Don't miss the spicy Southeast Asian sauce matched with Texas toast, and remember you can pair any steak with this dish. Other seafood starters include octopus with Marcona almond romesco and celery salsa verde, or baked oysters with champagne, black truffle, and crucolo cheese.
The genius doesn't stop with the surf 'n turf. Save room for sides like the Carrot Glazed Carrot and Sunchoked Spinach with fontina cheese and smoked salt. To top off your meal, undeniable desserts include the Crackerjack Sundae, made with the classic caramel popcorn.
Many signature dishes, such as the Caesar salad and flambé steaks, are made to order right in front of you with tableside preparation. In fact, at American Cut's Midtown location, you can enjoy an entire meal prepared tableside on weekends. Check out their Tableside Prix Fixe Menu to whet your appetite. (Spoiler: the cacio e pepe is prepared in a wheel of Parmigiano-Reggiano!)
Graduation Menu
Celebrate your grads with a special prix fixe menu at both Manhattan locations of American Cut this spring. Served family-style, this meal features some of the restaurant's most popular dishes, and we guarantee the plates will be clean by the end of your feast.
To start, dig into the "OG" 1924 Hotel Caesar salad (prepared tableside), grilled bacon with steak sauce, and three-cheese mac & cheese. Shareable entrees include the signature porterhouse steak, wet-aged for 28 days, and Bell & Evans chicken with garlic butter and lemon. As sides, your table can taste grilled asparagus and mashed potatoes "Robuchon." A chef's selection dessert will cap off your graduation celebration.
This meal is $75 per person. Groups of 4 or more guests can enjoy this special offer, but the whole table must participate. Offer available through June 30.
Happy Hour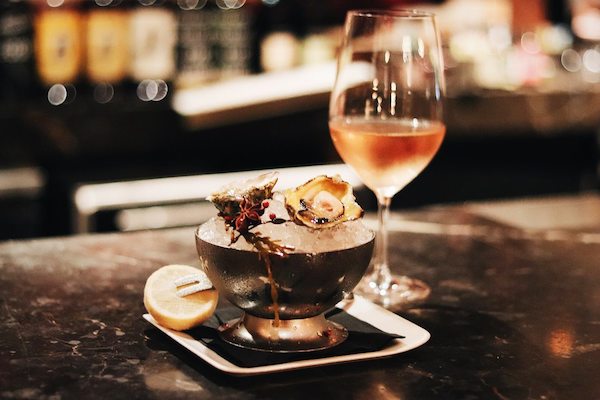 The beverages at American Cut range from craft cocktails to fine domestic varietals in the wine cellar. Come for Happy Hour (Monday through Saturday, 5-7:30pm at both NYC locations) to sample a select wine of the day ($8) or the bar's standout Plank Smoked Old Fashioned ($10), made by scorching maple wood and filling a glass with the smoke. Other beverages and food like The Big Marc burger and Bang Bang Shrimp, not available on the dinner menu, are also worth the early-evening trip to American Cut.
Both New York locations are winners of Wine Spectator's 2019 Best of Award of Excellence. 
Compliments to the Chef
Chef Marc Forgione won the televised contest The Next Iron Chef in 2010. At that time he was the youngest Iron Chef in history at 31 years old. In addition to stints in world-class kitchens here and abroad, he also trained under his father Larry Forgione, who ran the successful restaurant An American Place in New York City for many years. Marc Forgione restaurant received two Michelin stars, and the chef himself has received much acclaim for his fearless culinary creations. The Tribeca location of American Cut is numbered among the top steakhouses in America in Travel + Leisure and Fox News.
---
American Cut Tribeca is located at 363 Greenwich St. Call 212-226-4736 or visit americancutsteakhouse.com/tribeca for reservations and more. American Cut Midtown is located at 109 E. 56th St. Call 212-388-5277 or visit americancutsteakhouse.com/midtown.